10 Home Security Tips for New Homeowners
Moving into a new home is an exciting time. As you unpack boxes, place furniture and settle in to spend your first night in your new home, make sure you take the time for a basic home security check before turning in for the night. Even if you chose the neighborhood because of its low crime rate and general sense of safety, you never know when intruders might target your home. Therefore, it is imperative for your safety and the safety of your family that you take steps to ensure your home is as secure as possible.
10 Home Security Tips for New Homeowners
These 10 home security tips will help get you on the right path and include things you can easily do before you spend your first night in your new home, as well as budget-friendly, do-it-yourself home security options that you can quickly install. This means that you can start increasing the security of your home while you wait for your appointment to have your security system or security cameras installed. So, let's get started with making sure your home and property safer and more secure for you, your family and your guests.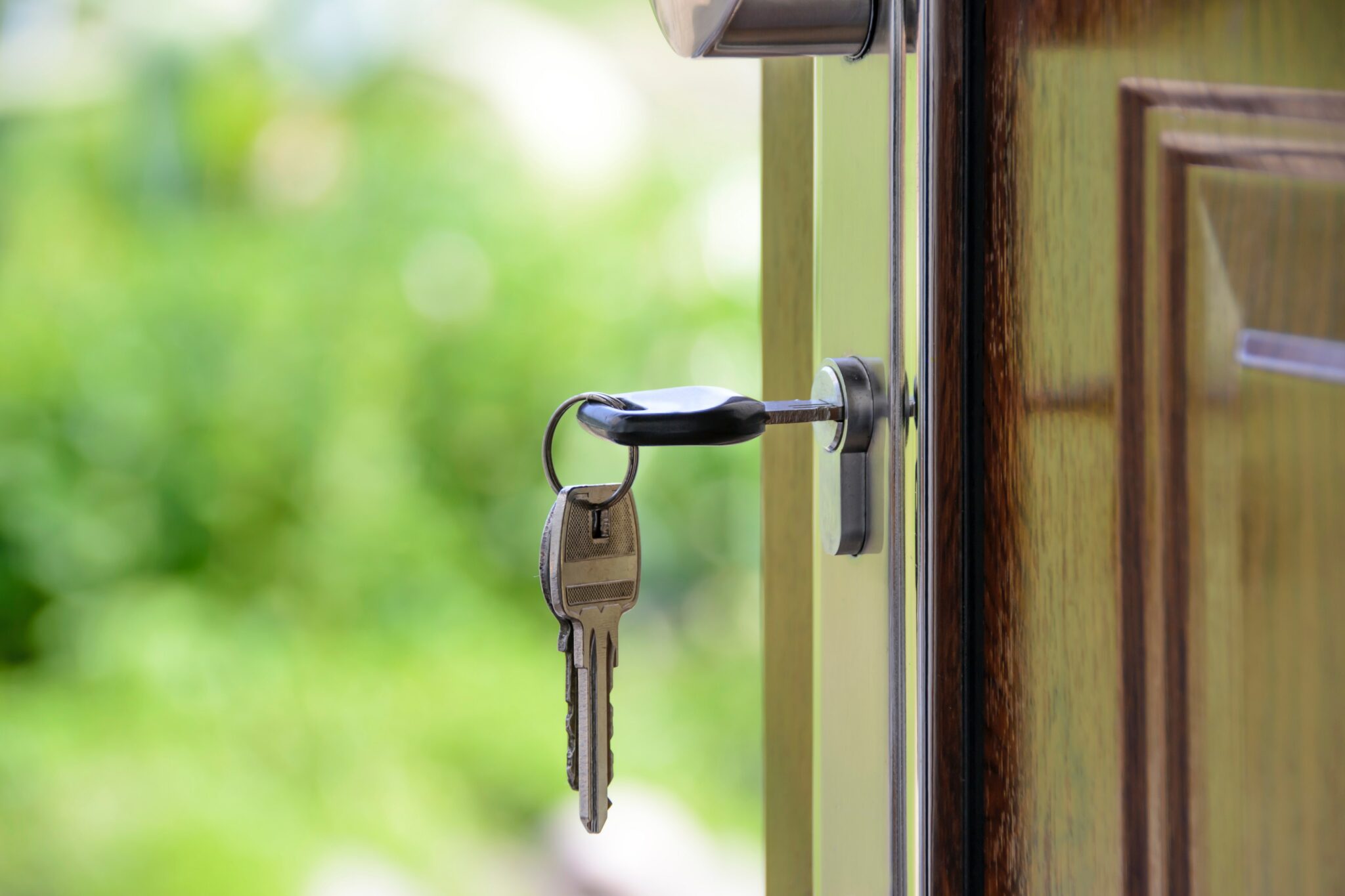 1. Check existing locks and latches.
The first step in making sure your new home is secure is checking all of the existing locks and latches. Go through each room and check all doors and windows to make sure they close properly and that the locking mechanisms are functioning. If not, have a handyman or locksmith repair them as soon as possible. In the meantime, you can help secure windows with a dowel placed in the track or a specially designed window lock that attaches to the track.
2. Add simple, do-it-yourself security measures.
The next step is to add simple home security measures that most homeowners can install on their own. This includes dowels cut down to fit in the track and keep windows closed, window locks that attach to the tracks, door chain locks, and window and door alarms. Some homeowners will also be able to install sliding door lock bars on the sliding doors throughout their home, but this does require comfort using a drill, so you may want to hire a handyman to install these for you.
3. Install a peephole.
If you are comfortable with a drill, you may also be able to install a peephole in your front door. This is a low-tech way to see who is at your front door before opening it.
4. Install a video doorbell.
Video doorbells are quite common now and provide you with the security of knowing who is at your door before you open it while also helping to ward off potential package thieves. Depending on the video doorbell and level of service you choose, you can talk to the person on your porch, send the video to the police, post your videos to a community forum to share with your neighbors, and receive alerts when someone else in your neighborhood catches a potential bad guy on their video doorbell.
Keep in mind that video doorbells are not just for front doors; you can also install them on gates, back doors and other points of entry.
5. Add smart plugs in one or more rooms.
Adding smart outlets to a few rooms is a simple, inexpensive way to control your indoor lighting. Lamps plugged into these outlets can be turned on and off from your phone when you are away from home, so you can make it look like someone is in the house and ward off potential burglars. Alternatively, you can put some of the lights in your home on timers so that they turn on and off at set intervals to make it appear like someone is home.
6. Join your local Neighborhood Watch program.
You can increase your security and that of your neighbors by joining your local Neighborhood Watch. This allows you to get to know your neighbors and your neighborhood while also helping to ensure that your neighbors will help you keep an eye on your home when you are away. Long-term members are a great resource for home security tips, particularly if there are specific tips that pertain to your neighborhood.
If your neighborhood does not have a Neighborhood Watch program, consider starting one. At the very least, get to know your neighbors so that you can help keep an eye on each other's homes.
7. Design your landscaping with home security in mind.
Landscape your front yard, side yards and backyard to minimize hiding spots, provide clear lines of sight to points of entry, and deter potential burglars. This might include planting thorny bushes under windows, trimming trees blocking the view to your front door, or cutting back bushes that provide hiding spots for people with bad intentions. You can read more about home security landscaping here.
8. Install security cameras.
Professionally installed security cameras are generally best since an expert can help with proper placement and making sure you have the right security camera system to suit your needs. However, if this is not in your budget, there are now many options that you can install yourself.
9. Install a security system.
Like security cameras, you will likely have the best results with a professionally installed security system, but there are also do-it-yourself options that can be set up quickly and can effectively increase the security of your home.
10. Increase home security with landscape lighting.
If you are looking for home security tips that will help you feel safer and more comfortable in your home, do not overlook the importance of landscape lighting. Outdoor lighting serves many purposes, most of which are connected to safety and security. For example, lighting pathways helps you and your guests maneuver through your property safely, while uplighting trees near points of entry will help ward off intruders that might want to use the branches to gain access to upstairs windows or balconies.
Motion detector lights are, of course, a home security standard that helps ward off potential intruders and are a good option for areas where you do not want bright lights on throughout the night. For example, motion-sensing lights are a good choice for side yards where lights might affect your neighbors.
Landscape lighting is essential for illuminating potential hiding spots, such as shadowy areas and dark corners, and is a good way to ensure that points of entry are well lit.
It is also important to use landscape lighting for your family's safety in ways that have little to do with warding off burglars. For example, lighting the entrance of a long driveway or making sure your address is clearly visible at night can save precious time by helping first responders find your house in case of emergency.
For more landscape lighting home security tips read Increase Your Home Security with Landscape Lighting.