25 Effective Home Improvement Tips
Whether you're about to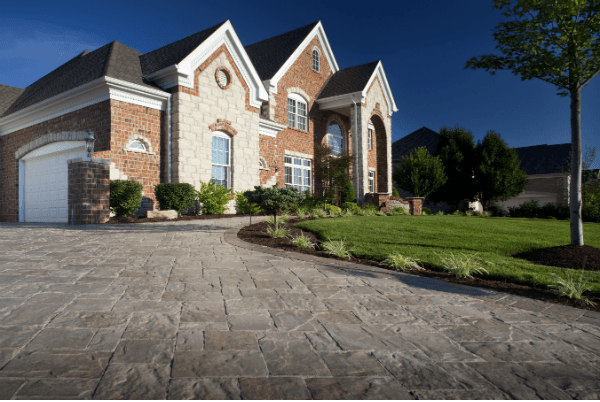 put your house on the market or just want to give it a quick face-lift, improving its curb appeal is a smart way to go.
A home's curb appeal refers to how attractive and inviting it appears from the street.
Fortunately, there are many quick, easy and affordable ways to improve the curb appeal of a home.
Give a few of the following tips a whirl to see for yourself…
1. Install Artificial Grass in your Walkway –
If your home has a concrete walkway, it may become cracked or discolored over time.
Replacing the walkway entirely is a tall order, but one nice workaround is to install artificial grass and insert stepping stones leading up to your front door.
This will quickly brighten up your front yard and give your entryway a fresher, more attractive appearance.
Just make sure that the artificial grass complements the overall appearance of your home, and be sure to check out several different styles first.
2. Repaint Moldings Around Doors and Windows –
You don't necessarily have to repaint your entire front door to make your home more appealing.
Sometimes, all it takes is applying a fresh coat of paint to the moldings around the doors and windows.
This will instantly brighten them up and make them look clean and new.
It's amazing what a small, simple step can do to improve the curb appeal of a home.
3. Buy a New Garage Door –
Be honest with yourself: Is your garage door really in good shape?
Even if it functions properly, it may be detracting from the overall appearance of your home.
That's also true about garage doors that are cosmetically fine but woefully out of date.
If your garage door looks like a throwback from the 1970s, it may be worth it to invest in a new one.
This may cost a decent chunk of change, but the end result is well worth it.
4. Aim for Symmetry –
Are the accents and fixtures on the outside of your home arranged in a symmetrical way?
If not, you should remedy the situation.
It's generally best to buy exterior features and accents in pairs.
Lights, for instance, should be purchased in pairs and spaced in a symmetrical way.
The same thing goes for things like planters and outdoor art.
5. Install a New Entryway –
Don't be intimidated by the idea of installing a new entrway.
It doesn't have to be especially elaborate or expensive.
The right pavers can make a huge difference.
Take your time while selecting them.
Choose pavers that enhance the appearance of your home perfectly.
They should tie everything together in a really eye-pleasing way.
Set aside a weekend to get the job done.
You'll be glad you did.
6. Jazz Up Your Front Door –
Considering that it's the main point of entry into your home, your front door is extremely important.
In addition to being strong and secure, it should be attractive too.
It's fine to choose a door that coordinates perfectly with the rest of your home, but it's sometimes nice to mix things up by choosing a contrasting color instead.
You could also redo the trim around the door, add a stylish door knocker or install an entirely new door.
7. Install New Gutters and Downspouts –
When it comes to maintaining the curb appeal of your home, keeping your gutters clear is just one part of the equation.
Over time, old gutters can warp, crack and turn rusty.
When those things happen, the overall appearance of your home can be very negatively impacted.
Bite the bullet and invest in new gutters for your home.
Choose a cutting-edge design that will stand the test of time.
8. Make Sure Your Mailbox Complements Your Home –
Just because your mailbox is down by the curb on a post doesn't mean that it's not important.
When a mailbox complements the design of a home, it enhances it at the same time.
One quick and easy way to make that happen is by painting or finishing the mailbox post so that it coordinates with your home.
You can also invest in an entirely new mailbox to really freshen things up.
9. Boost Your Home's Appearance with Stone Veneer –
Stone veneer can be pretty pricey.
However, you don't have to be overly ambitious and apply it to your entire home.
By adding stone veneer to things like column footings and foundations, you can quickly upgrade the appearance of your home without spending a huge amount of money.
10. Clean Up Planter Beds –
If you've been neglecting the planter beds in front of your home, it's time you gave them a little attention.
Do some weeding and pruning to whip them into shape.
If necessary, plant some new flowers to add splashes of color to your front yard.
Be realistic too.
If your planters have seen better days, it may be time to replace them entirely.
11. Replace Shutters and Accent Trim –
In the scheme of things, features like shutters and accent trim don't cost a whole lot of money.
Their impact on the appearance of a home can be quite dramatic, though, so it's well worth it to replace them.
You don't have to hire the pros to get the work done either, which is a nice bonus.
Consider the available options carefully.
With materials like PVC resins, fiberglass, vinyl, wood, aluminum, composites and polyurethane available, it can be a little confusing.
12. Rent or Buy a Power Washer –
If you own a home, it's well worth it to keep a power washer handy.
At the very least, you should rent one and use it to give the exterior of your home a thorough cleaning.
Even if you don't think it needs it, you're sure to be impressed by what a difference it makes.
Follow the directions carefully and use high-quality cleaning solution for best results.
13. Tile Your Porch or Stoop –
Older homes often have plain, boring concrete porches and stoops.
They often develop cracks or become discolored over time.
Replacing them entirely is a lot of work, and it costs a lot of money.
One fun alternative is to tile the porch or stoop instead.
Make sure to use tiles that are meant for the outdoors, and take your time while installing them to ensure they look perfect.
14. Add New Mulch –
Over time, mulch can start looking pretty unattractive.
That's particularly true at the end of the winter, when the snow melts away to reveal flat, unappealing mulch.
By spreading a fresh layer of mulch on top of the existing mulch, you can quickly bolster the curb appeal of your home.
Keep in mind that the mulch will have to be replaced entirely every now and then.
15. Replace Hardware –
As with so many things, the little things can have a major impact on the curb appeal of a home.
Check out the hardware on the front of your home.
How do things like doorknobs, hinges and light fixtures look?
It doesn't cost a lot of money to replace and upgrade these things, and doing so can have a surprisingly strong impact on the appearance of a home.
16. Enhance Your Driveway with Pavers –
If you're about to sell your home, you'd probably rather not pour a ton of money into installing a whole new driveway.
One relatively affordable way to improve the appearance of your driveway is by adding contrasting pavers along the sides of it.
This is also a fairly easy do-it-yourself job, and it's something that can be accomplished over the weekend.
Just enlist a few friends to help you out.
17. Add Window Boxes –
What if you don't have room for planters on your porch but want to enjoy the benefits of adding colorful flowers to your front yard?
One easy and attractive way to do that is with window boxes.
Wood window boxes are nice, and iron and copper boxes are available too.
Shop around to find the solution that's perfect for your home, and fill your boxes with easy-to-maintain flowers.
18. Add New Outdoor Lighting –
In addition to making your home look appealing by day, you should do what you can to make it inviting at night too.
Adding a few lights to illuminate a driveway or walkway can have a very positive impact on the appearance of your home.
If you'd rather not deal with the wiring that's involved in some styles, you can always give solar-powered lights a try too.
19. Prune Shrubs and Trees –
Over time, you may get used to the somewhat scraggly appearance of the shrubs and trees in your front yard.
Ask a friend or someone who hasn't seen your home lately to give you an honest opinion.
More than likely, your yard could stand to undergo a little trimming and pruning.
The good news is that this work doesn't require a lot of time or effort.
As long as you have the right tools, you should be able to get this done quickly.
20. Upgrade Railings –
If there are railings on your front porch or stoop, have they been kept in decent shape?
If not, they are probably detracting from the rest of the hard work that you've put into your front yard.
Railing is usually pretty cheap, and there are many attractive options available.
In the case of wood, you can stain and paint it to your liking.
21. Invest in Outdoor Art –
While you certainly don't want to go overboard with outdoor art, which can make your yard look cluttered and unattractive, the right pieces can pull everything together in a striking way.
Birdbaths are prime examples, but things like flags and wind chimes can add a nice amount of flair as well.
Water sculptures are even better because they look great and add nice, soft, bubbling sounds to your property.
22. Add Container Gardens –
If you don't have the time or inclination to add a new flower bed to your front yard, a container garden is a quick, easy alternative.
There are even container gardens that come with everything you need to get started.
You can also buy empty container gardens and add the plants and flowers of your choice.
Just remember to place things symmetrically to produce the most eye-pleasing results.
23. Repair Trim, Siding and Paint –
Walk around the exterior of your home and take a close look at its trim, siding and paint.
Are there cracks and other blemishes?
If so, fixing them can whip your home into shape in no time.
Buy the right paint and stock up on spare trim.
Go around and repair and replace things as needed.
These fixes may be small, but they can have a major impact.
24. Install New Planting Beds –
If you have the time and desire, you could install new planting beds in your front yard.
They are easy enough to make yourself, and you can paint and finish them so that they complement the existing design of your home.
Just make sure that they don't overwhelm the appearance of your home.
They should enhance it, but they shouldn't become the main focal point.
25. Add Decorative Fence Panels –
This only applies if you already have a fence on your property.
Instead of replacing it entirely or painting the whole thing, you could swap out one panel with a decorative fence panel.
There are panels that have lattices and other decorative features that really spice up the curb appeal of a property.
In the case of latticework, plant some climbing vines.
It will take time for them to grow all the way up, but they will look incredible when they do.
Final Thoughts…
As you can see, there are many ways to bolster the curb appeal of a home.
Some of them cost next to nothing and take no time at all while others involve major investments in time and money.
In either case, the effort is more than worth it.