Walkway Materials: TOP Ideas + Designs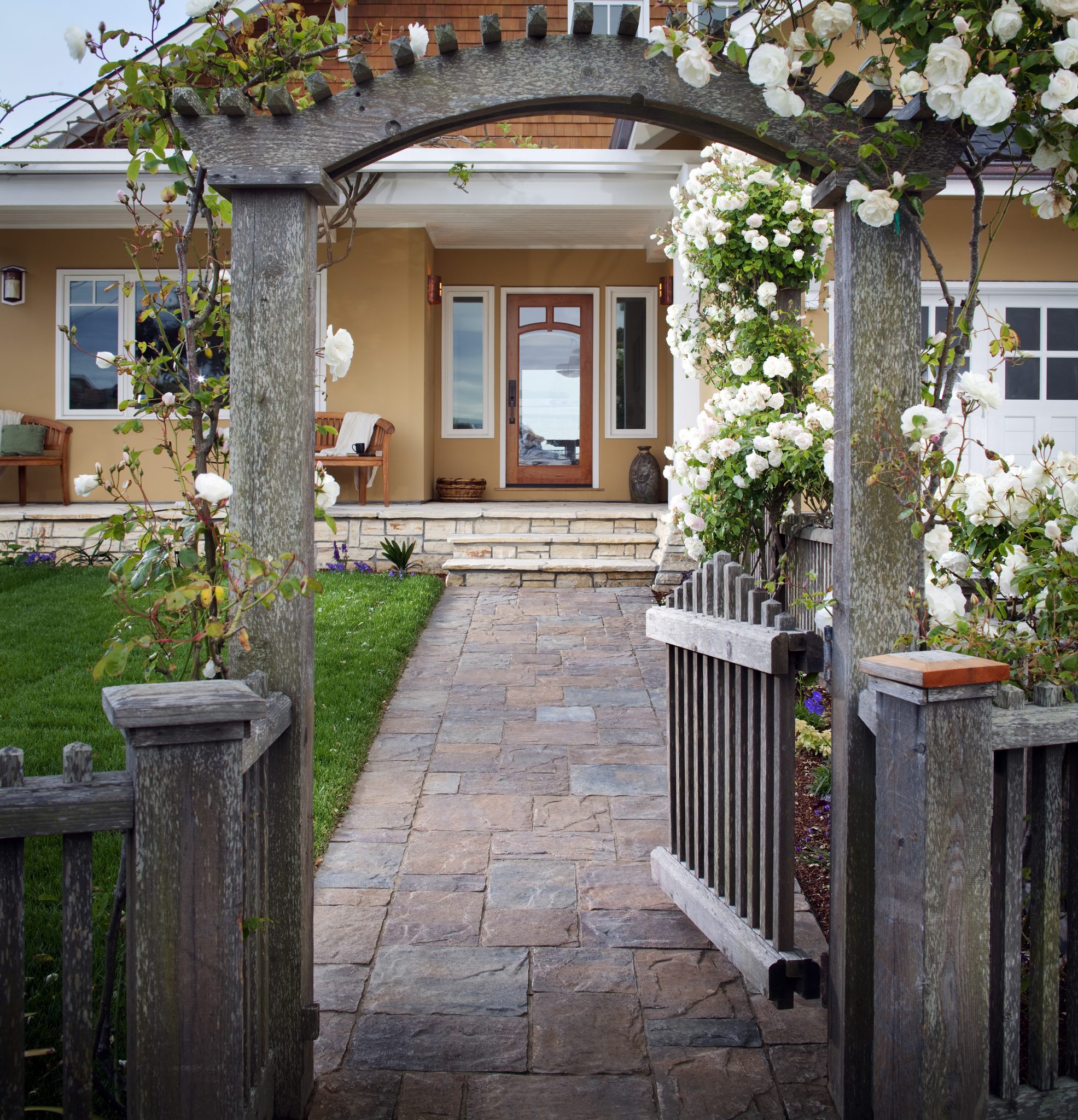 The Top Walkway Materials + Design Ideas
Homeowners get so focused on built-in barbecues, swimming pools and other big-frills landscaping that walkways don't often get the attention they deserve. Walkways are not only necessary for getting from point A to point B, they also provide opportunities to create focal and other points of interest in the yard while facilitating good flow.
Fortunately, a variety of walkway material choices, color combinations and designs are available to compliment any landscape and we are here to help guide you through the walkway design process.
FIRST: How to Determine the Width and Placement of Your Walkway
During the planning process, ask yourself some honest questions about how you'll use the walkway.
Will people use it while walking side-by-side?
Will kids be buzzing up and down on bikes and trikes or will I be wheeling trash cans over it?
How much daily traffic will the walkway receive?
How visible is the walkway from the street or main areas of the backyard?
Are there points of interest along the walkway for guests to enjoy?
Professionals will tell you that it's always better to err on the side of caution (go wider, if in doubt) but standard widths are as follows: 18″ minimum, 24″ functional, 30″ one person, 36″ standard or 48″ for 2 people.
Choosing the Right Walkway Materials
1. Clay Brick Pavers

Because clay bricks have been used in landscaping for centuries, they often feature prominently in the yards of historical homes and districts. A red brick walkway adds a sense of age and elegance to a home while offering excellent durability and more flexibility because brick is less sensitive to cracking and individual bricks can be popped out for repair with relative ease.
Traditional red bricks are made from clay in red, orange and brown hues that provide a pop of color that contrasts nicely with green lawns and colorful landscaping.
Adding a quick dry-laid brick walkway is an easy DIY project, because it involves merely laying bricks on top of sand and gravel without mixing cement. Use tumbled or recycled brick for a rustic look or lay them in interesting patterns like herringbone, basket weave, runner and more.
Depending on the look you'd like to achieve, concrete pavers that look a lot like clay bricks are on the market and can be installed with greater ease, due to their interlocking nature (versus setting individual bricks in mortar).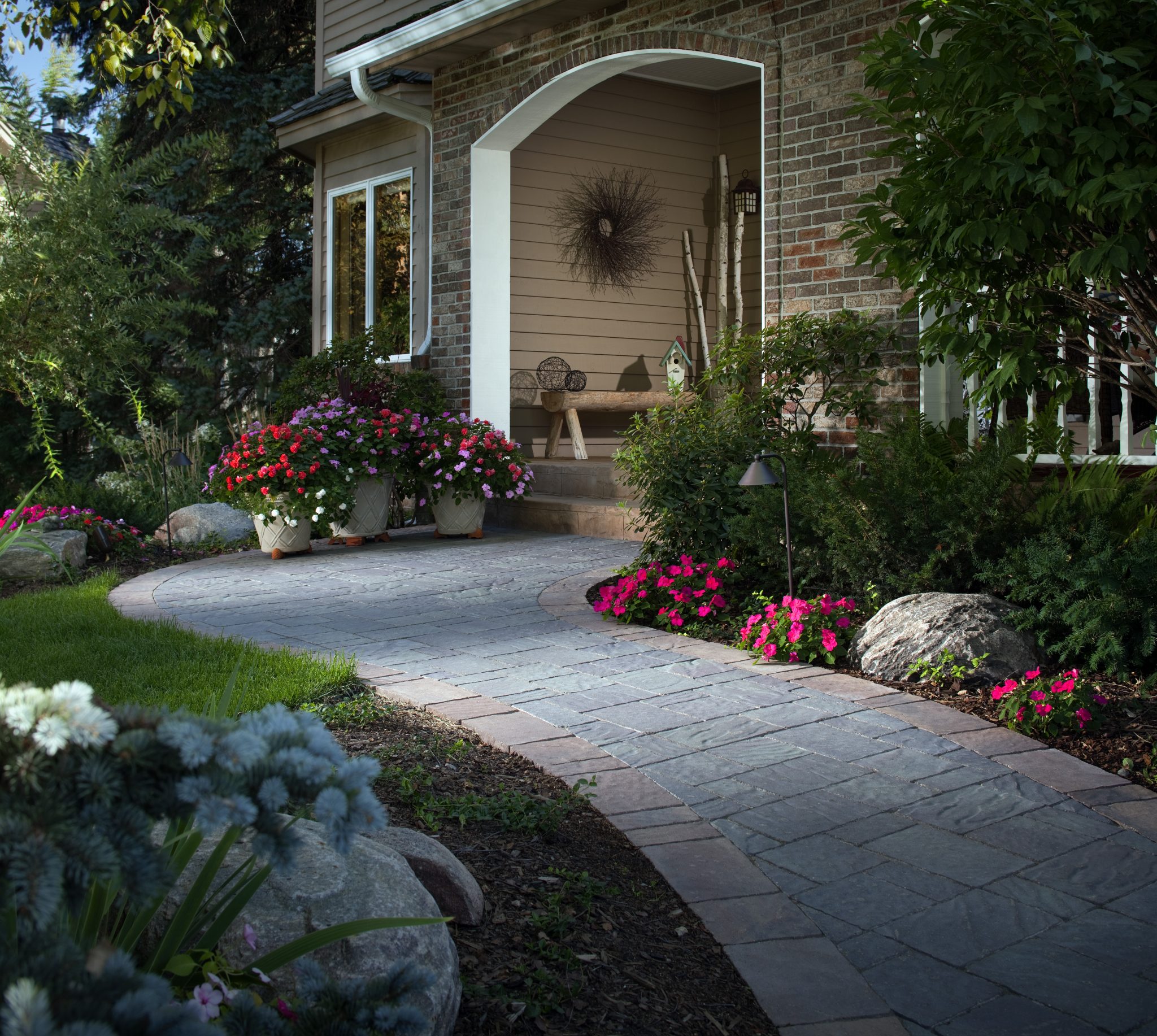 2. Gravel
Two big benefits of using gravel as a walkway material: It's easy to lay and inexpensive.
All you need to do is identify where you'd like your walkway, lay down some landscape fabric (to avoid weeds) and pile on the gravel, however, to prevent the gravel from spreading you'll need to install some kind of edging if you don't already have one. Plastic edging is the most inexpensive choice but you could use paving stones, brick pavers or even larger rocks to contain the gravel.
When selecting the actual stones, smaller ones tend to be easier to walk on because they pack down together nicely. If you are laying a large gravel path, take the measurements to your gravel supplier to have them calculate how much you will need to purchase and save some headaches by having it delivered.
3. Natural Stone
Natural stone is a beautiful option for a walkway as each stone is unique in color, design and shape, but get ready for some maintenance as stone, like slate, can chip if exposed to moisture. Remember, all outdoor stone will be rained on or the beneficiary of irrigation overspray at some point so plan on sealing it frequently.
Flagstone is a popular choice because it's fairly durable and withstands extremes in temperature from freezing to very hot, but it's very heavy so you'll need assistance with placing large stones. Flagstone also provides a naturally slip-resistant finish and can be dry-laid, but slate tiles need to be set on mortar and grouted in.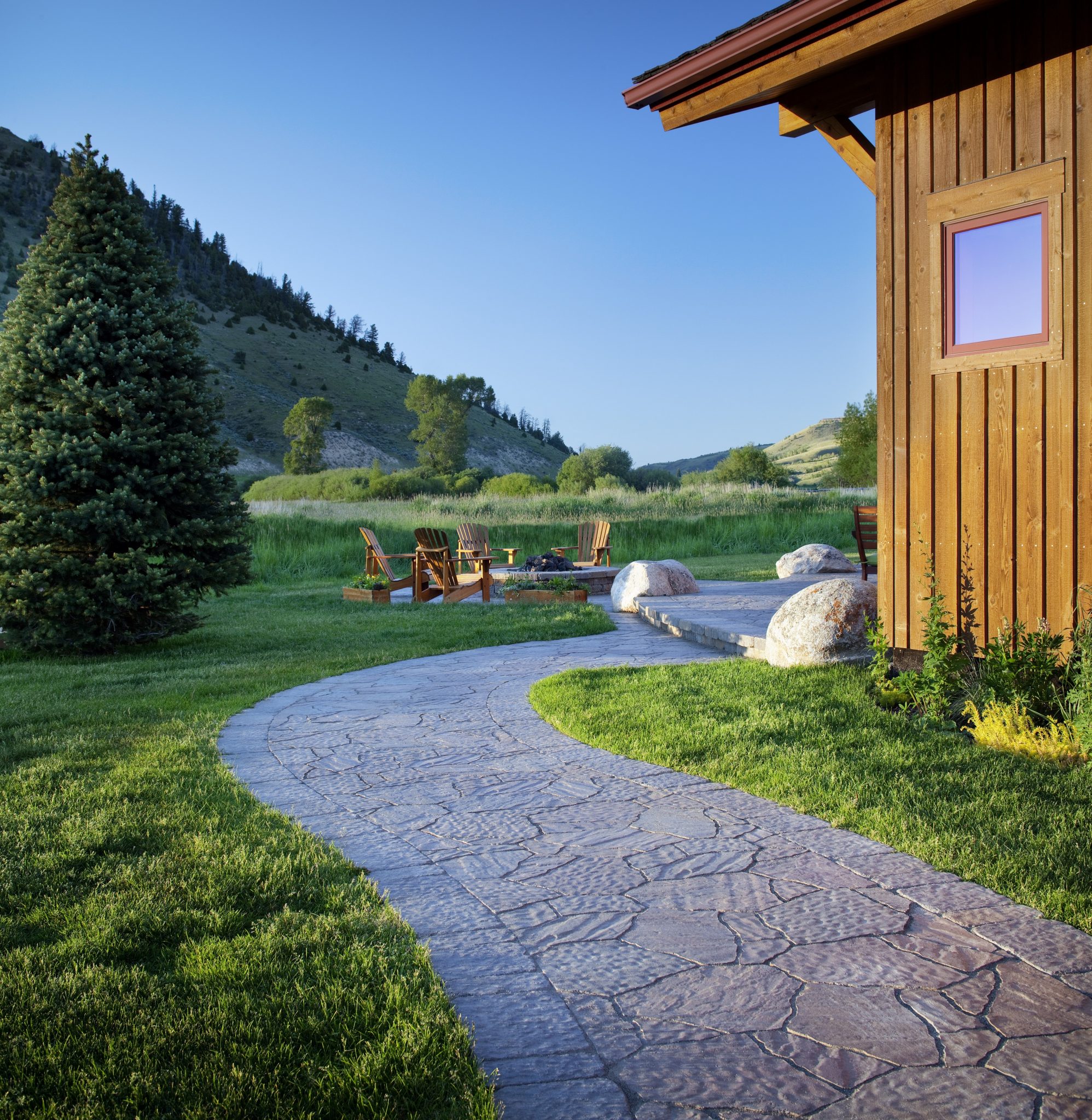 4. Poured Concrete
If you're pouring a concrete patio already, it may make sense to go ahead and pour concrete walkways as well because there are a myriad of color and texture choices available by using stamped or colored concrete.
Plus, sidewalk chalk-loving kids go crazy for a blank canvas.

Despite ease of installation, concrete slab walkways required maintenance as you'll need to seal them regularly to keep water out and be diligent about removing concrete stains as it is a porous material.
Concrete will also crack over time which is a fact that homeowners must get used to, though it's easy to sweep or hose clean and ride tricyles on. Keep in mind that if considering stamped concrete, using concrete pavers may cost the same as a poured concrete walkway.
5. Interlocking Concrete Pavers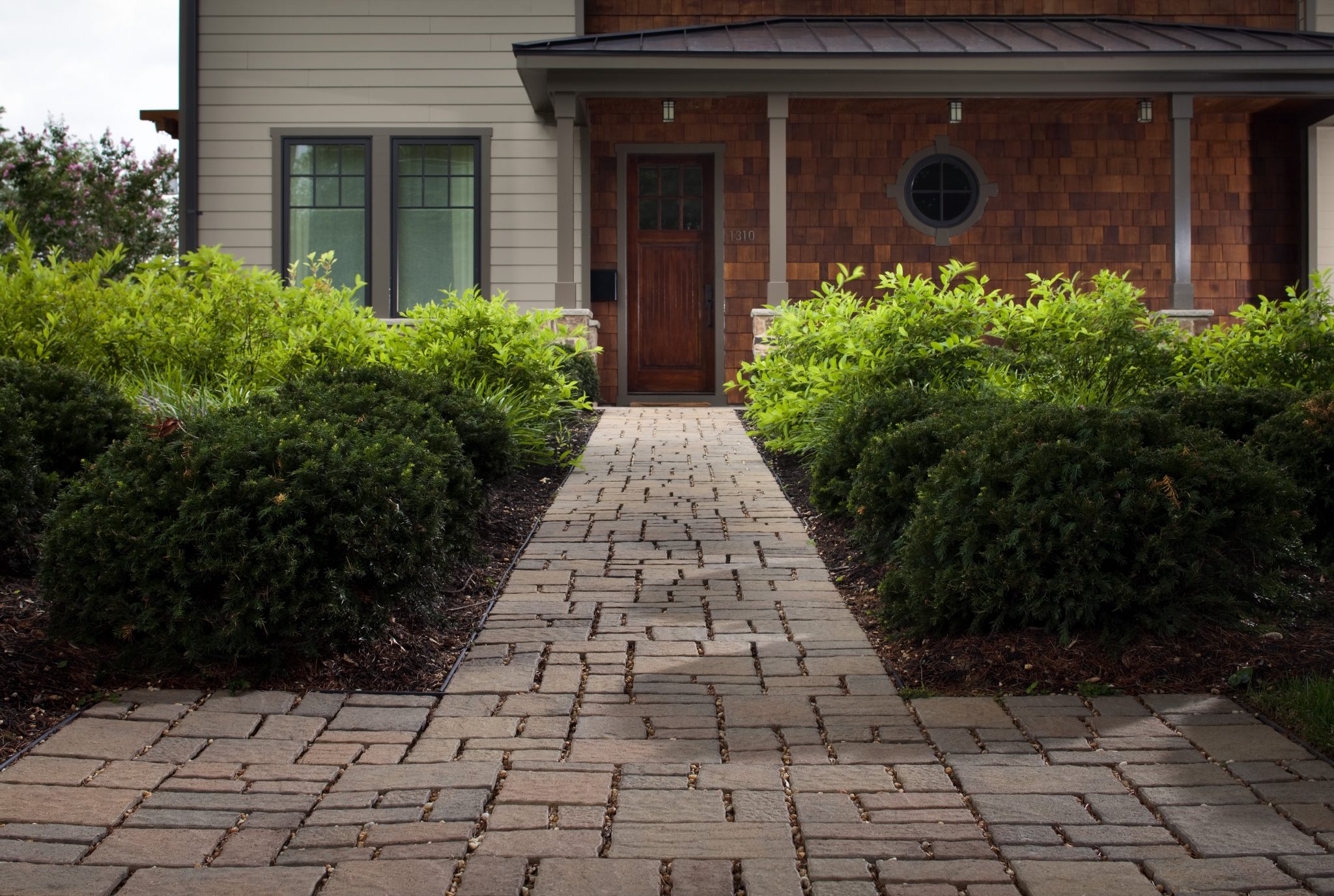 A concrete paver is a practical and attractive option for walkways and other hardscape because they're less expensive than natural stone and can be as expensive as poured concrete options, depending on which you choose. Concrete pavers are modular (typically interlocking) which means that DIYers love them and repairs are less-complicated because they can be popped out, sort of like LEGOs.
Due to the interlocking structure, pavers give homeowners the ability to easily create curved and more decorative walkways with hundreds of different combinations of colors, styles, sizes, thicknesses, patterns, and textures.
We've got over 25 years of experience installing pavers in San Diego and beyond so please check out our Ultimate Paver Resource Guide for more details.
Get Creative with Walkway Design
Just because a walkway has a practical purpose doesn't mean that you can't get creative as a well-designed path can add so much design interest to a home.
This video not only demonstrates a contemporary walkway that, frankly, is the centerpiece of this yard, it talks viewers through why the design was chosen and how they did it (keep in mind the design ideas apply to any material, not just poured concrete).
By studying various walkway designs, you'll notice that few are straight and that by adding a jag or zig-zag, an illusion of a larger space is created.
Another popular design feature involves varying the width of a walkway by widening it at places you'd like guests to stop, such as where the walkway meets a patio or other points of interest such as the approach to the fountain below.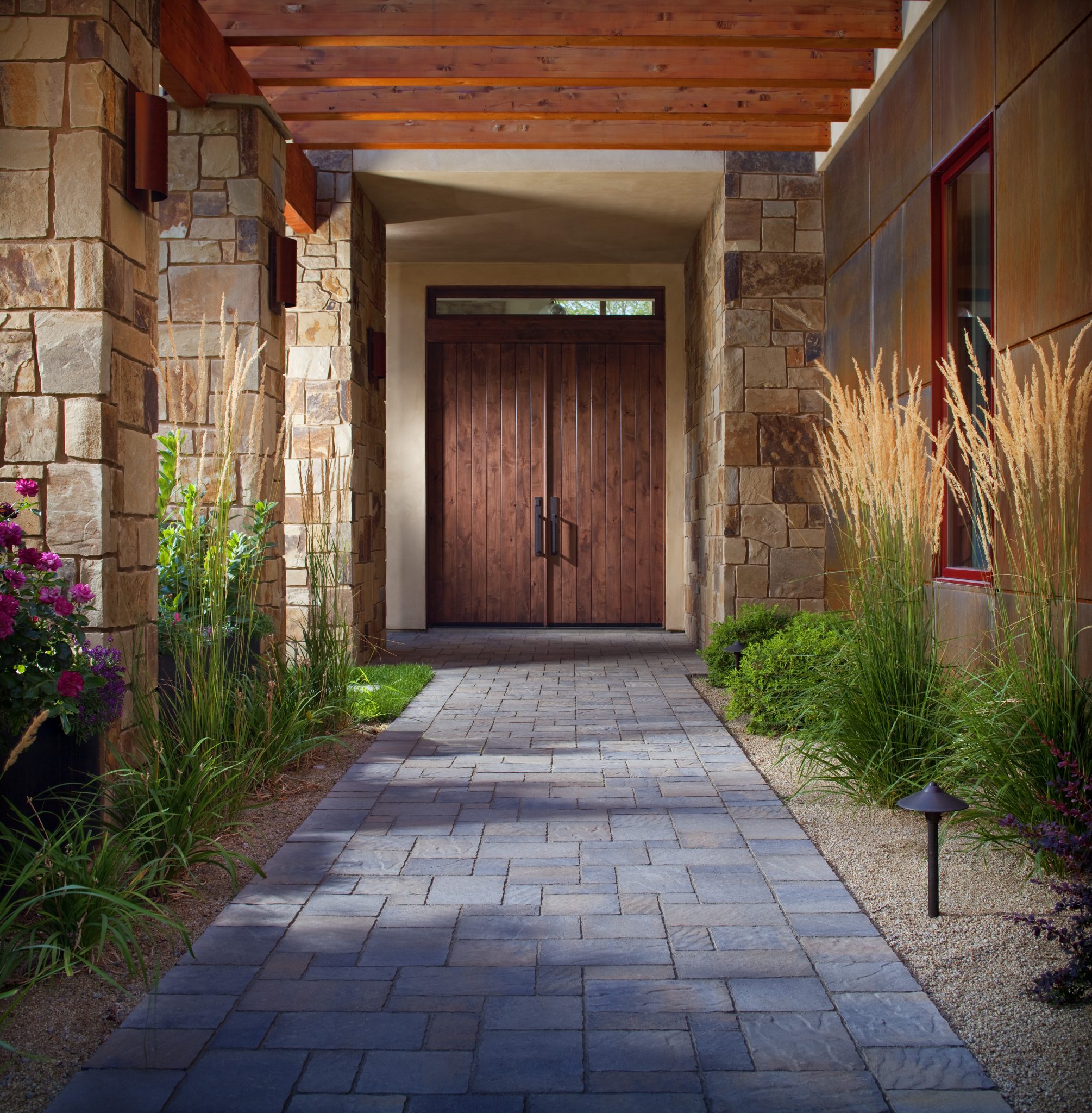 Your Turn…
There's no rule that says you must use the same walkway material throughout so go ahead and mix together pavers of different shapes and colors, for example. Once you are finished with design, plants near the walkway can transform the look and feel of the space.
At the end of the day, you've got to love the walkway design as well as manage it into a budget. By submitting simple information regarding your project, we can definitely help you decide which walkway material is best for your application.
Check out our paver services and get in touch with a specialist for more information.
Paver Perfection
Our paver professionals will design and build the patio, pathway, or driveway you've always dreamed of.
View Services
Photo credits: brick walkway, Flickr/andrewmalone; sidewalk chalk, Flickr/lucidtech