Paver Driveway Ideas: Patterns & Designs
Installing a paving stone driveway may be the most significant landscaping change you can make to instantly improve your home's curb appeal. This upgrade can also increase the value of your home and offers exceptional beauty and longevity.
Pavers are available in an array of colors and styles, which makes it possible to find a great match for your home's architecture. Because there are so many options, it is important to know a bit about what is available, including colors, textures, and styles, so that you can choose the right paving stones for your project and be better prepared for choosing driveway paver designs.
Paver Options
Let's get started by going over some paver basics that will help you determine which paving stones will help you bring your design ideas to fruition.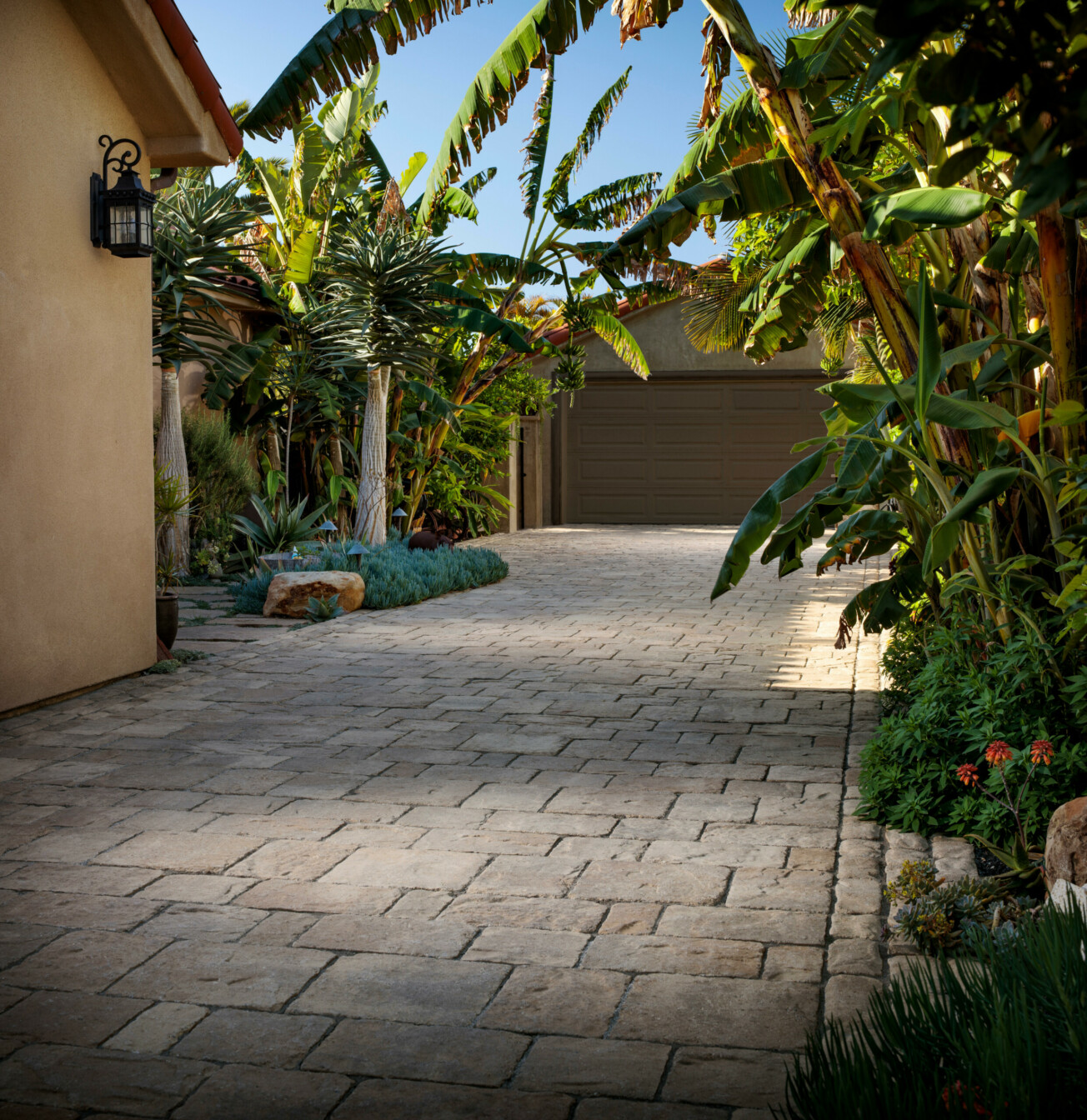 Paver Textures
Different paving stone textures offer distinct looks. For example, choosing an antique cobble paver is going to give you a very different look than opting for slate. You may choose to use different textures in your design to increase visual interest, such as using one texture for the main part of your driveway and a different texture as a border.
Paving stone textures include:
Slate

Flagstone

Non-tumbled

Tumbled

Embossed

Tumbled and embossed

Antique cobble
Non-tumbled pavers are smooth, tumbled pavers look more weathered, embossed pavers have a dimpled surface, and pavers that are tumbled and embossed look weathered and dimpled.
Paver Colors
Color choice is among the most important considerations when designing a paver driveway. This will determine how well your driveway fits with your home, other structures, and other hardscapes. To ensure a cohesive look, you need to choose a color that complements these other features. Finding a color that matches or complements the trim or roof on your home is a good way to accomplish this. Once you have found the right color, you can use it in the design of your driveway. You may also choose to add more visual interest by using one or two additional colors in the pattern or in a border along your driveway. You will also need to decide whether your design will be primarily monotone or if it will incorporate multicolored paving stones.
Paver color options include:
Sandstone

Limestone

Cream

Brown

Tan

Buff

Brown

Gray

Moss

Charcoal

Paver Styles
There are many common paver styles that are readily available, as well as custom options that can be achieved with special-order molds.
Some common styles include:
Tile

Brick

Slate

Flagstone

Weathered stone

Antique cobble

Old world cobblestone
Paver Patterns
The first part of the design phase is choosing the paver color, texture, and style that works best with your home and other hardscapes. Once you have accomplished this important step, the next step is choosing one or more patterns for your project. The shape of your chosen pavers may dictate which patterns you can choose, so you may want to work with a design consultant who can help you choose the right pavers and patterns for your driveway.
There are lots of popular patterns from which to choose; these are just a handful of choices you might want to consider:
Running bond

Running quarter bond

Basketweave

Herringbone

Parquet

Random I

Ashlar

Driveway Paver Designs
Now that you know the paver styles, colors, and textures you are going to use and you have picked one or more patterns in which to lay the pavers, it is time to determine your final design in which these patterns will be used. This is where you can really get creative and customize the look of your driveway. There are lots of designs you can choose, or you can create your own, so let's look at some of the most popular driveway design ideas to help inspire you.
Accent Colors
Increase the visual appeal of your driveway by adding one or more accent colors. You can do this by choosing pavers that match or complement colors on nearby structures or used in nearby hardscapes. This ties in different features of your property for a more cohesive look and adds a pop of color to make your driveway stand out.
Borders and Banding
Using borders or banding to add visual interest is probably the most popular design idea for paver driveways. To create borders or bands – or both – to make your design more unique and interesting, you must make them stand out from the rest of your driveway. To do this, you could choose a different texture, color, or size of pavers. You could also angle the pavers differently from the rest of the project to make them stand out more. If you choose to create borders or bands with different angles, you can do this with pavers that are the same as the rest of your driveway or that differ in color, size, or texture.
Angled Layouts
Another popular design idea is to angle the pavers throughout the driveway. This might mean laying the pavers at a 45-degree angle or at a 90-degree angle in your design. Alternatively, some choose to use both 45-degree and 90-degree angles in their design.

Varying Textures
Using differently textured pavers is a great way to make a border or band stand out. You can also add pavers with different textures in other patterns incorporated in your design to enhance visual interest.
Pattern Inserts
If you are looking for something a bit more unique, you might consider including smaller areas of a different pattern within your main pattern. This might mean including an inset pattern where the pavers are angled differently than the rest of the design or including one or more circular sections. You might insert smaller areas where the pavers are laid in completely different direction or, to make your driveway even more unique, you might add more distinctive inset designs, such as turtles, flowers, leaves, or fish made with colored pavers.