30 Flower Bed Ideas for 2022
Instantly add color and visual interest to your landscaping with these flower bed ideas that are sure to inspire you.
1. Colorful Sidewalk Border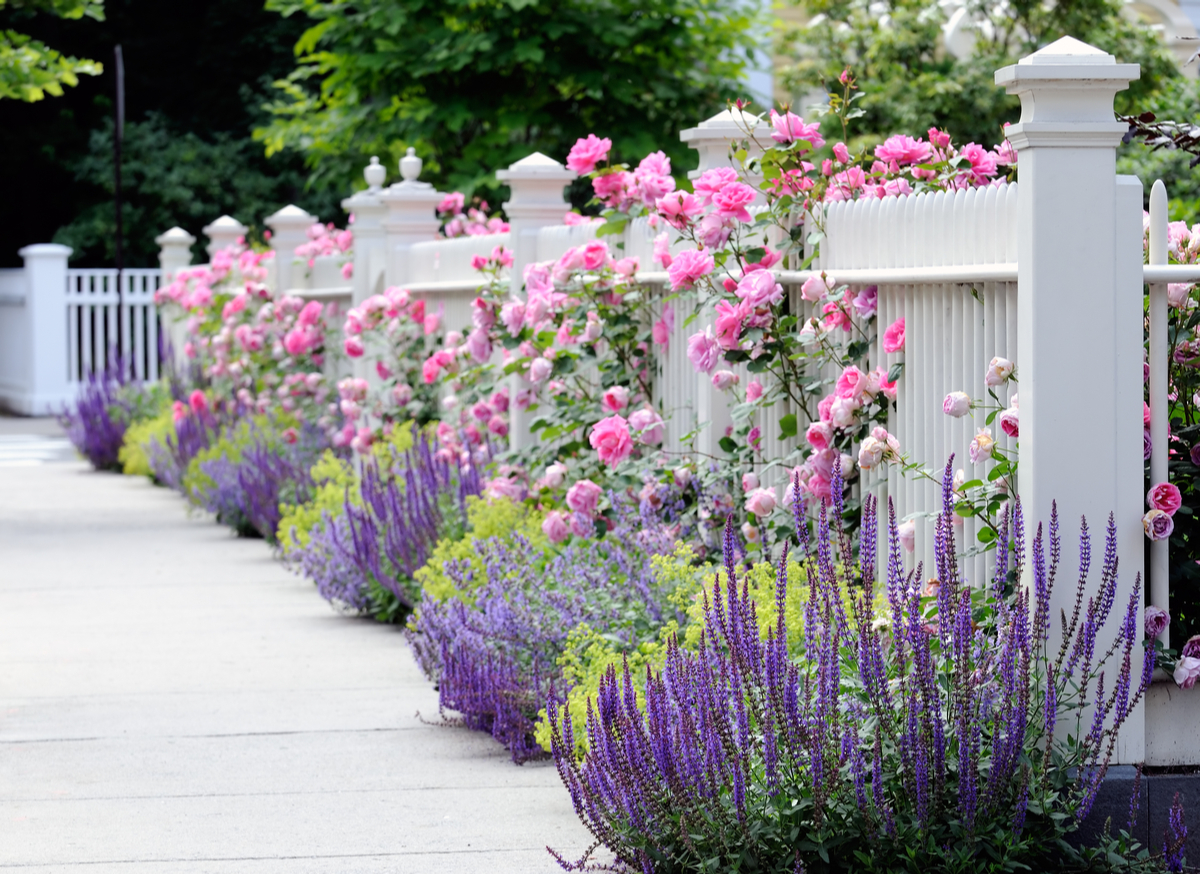 Increase your home's curb appeal and brighten the neighborhood with colorful, easy-care plants planted along the sidewalk. You will need to keep them trimmed to make sure pedestrians and wheelchairs can traverse the sidewalk unimpeded, so be sure to choose plants that you will not have to constantly prune to keep them tidy.
2. Mailbox

Creating a flower bed around your mailbox is a quick, inexpensive way to spruce up a boring pole and immediately increase your home's curb appeal. Choose blooms that complement your existing landscaping and the architecture of your home for a cohesive look.
3. Monochromatic 

A single-hued splash of color increases visual interest and breaks up the monotony of a lawn, concrete hardscapes, or landscapes with mostly green foliage without creating a cacophony of various colors. This provides a cleaner look that goes well with modern architecture, Mediterranean-style homes, and traditional facades. If you are looking for a simple, attractive pop of color that will not detract from other landscaping features, a monochromatic flower bed filled with blooms in the same or similar colors may be your best choice.
4. Dichromatic 

If you are looking for a bit more color but still want a well-manicured look, consider going with a dichromatic flower bed design. Choose two colors that contrast or complement each other, such as the pink and white petunias in the photo above, to create beautiful flower beds. For a sleeker look, plant all one color in one row, and then only the second color in an adjacent row. Alternatively, you can plant every other plant the same color, such as planting one plant with white blooms followed by one plant with red blooms, followed by another plant with white blooms. For a softer look, plant a bit more randomly, but be sure to avoid distinct clumps of one color that will stand out among more random plantings in the rest of the bed or border.
5. Walkway Border 

Walking paths control traffic and guide your guests between entries, outdoor living areas, and different features in your yard. You can enhance the look of your pathways and gently encourage guests to stay on the path by bordering walkways with flowers or plants. You will need to keep them trimmed so that they do not block the walking path, so choose plants that will not require much trimming to keep them tidy and out of the way.
6. Shaped 

Most flower beds are round, oval, square, or rectangular. They may gently curve around a tree or along the fence in a backyard, or they may be an oval island in the middle of a lawn. It is rare that you will see a flower bed in the shape of a star or a heart or a crescent moon. This means that you can add a unique feature that will instantly add visual interest to your yard by installing a flower bed in a fun shape.
7. Wildflower 

Low-maintenance wildflowers are perfect for borders and flower beds where the goal is a more natural look. Look for a wildflower seed mix at a local nursery or garden center to find options that will be easy to grow, drought-tolerant, and beneficial for local wildlife.
8. Patterned 

The zig-zag pattern of the flower bed in the above photo shows just how fun it can be to get creative with your flower bed design. This pop of pink crisscrossing the green grass and bordered by pavers provides a fun, interesting look for you and your guests to enjoy. If zig-zags are not your style, you might want to consider stripes, a chevron pattern, a checkerboard, or a wave design.
9. Butterfly and Bee Garden 

Attract pollinators to your yard with flower beds that add color and texture while also supporting local wildlife. Moths, butterflies, bees, and other pollinators coming into your yard provides some great visuals to enjoy while also increasing pollination for your fruit trees or your food garden.
10. Wheelbarrow 

If you have a rusted-out or broken wheelbarrow that no longer serves its intended purpose, consider transforming it into a planter. This is one of those flower bed ideas that you will see all over social media, so you may have already considered this one. But, if not, it is worth a look. For an even more rustic feel, look for a wooden wheelbarrow or an antique wheelbarrow at local flea markets or antique stores.
11. Boat 

Using old boats as flower beds is particularly fun in beach towns and at lake houses, but they can be used in any garden where you want to achieve a rustic or whimsical look. Boats are easy to transform into flower beds once you figure out how to get them home, since they sit on the ground and usually have a solid bottom.
12. Moon Garden

If you often entertain at night or work long days and cannot enjoy your outdoor living areas until after the sun goes down, consider planting a moonlight garden meant to be enjoyed at night. It is all about plant selection with this one, since a moon garden relies on plants that shimmer and glow in the moonlight. Choose plants with silvery or gray foliage and white or light flowers that will reflect the light of the moon. Of course, this flower bed will also be beautiful during the day, but it will take on a completely different look after sunset, which makes it particularly enticing at night.
13. Window Boxes

Window boxes are an easy way to add color, beautify boring windows, and increase your home's curb appeal. They may not be on the ground like most flower beds, but they are still a great way to enhance visual appeal and add a whimsical touch to your landscaping.
14. Native Flower Borders and Beds

Native plants are a low-water, low-maintenance choice that adds color and texture without much work. Visit a local garden center to find plants that thrive in your area, have colorful blooms, and will be drought tolerant.
15. Edible Flowers 

There are several options for incorporating food plants into your flower beds, some of which we will cover on this list of flower bed ideas. But this one is not about plants you might find in a vegetable garden. This one is about edible flowers, such as pansies, lavender, or nasturtium. You can then cook with them, bake with them, or use them fresh in salads or as garnishes.
16. Food Plant Beds and Borders

This cabbage garden might be a bit much for your yard, but it is a perfect example of how you can create colorful, attractive borders and flower beds using only food plants. If you have limited space, this is a great way to make your flower beds serve two purposes by adding both function and beauty to your yard.
17. Vibrant 

If you want a bold look and are not afraid of a lot of color, you might really enjoy a vibrant flower bed filled with brightly colored blooms. This is a great choice for borders around a natural grass or synthetic lawn or to add soft textures and bright hues to hardscape-heavy outdoor living areas.
18. Ombre 

Ombre is the gradual blending of hues starting with the lightest hue and ending with the darkest. This gradual color change, when used in flower beds, can lead guests along ever-brightening pathways or create a focal point at the darkest hue with lighter hues gradually fading out around it. An example of this would be to plant a flower bed with only pink-flowering plants. At one end of the bed, you would start with a pale pink and work your way to a vibrant fuchsia at the other end of the flower bed or border.
19. Vertical Gardens

If you have limited space, an ugly wall or fence, or want to create a focal point on one side of your outdoor living area, consider going vertical. This is a great way to add color to a space in a small footprint or to hide an ugly structure. You can opt for flowering herbs or lettuces to make it a food garden, flowering ornamentals for lots of color, or succulents that will require little water and maintenance.
20. Rock Garden 

Creating a rock garden flower bed will give your yard a unique look that offers more visual interest in regards to height and varying textures. Rock gardens conserve water, give your yard a more natural look, and can be used in landscaping around homes of any architectural style. Place your rocks first, and then plant colorful blooms around the rocks and between them to add a softer texture and pops of color.
21. Borders Around Artificial Grass

Most people who choose synthetic turf are looking for a low-water, low-maintenance ground cover with the look, feel, and function of a natural grass lawn. To make your artificial grass look even more natural and enhance the visual appeal of your outdoor living spaces beyond the vibrant, year-round green of manufactured grass, surround your lawn with plants in varying textures and hues.
22. Cactus Garden

If you are looking for low-maintenance, drought-tolerant flower bed options that will thrive in most parts of Southern California, consider a cactus garden. Cacti complement homes with southwestern, hacienda-style, Mediterranean, Mid-Century Modern, or Spanish-style architecture. When strategically placed, they can even increase your home's security by warding off potential intruders. That is not something that can be said about most flower beds.
23. Island 

Island flower beds provide a perfect opportunity to add a pop of color to your landscaping design. If you have a natural grass lawn, reducing the lawn size by adding an island flower bed can help you save water. If you are installing a large artificial grass lawn, an island flower bed can break up the space and add even more visual interest. Since these beds will be seen from all sides, it is best to plant the tallest plants in the center and the shortest plants around the edge.
24. Climbing 

If you have a fence or porch that is drab or unsightly, consider filling your flower bed with climbers that will wrap themselves around porch railings, climb fences, or fill in those empty spaces beneath raised decks. You may need to employ trellises to train your plants, particularly if you are hoping to cover a fence or wall with a surface to which vines might not be able to attach. Climbing flower beds are also a good idea for areas where you have an arch, arbor, gazebo, or pergola that you would like to cover with colorful vines.
25. Shade Gardens Around Trees

It is easiest to grow plants or flowers in spots that get plenty of sunlight. However, there are plenty of options that will thrive in shady areas, such as around the base of trees or near structures. It is all about the right plant choice. For example, there are many varieties of hostas and ferns that grow well in part or full shade. If you are planting your shade garden around the base of a tree, make sure you choose shallow-rooted plants that will not compete with the tree for water or nutrients. You also need to avoid placing soil or mulch against the trunk of the tree.
26. Retaining Wall 

There are two ways you can make a retaining wall flower bed work for you. The first use is to enhance the visual appeal of an existing retaining wall that can be made more attractive by planting colorful flowers or trailing plants that will soften the look of a stark wall. The second way to make this work for you is to use pavers or stones to create a retaining wall for a raised flower bed. Adding levels to your landscaping increases visual interest by bringing height and depth to the design.
27. Raised with Seating

Raised flower beds and borders increase visual interest by adding height to your landscape design. Creating a raised flower bed in the corner of your outdoor living area and incorporating a bench into the design is a great way to add more seating while also adding color and texture to a patio or deck.
28. Herb Garden

Not all flower bed ideas have to have ornamental plants; herb gardens are colorful additions to any landscape that happen to also serve a functional purpose. Medicinal and culinary herbs come in a beautiful variety of greens with blooms in a range of colors, including white, purple, lavender, orange, blue, and pink. If you have limited space, an herb garden offers the perfect balance between beauty and function for small space gardens.
29. Found Object 

Flower beds can be crafted from just about anything that offers a large enough basin for soil and plants. This might include turning vintage suitcases into a row of flower beds, setting up a wire bed frame in your garden and making a literal flower bed, or – like the above photo – filling an antique horse cart with colorful blooms.
30. Cutting Garden

Some flower bed ideas are really no-brainers. Choosing flowering plants with blooms that are appropriate for floral arrangements allows you to beautify both the exterior and interior of your home. Be sure to plant both showy blooms and fillers, such as dahlias, sunflowers, or roses along with snapdragons, feverfew, and feather ferns.
(Original Publication Date: January 10, 2019 | Refresh Date: January 11, 2022)