21 Retaining Wall Ideas to Upgrade Your Backyard
Retaining walls are a key element in many types of landscaping designs. Some are just for aesthetic purposes, like creating raised planter borders or defining a space, while others are needed to hold up a hill and slope of a backyard. 
Unlike some landscaping projects, retaining walls should be installed by a professional, with the exception of simple walls like raised garden beds and perimeter boundaries, which are fairly easy for the average homeowner to build. Because many large retaining walls need to be installed with footings, weep holes, drainage and grading in mind, it's best to have an experienced contractor and engineer tackle this kind of landscaping project.
Properly built retaining walls can last decades or even centuries, so while having a functional retaining wall is important, you'll want to make sure it's cohesive with your overall landscape design, as you'll be looking at it for a long time. Fortunately, when it comes to retaining walls there are endless options with materials like paving stones, concrete, wood, metal, stucco, boulders, blocks, bricks and river rocks. Below, we cover 21 retaining wall ideas you might want to consider for your property.
1. Natural Stone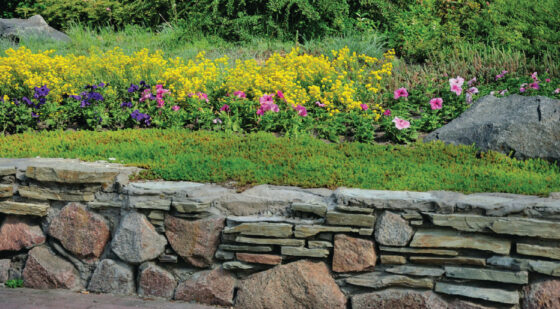 Natural stone retaining walls are perfect because they easily blend into the natural surroundings of a backyard and don't distract from attractive landscapes like flowers, lush plants and trees. Additionally, there are many choices of natural stones to pick from — some popular variations include fieldstones and flagstones, sedimentary rocks that can be easily stacked to create a retaining wall. 
2. Outdoor Kitchen

Make your retaining wall especially functional by merging it with your outdoor kitchen. You can build your outdoor kitchen directly into the retaining wall as one cohesive design or use the space directly behind your outdoor kitchen's countertops to grow herbs like rosemary, thyme, oregano and basil to easily use when cooking.
3. Retain a Water Feature

You can make your retaining wall an attractive focal point by adding a water feature, such as a waterfall, wall fountain or pond. This also allows you to save space by combining two landscaping features in the same footprint, so you can get the wall you need and the waterfall you want all in the same space.
4. Use a Retaining Wall to Install a Fence

Fences can be added on top of, in front of or behind a retaining wall. Installing a fence in combination with your retaining wall is a great way to add to the privacy of your outdoor space as well as the security of it. It's important to consider if your retaining wall can support the fence. How strong your retaining wall is will determine if you add a fence using the surface mounting method, face mounting, embedding or a post-in system.
5. Living Retaining Wall

A living retaining wall or vertical garden can be an amazing way to add to the greenery of your outdoor space while absorbing noise and increasing the privacy of your yard. Living retaining walls are more complex to build, as they must be strong enough to hold back the landscape soil that the plants will reside in. Living retaining walls don't just need to be for decorative plants; they can also be used for herbs and vegetables.
6. Boulder Retaining Wall

Make a statement with your retaining wall by using large boulders stacked on top of each other to hold back the soil and prevent erosion. Boulder retaining walls should be installed by a professional with the proper landscaping equipment, as moving individual boulders from point A to point B and stacking them is a difficult task.  
7. Home Entry Retaining Wall

Retaining walls can also be combined with staircases to transition levels from one area of your backyard to another. This terraced look is a popular choice for leading from a backyard pool up to a home's entry. Not only is it practical for separating levels from a pool space, but it's also visually appealing and creates a leading line to your home.
8. Build or Stabilize a Slope

This is the most common use for a retaining wall. If you are concerned about erosion and runoff on a slope, retaining wall installation may be the answer to your problem. But don't let your creativity stop there. Since you likely need to build a barrier wall anyway, incorporate it into your overall hardscape design and expand its function by creating usable space on the freestanding side of the wall.
9. Raised Flower or Garden Beds

Much like creating an island flower bed, you can also use retaining walls to hold the soil for raised garden beds or borders along your fence line. Some designs may call for professional retaining wall installation, but this is one that many homeowners may be able to accomplish on their own.
10. Raised Patio

Aside from creating planting beds, we have mostly discussed how to use retaining walls to transform sloping property into usable space. But even flat land can be improved with the use of retaining walls. For example, you can increase visual interest by using a retaining wall to create a raised area for a patio or outdoor kitchen.
11. Sunken Patio

Similar to a raised patio, retaining walls can be used to create a sunken patio space. A sunken patio works well when surrounded by natural stone, and plants can create a hidden-garden type of feel. Complete your sunken patio with an outdoor fireplace and some string lighting for added coziness.
12. Sitting Wall Around Your Fire Pit or Patio

If you plan to use a retaining wall to carve out an area for a fire pit or patio, consider using the retaining wall for seating as well. A short wall can be designed to also be used as a bench. If your slope requires a taller wall, consider installing a bench in front of it so that the upper part of the wall can act as a backrest. This is an easy way to increase seating options for outdoor living areas.
13. Turn a Slope Into a Flat Grass Area

Another way you can use retaining walls with the intention of adding dirt instead of taking it away is to create a flat lawn where there was once a slope. In this instance, you would install your wall at the edge of your future lawn, and then build up the lower part of the slope by filling it in with dirt. Once you have created a level area, you can plant your lawn or have low-maintenance, artificial grass installed.
14. Turn a Slope Into a Garden

Sloping yards may seem unusable, but retaining walls can completely change that. You can transform sloping land into a terraced backyard with different levels for gardens. Each terrace level can be used to separate various kinds of vegetables and fruits based on which variations grow well together.  
15. Combine a Retaining Wall With a Fire Feature

Another space-saving retaining wall idea is to include a fire feature in your wall design. If the design of the wall allows, you may be able to build an outdoor fireplace into the wall. If the wall is short, you may be able to incorporate a fire feature on top of the wall. 
16. Define Outdoor Living Areas in Your Backyard

As you design the hardscape for your backyard, consider using retaining walls to define spaces within your yard. This might be to create some more intimate seating areas or to separate your vegetable garden area from your outdoor living areas.
17. Highlight a Tree

If you have a favorite tree in your backyard, highlight it by creating a small retaining wall around the perimeter of your tree and placing some landscape lighting around it. This kind of retaining wall can also double as a flower bed or simply section off exposed roots of the tree to protect them and prevent people from tripping on them. 
18. Timber Retaining Wall

Like natural stone retaining walls, there are various options for timber retaining walls. Some of these include natural timbers consisting of 6″x6″ or 8″x8″ lumber stacked on top of each other, timbers combined with railroad ties, and post and panel retaining walls where the posts are secured into a concrete base. Timber retaining walls can be a good option for a rustic or more natural landscape look.  
19. Gabion Retaining Wall

Gabion retaining walls are essentially cages or galvanized steel enclosures filled with rocks, stones or bricks. Gabion retaining walls are some of the easiest DIY projects and can be a good way to repurpose small rocks and stones that would otherwise be difficult to stack. Gabion baskets are typically low maintenance, and you won't have to worry about cracks that can occur with brick and concrete walls. 
20. Modern Poured Concrete Walls

Poured concrete walls can be some of the cleanest-looking retaining walls, especially with white concrete, and are often used for a modern landscaping look. Not only do poured concrete walls have a beautiful aesthetic, but they're also especially strong and versatile. Poured concrete can be any color and can be textured or have objects added to them. 
21. Add Stairs

Frequently Asked Questions
What is the cheapest type of retaining wall?
The cost of a retaining wall varies greatly depending on the type of materials used to build it. Poured concrete and concrete blocks are typically some of the cheapest types of retaining walls, as poured concrete starts around $4 per square foot and concrete blocks can cost as low as $2.50.
What is the easiest retaining wall to build?
Short walls under 3 feet tall are usually the easiest retaining walls to build and the most friendly for DIY projects. Short retaining walls are best used for raised flower beds or sectioning off areas of your yard. Additionally, masonry blocks and concrete blocks are some of the easiest materials to build a retaining wall with.
Can I build my own retaining wall?
Yes. Short retaining walls (under 3 feet) make for DIY-friendly projects. However, if a larger, more complex wall is being built or it's used to hold up a hillside, you should seek out a professional. Retaining walls can be difficult to install and a professional can help you avoid costly mistakes and repairs later on down the road. 
How high can a retaining wall be?
Consult your local building codes and homeowners association for guidelines on retaining wall height. These may have restrictions on how high your retaining wall can be as well as if permits will be required to build one. 
Retaining walls are not only functional but they can also improve the overall appearance of your backyard and, if designed and installed properly, can last for years to come. Install-It-Direct is here to help you with your retainer wall needs and offers professional landscape design services to help you get the look you want done right.