How to Make a Raised Garden Bed
Building raised garden beds is an easy, do-it-yourself home improvement project that almost any homeowner can do. There are plenty of options that require only minimal handiness, and some require just a few basic tools, such as a tape measure and a shovel or hoe. Once you have gathered your materials, you can install a raised bed or two in an afternoon, and you can easily create an entire backyard garden as a weekend project.
Before we go into how to make a raised garden bed, let's look at a few of the reasons you might want to go this route for your garden.
10 Reasons to Build Raised Garden Beds
Raised garden beds can be used for ornamentals or food plants.

Garden beds allow you to control the soil content, which is particularly helpful if you are working with the

clay soil

commonly found throughout Southern California or other soil types that are not ideal for growing.

Planting a vegetable garden in raised beds creates a more defined garden space for a cleaner look.

Planting in beds can help protect your plants from pets, kids, and critters.

Taller beds can also keep your plants from being used as a restroom if you have dogs that tend to urinate on your plants.

Gardening in raised beds is

easier on your body

, since it requires less bending and stooping.

Raised beds do not require tilling, so working the soil is much easier and less time consuming.

Your plants will benefit from better drainage.

Raised beds have fewer weeds than in-ground gardens.

You will have fewer issues with

soil erosion

and soil compaction if you opt for raised beds.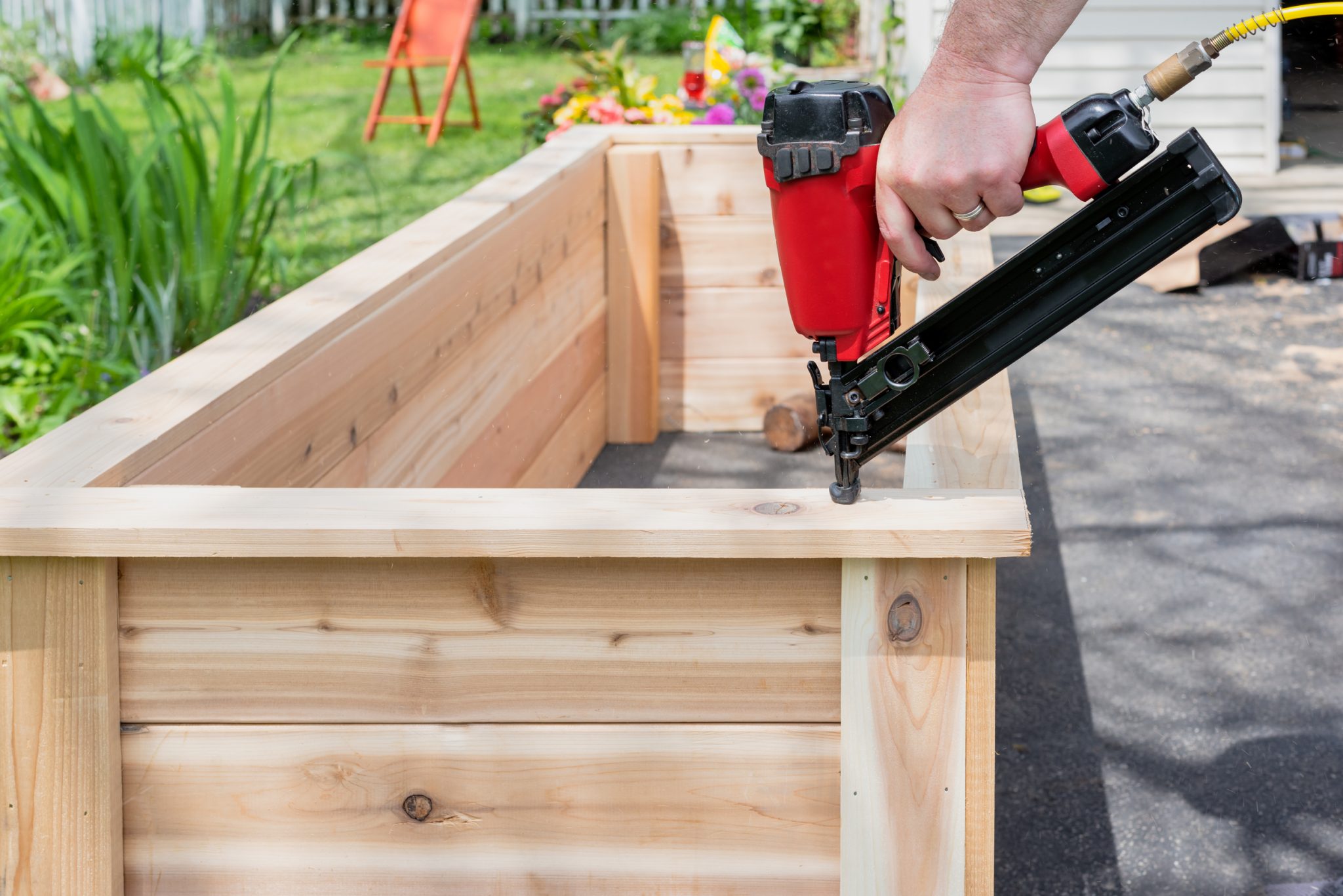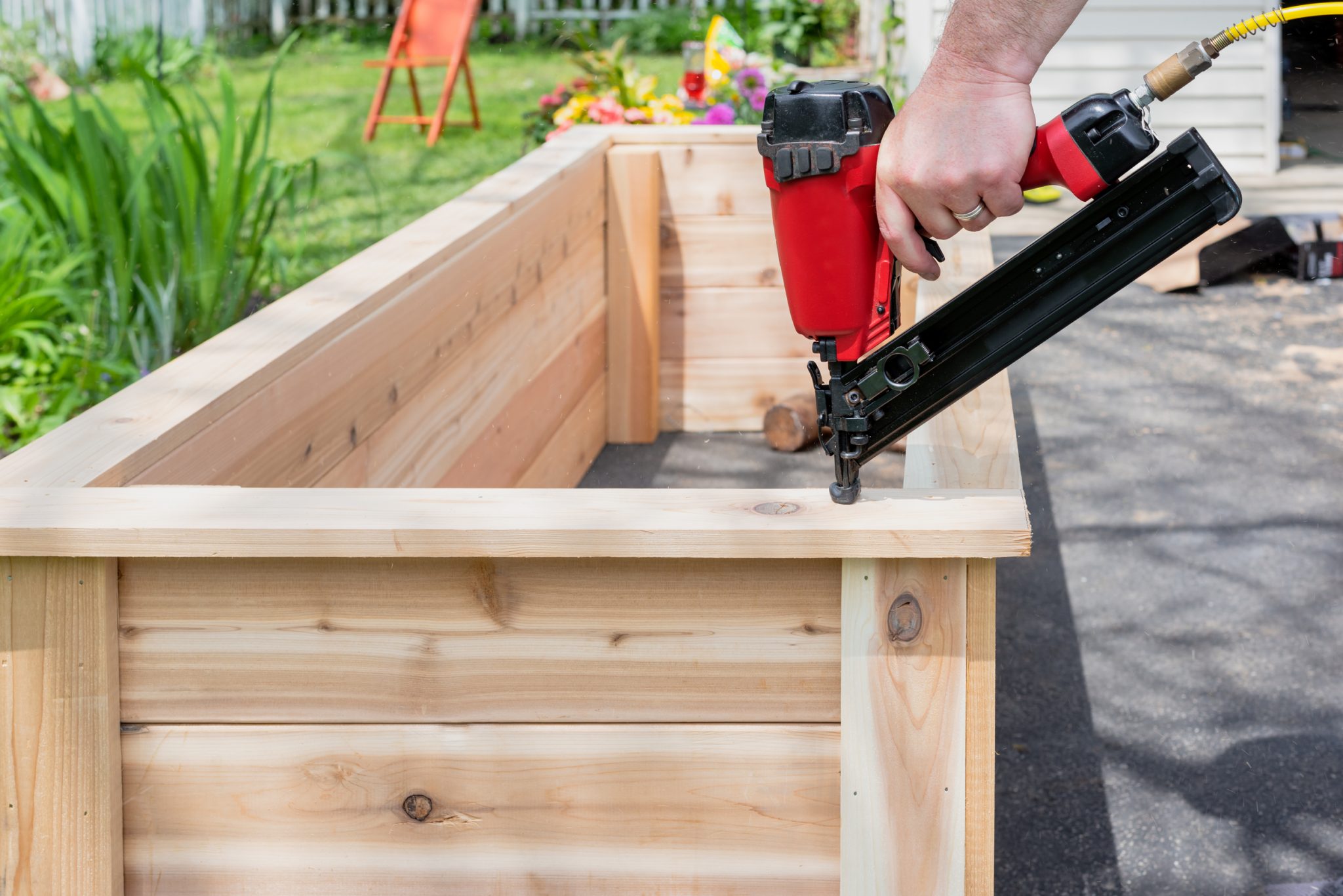 Supplies for Making a Raised Garden Bed
The supplies you will need depend on the type of materials you choose to use for your garden bed. For example, if you choose to build a wood bed, you will need lumber and screws. If you opt for pavers or cinder blocks, all you will need for your border are the pavers or blocks. If your budget allows, other supplies you might consider are gopher mesh and landscaping fabric to line the bottom of your beds to help keep out gophers and weeds.
Once your beds are built, you will also need enough potting soil to fill them and seeds or plants to start your garden. And, if you do not want to have to water your garden by hand, you may also want to consider installing a drip irrigation system to save time, water, and money.
How to Make a Raised Garden Bed
1. Choose a location.
The first step in building your raised bed is choosing the location. You will need to find a spot in your yard that has enough free space for the bed and that receives adequate sunlight. If you plan to grow food plants, choose a spot that receives at least six hours of sun each day. Ideally, choose a spot that receives morning sun, since afternoon sun in the middle of summer may be too much for some plants.
If you live in a windy area, consider looking for a spot that is shielded from the wind. For example, perhaps a spot near a wall, fence, or shed.
You will also want to consider how the location works with other features in your yard and your lifestyle. For example, if you are planting a potager that you plan to use for daily meal prep, you might want your garden conveniently located near your back door. However, if you entertain often and do not want to see your garden from your outdoor living area, look for a location that is a bit more out of sight.

2. Determine the size of your garden beds.
Once you have a location, you know how much space you are working with. Now it is time to measure the available space and determine the size of your raised beds and how many you are going to build. Keep in mind that you will need to be able to access them from each side and easily walk between them.
3. Make a shopping list.
It is now time to purchase the materials you need to build the beds. If you are using paving stones, take your measurements, find out the length of each paver, and determine how many paving stones you need. If you are going with cinder blocks, do the same thing. If you are going with wood, determine the length of each board so that you can plan your cuts. If you do not have a circular saw or table saw at home, most lumberyards and home improvement centers will cut your lumber for you, so make sure you bring your list of cuts to the store.
Before you head to the store for your materials, consider what else you might need and do not have on hand. Do you have enough screws? Do you own a drill? Is there a level in your toolbox? If you will be putting together a garden bed kit, do you have a mallet?
Use the length, width, and height of your beds to determine how much potting soil you need to purchase.
4. Demo and level the build site.
If the build site is currently part of your lawn, has poor drainage, or is on uneven ground, you will need to correct these things before you build. To prep your build site, remove any landscaping or hardscapes currently there. Next, make sure the area is relatively level and drains properly.
5. Make your raised garden beds.
If you are using paving stones or cinder blocks and are planning on using gopher mesh or landscape fabric, lay the mesh down first, then lay the landscaping fabric over the mesh. Once these two layers are down, stack your pavers or blocks to build the border of your bed.
If you are using wood, the first step is to cut your pieces down to size – unless you already had them cut at the lumberyard. You will need 2x4s or 2x6s for the side pieces, as well as smaller 2×4 pieces to use as corner supports. Attach your side walls to the corner supports using a drill and screws. If you are using multiple pieces of wood for a taller raised bed, clamp the side wall pieces together to make it easier to attach the corner support.
Once you have attached all four walls, you can staple gopher wire to the bottom before putting the bed in place, or you can place the bed, and then place the gopher wire inside. Follow with the landscaping fabric. Both the gopher mesh and landscaping fabric are optional, but they are a good idea.

6. Fill your raised garden beds with soil.
Combine potting soil and compost to fill your garden beds.
7. Set up your drip irrigation system (if using).
If you plan on irrigating your raised beds with a drip system, it is easier to install that system now before you plant seeds or place plants.
8. Add seeds or plants.
Your final step is planting your garden bed with seeds or plants to get your garden started. Follow the nursery's directions regarding how far apart to place the seeds and plants.
How to Make a Raised Garden Bed: Additional Tips
You can use your fence, a wall, or another structure as one of the sides if you are creating a raised garden bed as a border. This is a great way to maximize space for growing in your yard.
There are many raised garden bed kits available that are easy to put together. This can make your project even simpler, but keep in mind that the wood is usually much thinner and you generally will not get the same longevity out of them. Garden beds are so easy to make that you do not need to purchase a kit, but if you appreciate making a single purchase with everything you need already at the correct length, this is an option to consider.
If you have chosen to use wood for the borders of your bed, cedar is a good option.
The taller you make the bed, the more critters you will keep out and the less bending you will need to do while gardening.
If your beds are for vegetable gardening, here are some previous posts in the Knowledge Center that you might find helpful:
The Complete Guide to a Beginner's Vegetable Garden
20 Tips for How to Maintain a Healthy, Attractive Vegetable Garden
45 Tips for Natural Garden Pest Control