35 Small Backyard Ideas That Make a Big Impact
Table of Contents: 
Not all of us have that coveted big backyard space. But a small backyard is still a backyard and there's a lot you can do from a design standpoint to create a fun and functional space that doubles as an outdoor sanctuary. Below, we cover 35 small backyard ideas that can help you make a landscaping statement. 
1. Lay Pavers and Decking Diagonally 
Diagonal paths create the illusion of a space being larger than it really is and is a landscape best practice. Instead of a shorter, straight walkway, allow it to cut the yard diagonally or wind around, if space permits. 
Alternatively, lay pavers or decking in a diagonal pattern on the walkway or patio as this will elongate the space. Planks can be laid diagonally across a square deck versus horizontally or vertically. Incorporating stepping stones in addition to pavers and decking will help draw the eye down the walkway. 
2. Break Space Up With Levels

A multi-level backyard creates depth and can break things up visually. Levels additionally allow different spaces to serve different purposes. This might look like a slightly elevated or sunken patio, a large, raised planter or container garden, or a dining space with a shrubbery border to transition to a small upper yard. 
3. Incorporate Different Surroundings

This technique has been used in Japanese gardens for centuries. If you're fortunate to have a scenic view beyond the borders of your yard, take advantage of it. 
Perhaps you live on a canyon in San Diego that is full of native plants that you can see from your yard. Incorporate similar plants into your landscape design to complement what is happening in the canyon for a more cohesive look and to make your backyard appear as if it's blending into the surrounding landscape.
4. Pick Statement Greenery

Maybe you don't have a lot to work with from a landscaping perspective and only have a small patio. Use this opportunity to purchase smart furniture and compliment it with a statement greenery piece like a tropical plant with big leaves. Birds of paradise or a yucca plant in a large pot can be a great addition to help give the feeling of landscape and greenery if you don't have the space.
5. Divide the Space

Another technique used in Japanese gardens includes dividing a space to create an element of surprise. Some experts describe it as creating more than one room. For example, create an outdoor dining area but place lounging furniture in a separate space. Use planters, small walls, linear fountains or simply alternate surfaces (pavers, decking, gravel, artificial turf) to define the outdoor rooms.
6. Use a Focal Point

The idea of a focal point is to draw your eye to one area of your backyard. Maybe this looks like a prominent sculpture or bright wall. Wood gazebos can also be used as a centerpiece of a backyard and don't have to take up much space. Add fun upholstery and pillows to draw the eye and create a fun gathering space.  
7. Install a Trellis, Arbor, or Pergola 

Adding a structure like a trellis, pergola, or arbor can also create a nice focal point while providing shade and support for greenery to grow above ground level. Arbors are great for spaces that can't handle a lot of greenery but can still help create a nice landscaped feel. Strategically placing one of these structures at the entrance of your backyard can help draw the eye, create a welcoming feeling, and direct the flow of traffic into your backyard.
Bare pergolas can also be covered with climbing vines to help create more shade and feel cohesive with the surrounding landscape.
8. Build Vertically 

In addition to adding a pergola, trellis, or arbor, tall trees and vertical walls add dimension to small backyard space. A common tree for this purpose is the Leyland cypress which is often planted as privacy screens and grows at rates of 3-4′ per year. Though they are tall and skinny, they do require pruning and can be susceptible to disease.
Banana plants and giant birds of paradise are also commonly used in Southern California. Vertical gardens can also do the trick should you need to cover or add interest to a boring fence. Cover it with a row of tall bamboo for added privacy from neighbors. 
9. Utilize Container and Hanging Gardens

Use hanging succulents or trailing vines in containers to help pull the eye downward in a small backyard space. This can create a garden-like feel while giving the illusion of more space in your backyard. Container gardens will also help pick things up off the ground giving a clutter-free feeling.
10. Incorporate Garden Greenery

No matter what size your backyard is, unused space is an opportunity to turn a backyard into a gardening opportunity if your climate allows. Flower beds, raised garden beds, and small planter areas can be used to grow vegetables, flowers, or other greenery while breaking up your backyard space.
11. Use Garden Accents in Corner Spaces

If you have an awkward corner that you're not sure what to do with, this could be a good opportunity for some large potted plants to help fill the space and make it cohesive. 
Alternatively, another good small backyard idea is to implement an oversized statement chair to create a focal point.
12. Install a Small Sauna

A small one or two-person sauna could be just what you need to transform a lackluster space and make it a place you look forward to visiting. Saunas are easy to install freestanding in outdoor spaces and can give you a reason to get out of the house. Add some thin plants or shrubbery around the front of the sauna to help it flow the surrounding landscape of your small backyard.   
13. Install an Indoor/Outdoor Structure

If your backyard space permits, you can install a small indoor/outdoor space that can serve as a lounging or meditation area. Weave in a small herb garden for functional value and to help give a relaxing element to this structure. 
14. Add an Outdoor Shower

Outdoor showers can be a great addition to a small backyard landscape as they tend to drive up resale value and can be easily woven into natural elements. This can be a perfect addition for the San Diego and southern California areas where weather allows a small outdoor shower to be useful. Choose hardware that's cohesive with your backyard landscape and natural elements. 
15. Create a Multipurpose Garden and Dining Space

Maybe you don't have room for a separate garden and dining space in your backyard. Fortunately, these types of outdoor areas are easy to combine together and do so cohesively.  
Whether you only have a patio to work with or a small grassy area, you can create a terrace dining space with a garden feel using vines, pots, and even hanging plants for more room off the ground. 
16. Place Fine Textured Plants Near the Perimeter of the Yard

Plants with small leaves are less visually demanding and don't take up much space. They also reflect a lot of light which causes them to more or less blend into a background and appear distant. Place these plants near the borders of the yard and use large-leafed plants toward the front or at a focal point, as mentioned above.
17. Build a Small Fountain

Small fountains can add to the beauty of your backyard landscape without taking up a ton of space, all while giving a relaxing and zen feel. Consider placing fountains next to greenery to tie them together with the rest of your landscaping elements
18. Lay Colorful Tile

Pair colorful or fun patterned ground tiling on your patio with neutral furniture to create an eye-catching outdoor patio space. Neutral furniture is timeless and won't overwhelm the eye while allowing you to create a vibrant space with fun tile.
19. Hang a Hammock

Hammocks can be great for tiny outdoor spaces since they can save on space that patio furniture permanently takes up. Hang a slim hammock and add some throw pillows to make it cozy. If you need to unhook the hammock for more space, it's then easy to do so.
20. Incorporate Mirrors

Though not a typical backyard landscaping feature, outside mirrors can draw in more light to decorative areas in a backyard. Find stainless steel, stone, treated wood, or copper mirror frames to help weather the elements without rusting.
21. Use Grayscale Color

Grayscale color pallets can help a tiny backyard feel more spacious, stylish, and bright, giving it the illusion that it's larger than it really is. Tie greyscale patio furniture together with similar decking colors or grayscale pavers in your outdoor dining area.
22. Choose the Right Lighting

If you have a small space, hang a statement pendant lighting piece or match multiple lighting fixtures to your overall backyard design. Good landscape lighting design can play a huge role in how cohesive your space feels. 
23. Embrace Coziness

Lastly, embrace coziness. Small backyards don't have to be a negative thing. In fact, they often work to the advantage of creating a cozy, comfortable space. Focus on creating a well-designed seating area with cushions, pillows, and even a small outdoor fireplace or string lights if your space allows it.
24. Ditch the Lawn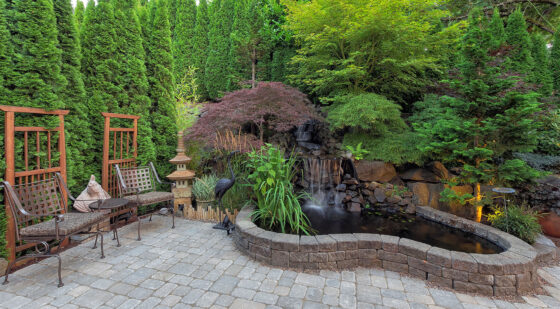 Lawns often limit the possibilities of an outdoor space, and finding an alternative to grass can open up different possibilities for activities and entertaining in your small backyard. 
Using a hardscape instead of grass gives you more freedom in the furniture you can use and is also far easier to maintain. 
25. Prioritize Entertainment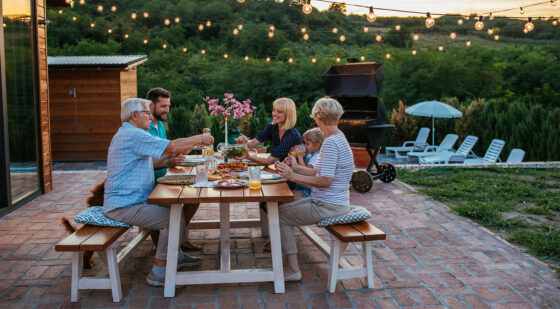 If the goal of your backyard renovation is to create a space to entertain, then you should prioritize making the area comfortable for medium and large groups. 
In order to accomplish this, you need to make sure your backyard feels spacious so as not to crowd guests. You can aptly place tables and outdoor furniture as a focal point or around the perimeter so your small backyard is comfortable but not crowded. Also, you could consider adding a fireplace or bar cart to maximize your space's entertainment value. 
26. Take Advantage of Wall Space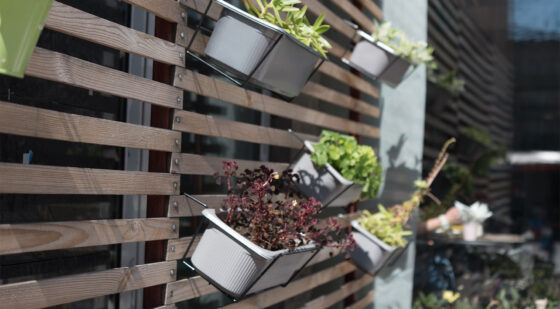 If you have wall space in your small backyard, don't be afraid to use it. Building shelves into the walls can be an effective way to add practicality to your backyard without surrendering too much space.
Hanging shelves can oftentimes enhance the aesthetic of a backyard and add some practicality. For example, you can create a nook of shelves for gardening tools or add some potted plants for color.  
Additional Small Backyard Ideas
Still haven't found your ideal small backyard setup? Here are some more small backyard ideas that are perfect for enhancing your space: 
27. Go for a Greenhouse:

Are you an avid gardener? A mini

greenhouse

is a great way to breathe life into your small backyard

28. Create a Kid Zone:

If you have children, you can convert a section of your small backyard into a small playground or build a treehouse. There are plenty of ways to make your small backyard

kid friendly

. 

29. Go for Gravel:

Gravel can be easier to maintain than grass and give your backyard a nice rustic look. 

30. Personalize your Fence:

In most small backyards, the fence is a major player. Give your fence some personality by decorating with lights or adding

fence planters

. 

31. Opt for Foldable:

Folding chairs give you the freedom to keep your backyard open and spacious when you're not enjoying it. 

32. Grill Out:

If you want to host cookouts, let the grill or

outdoor kitchen

be the focal point of your backyard. 

33. Use your View:

If your backyard has a beautiful view, let it shine! Don't take attention away from your view with added greenery or too many lights. 

34. Take Advantage of Windows:

Backyard-facing windows can double as bars and places for plants and greenery. If you open up your windows, they can become part of your small backyard design. 

35. Play Some Tricks:

Straight lines and uniformity make spaces seem longer and larger than they actually are. Keep this in mind when crafting your small backyard space.

 
Frequently Asked Questions
While these ideas may sound great in theory, putting them into practice is easier said than done, and questions are sure to arise. Some common questions and answers include:  
How do I plan a small backyard? 
Planning a small backyard starts with having a clear vision. From there, you can work with a professional on how to best accomplish your goals. 
If your budget allows you to make additions, ensure you have room for whatever you're adding. Large additions like saunas and fountains can crowd the space, so it's best to consult a designer before leaping into the project. 
How can I design a small backyard on a budget? 
Designing a small backyard on a budget is easiest when you use readily available resources like fences, windows, and existing surroundings. Redesigns get pricier when you start to add and build new elements. 
If you want to upgrade your backyard space without breaking the bank, consider some DIY small backyard ideas, like building wall shelves or allowing your backyard-facing window to double as a bar. 
What is the cheapest way to landscape a small backyard? 
Planting trees and flowers are relatively cheap ways to landscape a small backyard. However, the cheapest way long-term is to ditch grass in favor of hardscapes, as hardscapes cost little to nothing to maintain. 
Create the Backyard Space of Your Dreams
With these small backyard ideas you can transform your outdoor landscape into a relaxing space you'll want to spend your time. Not to mention these can make for some great DIY projects. If you need help transforming your outdoor living space, our experts at Install It Direct are here to help you with all your landscaping needs, no matter the size of your backyard.