15 Outdoor Kitchen Countertops (Ideas + Tips)
Outdoor kitchens are a mainstay in landscape design, especially in moderate and higher-end homes. For some, this might mean the basics, such as a built-in barbecue grill, refrigerator, and sink. For others, this means also having a pizza oven, ice maker, wine refrigerator, or full bar.
Patio kitchens allow you to get more use out of your outdoor living area and are a must-have for folks who entertain frequently. When designing outdoor kitchens, San Diego residents and folks across Southern California need to take into consideration just how much they will be using this space and focus on designing a kitchen that will really meet their needs.
After all, we can use our patios and our patio kitchens every month of the year here. That means our outdoor living spaces generally get more use than those in other areas of the country. Because of this, we need to be particularly thoughtful in our kitchen design and, perhaps, consider investing a bit more, since we know we will be getting a great return on that investment by being able to enjoy a functional, attractive kitchen throughout the year.
When designing any kitchen, having enough counter space for food preparation and food service is essential. While you always want your countertops to look good, you also need to consider which materials will provide the best surface for your meal prep and cooking. When you are designing an outdoor kitchen, you also need to consider which materials are most durable and will best withstand both the elements and frequent use.
Let's take a look at 15 outdoor kitchen countertops options to help you determine which countertop material is right for you.
Outdoor Kitchen Countertops Ideas: Wood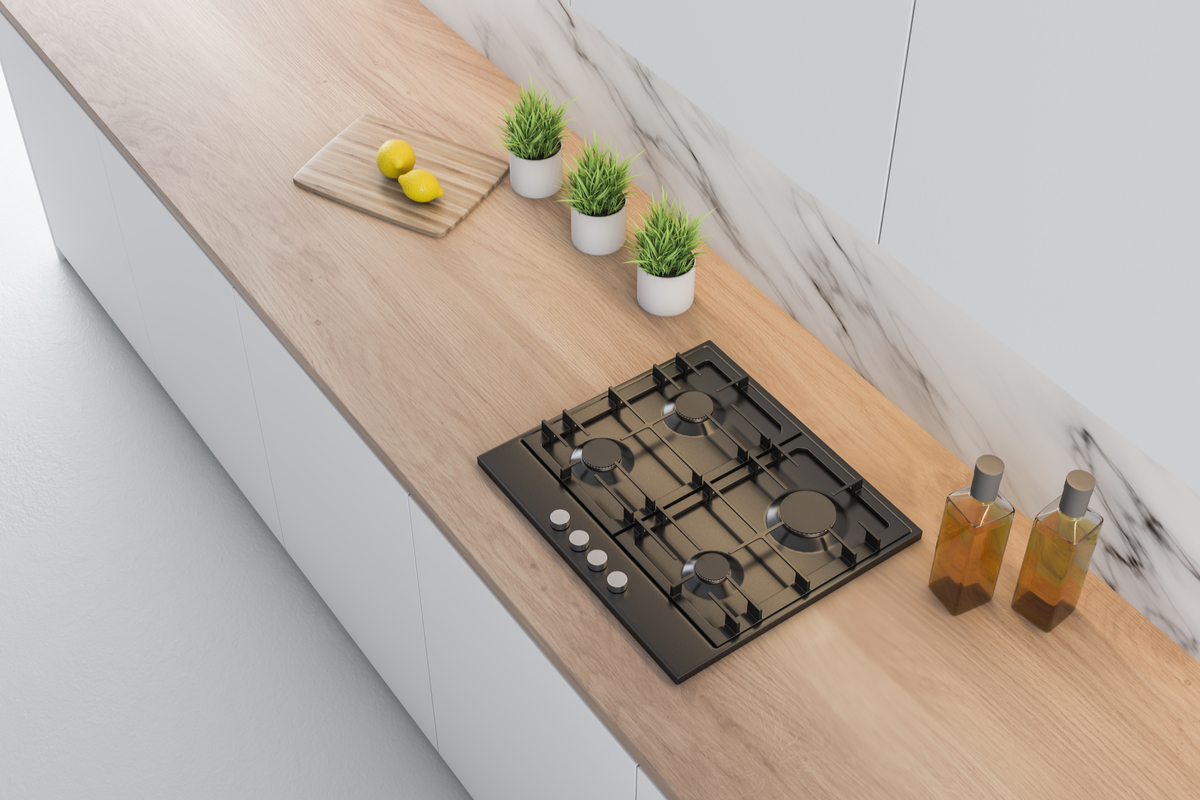 Wood countertops are gorgeous. They are also high maintenance and not all that durable. This is true whether the wood counters are indoors or outdoors. They are sometimes used in indoor kitchens and are often seen in ship galleys, particularly on wooden sailboats. Wood and butcher block counters are usually chosen for the aesthetic, and the folks who choose them feel that the extra work it takes to keep them looking good is worth it to have the look they love.
Wood countertops in your outdoor kitchen will look stunning at first and will continue to look stunning if you put in the work. For most folks, they are not a good choice. They are not nearly as durable as other options, they require protection from the elements, and most folks just do not want to spend that much time taking care of surfaces in their outdoor living spaces.
Choosing low-maintenance options means spending more time enjoying your outdoor kitchen and less time maintaining it, so you will really need to decide if the look of wood is worth it or if you would rather have more durable, lower-maintenance surfaces.
Outdoor Kitchen Countertops Ideas: Laminate

Laminate is inexpensive and easy to install. This makes it a great choice for indoor kitchens designed on a budget or completed as a do-it-yourself project. However, laminate countertops are not a good choice for outdoor use. The laminate surface will likely do just fine and will be fairly durable and easy to clean. The issue is the particle board underneath the laminate.
Indoor countertops are protected from sun, rain, and humidity, which makes laminate a good choice for indoor use. Your outdoor counters are going to be exposed to heat, moisture, humidity, and rain. Exposure to these elements will cause outdoor laminate countertops to warp or rot. So, while the price might be tempting, that upfront savings is going to end up costing you more in the long run.
Outdoor Kitchen Countertops Ideas: Tile

Tile countertops are a popular choice for both indoor kitchens and patio kitchens. They are pretty durable, easy to clean, and good looking. There are lots of colors, styles, sizes, and materials from which to choose, so the chances of finding something that will look great in your outdoor living area and suit your needs are good.
Tile is often more affordable than other countertop options, depending on the type of tile you choose. Tile can also be a lower-cost option that offers the look of stone without the cost of slabs. For example, marble tiles are usually less expensive than a marble slab. This means that folks who want marble but who are working with a smaller budget can still get the look they want with this lower-cost option.
The downsides of choosing tile are the potential for chips and cracks, potential for fading or discoloration when used outside, and the potential for the grout yellowing or becoming otherwise discolored. You cannot really avoid the possibility of chips, cracks, or fading, but choosing more durable options may help. As for the grout, choosing a darker grout color will reduce the potential for yellowing or discoloration.
Porcelain tiles are generally a better choice than ceramic tiles for outdoor installations. Travertine, slate, and marble tiles are also popular options. We will talk about these materials in more detail in different sections of this post. For San Diego area outdoor kitchens, terra cotta tile is a popular choice that goes well with the Spanish- and Mediterranean-style homes common here.
The most important thing to remember if you choose tile countertops is that proper installation is key to avoiding issues in the future. For example, plywood is often used under tile for indoor installations, but you will need to use waterproof board for outdoor installations.
Outdoor Kitchen Countertops Ideas: Stainless Steel

Stainless steel offers a sleek, modern, utilitarian look that does not work for everyone. Some folks love this look, while others find it too cold or lacking in visual appeal. There are some great benefits of using stainless steel for countertops. It is durable, anti-bacterial, easy to clean, can take heavy use, requires no sealing, and is a low-maintenance option.
On the downside, stainless steel is one of the most expensive options available. It will also get even hotter than other countertop materials when exposed to the sun.
Outdoor Kitchen Countertops Ideas: Copper

Folks who love copper usually either love the high-end luster that can be maintained with a lot of extra effort – mostly constant polishing – or they love the patina that develops over time when it is allowed to age naturally. This is a beautiful option that provides an anti-bacterial, easy-to-clean, non-porous surface for food preparation and serving.
Like any other metal or stone surface, copper will get hot when exposed to direct sunlight, so this is something to keep in mind but may not be a problem if it is located on a covered patio. It is also important to consider that copper will weather and age significantly faster when installed outside than it does when used in indoor kitchens. Depending on what you are looking for in a countertop, you might consider this a positive thing or a negative.
Copper is one of the most expensive options on this list, so that is also something to consider if you are working with a modest budget.
Outdoor Kitchen Countertops: Soapstone

Like other stone options, soapstone is a porous surface, which will be inherently more difficult to clean and maintain than some other options. Of your stone choices, soapstone is one of the better ones and, when maintained properly, can be a beautiful addition to your outdoor kitchen.
When using soapstone inside or outside, you will want to keep it oiled or sealed if you do not want darker areas from spills and oily fingerprints. Soapstone also scratches easily, which can be repaired, but is still something to consider.
Outdoor Kitchen Countertops Ideas: Flagstone

You will most often see flagstone used in outdoor installations, including patio fireplace hearths, walkways, patios, and outdoor seating areas. It is sometimes used for outdoor kitchen countertops, but it is far more likely to be found as the foundation on which the patio kitchen is built. Folks who choose this option for outdoor counters usually are going for a rustic look and feel.
There are downsides to choosing flagstone for this purpose. One thing to consider is that flagstone shales, which means it may not feel clean and ready for food preparation even if you just wiped it down. Because of this, it might be a better choice for food service areas or patio bars.
Flagstone also does not seal as well as other stone countertop options, which means it is more susceptible to staining.
Outdoor Kitchen Countertops Ideas: Marble

Marble is a type of limestone and is a sought-after countertop material for both indoor and outdoor kitchens. While it looks and feels hard and is generally thought of as a tough material, it is actually softer than some other stone options, such as granite. This softness means that it is going to weather over time when used outside. This does not mean that marble won't last – it will last many, many years – but it is still good to be aware of the weathering issue when making choices about your kitchen design.
Because it is going to weather, do not choose polished marble. The polished look will wear off and your counters are going to look like honed marble after a few years, so you may as well start off with honed marble or tumbled marble. Marble is pretty easily scratched and etched from spilled drinks and acidic foods, and polished marble will show this etching more. This is another reason to opt for honed marble to keep our counters looking better longer, since honed marble will not show the etching as much.
If you choose marble, make sure you seal it regularly to help limit staining.
Keep in mind that you can also get the look of marble without the issues of wearing over time, etching and scratching, and regularly sealing it by opting for a ceramic slab that looks like marble instead.
Outdoor Kitchen Countertops Ideas: Travertine

Travertine is also a type of limestone, which means, like marble, it is porous, will etch and scratch easily, wears over time, and will stain if you do not regularly seal it. Even with all of these downsides, people love using travertine both indoors and outdoors, and you will see plenty of travertine used in patio settings.
Travertine makes beautiful, stone countertops and complements an array of architectural styles. If you choose to use it for your outdoor kitchen, choose honed travertine or tumbled travertine. These are more porous than polished travertine but a better choice for outdoor use. As with any type of tile, choose your grout color carefully to avoid discoloration. Also, be sure to seal it regularly to limit staining.
Outdoor Kitchen Countertops Ideas: Quartz

Manufactured quartz countertops are definitely trending for indoor kitchens right now, so it is not surprising that folks are interested in also using them outside. The problem is, they are not made for outdoor use. So, while they are not an absolute no, this choice is going to be hit or miss at best.
The upside is that quartz does not need to be sealed. The downside is that quartz is more expensive than most stone options, may discolor when exposed to sun, and will probably not do well in the heat of Southern California summers.
Outdoor Kitchen Countertops Ideas: Slate

Slate tiles are beautiful and offer a particular look that some homeowners prefer. It is more common to see them used as flooring for patios, kitchens, bathrooms, or other rooms inside of homes, as well as for shower and bathtub surrounds or countertops for bathroom vanities. Slate is not as often seen used as kitchen countertops indoors or outdoors, but it is certainly not unheard of. The main issue with slate is that it can be very difficult to get quality slate that will hold up well in an outdoor kitchen.
Some slate can actually take on this job quite well and will provide durable, stain-resistant counter space for your kitchen. Other slate tiles will not hold up well to spills, and will scratch, etch, and stain. If slate is the look you want for your outdoor kitchen, make sure you work with a professional installer who is experienced in selecting and working with slate.
Outdoor Kitchen Countertops Ideas: Limestone

Limestone is similar to travertine and soapstone in regards to its function as a patio kitchen countertop option. It is an attractive option that will weather some over time and will need regular maintenance to avoid and repair etching, scratches, and stains. Sealing it regularly will help with some of this, including limiting darker areas from oil and fingerprints.
Stone is a beautiful option that will enhance the visual appeal of your outdoor kitchen; you just might want to keep your guests' wine glasses away from it to avoid potential stains. If you do not want to have to worry about this sort of thing while entertaining or enjoying your outdoor living areas, limestone might not be the right choice for you.
Outdoor Kitchen Countertops Ideas: Granite

If you really want a stone countertop for your patio kitchen, granite is the toughest and most durable. Granite does not etch, scratch, or stain as easily as other stone options, but it does still need to sealed regularly.
Granite is available in polished or honed varieties and in an array of colors to match your kitchen design. While it does require maintenance, it is lower maintenance than other stone and will hold up to weather better. So, if you are set on having stone, granite might be the right choice for you.
Outdoor Kitchen Countertops Ideas: Paving Stones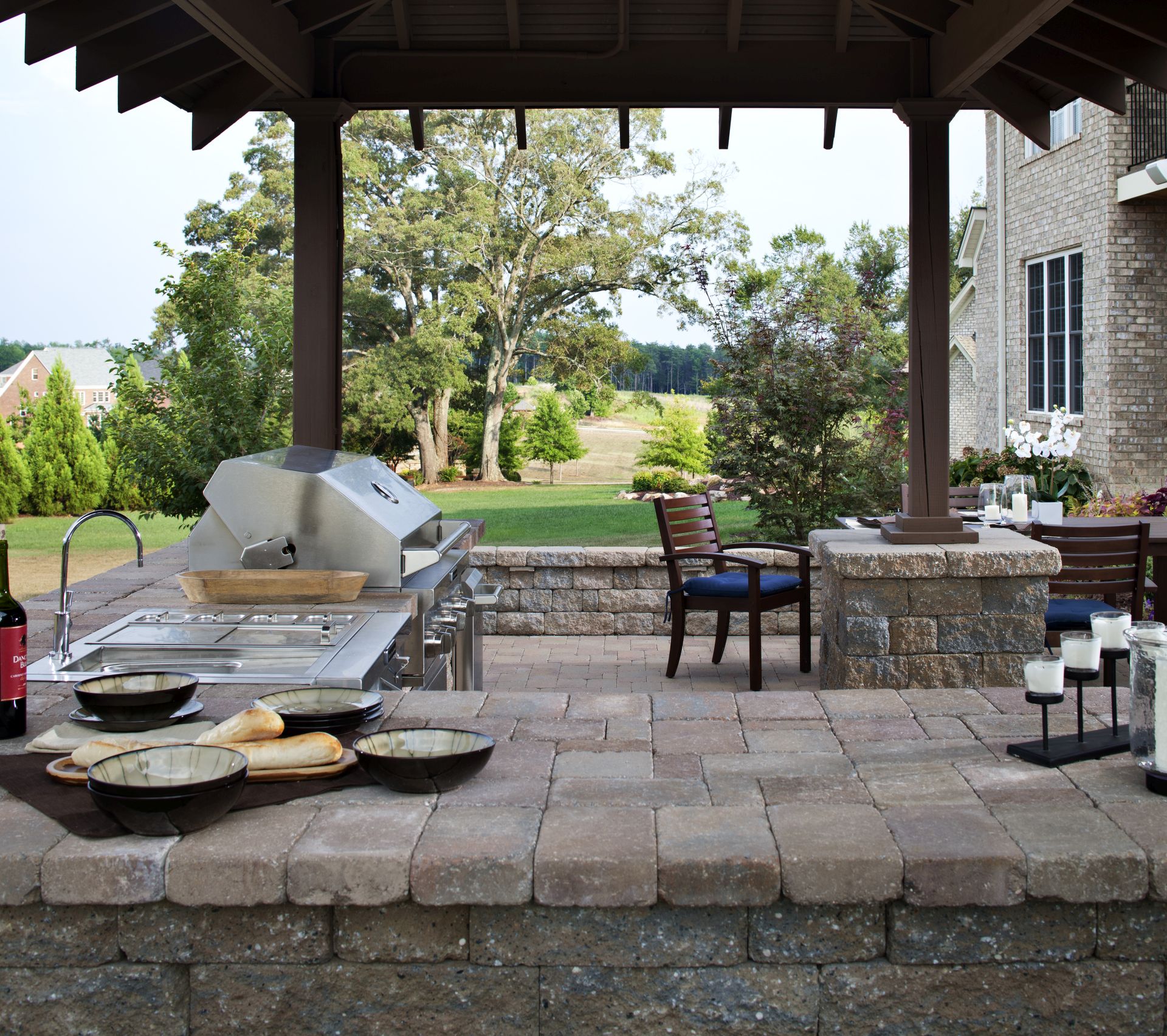 Even with other countertop options, many homeowners choose to build the base of their outdoor kitchens with paving stones. And, of course, pavers are a very attractive, durable, slip-resistant choice for patios, walkways, and pool decks. If you are using paving stones to create the foundation of your patio kitchen, you may want to continue the theme with paving stone outdoor kitchen countertops as well.
Pavers offer the durability you need to hold up to the elements and can be sealed if you prefer a less-porous surface for food prep and serving. One of the benefits of opting for paving stone counters is that repairs, if needed, are generally less expensive. This is because you can replace just the stone or stones that might become stained or damaged – rather than having to replace the entire countertop.
Outdoor Kitchen Countertops Ideas: Concrete

Concrete countertops are increasing in popularity for both indoor and outdoor kitchens. This option is particularly popular with folks who enjoy do-it-yourself home improvement projects or who like the sleek, contemporary look concrete offers.
It is possible for handy homeowners to make their own concrete countertops for your patio, but we recommend hiring a professional installer with experience crafting concrete counters. Concrete counters have a high potential for cracking, particularly if they are not properly installed, so professional installation is key.
Concrete can be mixed with custom colors and has a great look, but it will likely fade if it is not well protected and is often in direct sun. It also is a porous surface that can etch and stain. It will need to be sealed regularly to reduce the chance of staining.
Outdoor Kitchens: Additional Tips and Ideas
For more inspiration and tips, check out these posts: