How to Choose Outdoor Kitchen Countertop Materials (Ideas + Tips)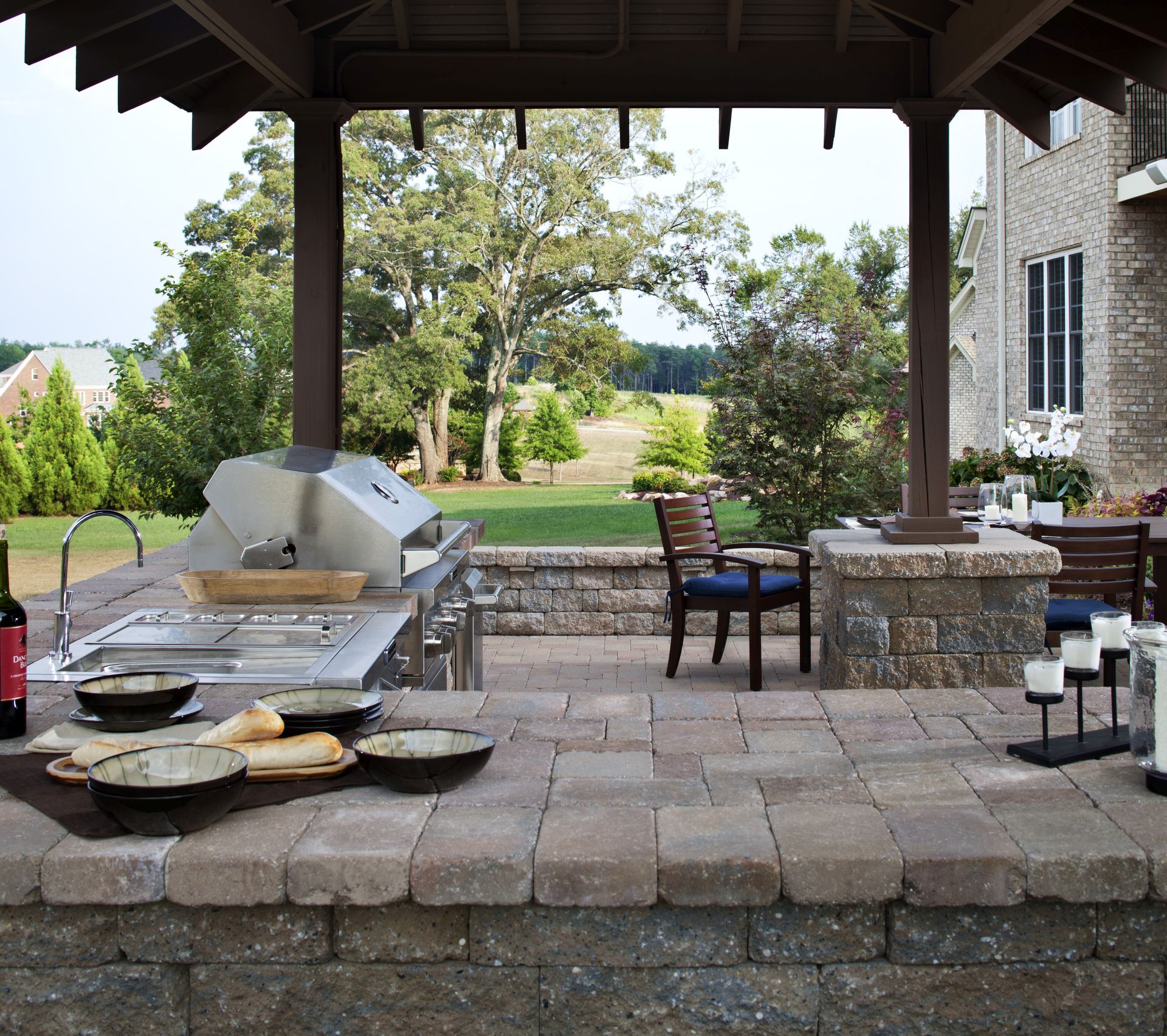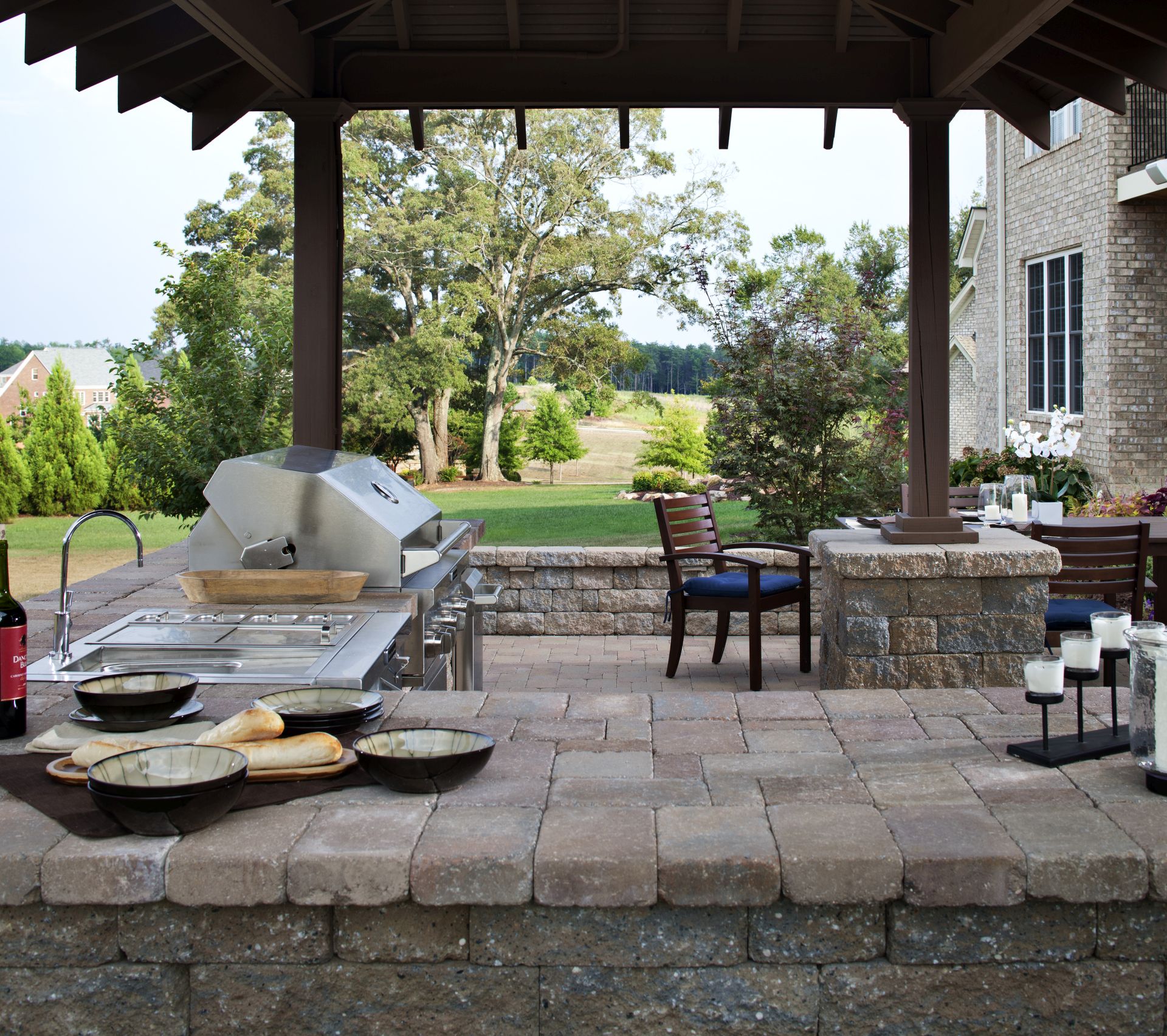 Outdoor kitchens are a must for those who entertain frequently or simply want to get the most out of their outdoor living areas. When designing your kitchen, you will certainly want to include enough counter space for food preparation and serving.
Of course, you want your counters to look good and enhance the visual appeal of your patio, but you also need to choose a material that is durable and will withstand both the elements and frequent use.
Outdoor Countertop Ideas
To help you determine which outdoor kitchen countertops material is right for you, here is information about 15 options you might be considering. The different outdoor countertop ideas range from types of stone to different types of metals.
Laminate
The low price of laminate countertops may tempt some homeowners to give them a try in their outdoor kitchens, but you are almost guaranteed to be disappointed over time. The laminate surface, which is easy to clean and pretty durable, is not the issue; it is the particle board underneath the laminate that is the problem.
Heat, humidity and moisture are all issues with laminate counters in outdoor kitchens. While this countertop option holds up just fine indoors where it is protected from the sun and rain, exposure to the elements outdoors will cause laminate counters to rot or warp.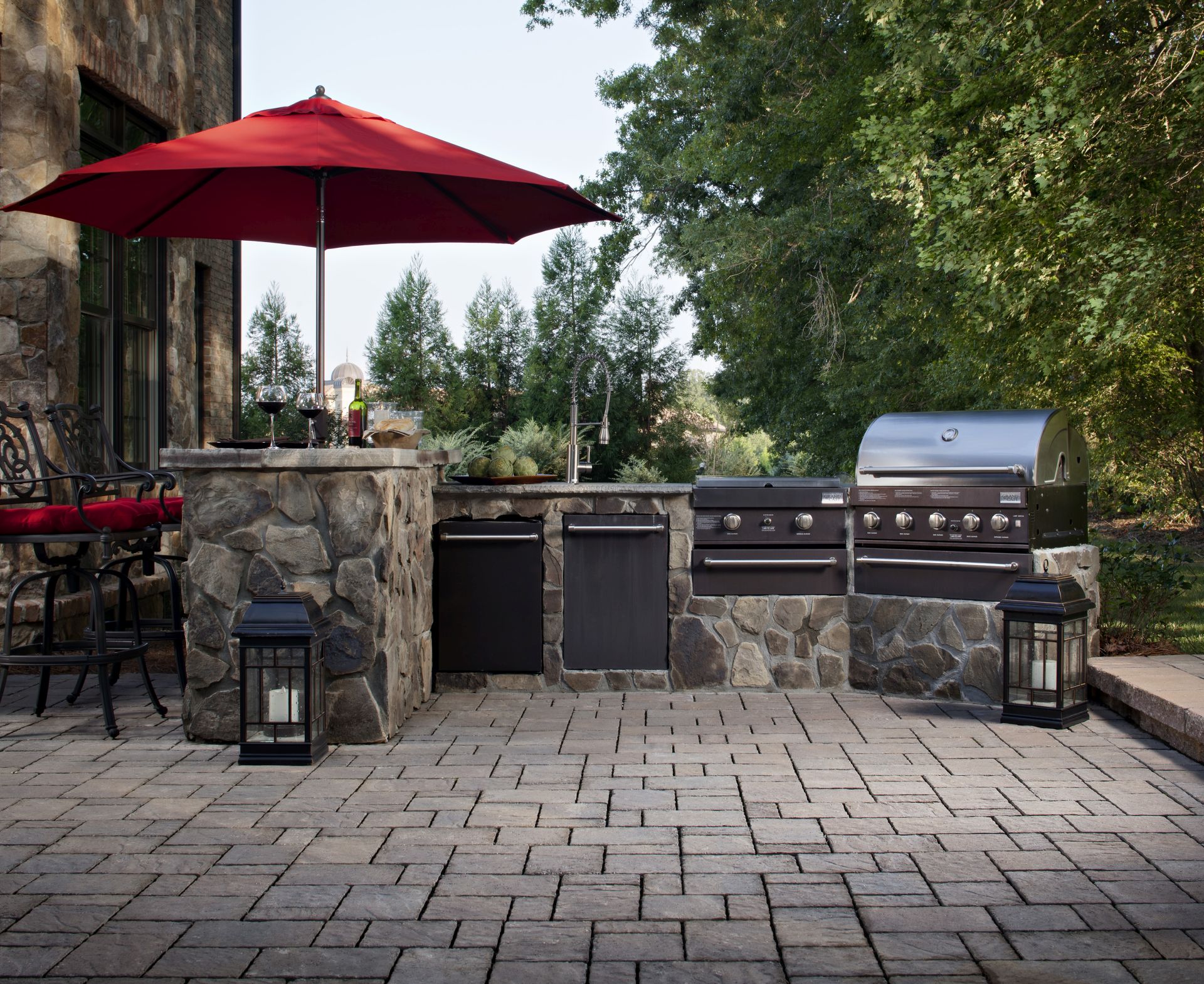 Wood
Wood or butcher block countertops are commonly used in indoor kitchens and in ship galleys, especially on wooden sailboats. Generally chosen for the look and aesthetic, wood is always a high-maintenance and less-durable option, whether used indoors or outdoors. Because of this, wood is certainly an option that can look stunning in some outdoor kitchens, but it will not be as durable, will require more protection from the elements and will require ongoing maintenance. For some, it is well worth the extra work to have a look they love.
Tile
Tile countertops are common in outdoor kitchens and are an option that are pretty durable and easy to clean. Depending on the type of tile you choose, this can be a lower-cost option, but it is important that these counters are installed properly to avoid future issues. For example, while it is okay to use plywood under tile when installed indoors, you must use waterproof board when installing tile outside.
Tile used inside or outside can chip or crack, but tile installed outdoors has the added potential of fading or becoming discolored over time. It also comes with the issue of the grout potentially yellowing or discoloring, which you can avoid by opting for a darker grout color.
Porcelain is generally a better choice than ceramic for exterior installations. Of course, you also have other options, such as travertine tiles, slate tiles or marble tiles. We will discuss these materials in other sections of this post, but do remember that any type of tile will have the grout discoloration issue, so darker grouts are usually a better choice.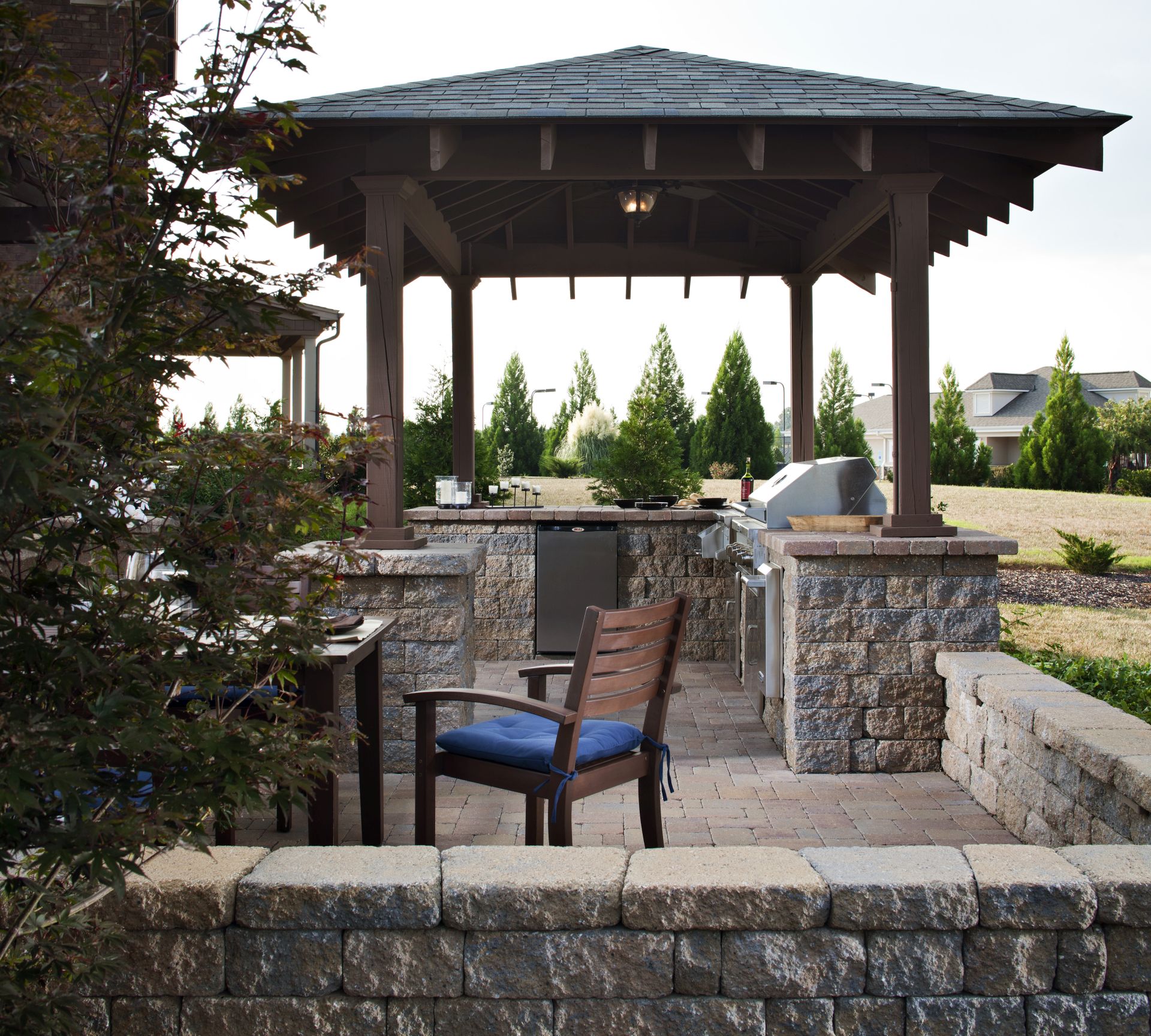 Stainless Steel
Not everyone loves the sleek, utilitarian look of stainless steel but, for those who do, this is a durable, hard-working option that is anti-bacterial, does not require sealing and is very low maintenance. On the downside, it is one of the most expensive options available. Additionally, almost any material used for outdoor kitchen countertops is going to get hot when exposed to the sun, but stainless steel will get even hotter.
Copper
Copper lovers choose this material either for its high-end luster that can be maintained with quite a bit of effort or for the patina it will develop over time when not constantly polished. This gorgeous option has anti-bacterial qualities and is easy to clean, since it is a non-porous surface. Like other stones or metal, it will get hot if exposed to direct sun for an extended period of time. It is also going to age and weather faster outdoors than it would in an indoor kitchen. This is either a plus or a minus depending on what you are looking for in a countertop. This one is also going to be among the most expensive options on this list.
Soapstone
Like other stone options, soapstone is a porous surface, which will be inherently more difficult to clean and maintain than some other options. Of your stone choices, soapstone is one of the better ones and, when maintained properly, can be a beautiful addition to your outdoor kitchen.
When using soapstone inside or outside, you will want to keep it oiled or sealed if you do not want darker areas from spills and oily fingerprints. Soapstone also scratches easily, which can be repaired, but is still something to consider.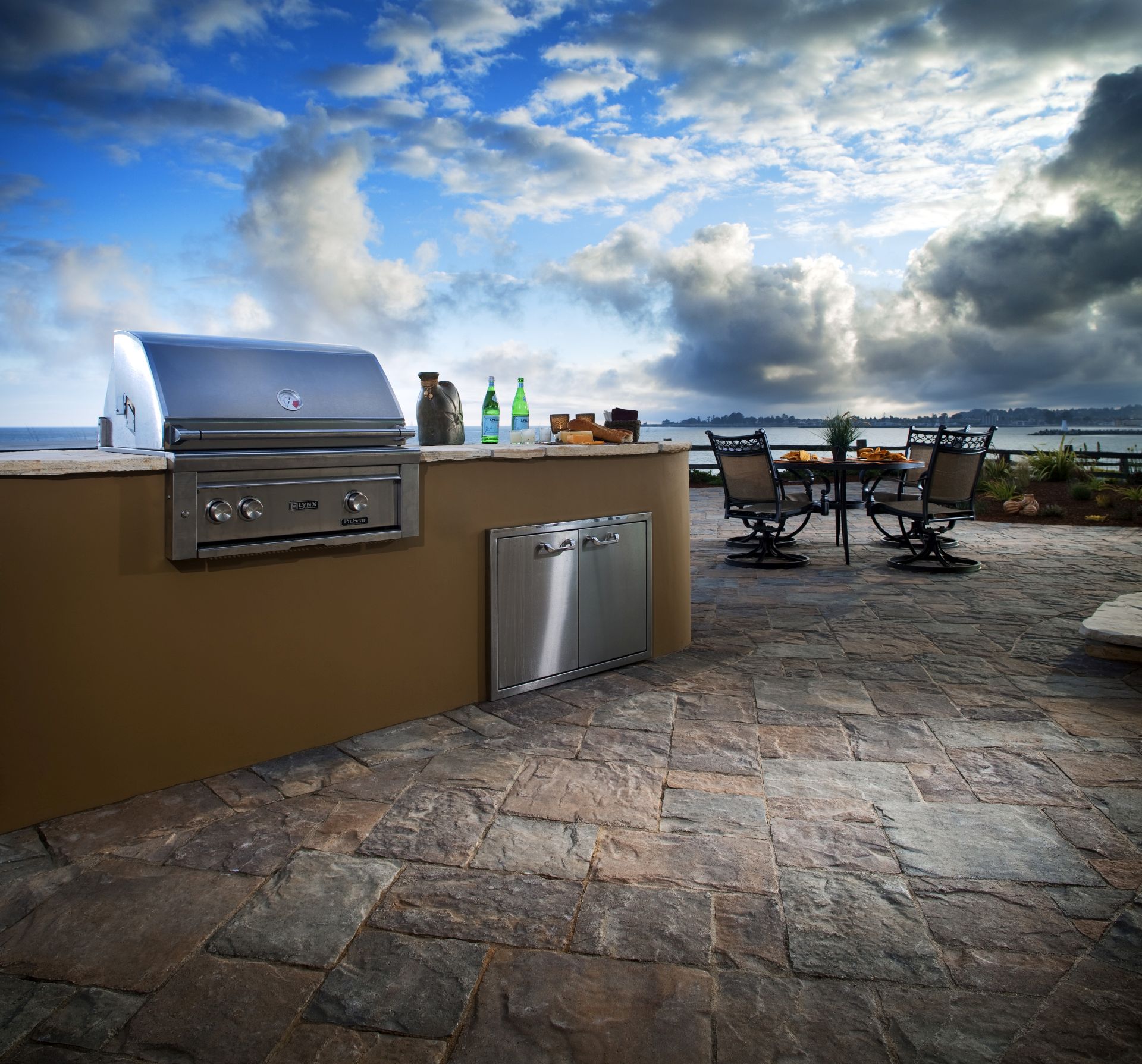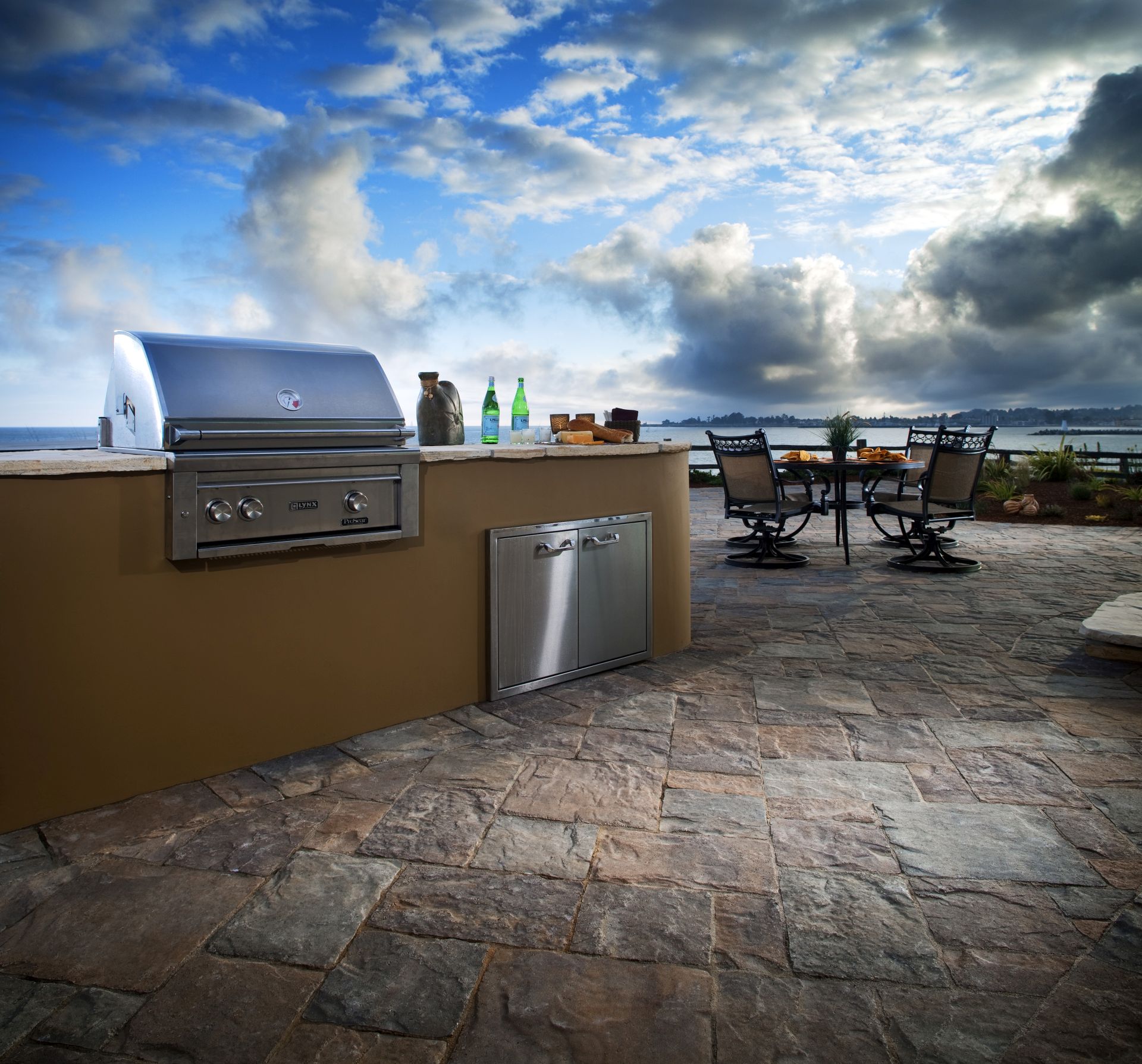 Flagstone
Flagstone is very commonly seen used in walkways, patios, outdoor seating, patio fireplace hearths and more. It can also be seen as countertops for outdoor kitchens, but this is a bit less common. If you are going for a rustic look and feel, this might be a good option for you. However, it is important to note that flagstone does not usually seal as well as other stone options and can stain pretty easily.
Because flagstone shales, it can be difficult to have a counter that feels clean and ready for food prep, even if you recently wiped it down. This makes flagstone a good choice for patio bars and counters that will mostly be used for serving food, but some outdoor cooks may not love this option for prepping full meals in the patio kitchen.
Marble
Marble feels hard when we touch it but it is actually a softer stone than some other options (such as granite). Because of this, weather will wear it over time. This is not necessarily a bad thing, and it will still last for many, many years, but it is something of which to be aware.
For example, if you decide you want marble countertops for your outdoor kitchen, you probably should not bother getting polished marble. While you might prefer this look, it is not going to last. Weather will wear it in a way that it will look honed in a few years, so you are better off choosing honed or tumbled marble from the start. Another benefit of choosing honed marble is that etching will not show quite as much. Since you can expect your marble to get scratched and etched from spilled drinks and acidic foods, starting off honed will help mask this.
You will want to seal your marble to help ward off stains. If you love the look of marble but do not want to deal with the wearing, sealing and etching, there are ceramic slabs available with the look of marble.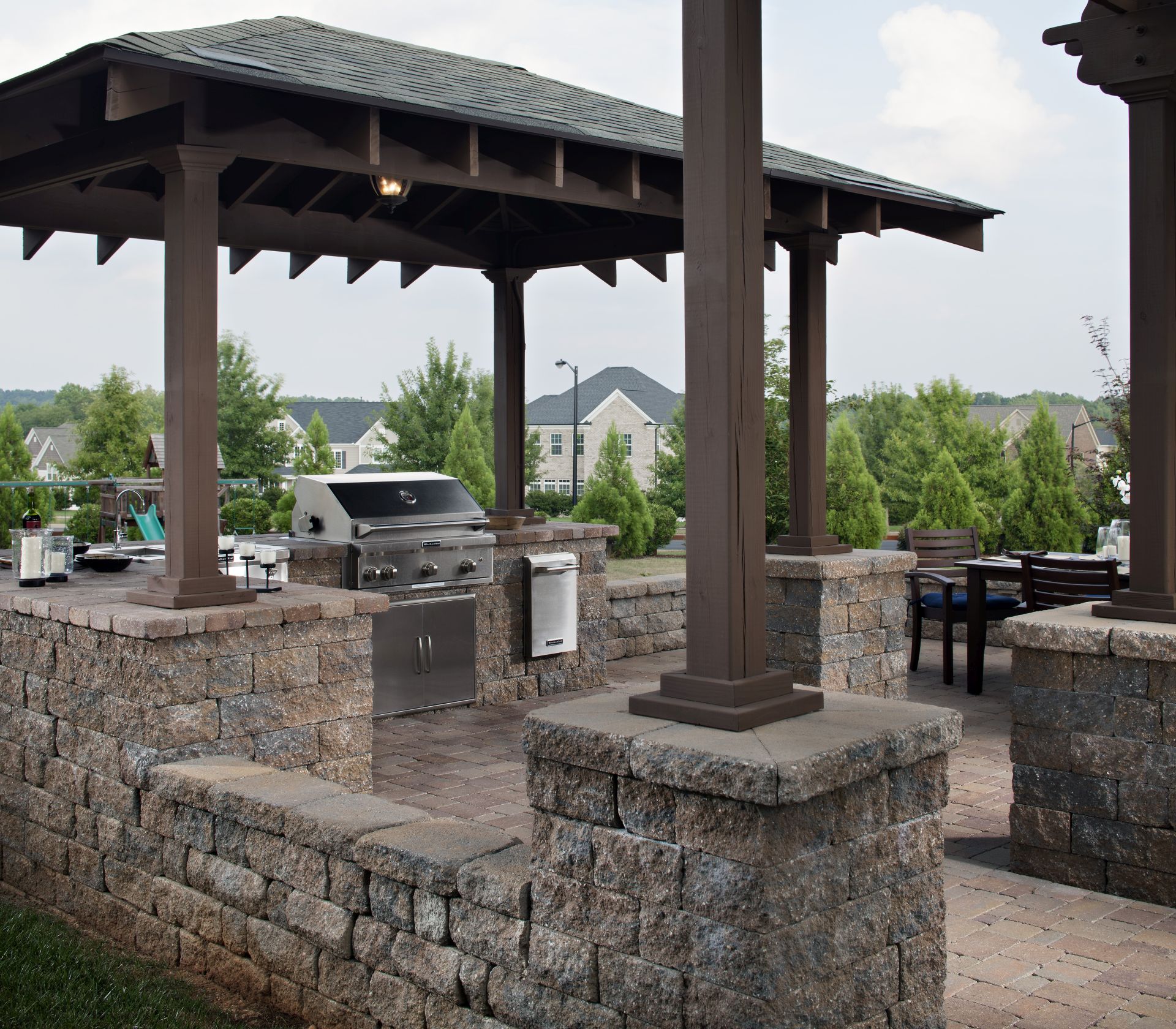 Travertine
Like marble, travertine is a type of limestone. This means that is a porous, etches and scratches easily, stains if it is not sealed and wears over time. With all of that being said, this is a popular stone choice for both inside and outside of homes and is commonly used in patio settings. You will want to opt for honed or tumbled travertine for outdoor kitchen countertops, and you will want to seal it regularly to ward of staining – particularly because honed travertine is more porous than polished travertine.
Travertine is a beautiful stone often used in higher-end homes and works well with a variety of architectural styles. As with other types of tile, take special care when choosing grout colors to avoid unsightly discoloration.
Quartz
Manufactured quartz countertops are not an absolute no for use in outdoor kitchens, but they are not made for outdoor use, which makes this choice hit or miss. While quartz does not have to be sealed (unlike your stone options), it is more expensive than most stone, may discolor in the sun and likely will not hold up well to the heat of Southern California summers.
Slate
Slate tiles are beautiful and offer a particular look that some homeowners prefer. It is more common to see them used as flooring for patios, kitchens, bathrooms or other rooms inside of homes, as well as for shower and bathtub surrounds or countertops for bathroom vanities. Slate is not as often seen used as kitchen countertops indoors or outdoors, but it is certainly not unheard of. The main issue with slate is that it can be very difficult to get quality slate that will hold up well in an outdoor kitchen.
Some slate can actually take on this job quite well and will provide durable, stain-resistant counter space for your kitchen. Other slate tiles will not hold up well to spills and will scratch, etch and stain. If slate is the look you want for your outdoor kitchen, make sure you work with a professional installer who is experienced in selecting and working with slate.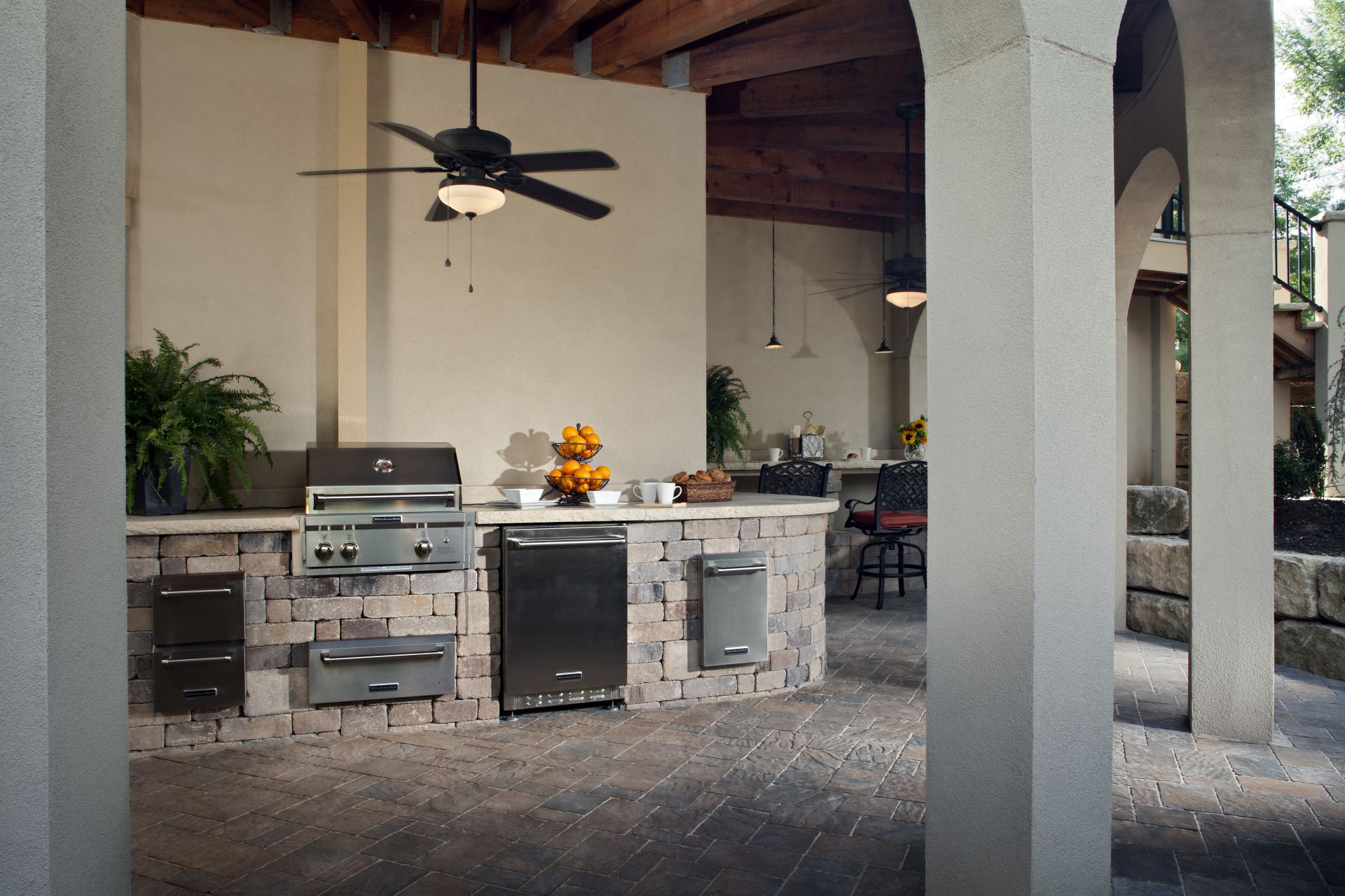 Limestone
Limestone is on par with travertine and soapstone in regards to its function as a patio kitchen countertop option. It is an attractive option that will weather some over time and will need regular maintenance to avoid and repair etching, scratches and stains. Sealing it regularly will help with some of this, including limiting darker areas from oil and fingerprints. Stone is a beautiful option that will enhance the visual appeal of your outdoor kitchen, you just might want to keep your guests' wine glasses away from it to avoid potential stains.
Granite
This is the toughest, most durable of your natural stone options. While it does need to be sealed regularly, most folks who choose granite conclude that this extra maintenance is well worth the look and durability offered by this stone. Granite will not stain as readily as other stone options and comes in honed or polished varieties to fit your needs. It holds up well to weather and does not scratch or etch as easily as other stone.
Paving stones
Even with other countertop options, many homeowners choose to build the base of their outdoor kitchens with paving stones. And, of course, pavers are a very attractive, durable, slip-resistant choice for patios, walkways and pool decks. If you are using paving stones to create the foundation of your patio kitchen, you may want to continue the theme with paving stone outdoor kitchen countertops.
Pavers offer the durability you need to hold up to the elements and can be sealed if you prefer a less-porous surface for food prep and serving. One of the benefits of opting for paving stone counters is that repairs, if needed, are generally less expensive. This is because you can replace just the stone or stones that might become stained or damaged – rather than having to replace the entire countertop.
Concrete
Concrete is an increasingly popular choice for countertops inside and outside of homes, particularly with folks in search of a contemporary look or a do-it-yourself home improvement project. While it is possible to make your own concrete countertops for your outdoor kitchen, we highly recommend finding an experienced installer, if you choose this option. While concrete can look cool and can be mixed with lots of custom color options, concrete counters are prone to cracking – particularly if they are not properly installed.
Aside from the cracking issue, concrete needs to be sealed regularly and may have some fading issues if in direct sunlight often.
Outdoor Kitchens: Additional Tips and Ideas
For more outdoor kitchen inspiration and tips, check out these posts: