10 Outdoor Kitchen Lighting Ideas
Outdoor Kitchen Lighting
Are you thinking about upgrading your outdoor kitchen with lighting? When determining the best lights for your space, consider the purpose. Outdoor kitchen lighting typically serves three primary purposes:
Keeping you and your guests safe
Creating the mood for your gathering
Illuminating work spaces for convenient food prep
How you intend to use your space will inform your lighting choices, so it is important to have an idea of this as you come up with your lighting plan. For example, if you will be focusing on serving food and dining with friends but will not be doing a lot of cooking, you might want to focus on lighting that sets a cozy, relaxing mood. If you are quite the grill master and plan on preparing elaborate meals, task lighting will be a must.
While some simple lighting projects may be okay for a handy homeowner to take on as a do-it-yourself project, it is generally best to hire a professional for safety purposes and to help ensure a satisfactory end product. If possible, it is best to find your outdoor lighting professional early on and involve them in the design process. They will have suggestions based on your needs, will be able to recommend the right fixtures for your project, and will be able to assist with project planning, such as load calculation and acquiring any necessary permits for running electrical lines.
But, before you begin working with an outdoor lighting technician, you might want to do a little research on your own so that you have an idea of what is available and what you want. To help get you started, here are 10 outdoor kitchen lighting ideas to inspire you and get you thinking about how you plan on using your outdoor kitchen and, therefore, which types of lighting and light fixtures you might need.
10 Outdoor Kitchen Lighting Ideas
1. Pathway Lights
Outdoor lighting is an essential part of keeping your guests safe and guiding them through your yard to your outdoor living areas. If you often entertain in the evening, path lights leading to or through your patio kitchen and dining area will let your guests know where to go and help keep them out of your flowerbeds.
Some homeowners choose solar path lights for the ease of installation and the inexpensive fixtures. In some cases, this is going to work out fine, but solar lights are generally not a good idea if you are hosting guests more than a few hours after dusk. If you need your pathways illuminated well into the night, you are better off going with wired light fixtures, which will cost more and require professional installation but will be well worth it.
2. Stair or Step Lights
Reduce tripping hazards by properly illuminating steps. This will help keep you, your family and your guests safer while enjoying time in your backyard. So, if you have steps leading up to your outdoor kitchen or down to your grill, make sure they are well lit.
3. Ceiling Fans with Lights
Ceiling fans with lights are multi-tasking outdoor kitchen lighting fixtures that illuminate the area, keep your guests more comfortable, and help keep flies and mosquitoes out or your entertaining spaces. Choosing the right fan is key here, since you will want an option that has multiple speeds and that has a switch that allows you to reverse the direction. This allows you to use the fan to create a breeze and cool off your patio in summer, and then simply reverse the direction of the fan blades to help push warm air down in the winter. Since you will not want to create much of a breeze when it is already cold outside, you will want to use a low speed for this and to keep insects away. You will also want to make sure your ceiling fan is rated for outdoor use.
Ceiling fans are a moderately priced option, but – unless you are an electrician – you will have the added expense of paying a professional for installation.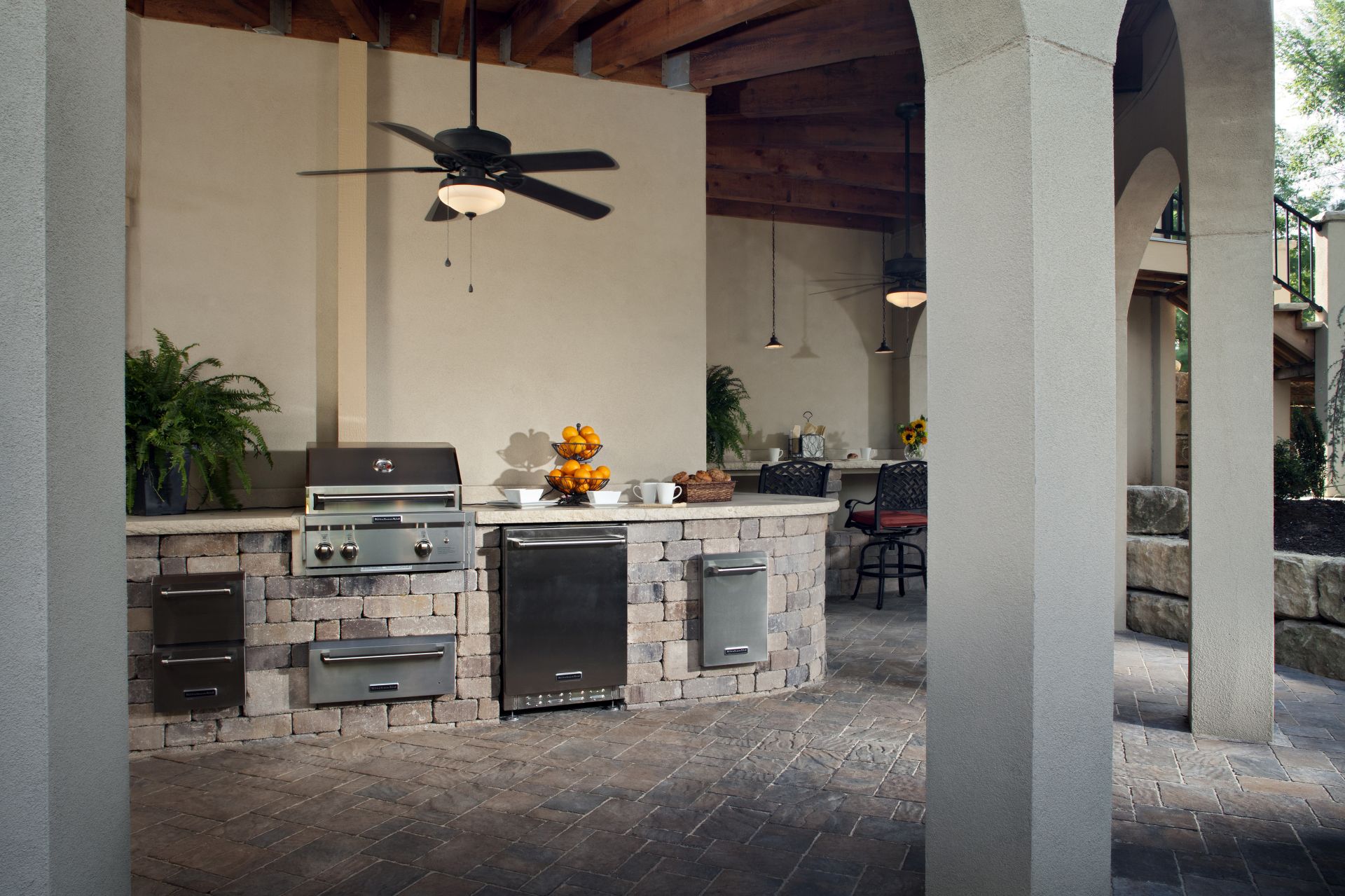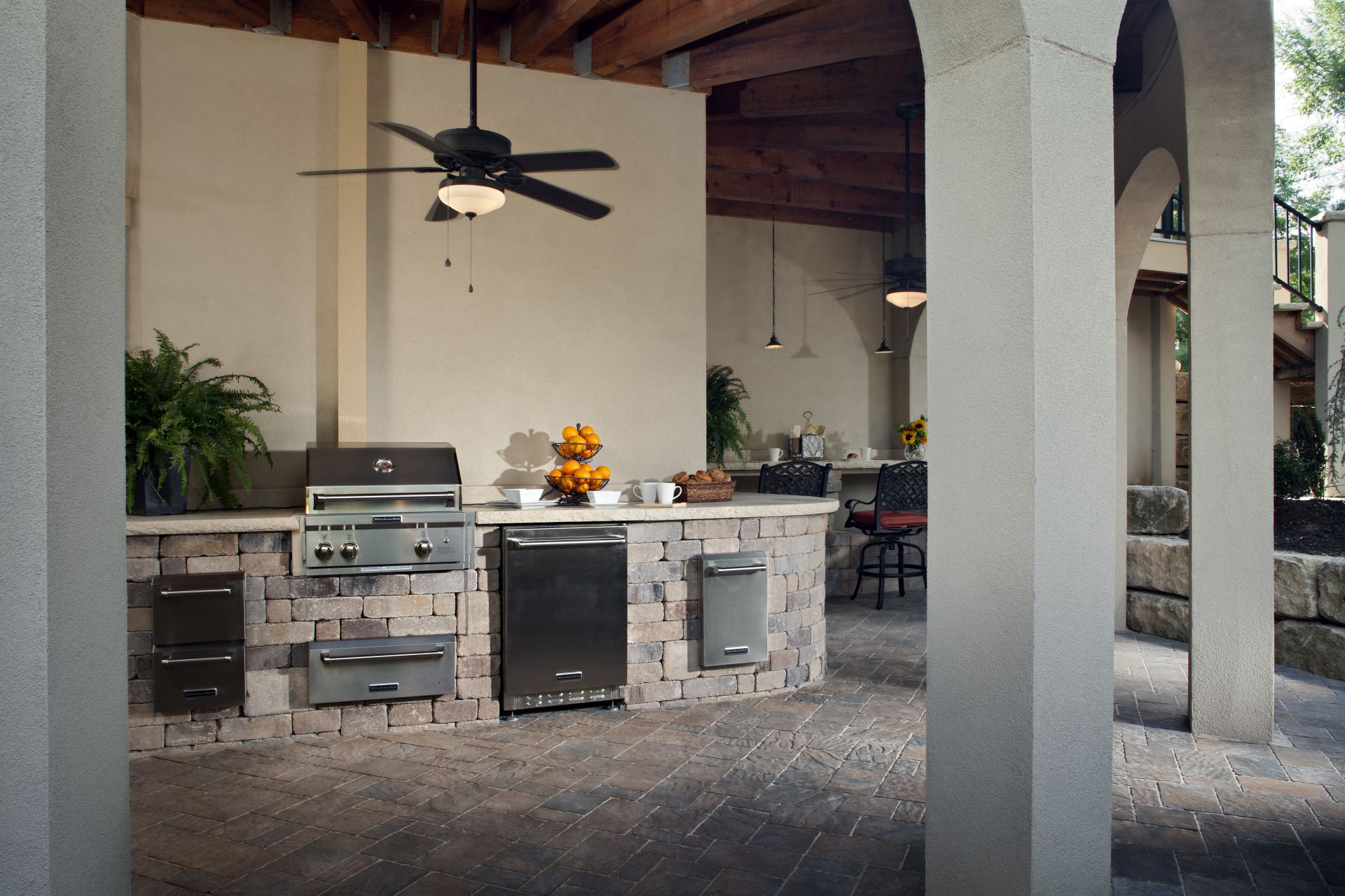 4. Chandeliers
Chandeliers are particularly well suited as outdoor kitchen lighting fixtures in areas where you entertain often, especially in the evening. If you are a consummate dinner party host, you should consider having at least one located over the main dining area in your outdoor kitchen. For more flexibility, choose a dimmable option that allows you to brighten the area during food prep or board games or dim the lights to set the mood for dinner parties and intimate conversations.
Chandeliers range in price from options that are under $100 to fixtures that are well into the thousands.
5. LED Candles
This is one outdoor kitchen lighting option that anyone can afford and anyone can take on as a DIY project. LED candles are not going to illuminate your entire patio and usually will not provide enough light to grill by, but they are perfect for setting the mood for social gatherings. They are safer than flamed candles and can be moved around as needed to illuminate seating areas or act as a centerpiece on your dining table. They can also be placed inside lanterns to create a more rustic or old-world feel. Keep in mind that wax candles will melt in warmer weather, so you will either need to bring them inside during the day or purchase non-wax candles designed to be used outdoors.
6. String Lights
Festive, inexpensive string lights are definitely on trend and are an easy way to create an inviting, relaxing atmosphere for social gatherings and outdoor living. As long as you have a nearby, outdoor electrical outlet and are comfortable climbing a ladder, you should be able to hang string lights without the help of a professional. This, of course, makes this outdoor kitchen lighting idea even more affordable.

7. Task Lights
Task lights just might be the most important outdoor kitchen lighting fixtures you install. These lights illuminate your work spaces and make sure you have adequate lighting when you need to chop vegetables, make cocktails, add seasoning to a pot, or make sure the meat is cooked just right. This is also your opportunity to show off your grill by illuminating it with a spotlight. While you will need to pay a professional to install them, the price range for task lighting fixtures has something to offer for every budget.
8. Under-Counter Lighting
Under-counter lighting adds visual interest, illuminates walking areas, and offers needed light for under-counter appliances and cabinets. Keep in mind that overhead lighting that is perfectly illuminating your grill and counter top may be blocked by the edge of the counter top, which means anything below that level may be in the shadows. LED strip lighting is often a good choice for this function.

9. Pendant Lights
When used as outdoor kitchen lighting fixtures, pendant lights are part task lights and part décor. Strategically placed, they can illuminate counter tops, cooktops, or other work spaces. They can also be used for ambient lighting when placed over a kitchen island or bar.
10. Tiki Torches
Tiki torches do not offer enough illumination to be the only or primary light source for your outdoor kitchen. But they are fun, festive and incredibly inexpensive, so there still may be a place for them in your lighting plan.
Tiki torches have real flames, so keep them away from children, pets, textiles, and walkways where guests my wander by in flowy dresses.
Tips for Outdoor Kitchen Lighting
Always choose fixtures that are rated for outdoor use for your outdoor kitchen lighting needs.
Position your lights so that they illuminate work areas and do not cast shadows over them.
Whenever possible, go with LED fixtures to save energy and money.
It is always best to hire a professional to install outdoor kitchen lighting.
Combine different options to create the look you want and the function you need.