3 Easy Flower Bulbs to Grow Indoors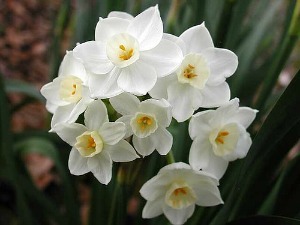 Though we can garden outdoors in San Diego year-round, there is still something uplifting about placing more plants around inside the home during the winter when local nurseries are heaving with inexpensive flower bulbs to grow indoors. It's a fantastic way to enjoy the fragrances and colors of spring just a few months early as well as get the kids interested in gardening. Kids love (somewhat) patiently observing these pretty plants grow before their eyes.
Some bulbs require a significant amount of care, but we'll discuss three types that don't: paperwhites, amaryllis and freesias.
What is Forcing?
First, we should address some bulb lingo for the unfamiliar. Forcing bulbs refers to the process of tricking a bulb into thinking it's time to bloom. For some bulbs, this means simulating winter early by chilling them outside (for those who live in cold climates) or in the refrigerator.
Paperwhite Narcissus

Perhaps the easiest bulb to grow indoors is a paperwhite and, fortunately, they cost as little as a dollar or less to buy per bulb.  Interestingly enough, they can be forced to grow indoors at any time of the year though they are most popular in the late fall through winter so that we can decorate our homes with fresh blooms during the holidays. These dainty daffodil flowers also fill a room with fragrance during their 4-6 weeks of bloom time.
How to Plant a Paperwhite
Use what you have as these bulbs don't need dirt. A simple glass or container filled with just enough water to cover the base of the bulb will do. Many support the bulb in containers using decorative gravel or glass pebbles. Beware that too much water can rot the bulb, however. If planting in dirt, use a shallow container and make sure that half to three-quarters of the bulb is exposed, with the pointed end facing up. Water when the soil becomes dry, about an inch down, and place in a warm area to activate the bulb.
Move the paperwhites out of direct sunlight after blooming in order to prolong bloom time. Once the flowers start wilting, it's time to throw away the bulb as it can't be preserved or re-used. Paperwhites typically grow upright but if they look like they're going to topple over, consider tying the stalk to a support.
Should you buy paperwhites in bulk, store them in paper bags and consider staggering your planting (plant a new group every 2 weeks or so) so that you have a container that is always flowering.
Amaryllis

Amaryllis are usually sold in kits for very easy planting and are prized for their giant, exotic-looking blooms at the top of sturdy, straight stems. Flower colors range from white to red to even some striped varieties. Note that larger bulbs potentially bloom more flowers though most sold in kits bloom two and last for about 7 weeks. Amaryllis flowers are quite shy and bloom facing away from each other! Unlike paperwhites, amaryllis bulbs will go dormant and re-bloom with some TLC.
How to Grow Amaryllis
If your amaryllis isn't in a prepackaged pot, here's a good rule of thumb:
Buy a big bulb as larger bulbs have the potential to bloom more flowers.
Find a pot that allows for about an inch or two of soil around the bulb. The reason is because the bulb needs to feel crowded in order to bloom.
Place well-draining soil in the pot but leave about 2/3 of the bulb exposed.
If you like, place a stake in the pot now just in case your amaryllis needs support. This was you don't risk stabbing a root later.
Keep the bulb watered but make sure the soil isn't soaking wet.
A stalk should appear in a few weeks. Make sure that it gets an even amount of sunlight to keep it from leaning in a particular direction.
Fertilize the amaryllis every 2-3 weeks.

Getting Your Amaryllis to Rebloom
Once the amaryllis flower starts to wilt, cut the entire flower stalk down to about 3-5 inches above the bulb. An amaryllis will also sprout small leaves from the base. It's important that you don't cut these off as they store nutrients the bulb will need to survive the remainder of the year. The bulb will need to be fed once a month and to stay watered, though not soaked.
Now, decide whether you'll store the bulb indoors or choose to plant it outside, which coastal Southern Californians can do as we do not experience freezing temperatures. Just place it in an area with partial shade.
The rule of thumb is to count backward about 10-12 weeks from the time you'll want flowers and stop watering the bulb then (also stop feeding the month prior). Move the bulb to a dry, cool spot. The lack of water, oddly, will cause another stalk to grow. When this occurs, you'll move the bulb again to warm spot and resume watering.
Sure, it sounds labor-intensive, but there is something rewarding about successfully re-purposing a bulb.
Freesias

Freesias are small, tubular flowering plants that belong to the iris family and native to South Africa. They are an extremely popular cut flower for purchasing at a florist, also due to their fragrance. Freesia bulbs are actually called corms and you'll want to plant them in the fall to enjoy the flowers in late winter/early spring.
How to Plant Freesias
Plant the corms about 1-2 inches deep and 1-2 inches apart from each other in a shallow container.
Freesias prefer nutrient-rich soil with some added grit for extra drainage.
Water regularly and keep the planted corms in a cool spot until they bloom.
Move the forms to sunlight once they start to sprout and continue to water.
Consider adding support for the freesia stems after they bloom as the weight of multiple flowers may cause the stems to droop.
Freesia Tips
Yellow, blue and white freesias last longer cut than the pinks and reds. Regardless of color, flower food helps keep them going in a vase. Freesias can re-bloom but it requires harvesting corm shoots properly. After you dig out the original freesia corm, you'll notice little corms growing out from it. Remove and care for the new corms, which will take a season or two to bloom. This means keeping them dry and warm in the summer and cool in the winter, just like the African climate they are used to.
Bulbs that Require Chilling


In deep contrast to the three flowering plants mentioned above, tulips and other bulbs (daffodils, hyacinths, crocus, Dutch iris and scilla) require much more care. Forcing these spring bulbs into bloom requires 3-4 months of chilling at approximately 45°F, which can be done naturally in the ground in colder climates or in a spare refrigerator in Southern California. You'll need to plant bulbs immediately after purchase and make space to chill the entire planted container properly, making paperwhites, amaryllis and freesias look like a much easier alternative.
Your Turn…
Do you force bulbs? Which are your favorites?
Photo credits: top paperwhite, Flickr/billums; paperwhite in pot, Flickr/briannaorg; amaryllis, Flickr/mmmavocado; amaryllis bulbs, Flickr/edenpictures; hyacinth, Flickr/joshludwig; freesias, Flickr/sleepyneko; tulips, Flickr/Lori L. Stalteri