12 Ways to Avoid Gear Entryway Clutter
Winter is nearly here,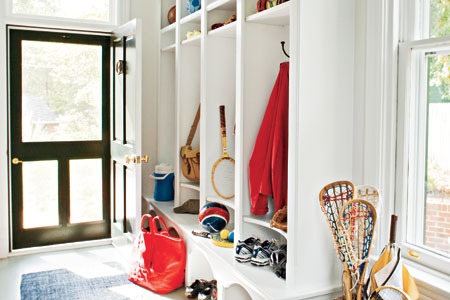 which means the return of wet, soggy boots and outerwear.
Like most people, you'd probably prefer to keep those things out of the main living areas of your home.
Unless you plan to move to an area where the snow never flies, though, you're going to have to find ways to work around the issue.
After all, snow, rain, ice and mud are facts of life when winter strikes.
That doesn't mean that you have to put up with wet, muddy floors though.
By putting in a little extra work on the entryway of your home, you can keep snow, rain, ice and mud at bay without letting winter gear take over.
Learn a few key tricks and tips for avoiding wintertime clutter in your entryway below.
1. Start with Adequate Flooring
Let's face it: Carpeting just doesn't make sense for the entryway of a home.
Even if you are diligent about putting down mats, rugs and runners, the carpet is sure to be soaked half the time.
When carpet is perpetually wet or damp, it slowly but surely gets ruined.
If your entryway is currently carpeted, you should make it a top priority to have something else installed instead.
You don't have to opt for pricey hardwood flooring.
In fact, natural wood isn't the best solution either.
When it comes to flooring for an entryway, laminate or tile generally work best.
Both materials are non-porous, which means that they don't absorb water.
When ice, rain or snow are inevitably tracked onto these floors, they can be wiped away with ease.
In addition to being functional, the flooring should be attractive.
The good news is that you don't have to trade functionality for style.
There are plenty of options out there that can go head to head with snow, rain and ice while adding visual appeal to your home.
2. Add Mats, Rugs and Mud Trays
Just because the flooring in your entryway can withstand moisture well doesn't mean that you shouldn't protect it.
After all, it will get slippery when wet, and no flooring looks appealing when it's covered with puddles and mud slicks.
Fortunately, it's easy enough to keep these problems at bay.
Just invest in an assortment of inexpensive mud trays, rugs and mats.
As unappealing as it may sound, a mud tray is the best way to minimize the damage that can be wrought by muddy, wet boots.
You're sure to be surprised by the huge array of options that are available.
Buying a tray is great, but you have to make sure people use it too.
If you have little ones, show them how to place their boots in the tray after removing them.
As for rugs and mats, buy styles that are designed for wet, muddy conditions.
In other words, this isn't the time to buy a delicate, hand-woven rug.
Still, you don't have to buy mats and rugs that are eyesores.
You should be able to find attractive, effective options without too much trouble.
3. Keep it Open
As tempting as it may be to lock away wet, unattractive winter gear, it's the worst thing you can do.
When damp outerwear, accessories and footwear are locked away, mold and mildew can run rampant.
Nothing is worse than opening a closet door and being confronted with the strong odor of mildew.
Besides, people usually can't resist shoving everything into a closet.
The result is a huge mess, and people have a hard time finding what they need when they need it.
A much better alternative is to keep the storage space in your entryway as open as possible.
Shelves and cubby holes are your friends.
Whether you buy a pre-made unit or build one yourself, you will quickly see why openness is essential.
For one thing, it keeps everything aired out, which prevents mold and mildew.
For another, it allows people to find what they need without having to dig through dark, dingy closets and drawers.
You don't have to have everything hanging out there though.
You can use bins to collect odds and ends and keep them in cubbies or on shelves.
The end result will be visually appealing and highly effective too.
4. Give Each Person Her Own Space
It's irritating to look for a missing boot in a jumble of shoes.
A good way to keep this from happening is by assigning each person his or her own space.
One example is to give each person her own hook and cubby hole.
Shoes and boots can be shoved into the cubby while jackets, coats, scarves and other winter gear can be hung on the wall.
As long as each person is aware of his or her own area, the days of ending up with other people's boots and coats will be over.
5. Invest in Hooks
As mentioned above, hooks can come in handy when designing a clean, organized and efficient entryway for the winter.
One of the most exciting things about hooks is that they are cheap to buy.
Even if you opt for a fancier style, you won't have to part with a lot of cash.
Speaking of style, there are plenty of lovely options.
You don't have to stick with utilitarian hooks if you don't want to.
There are also coat racks that can be mounted to the wall that include several hooks.
Another nice thing about hooks is that they are easy to install.
You don't have to be a handyman to get them mounted to the wall.
At the very most, you might need a drill and a stud finder.
In the case of coat racks with multiple hooks, you should mount them onto studs for extra security.
The last thing you need is for the rack to come crashing down on someone.
As for individual hooks, you don't have to worry as much.
It's still smart to anchor them securely in the wall, especially if they are being installed in drywall.
6. De-Clutter the Entryway
Take a look at your entryway.
Go through the coats, mittens, hats, scarves and other winter gear.
How much of it is actually used?
Chances are that a lot of it is old and simply taking up space.
Now is the time to go through it all.
Be as ruthless as possible.
If something isn't being used, it should be donated.
At this time of year, there are plenty of charities looking for donations of winter coats and other gear.
By donating what you don't need, you will free up a lot of valuable space, and you'll help someone else too.
As the season progresses, make a point of going through the various pieces of winter gear from time to time.
Something that got a lot of use in December may just sit around in February.
By keeping everything as clutter-free as possible, you will be able to keep the area neat and pleasant.
Make sure to do a thorough cleaning every week or so.
As long as clutter is kept at bay, cleanups will be a breeze.
You'll have fewer things to shuffle around, and the entryway of your home will look nice throughout the season.
7. Buy a Storage Bench
If there's one clever piece of furniture that can save the day during the winter, it's a storage bench.
There are plenty of benches that open up to reveal large storage spaces, but an even better option is a storage bench that has cubbies.
This type of bench serves two great purposes.
It gives people a place to sit while they put on and remove their boots, and it gives them a place to store them.
In one fell swoop, a person can remove his boots and tuck them away.
There are many stylish storage benches, so take your time while shopping for one.
8. Buy a Regular Bench
Perhaps you don't really want to fork over the money to buy an actual storage bench, or maybe you already have a regular bench and want to put it to use.
In either case, you can do so while eliminating winter gear clutter in your entryway.
If you choose to use a regular bench, buy some baskets and bins and tuck them beneath it.
People can pull out the bins and baskets, put their winter gear inside them and tuck them back under the bench.
9. Just Use a Row of Baskets
You don't absolutely have to invest in any kind of furniture to keep your entryway organized during the winter.
In a pinch, you could just use a series of baskets or bins.
Just line them up against the wall to keep them neat and tidy.
Assign one bin per person.
Install a hook above each one for coats and scarves.
This may not be the most exciting solution, but it's far better than ending up with huge piles of coats, boots, gloves and other winter gear.
If you have to stick with bins or baskets, take the time to buy stylish ones.
That doesn't mean that you have to spend a lot of money.
There are nice-looking plastic bins available in a wide variety of bright, cheery colors.
As for baskets, it's easy to find sturdy, attractive ones that match virtually any decor.
If you're crafty, you could even customize your baskets with special linings.
When the linings become too dirty or dingy, you can just swap them out for new ones.
By thinking outside the box a little, it's easy to make your entryway look terrific even on the gloomiest winter days.
10. Try a Standalone Storage Unit
If your budget allows, you might want to just invest in a large, standalone storage unit.
These take a little work to put together, but the end result is well worth it.
As mentioned previously, make sure that the unit is open.
You don't want something that's made up of drawers and cupboards.
As long as air can circulate, the unit should work fine.
Whether you buy an unfinished unit and finish it yourself later or buy one that's already finished, it will give your entryway a clean, nice look, and everyone will know where to put their things.
11. Have a Backup Plan
What happens if the kids get particularly dirty or you have to wait awhile before you can put decent furniture in your entryway?
You can always ask people to doff their dirty boots on the porch before stepping into your home.
This will only work if you have a covered porch or stoop.
If it's exposed, people will just step into more snow, ice and mud.
Furthermore, no one really likes having to stand outside in stocking feet, so this probably isn't a really good long-term solution.
For extreme situations, however, it can help you avoid a serious mess.
12. Lay Some Ground Rules
All of the best storage units, hooks and bins in the world aren't going to matter if no one actually uses them.
This isn't such an issue if your household consists of grown adults.
If there are small kids underfoot, though, it might be an uphill battle.
Repeatedly show children where to hang their coats and where to place their shoes.
Make a point of showing how happy you are when they put things away correctly.
When guests come, politely direct them to the hooks, cubbies and other storage pieces.
Just keep in mind that accidents will happen.
You'll feel calmer and more collected when you're not greeted with huge jumbles of boots, snow pants, coats, scarves, mittens, gloves, hats and other winter gear upon arriving home.
It's never fun to step into a cold, dirty puddle of water in bare or stocking feet, and the right rugs and mats can keep that from happening.
It may take a little time and quite a lot of money to get everything just how you want it, but you're sure to be tickled by the results, and you'll love how neat, orderly and clean your entryway stays.
Do you have any tips to add?
Please share your thoughts and ideas in the comments below…