Driveway Designs for Spanish Style Homes
Southern California is filled with Mediterranean architecture and even has its own subcategory: California Spanish, which was influenced by the Spanish Colonial architecture prominent in the state's history and is our take on what is commonly known as Spanish Revival or Spanish Colonial Revival.
With its terracotta tile roofs, white stucco walls, courtyards, and intricate ironwork, a Spanish style home exudes character and curb appeal. This, of course, deserves and requires landscaping and hardscapes that complement the style without drawing attention away from the architecture. Because of the elegance and old-world feel of most Mediterranean home styles, driveway materials like asphalt or poured concrete are generally not the best choice.
So, to help you find the right driveway design for your Spanish style home, here are 11 driveway design tips to inspire you.
Driveway Designs for Spanish Style Homes
1. Circular, Teardrop or Horseshoe Driveway
Circular and horseshoe driveway designs are particularly well suited for Mediterranean-style homes and are a great choice if you want to increase your home's curb appeal. Aside from their visual appeal, circular driveways give an upscale feel to your home's façade and are more convenient and functional than conventional driveways. With a circular, teardrop or horseshoe driveway, you do not have to back into the street when you leave your home, and you have extra parking when guests arrive.
To increase your home's Mediterranean, Spanish, Spanish Revival, or Spanish Colonial flare even more, consider adding a fountain to the center of the driveway.
2. Driveway with Pergola Carport
Pergolas complement a Spanish-style home quite well and may already be part of your landscaping design to provide shade for outdoor living areas. If space allows, you may want to consider adding a pergola carport to your design as well. You can build a pergola carport in front of an existing garage to soften the look or beside your garage to provide more covered parking spaces for family members or guests. You can increase this Mediterranean look even more by planting vines to cover your pergola, particularly wisteria or bougainvillea.
3. Porte-Cochère
We may not need much protection from the weather in Southern California, but a porte-cochère is a beautiful, functional addition to your home all the same. Many Mediterranean or Spanish style homes are designed with a courtyard, so if your courtyard is large enough for parking, a porte-cochère is an elegant, visually appealing way to provide a covered area where you or your guests can go from the house to the car while being protected from the elements. Even if you do not have a courtyard as part of your design, you may be able to include a porte-cochère leading to your parking area.
4. Palm Tree or Olive Tree Borders
Whether your driveway is straight, curved or circular, you can increase the Mediterranean flare by lining it with palm trees or olive trees. If you choose olive trees, be sure to let your landscaper know you only want fruitless trees. Fruitless olive trees do sometimes bear a few small fruits, but it is nothing compared to the mess your driveway would be if it was lined with fruiting trees. Both palm trees and olive trees do quite well in Southern California's climate, so these are easy choices for Spanish style homes.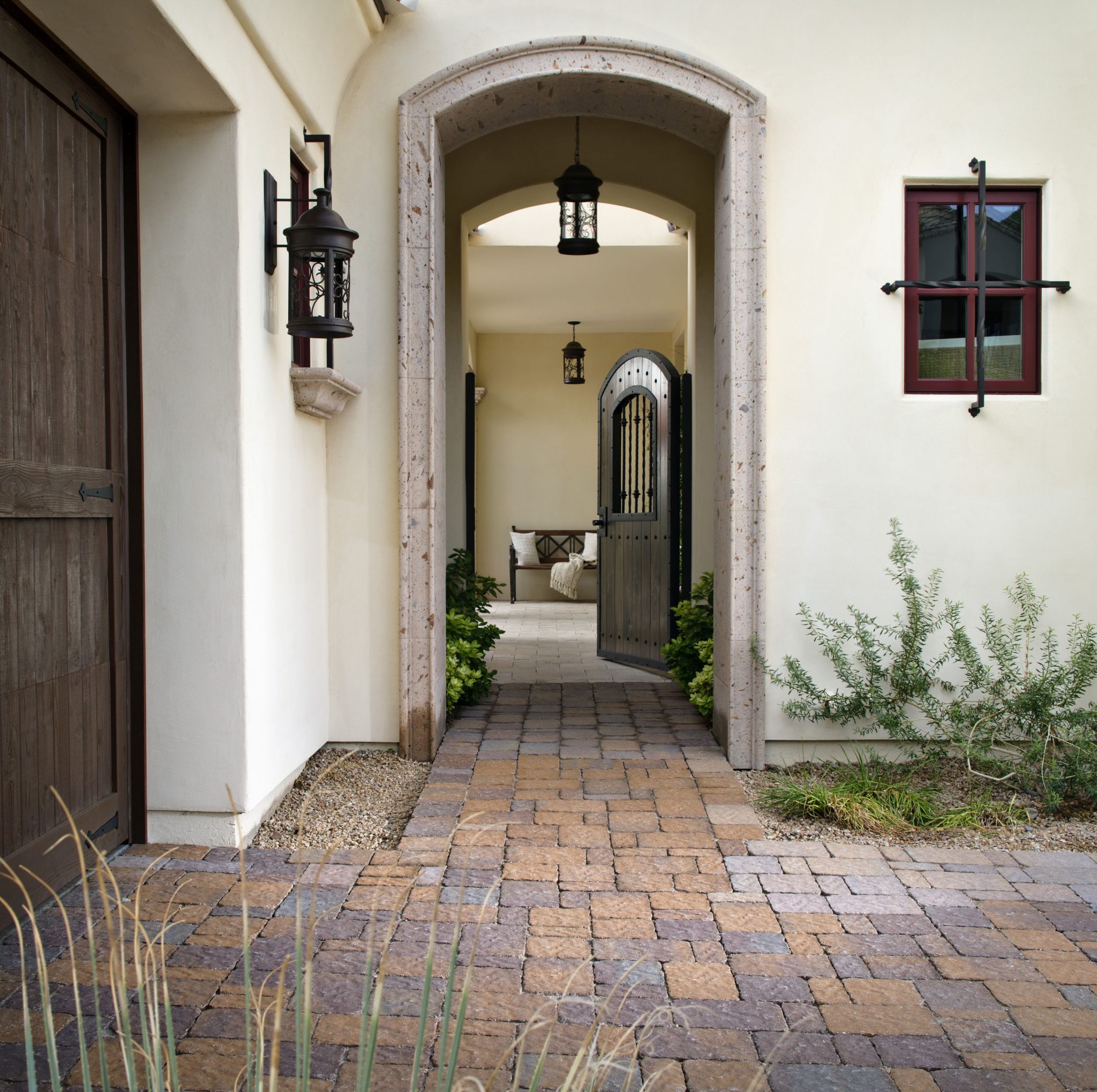 Driveway Materials for Spanish Style Homes
1. Paving Stones
Paving stones are going to be your most versatile and most durable option for Spanish style home driveway designs. Pavers come in an array of styles and colors, so there is definitely a combination that will work with the color and architectural style of your home. In fact, paving stones are so versatile that there really is no architectural style that they do not complement. Therefore, whether you have a Spanish Colonial with old-world charm or a sleek, modern Mediterranean, pavers are a solid driveway design choice that will provide both style and function.
Another bonus that comes with choosing paving stones is that these durable, slip-resistant pavers are easy to replace if something happens. This is because of the zipper-like installation that can simply be unzipped to replace one or more cracked or stained pavers.
2. Turfstone
Turfstone pavers are similar to other paving stones in that they are interlocking and made of concrete. The main difference is that Turfstone pavers have negative spaces through which turf can grow. Some homeowners plant grass in these negative spaces, some plant mosses or other plants, some install artificial grass for lower maintenance, and some fill the spaces with other hardscape materials, such as gravel. These permeable pavers are strong and durable for driving and parking, while also being better for the environment as they help control runoff and erosion by filtering rainwater back into the soil.
For a Spanish style home, consider combining Turfstone with other paving stones, stamped concrete or gravel. For example, a Turfstone border is a great way to upgrade a driveway using less-expensive materials, such as gravel.
3. Stamped Concrete
Stamped concrete is more expensive than conventional slab concrete, but it is worth the extra money if you really want a concrete driveway. Slab concrete without the textures and patterns of stamped concrete generally does not have the right look for Mediterranean style homes, so stamped concrete is usually a better choice. If you are concerned about cracking and the difficulty in repairing and matching concrete over time, you might want to instead consider paving stones, which generally cost about the same as stamped concrete but are much easier to repair should stains or cracks occur.
4. Chip Seal
Chip seal driveways are not for everyone, but they can work for a Spanish-style home if you want a solid-surface driveway but need to watch your budget. Made with liquid asphalt and stones, chip seal driveways are a durable, paved option that will last about a decade before needing another layer added to extend its life.
5. Decomposed Granite (DG)
Decomposed granite, most often referred to simply as DG, is an incredibly popular option for walkways, driveways and outdoor living areas in Southern California. Decomposed granite is  a cousin to gravel but each piece is smaller in size and, therefore, fits together more easily to provide a stable surface for walking and driving. Some DG comes in such a small size that a tamped walkway will resemble a compacted sand path, which also makes this choice a nice complement for drought-tolerant landscaping.
If you are going for a more natural or rustic look, be sure to put DG on your list of materials to check out when designing your driveway.
6. Gravel
Gravel is generally one of the most affordable options for driveway design and is a good look for Spanish style homes. It can help control erosion and runoff, comes in a variety of sizes and colors, and is a popular choice for driveways, parking areas and walkways.
7. Crushed Shell
Crushed shell driveway designs look and function like gravel. They share some other qualities of gravel as well, such as assisting in the control of erosion and runoff. Crushed shell driveway material is usually made from oyster shells and is considered an eco-friendly option.