15 Tips for Hosting an Outdoor Party
Hosting outdoor parties is just one of the many benefits we enjoy as Southern California residents. If you are a frequent party host, you probably already know that there is more to planning a party than just sending out a few invitations and setting up some chairs. While party planning does take some effort, you can have a successful soiree without party preparations taking over your life. All you need is a plan and some party-planning tips to help you hone your skills.
Here are 15 tips for hosting an outdoor party, as well as links to posts with hundreds of additional tips and outdoor party ideas to inspire you and make your next party a stress-free success.
1. Pick a party theme.
Parties are always more fun with a theme but, beyond that, picking a theme also makes planning easier. Your chosen theme will streamline your outdoor party ideas and make it easier to select decorations, menu options, activities and, if applicable, dress code. Your theme might be related to a holiday you are celebrating, such as Halloween or the 4th of July, or it might be something fun and festive, like a backyard wine tasting or a pirate party.
Pick your theme before you do any other planning for your outdoor party, since you cannot design your décor or plan your food and drink menu until you know your party theme.
Here's some more inspiration to get you started:
Backyard Theme Parties: Outdoor Party Ideas for Adults
Backyard Theme Parties: Outdoor Party Ideas for Kids
How to Host a Backyard Mardi Gras Theme Party
How to Host a Backyard Beer Fest (Responsibly)
2. Send informative invitations.
Invitations do not need to be formal or expensive, but they do need to be informative. Unless you prefer paper invitations that are mailed or handed to the folks on your guests list, you can save money and trees by opting for eco-friendly, online invitations. Emailing your party invitations helps to ensure your prospective guests receive them in a timely manner and makes it easy for them to RSVP quickly.
Invitations may be low on your priority list of outdoor party ideas, but they are more important than some people think. Invitations have important information that lets guests know what to expect when they arrive at your house. A well-designed invitation is simple with a small amount of text and let's your guests know how to dress, what to bring, whether or not they should eat before they arrive, and even what kind of shoes to wear.
This does not mean that you need to spell all of this out on your invitation. The design and font of your invitation lets your guests know how formal or casual the party will be. For example, if you have chosen a red-and-white checkered tablecloth for the border, your guests will know that this is a casual gathering. If you choose a heavy paper with an elegant design, your guests will assume it is a more formal affair. You can always clarify further with a simple phrase, such as "Join us for a casual barbecue."
A mention of outdoor games or activities lets your guests know to wear comfortable shoes, while a few words that note whether you will be serving finger foods or a four-course meal will let your guests know whether they should eat beforehand.
While the primary purpose of party invitations is to announce your gathering and let your guests know what to expect, they also serve an important purpose for you: You get to ask for RSVPs. Asking your guests to RSVP allows you to better plan for the party by knowing how much seating and food you need.
3. Consider party favors.
Party favors do not always make the list of outdoor party ideas, particularly if you are hosting a casual gathering of family or close friends. But these simple souvenirs are a fun way to give your guests something to remember the special day, and they will certainly make it look like you put more effort into your party planning.
Party favors do not have to be elaborate or expensive. They can be as simple as mason jars filled with candy or something more personal, such as small gifts you make by hand or something you order with the date and party theme imprinted. You can even combine your party favors with a fun activity at the party by setting out craft supplies for guests to make their own favors to take home with them.
32 Budget-Friendly Party Favor Ideas
4. Design your décor.
Unless you are planning an annual bash you host every year, you will probably need to shop for decorations. Therefore, you will want to get going on this party checklist item early on. Choose outdoor party décor that goes with your theme. For example, if you are doing an outdoor movie night, some fun décor ideas would be setting up a step and repeat or laying out a red carpet. If you are hosting a party with an Old West theme, decorate with bales of straw, ropes, bandanas and cowboy boots.
5. Plan your menu.
Plan your menu at least one week before the party to give you time to shop for the ingredients or order party trays from your local grocery store. More formal affairs or an outdoor dinner party requiring a caterer will need to be planned at least one month in advance.
Alternatively, you can make your party a potluck so that guests will bring dishes to share or you can creatively feed your guests without spending any time in the kitchen by incorporating a cooking competition into the party theme, such as a backyard chili cook-off or a county fair theme with a pie contest.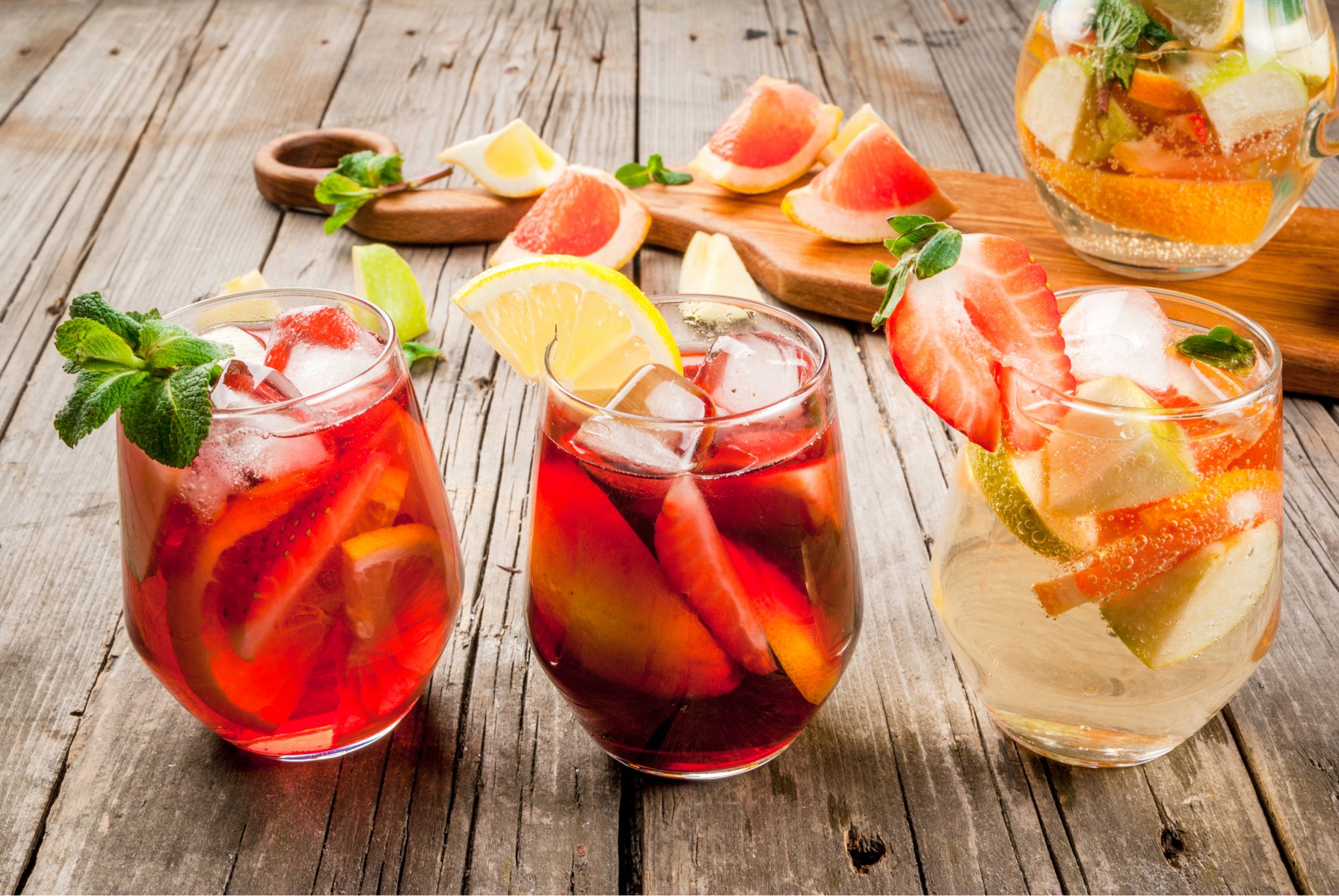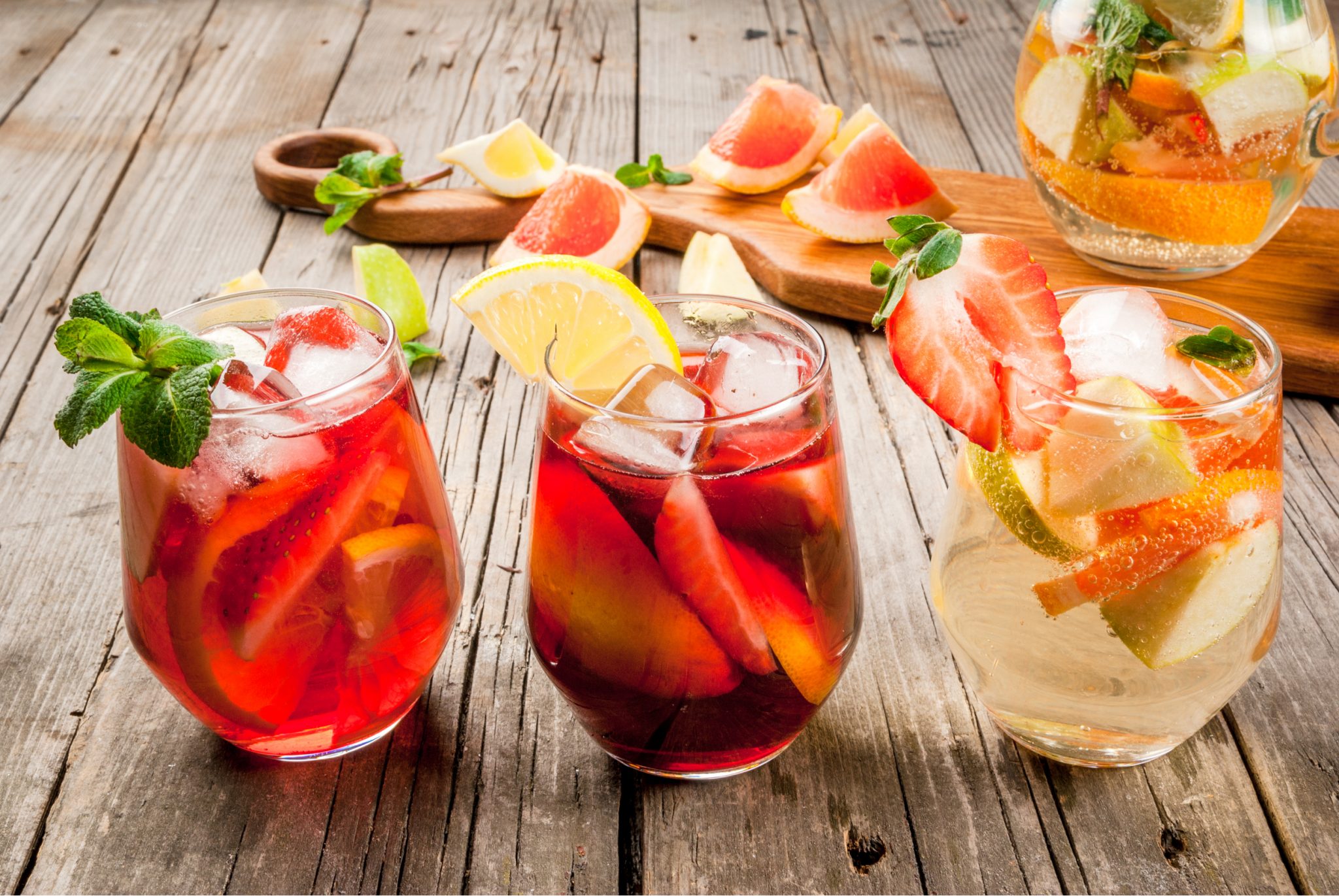 6. Come up with a signature cocktail (or mocktail).
Find or create a signature cocktail that goes with your party theme and simplifies your hosting duties. For example, a pirate party might require a rum-based cocktail, while a fiesta calls for sangria. The important part is coming up with a cocktail you can make in large batches before the party so that you will not be stuck making drinks all night. It is best to choose something that can easily be made in both alcoholic and non-alcoholic versions so that you can more easily accommodate all of your guests.
If you can relate it to your theme at all, sangria is always a solid choice for both cocktails and mocktails. You can make it the day before the party to let the flavors develop, so that will be one less thing to do the day of your party. Just make sure you clearly mark which beverage dispenser has the sangria with alcohol and which dispenser has the mocktail that is safe for the kids and folks in attendance who do not drink alcohol.
Here is a basic sangria recipe:
1 bottle of red wine
1 cup of orange juice
4 shots of brandy or rum
Fruit chopped into chunks
Sugar to taste
Almost any fruit will do, but most folks use some combination of fruits like apples, oranges, plums, limes, and pineapples.
Cut up your fruit and place it in your pitcher or other drink dispenser. Mix in the wine, juice and liquor, then add sugar to taste. Chill the mixture for at least a few hours or overnight before serving over ice.
If sangria is not a good match for your outdoor party theme, here are more easy drink recipes to try:
Spiked Lemonade Recipes for Summer Parties
Shrub Cocktails and Mocktails for Outdoor Entertaining
10 Winter Cocktails for Outdoor Entertaining (Recipes + Tips)
7. Get your outdoor living areas guest ready.
The first step in preparing your backyard for your next outdoor dinner party is cleaning and decluttering the space. You do not want your guests tripping over dog toys or stepping around rakes and shovels to get to your patio. You will also want to clear pathways of debris and overgrown shrubs, trim low-hanging tree branches and see if you have any fences or walls that might need a new coat of paint. If you have time and your budget allows, you might want to consider some bigger backyard improvements, such as installing a pergola or building a fire pit.
Make sure your barbecue grill and outdoor kitchen are clean and ready for meal prep, clean your patio cushions and rugs, clear cobwebs from your eaves and fascia, and make sure your trash cans are hidden from view. There are lots of small, inexpensive things you can do to prepare your yard for guests, such as installing a simple hose holder to wrangle your garden hose or purchasing a deck box to quickly hide dog beds and toys.
If you have areas with gravel, wood chips or bare dirt, consider adding a new layer of ground cover to quickly freshen the space.
For more inspiration and outdoor party ideas, check out these posts:
17 Quick, Pre-Party Backyard Fixes
10 One-Hour Backyard Improvement Projects
10 Easy Backyard Improvements for Outdoor Entertaining
8 Quick Ways to Enhance Outdoor Entertaining Areas
8. Make sure you have enough seating.
You cannot wait for your guests to arrive to find out you do not have enough seating. While you might be able to pull out a few extra chairs from your indoor dining room or office, this will only accommodate a few extra guests, will make you look unprepared and might make your late-arriving guests feel like you were not expecting them.
You want all of your guests to feel welcome and comfortable, so make sure you will have enough seating before the party starts. Asking your guests to RSVP will help you know how much seating you need. If it looks like you will need a significant number of chairs beyond what you have or can borrow from friends, you can rent chairs from a local company that will deliver them to your home and pick them up the next day.
You might also want to read, 10 Easy, Attractive Ways to Increase Patio Seating.

9. Use outdoor lighting to guide guests and create a festive atmosphere.
Landscape lighting illuminates outdoor living areas, guides traffic and accentuates special features in your yard. Before your next outdoor dinner party, make sure your lighting guides guests easily to your patio and provides adequate illumination for your gathering. For a festive touch, enhance your existing lighting design with string lights to create an inviting, celebratory atmosphere.
Here is everything you need to know about landscape lighting to help you prepare for your next outdoor party:
Pathway Lighting Tips + Ideas (Walkway Lights Guide)
Illuminate Your Yard: Outdoor Lighting Tips and Ideas
Simple Ways to Brighten up Your Yard with Outdoor Lighting
10. Use natural pest control methods to keep bugs away from your party.
There are few things that will make your guests more miserable than swatting at flies and scratching mosquito bites all afternoon. Ward off mosquitoes by planting marigolds, sage or basil; scatter bay leaves or cloves to keep ants away; keep food covered to protect it from flies; and spray a mixture of water, peppermint oil and cloves around your outdoor living areas to keep spiders away from the party.
Find dozens of ways to ward off common pests during your next outdoor party:
45 Tips for Natural Garden Pest Control
9 Tips for Keeping Nighttime Bugs at Bay
Plants that Keep Mosquitoes Away
35 Natural Indoor Pest Control Tips
11. Keep your guests comfortable with a plan for heating or cooling your outdoor entertaining areas.
Southern California's coveted weather allows for outdoor dinner parties any time of the year, but we do get enough fluctuation in temperature to call for a little preplanning. A good host makes sure their guests are as comfortable as possible throughout the party, so you may need to take steps to cool down or warm up your outdoor entertaining areas.
For winter entertaining, make sure your fire pit or fireplace is clean and that you have plenty of fuel on hand. If some areas where guests gather are not near your fire features, or if you do not have a fire feature, you may want to rent patio heaters to keep your guests cozy. You can also create a warm, cozy environment by serving hot drinks, offering guests throw blankets and lighting your patio with candles.
On the other hand, if you are hosting a summer outdoor party, you will need to find ways to keep your guests cool. One of the most important parts of this is making sure your guests stay hydrated. This is particularly true if they will be partaking in adult beverages, since alcohol and heat do not always mix well. Make sure you have plenty of shade where your guests can get out of the sun and consider installing lightweight patio curtains that will provide some sun protection without blocking the breeze. If you entertain often, you may also want to invest in outdoor fans, patio misters or coolers that can be used outdoors.
For more tips on how to keep your guests comfortable, check out these posts:
How to Keep Your Guests Cool on Hot Summer Days
Winter Outdoor Entertaining Tips: Keeping Your Guests Warm
25 Patio Shade Ideas for Your Backyard
How to Choose the Best Outdoor Heater
12. Have a backup plan in case of rain or wind.
If you are hosting an outdoor party in Southern California, you most likely do not have to worry about inclement weather putting a damper on your celebration. However, if there is any chance of rain in the forecast of if you live in an area that is prone to wind, you do need to have a backup plan.
A covered patio with patio curtains may allow you to continue your celebration outdoors even if rain or wind arrives. If you are having a larger party, rent canopies to provide protection from the weather for your guests who won't fit on your patio. For smaller gatherings, make sure you have an indoor space where you and your guests can retreat if the weather turns bad.

13. Plan some casual activities to entertain guests or keep kids busy.
Baby showers and bridal showers are game-heavy gatherings where activities are an essential part of the itinerary. For other gatherings, guests will not expect an action-packed agenda and will expect time to mingle and relax in an unstructured environment. However, if you are bringing together different sets of your friends who do not know each other well or have both adults and children on the guest list, planning a few casual activities is a good idea. This allows your guests to get to know one another and to have an opportunity to participate if they so choose. Keep it casual so that your guests do not feel compelled to participate if they are shy or would rather just mingle and relax.
Check out How to Ensure Your Backyard Party is Memorable & Your Guests Leave Wanting More for game and activity ideas for adults and kids.
14. Have a plan for easy post-party cleanup.
As your guests begin to leave, the reality settles in that now you have to clean up after them, take down your decorations, wash a ton of dishes, separate recyclables, and package leftovers. This can feel like a daunting task, but it doesn't have to be. The key to easy post-party cleanup is to set yourself up for success before the party even starts.
Little things like gathering your cleaning supplies beforehand and making sure your trash cans are clearly marked for trash, compost, bottles, and cans can make your life much easier when it is time to clean up. It also helps to have a checklist and to enlist some help to make the cleanup easier and faster.
For a complete guide to post-party cleaning and a cleaning checklist, check out 21 Easy Party Cleanup Tips + Post-Party Cleaning Checklist.
15. Take your party-hosting game to the next level.
We have gone over the basics of throwing a successful outdoor party, so now let's go over a few things that can take your hosting skills to the next level.
Accommodate smokers on your guest list while keeping non-smoking guests clear of the smoke by following the tips in How to Create a Designated Smoking Area for Backyard Parties.
Learn how to reduce waste and have an environmentally friendly outdoor party with the tips in
How to Host a Zero-Waste Party in Your Backyard and in Eco-Friendly Outdoor Entertaining Tips: Reduce Energy and Water Consumption.
Save money on your next outdoor dinner party with the tips you will find in How to Save Money When Hosting Your Next Dinner Party for Family or Friends.
And, finally, get even more tips on how to host a stress-free backyard gathering by checking out
Essentials for a Stress-Free Backyard BBQ.