25 Patio Shade Ideas for Your Backyard
Southern Californians love to spend time outdoors, but hot afternoons and blistering sun can have us heading indoors when we would rather be outside. To provide sun protection for your family and pets – and to make sure your guests are comfortable – it is imperative that you provide shade options for play areas, dog runs, pet areas, and outdoor living areas.
If you currently do not have a proper patio cover or are looking to increase the shade in your backyard, here are 25 options that vary greatly in price and style. So, you should be able to find one or more that works for you, regardless of your budget or design aesthetic.
1. Hang shade sails
Shade sails are another affordable patio shade option that are versatile enough to cover small spaces or provide complete patio cover. This one is particularly good if you are looking for something that will provide filtered sun in spots where you are not concerned about protection from rain.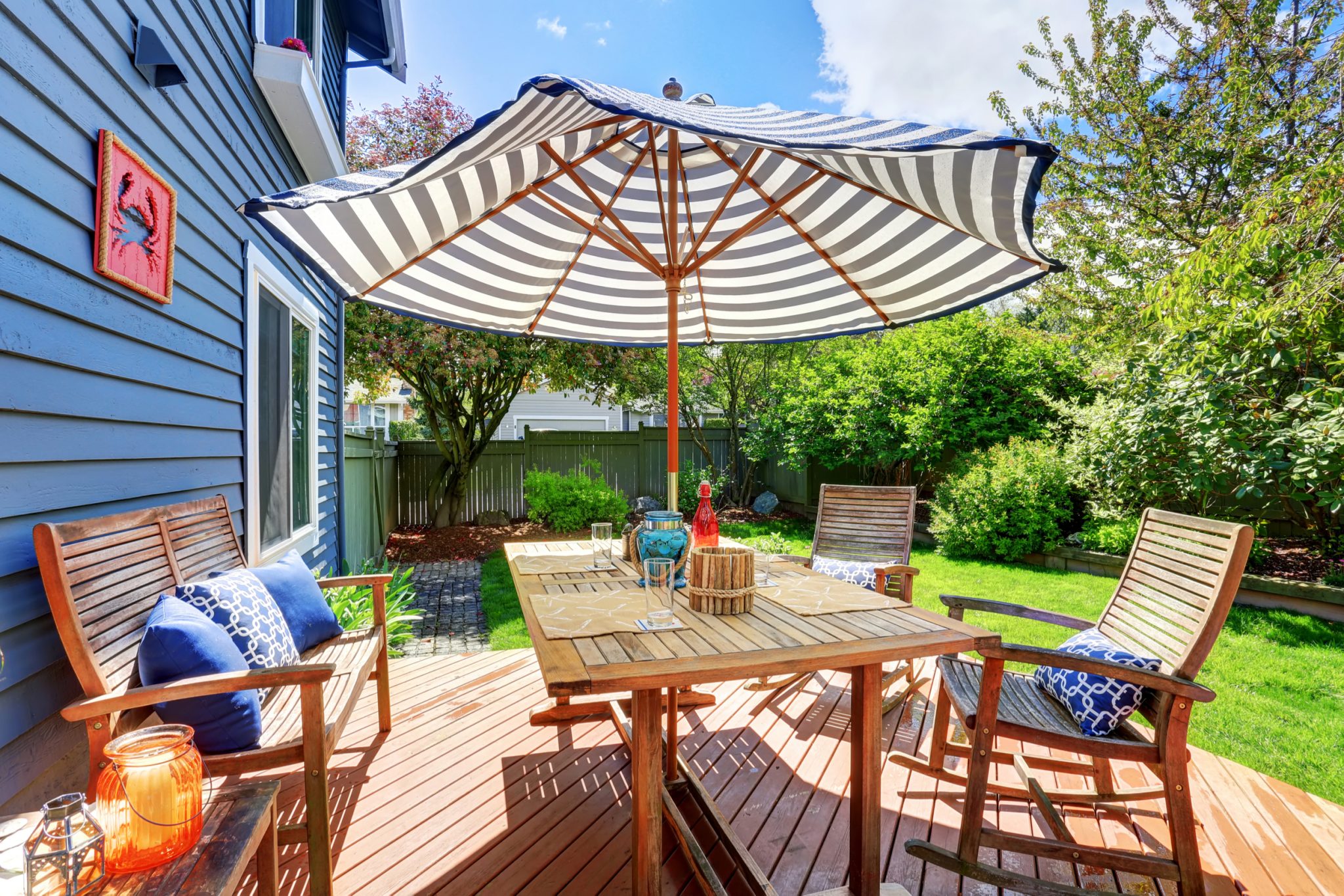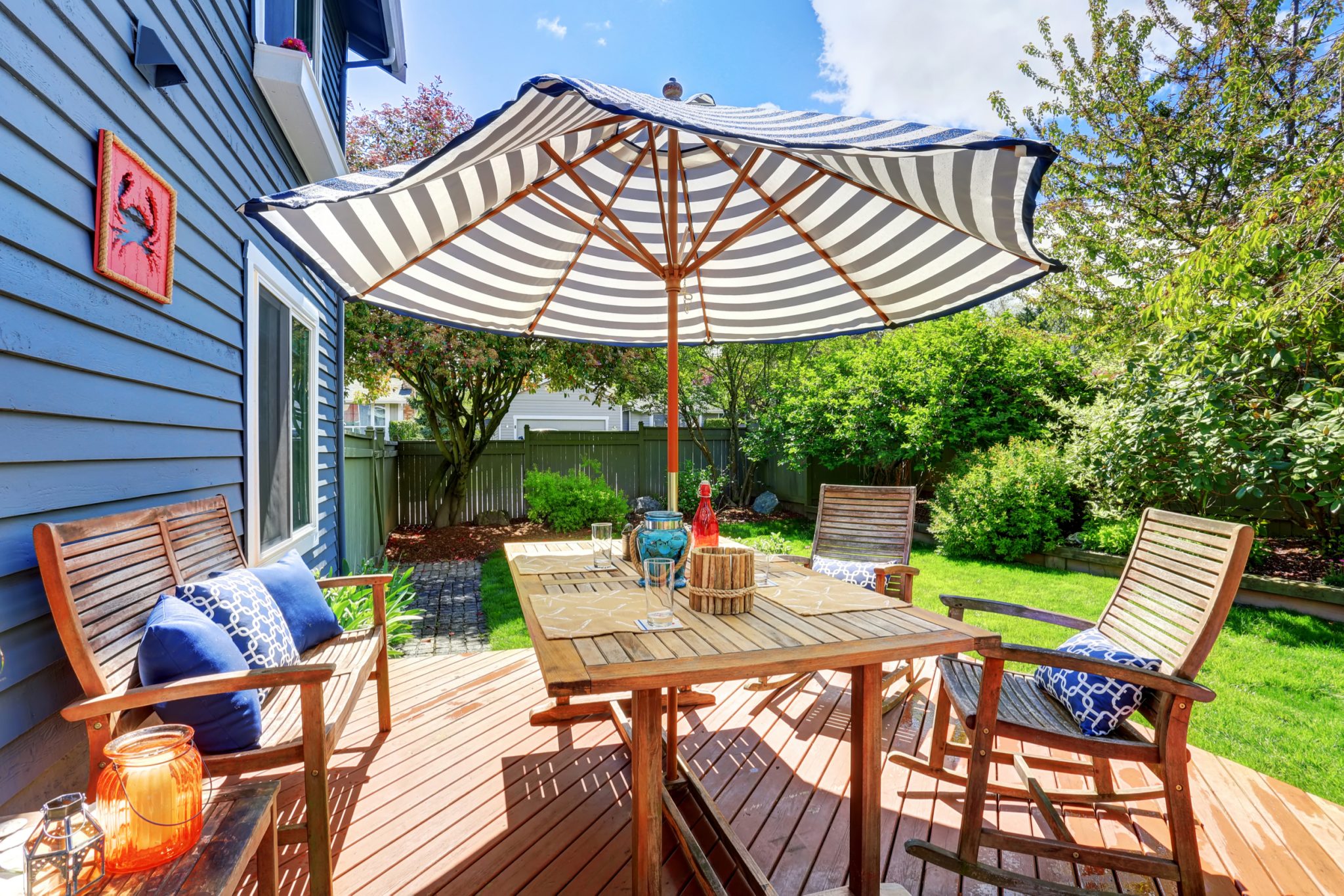 2. Set up an Umbrella (or several)
Patio umbrellas are one of the easiest, fastest, least expensive ways to provide shade for outdoor living areas. This shade option can be as quick and simple as purchasing an inexpensive market umbrella to drop through the hole in the center of your patio table minutes before you guests arrive. Or you can opt for a larger umbrella that will cover most of your deck or multiple umbrellas to protect and define different seating or lounging areas throughout your yard.
3. Put up a Palapa
Palapas, which are sometimes made from bamboo and usually have a thatched roof, provide plenty of shade, as well as a tropical vibe. So, if your backyard goals include creating a tropical paradise for your friends and family to enjoy, a palapa might be the right shade structure for you.
4. Plant a Hedge or Install a Faux Hedge
A tall hedge planted near the border of your outdoor living area can provide both privacy and shade for your next afternoon soiree.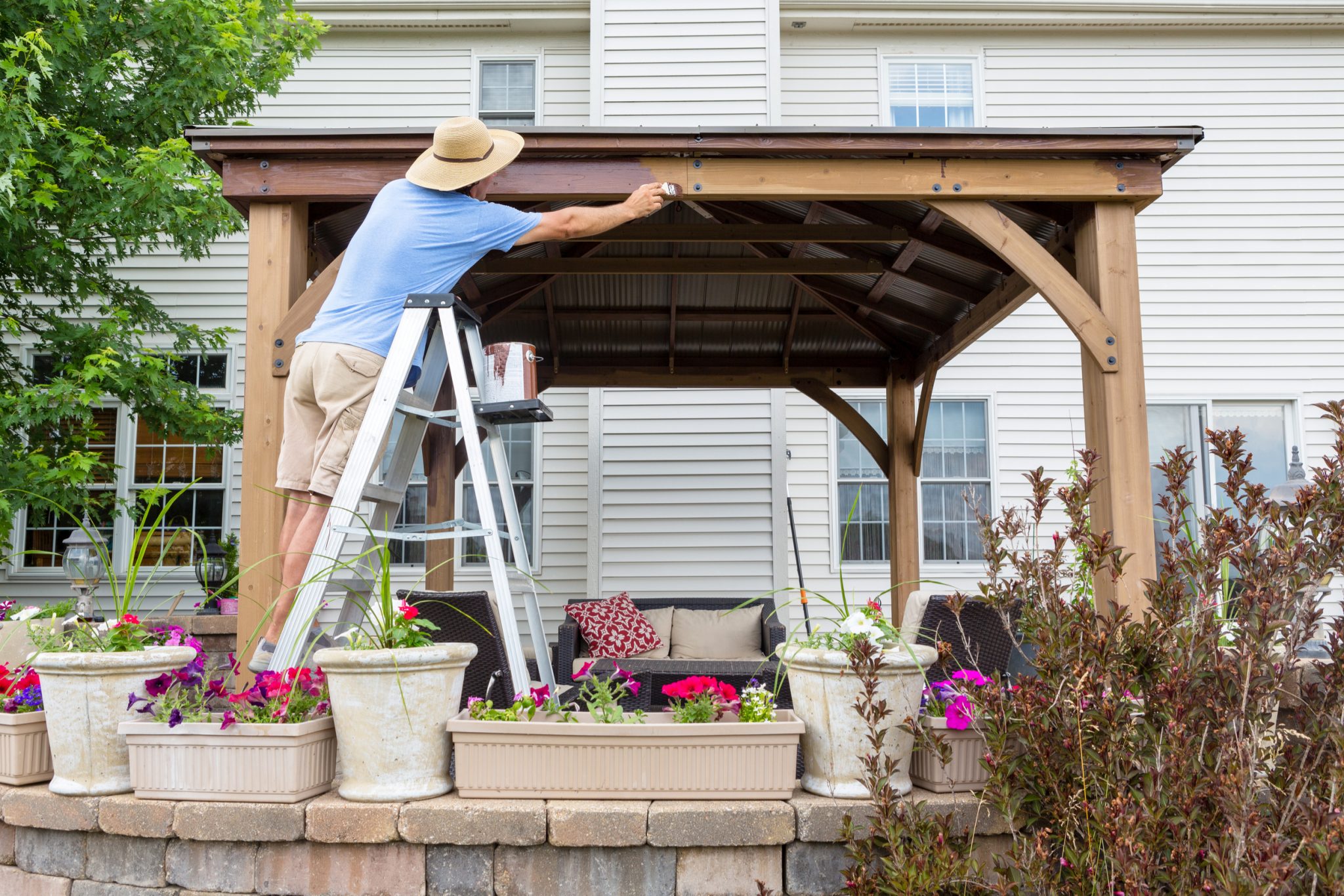 5. Build a Gazebo
Gazebos are more expensive than the patio shade ideas mentioned so far, but this classic option adds a distinct element to your backyard. A gazebo provides a beautiful focal point and can act as an outdoor room to expand your living space beyond your home.
6. Plant strategically placed trees
Strategically placed trees are the perfect choice for providing natural shade for outdoor living areas. If you want shade all year, be sure to choose evergreens.
7. Plant trees in containers
Planting trees in containers provides the same natural shade as those planted in the ground but gives you more flexibility. This is particularly true if you put your planters on wheeled bases, which allows you to move your shade trees to block the sun as it moves across the sky.
8. Purchase a pop-up canopy
Pop-up canopies are not the most elegant of outdoor shade ideas, but they are convenient, inexpensive and perfect for times when you need shade that is temporary or movable. Pop-up canopies are good for providing temporary shade over play areas or extra shade for parties that are too large to confine to your patio.
9. Cover your patio with a pavilion
Pavilions are not quite canopies and are not quite permanent structures, which makes this semi-permanent patio cover a good choice for homeowners who are not quite ready to invest in a permanent structure and for renters who want something nicer than a canopy but that they can disassemble and take with them when they move.

10. Build a pergola.
There are some patio shade ideas that are more versatile than others. A pergola is one of them. While pergolas, alone, provide only partial shade, they are versatile structures with styles that complement any type of architecture. For added shade, you can purchase rolls of bamboo fencing or fabric to cover the top.
11. Install a permanent roof structure
A permanent, solid roof is one of the more expensive patio shade ideas on this list but, if you have the budget, this is a far sturdier and longer-lasting option than a palapa, canopy or patio umbrella. If have a two-story home, you may be able to cover your patio and expand your outdoor living areas by building a roof structure that is also a balcony for your second floor.
12. Use hanging plants
If you are looking for an inexpensive option to provide shade for your patio, consider hanging plants. Plants and hanging pots are incredibly budget friendly and provide both shade and some privacy for outdoor entertaining.
13. Set up seating areas near structures
One way to make sure your outdoor living spaces are shaded on sunny days is to set up your seating areas near existing structures that provide shade, such as fences or walls.
14. Use hoop shades
If you have ever seen a hoop shade, it was probably in a field protecting crops. Hoops shades are a bit like a cross between a canopy and a tent and are an effective shade structure for both plants and parties. They are easily constructed with PVC pipe and shade cloth and can be erected just before a party or weighted or staked to keep them in place long term.
15. Install patio curtains
If you have an existing shade structure, such as a permanent roof, canopy, pavilion, gazebo, or cabana, you can add patio curtains to add shade, enhance privacy and provide protection from wind or rain.
16. Hang rolling shades
Outdoor rolling shades can be added almost anywhere you can add curtains and offer the same benefits of privacy, shade and protection from the elements. Hanging rolling shades is a pretty simple, do-it-yourself project, which makes this an easy patio cover idea to use in your backyard.

17. Grow vines on an arbor or trellis
This is not one of the patio shade ideas that you can deploy quickly for your next outdoor gathering. Growing vines takes time, so you will need to be patient if you choose this option. However, it will be well worth the wait when your guests arrive and immediately begin to comment on your wisteria or clematis.
18. Invest in a stationary awning
Metal or fabric awnings are popular patio shade ideas that are sturdier than canopies but more affordable than solid roof structures. Awnings attach directly to your home or other structure and provide your guests with protection from the sun and rain.
19. Install a retractable awning
Like stationary awnings, retractable awnings offer protection from sun and rain. However, some people prefer this option, which also allows them to retract the awning and expose their outdoor living areas. This means that you can host an afternoon tea party in the shade of your awning, and then retract it before your outdoor dinner party to allow your guests to dine under the stars.
20. Plant a bamboo grove
If you are looking for both privacy and shade, bamboo is a fast-growing grass that can provide you with both. Your best option is to go with clumping bamboo that does not send out rhizomes and take over your yard like running bamboos can. This will allow you to plant bamboo along fences or around your patio to provide shade and privacy without spreading into other areas.
21. Strategically place a movie screen
We love multipurpose features that play more than one role in your outdoor living areas. When it comes to patio shade ideas, one such feature is a strategically placed movie screen. When positioned correctly, your outdoor screen can provide shade during the day and the perfect spot for an outdoor movie night after the sun goes down.

22. Put up a yurt
A yurt is a round, tent-like structure most often used for housing by nomadic Mongolians. Over the past several years, yurts have become popular in North America as an alternative housing option and for use in backyards as guest quarters, meditation rooms, playrooms, or even backyard offices. Because of its versatility and sturdiness, a yurt is an patio shade structure that can expand your living space by adding an outdoor room to your home.
23. Install Roman shades
Much like the Roman shades used indoors, fabric can be attached to a slide wire to create outdoor Roman shades to cover the top or sides of a pergola or other shade structure. One of the benefits of Roman shades is that you can cover your patio completely, partially or not at all, depending on how much you open the shades. If you choose this option, consider allowing the shades to fall over the sides of the structure to cover at least halfway down the sides. This gives you more flexibility to adjust them to block the sun as it moves across the sky.
24. Install a cabana
Cabanas provide shade in the same way it is provided by other patio shade ideas, such as canopies or pavilions. However, a cabana is often situated by the water, such as on the beach or by a swimming pool, and generally gives off more of a beachy or tropical vibe. Add curtains or rolling shades on the sides to provide additional privacy, shade and protection from the wind and rain.
25. Use movable panels
Movable panels made from metal or fabric can be rearranged to provide shade during different times of the day, create privacy around your patio, separate different parts of your outdoor living spaces to create a more intimate feel, or open the space up to accommodate larger parties.
Frequently Asked Questions
What is the best material for sun shade?
Knitted or woven fabrics are known to provide the best shade. Vinyl or polyethylene covers are used in awnings and can block out UV rays from your patio. They are easier to maintain than wood, and can last for just as long.
How do you shade a patio cheaply?
The least expensive way to shade a patio would be to use an umbrella or a shade sail. You can find one for under $100 online and they are known to provide protection from the sun.
What kind of patio cover is best?
There is no best patio cover, but you should choose the one that best fits the aesthetic of your home and yard. Pergolas with plants or covers can provide shade, but awnings and fully covered patios with solar screens provide the most cover from the sun.
These 25 options can provide great shade for your patio or outside space. Ranging in price, one of these can definitely fit your needs to keep your patio cool all summer long! If you're still unsure which option is right for your home or budget, check out how we can transform your outdoor living area.
This article was originally published May 12, 2019 and was updated April 28, 2022.