Let's Talk Outdoor Bars: Design, Gadgets and Party Tips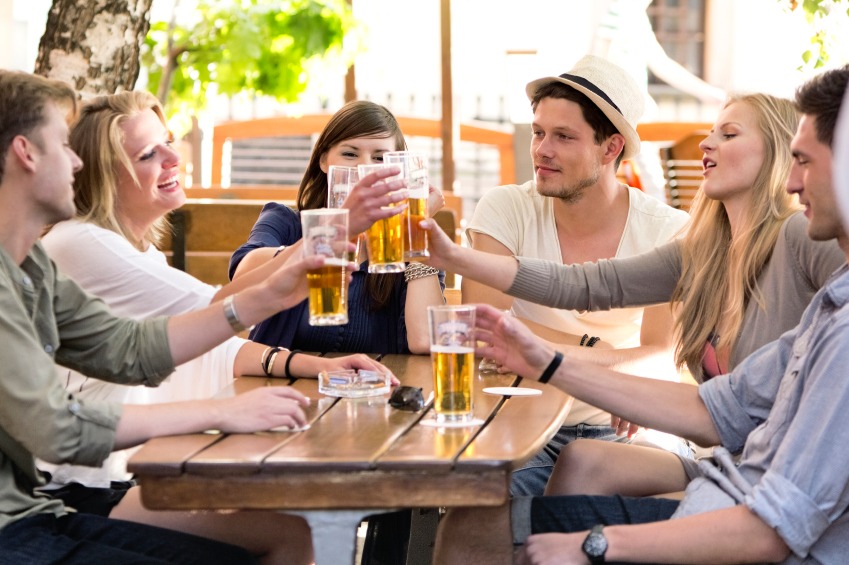 Outdoor living spaces as an extension of our home are all the rage in Southern California because we're lucky enough to entertain outside year-round. In addition to awesome outdoor kitchens, many homeowners step it up a notch and include a bar.
How? Typically, they integrate the bar into the outdoor kitchen, build it as its own separate unit or purchase a freestanding unit that can be wheeled to wherever its needed. Either way, there are gadgets galore to consider.
Speaking of outdoor parties, we have a few tips for success to add based on personal experience.
Cool Outdoor Bar Gadgets 
Refrigerator —
Cut down the amount of time spent going back and forth to the kitchen by storing grilling essentials in an outdoor refrigerator, now a highly-desired feature in outdoor kitchens. And, you can always turn them off when not in use to save electricity.
Tip:  As someone who owns one of these, I will share that they aren't helpful for drink storage during parties. Visible tubs or ice bins (see below) are easier because they require less explanation. Telling people to grab a drink from the fridge repeatedly gets old and they tend to grab drinks more freely when they're exposed.
Beer Dispenser —

A college dream come true, you may have a keg perpetually on tap in your fancy outdoor bar. And, yes, feel free to call it a kegerator. Different beer dispensers accommodate different keg sizes so be sure that the size you opt for is easily found nearby in the type of beer you like. The keg slips into what looks like a standard outdoor refrigerator with as many as three professional-looking taps on top of the counter. The refrigerators are insulated to prolong the life of the keg and some are free standing with wheels for those who prefer a mobile party.
Sink —
Sinks require water lines, a drain line and occasionally a sewer line depending on if you're running a garbage disposal or not. A sink with water only is surprisingly helpful for washing off dusty glassware and the like. Just remember that it's emptying into storm drains so be mindful of what you're washing into it.
Beverage Centers —  
A number of prefabricated, gorgeous stainless steel beverage centers are available on the market. They come with all sorts of gadgets including towel racks, shelving, bottle and condiment trays, ice bins and the like. If counter space is slim, this can be an economical and space-saving option. Or, go mobile by investing in a stainless steel beverage center cart on wheels!
Ice Bins —  
Simply pour a bunch of store-bought ice into an ice bin for easy access to ice and chilled drinks. These come in a mindboggling number of styles for such a simple device. They can drop into a counter top with a totally removable lid or one that lifts on a hinge. Some have bottle holders and even condiment trays. Opt for a drawer ice bin or splurge on an outdoor ice maker (keep in mind the energy it will take to power this in hot climates).
Built-In Bottle Opener with Catcher —  
Yes, really. This simple gadget will keep you from forgetting to bring the bottle opener outside or losing it during a party. Simply attach one to your outdoor bar and let guests open beer themselves. They'll love it.
Plus, here's what you can do with the tops!
Cocktail Blender Station 
Forget storing a regular blender outside. Build one into the outdoor countertop for quick margaritas on demand. The base that spins the blender sits underneath a lift-up lid that's almost flush with the countertop for easy blending. Sure, you'll need to store the blender jar somewhere but, let's face it, a built in blender is more cool than it is practical.
Wine Refrigerators 
Buy a standalone outdoor wine refrigerator or unit that is combined with a regular refrigerator. Some have glass doors and some do not. The temperature control required to store wine properly requires more accuracy than a regular refrigerator. Expect a wine refrigerator to cost more.
Swanky Lighting 
OK, so lighting isn't really a gadget but it can elevate the look of a bar after the sun goes down. Undercounter lighting (make sure bulbs burn cool as to avoid burned guests seated on barstools) is a way to subtly light up a space. Or, get creative. This homeowner lit up repurposed wine bottles with fiber optics.
Stainless Steel Drawers — 
If you're going to the trouble to install an outdoor kitchen or bar, install a few drawers to store utensils and miscellaneous in. You'll be very glad you did. Just remember that these aren't temperature controlled so think twice about storing food or booze in them.
A Waterfall — 
Well, only if you want to. This was just too good not to include.
Quick Tips for Outdoor Entertaining
We throw quite a few outdoor shindigs at our house so I thought I'd mention a few simple tips that we find make life easier when dealing with both indoor and outdoor bar and kitchen space.
Make Drinks Accessible — 
To expand on my earlier outdoor refrigerator tip, making drinks accessible to guests eases the workload on you while making them feel at home. We love this bottle trough but even a simple beverage tub on the counter will do. We place one inside and one outside, if the crowd mandates it.
Cater to the Kids — 
Happy kids equal parents who can stay longer. Throw juice boxes and mini waters into the drink tub or allocate a tub just for them.
Bendable glow sticks are $1.00 per pack at Michael's and I highly recommend them for outdoor parties that lead into the night. Kids love making bracelets, necklaces and whatever with them.
Be prepared to pop in a DVD if they're getting cranky and it's headed past their bedtime.
Confession: We've even hired characters in costume for an hour or two to entertain big groups of kids so the parents can focus on catching up. It is not as expensive as it sounds.
Label Trash and Recycling — 
While this sounds Type A, in today's ecoconscious world I guarantee that more than one person at your party will ask where your recycling is. Or, they'll ask if you recycle (don't even think about saying no in Southern California). Take the guesswork out of it and clearly label a trash can and a recycling can (plastic trash cans from Target or similar will do). Then, dump the waste into the city bins at the end of the night. Easy peasy.
Put the Appetizers/Finger Food Where the Crowd Is —
There's nothing worse than slaving over Pinterest-worthy appetizers and having them merely picked at. Put them near where drinks are being served or where you expect people to congregate. It doesn't matter how awesome they are, word of mouth when drinks are involved isn't enough.
Keep it Simple —
Stock your outdoor beverage center with basic spirits (rum, tequila, vodka, gin) and mixers. Unless you're hiring staff, think about whether or not you personally want to mix cocktails all night. If you lay out complicated ingredients, people won't know exactly what to do with them. And, they'll likely be just as happy with a nice DIY GNT mixed exactly how they like it.
Your Turn…
Do you have tips for outdoor entertaining? Do you have an outdoor bar gadget that you love? Please share!