Outdoor Kitchen Designs Guide: 20 Recommended Outdoor Kitchen Features
Adding an outdoor kitchen to a new or existing patio increases the value of your home, allows you to prepare meals outside, and enhances outdoor entertaining. The best time to consider features you may want to include is in the design stage, so it is at this time that you want to be thinking about how you plan to use the space and how your patio kitchen will fit into your future outdoor living and entertaining.
This does not mean that you need to include every feature during the initial build. Depending on the available space and budget, this might not even be possible. However, if you are installing a new patio or adding a kitchen to an existing one, consider running any electrical, gas or water lines, and drains you will need for features you plan to add in the future. It is easier and more cost effective to run utilities when you are installing or remodeling the patio then it is to add them later.
To help inspire you, here are 20 outdoor kitchen ideas to consider for your design.
20 Outdoor Kitchen Design Ideas Recommended by Pros
The main reason to have a patio kitchen is to be able to cook outside. Therefore, your design will likely be based around whatever you are using to cook. Since this is central to your kitchen design, we will start with cooking-related features to consider, and then move on to other ideas that will help fit out your kitchen to suit your lifestyle.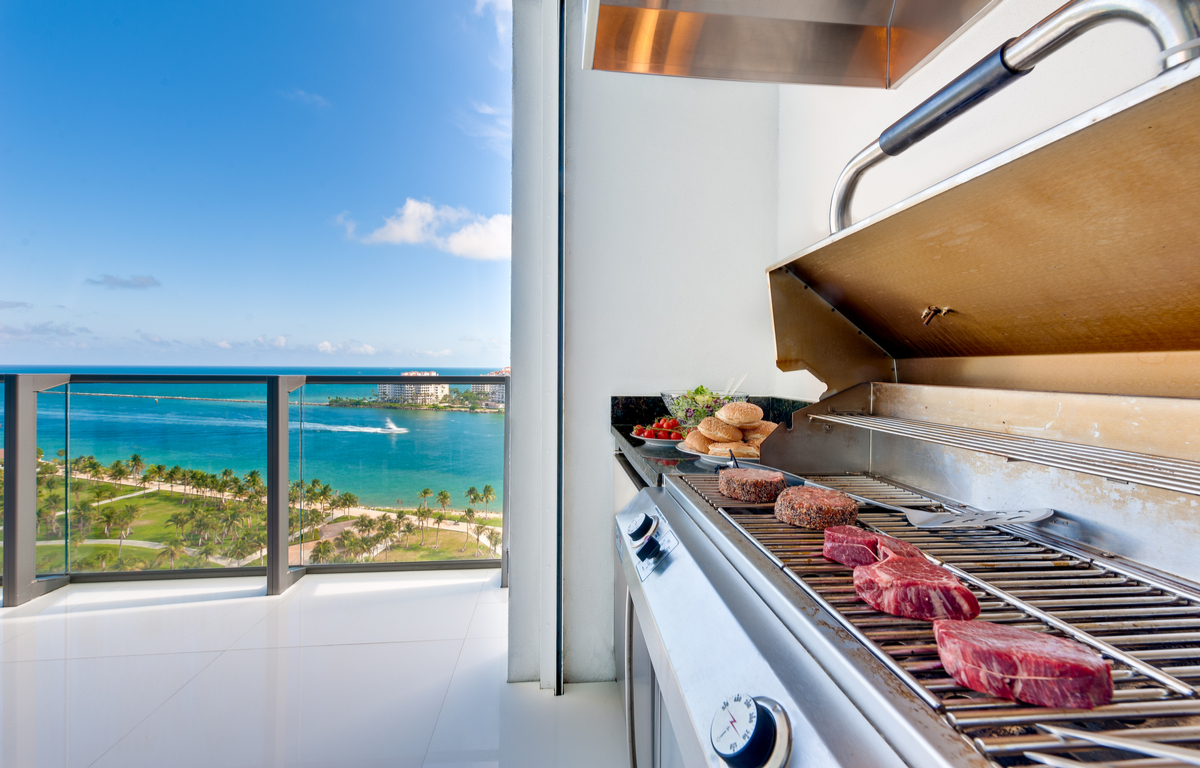 1. Barbecue Grill
A barbecue grill is the most basic and common feature in outdoor kitchen design. This is where you will gather with friends and family to catch up while flipping burgers and where you will show off your grill-master skills. Of course, most backyards have a barbecue grill, so it takes more than just a grill to make a patio kitchen, but this is the central focus and most important feature in your design.
If you are designing an outdoor kitchen, you will most likely be including a built-in barbecue grill. You will need to decide size, fuel type, and location. If grilling is what you will be doing most, design your kitchen around your dream grill.
2. Two-Sided Grill
While you are researching the perfect grill, make sure you take a look at two-sided grill options. Choosing a two-sided grill allows for more flexibility. For example, you might choose to have a double grill so that you can have a gas grill on one side and a charcoal grill on the other. This allows grilling enthusiasts to enjoy the best of both worlds without purchasing two grills.
Another reason to consider a two-sided grill is so that you can have one side for grilling meats and one side for grilling bread, vegetables, and other non-meat items. This one is particularly important for people who have vegetarians or vegans in the family or for those who might have vegan guests at their parties. Some folks who strictly avoid meat also avoid foods cooked on surfaces where meat is cooked, so you can better accommodate this growing group of potential party guests by having a grill just for veggies.
Having a two-sided grill also allows you to use one for grilling and one for keeping your already grilled foods warm.

3. Griddle
Including a griddle in your outdoor kitchen design is a gamechanger. You will go from basic grilling to being able to cook almost anything that you could cook inside your home. You can cook full breakfasts with pancakes, bacon, and eggs. You can make grilled cheese sandwiches or fajitas with ease. You can cook small or delicate foods that are difficult or impossible to cook on a grill.
This is why outdoor griddles are a hot trend and why you are now seeing them in so many of those outdoor kitchen inspo photos you are looking up.
If you are considering a two-sided grill, going for a grill-griddle combo might be your best bet if you are looking forward to cooking full meals for your friends and family.
If your budget does not allow for a griddle right now, you can use a cast iron griddle or a cast iron pan on your grill. You will not have the same even heat control or the same surface area for cooking, but these options will allow you to cook a wider variety of foods outside.
4. Range
If you have been doing research for your kitchen design for a while, you have probably noticed that ranges are starting to pop up on lists of outdoor kitchen ideas. It has been common to add some burners to your grill or patio kitchen for a while, but having a full cooktop and oven is just now becoming a hot trend.
Homeowners who entertain frequently are seeing the benefits of being able to cook all of their side dishes outdoors while grilling the main course, baking or roasting parts of their al fresco meals, or making things that are much easier to cook on a stovetop than on a grill – like soups and stews.
Folks in hotter areas like Southern California are also loving the option of baking breads, pies, cakes, and cookies outside without heating up their houses. Plus, there is the added benefit of using the oven to keep things warm or to reheat pre-prepared dishes to make entertaining easier.

5. Pizza Oven
If you have the space, a pizza oven is a fun addition to your outdoor kitchen and brings a whole new meaning to family pizza night. Portable pizza ovens on carts and portable, countertop ovens are available for folks on a tighter budget or who have limited space, but a built-in, wood-fired pizza oven is a coveted outdoor kitchen feature that will impress guests and take your patio kitchen to the next level.
Remember, pizza ovens are good for cooking more than just traditional pizzas; you can also roast meats, bake bread, cook calzones, or grill seafood.
6. Side Burners
If you do not have space for a range or if it is outside of your design budget, consider including side burners. Side burners are so handy that many portable grills come with one or two now, and they are commonly seen in larger or more upscale patio kitchens. Installing one or two burners expands your patio cooking options and allows you to make a broader range of dishes without having to run back and forth between the stove in your indoor kitchen and the grill in your outdoor kitchen.
So, if you are not including a range, definitely consider including side burners. Even if you are just planning on cooking beans to go with your barbecue or heating up sauces, the convenience is well worth it.
7. Warming Drawer
Warming drawers are a bit of a luxury item in both indoor and outdoor kitchen designs. While they are common in higher-end homes, they are just now becoming more popular for kitchen remodels in more moderate-value homes as well.
For a patio kitchen, this handy feature allows you to keep burgers and hot dogs warm when cooking large quantities, keep foods prepared indoors warm while you are grilling the rest of the meal, warm up bread rolls, or simply keep meals warm for guests who show up fashionably late.
You can even use a warming oven as a slow cooker for meats and other dishes, making this a versatile addition that will make your patio kitchen more functional and make outdoor cooking more convenient.

8. Smoker
As any pitmaster knows, a smoker is one outdoor kitchen feature that can completely transform your al fresco cooking. Most folks know that smokers bring delicious flavors to meats, but you can also smoke lots of other foods. This includes scallops, olives, cheeses, nuts, and a variety of vegetables and fruits. If you want to up your grilling game and bring new flavors to old favorites, consider adding a smoker to your patio kitchen design.
9. Fire Pit
You probably already have a fire pit somewhere in your outdoor living areas or are planning on including one if you are currently designing your landscaping. If your fire pit is (or will be) close to your patio kitchen, then you do not need to include one in your outdoor kitchen design. If it is not – or if you do not have one – then see if you have the space to consider including a fire pit.
Fire pits are great for gathering around with cocoa or wine to catch up with friends and hang out with your extended family. They can also be included in or near your outdoor kitchen as a cooking option where you and your kids or guests can roast marshmallows and hotdogs. Some can even be fitted with a grill for general grilling purposes.
With the right fire pit accessories, this is a fun addition to your kitchen design or at least to include somewhere in your outdoor living space.

10. Ice Maker
An ice maker is a bit of a luxury for an outdoor kitchen but, if you are someone who entertains a lot or who spends a lot of time in your outdoor living areas, it might be worth the splurge. Plus, this one is an affordable luxury, since options start at less than $200. Of course, they also go up to well over $1,000, so there are options for different budgets.
You also have some good flexibility for how to include them in your space, since outdoor ice makers come in a few styles, including under-counter units, free-standing options, and portable, countertop options.
This is a good addition for folks who live in hot areas – like Southern California – where folks are going to want iced drinks while hanging out at your social gatherings. Even if you might be content to use the ice from your indoor ice maker, it most likely will not be able to keep up with ice consumption at a summer cookout.
Of course, you can always buy bags of ice at the store and keep the ice in coolers on your patio, but you know your guests are going to be way more impressed with an ice maker. Plus, it saves you a trip to the store and hauling those cold, wet bags through your house to the backyard.
11. Built-In Cold Beverage Bin
If you are not quite sure you need two refrigerators or prefer the old-school idea of a tub of ice filled with beer, water, and soda, then you might want to opt for a built-in cold beverage bin instead of a beverage refrigerator. This budget-friendly option will conveniently hold beverages for your guests during your next weekend get-together and is the perfect choice for a casual outdoor living area.
If you opted for the ice maker as well, you will have plenty of ice on hand to fill the bin and keep beverages cold throughout your gatherings.

12. Beer Dispenser
A beer dispenser — sometimes also called a kegerator — is an absolute must-have for some party hosts and not at all necessary for others. This one depends entirely on how you plan to use your outdoor living area and the types of gatherings you envision having there.
If you plan on hosting frequent social gatherings where a lot of beer is served, opting for kegs is actually better for the environment and for your wallet. Serving beer on tap to your guests also means fewer cans and bottles to clean up after the party.
13. Wine Refrigerator or Canned Beverage Refrigerator
Folks who entertain often know that a wine refrigerator or canned beverage refrigerator is not just a convenience; it is pretty much a must-have. Homeowners normally start by installing a wine refrigerator in their indoor kitchen, and then soon realize that they need one on their patio as well.
If you plan on mostly storing condiments or keeping food cold during parties, then you will be fine with a conventional refrigerator and it will better suit your needs. You will be able to put some wine, beer, or sodas in it and can use the rest of the space for side dishes and salad dressings.
If your goal is to store enough bottles of wine to serve your guests throughout the night without having to run to your wine cellar or to have dozens of sodas and beers cold and ready for your guests, then a beverage refrigerator is your best bet.
Some folks choose to install both so that they have plenty of room for drinks and food in their outdoor kitchen. Prices on these features vary greatly, which means you can find affordable options to include both in your design.

14. Bar
While we are on the topic of adult beverages, we might as well consider installing a full bar. If you enjoy a mixed drink on your patio when you come home at night or are known for your Manhattans or margaritas when you throw a soiree, then a full bar may be in order for your outdoor kitchen. Just think how convenient it would be to have a well for liquor bottles instead of having them cluttering your countertop or how nice it would be to install a bottle opener with a bottle cap catcher to avoid bottle caps all over your yard.
If your parties — or evenings with your family — involve mixing drinks, you might consider installing a patio bar to make it easy and convenient to craft cocktails while you entertain. Plus, with an outdoor bar, you are all set up for hiring a bartender for larger or more formal gatherings.
15. Sink
If you are designing an outdoor kitchen, include a sink. It might be tempting to avoid the cost of running plumbing, but you are going to regret it if you skip the sink to save some money. Running water makes patio meal prep much easier and more convenient. You can wash your hands, rinse or wash dishes, rinse produce, and use it for gardening when you are not entertaining.

16. Blender
You have two options for adding a blender to your outdoor kitchen design: a portable blender you can use both inside and outside or a built-in blender that fits right into your countertop. If you go for the portable option, make sure you include an electrical outlet in our design, which you probably want to do anyway.
A good blender can make much more than margaritas; you can also make fresh salsas, smoothies, sauces, nut butters, and even hot soups. So, if you are going to get a built-in or portable blender, do a little research and do not go for the cheapest option. Spending a little more here will really pay off.
17. Refrigerator
Refrigerators are pretty standard in patio kitchen design at this point. There are options for just about every price range and some that will fit in even the smallest outdoor cooking space, so this is one outdoor kitchen feature that you need to include in your design or that you will regret not including later when you start using the space.
The most common use for patio refrigerators is for storing cold beverages that are conveniently within reach while entertaining or spending an evening outdoors with your family. They can also be used to keep condiments close at hand so you can avoid going back and forth between your indoor or outdoor kitchens or to keep salads and other side dishes cold while you are grilling the rest of the meal.
If you are the sort of party host who likes to prep foods for grilling earlier in the day so that they are ready to go as soon as the grill is hot, a patio refrigerator is also perfect for storing them until you are ready to cook.
Patio refrigerators are pretty much a must-have feature, so if you are putting together a list of outdoor kitchen ideas, make sure this is at the top.

18. Storage Drawers
Most outdoor kitchen designs include some type of storage, but this storage is usually in cabinet form. Cabinets are great to have and are necessary for storing kitchen essentials, but drawers come in very handy when it comes to storing smaller necessities. Having at least one or two storage drawers allows you to keep cooking utensils and knives close at hand and can save you from running to your indoor kitchen every time you need a towel or potholder.
If you dine outdoors often, you may want to consider filling your cabinets and drawers with a separate set of dishes and silverware just for your al fresco dining room. You can even keep a separate set of pots and pans outdoors to truly make it a stand-alone kitchen with all of your cooking needs.
19. Dishwasher
Dishwashers are must-have appliances for indoor kitchens but are more of a luxury item when it comes to outdoor kitchen ideas. This is not a necessity, since you can take your dishes inside to wash them or, if you have an outdoor sink, you can use it to wash dishes and utensils before taking them inside. However, this is one luxury you might want to strongly consider. After all, this means you can load and run your dishwasher without leaving your guests and that you can spend more time enjoying your outdoor living area and less time cleaning up.

20. Garbage Disposal
A garbage disposal is not an absolute must for the sink in your outdoor kitchen, but it can make life easier. This is particularly true if you plan to peel vegetables, wash dishes, or rinse dishes to put in your outdoor dishwasher.
Recommended Reading for More Outdoor Kitchen Design Tips