17 Backyard Bar Ideas
Backyard bars are for so much more than drinking. Sure, this is the spot where you will gather with your friends with a glass of wine after your dinner party, but that is not their only purpose. A patio bar is the perfect place for your first cup of coffee in the morning or for your family to enjoy a weekend breakfast prepared on the grill. It is a spot for your kids to do their homework or for you to take a conference call when you do not feel like being cooped up in your home office. And, of course, they are the perfect place for your family and friends to hang out while you are grilling and then enjoy an al fresco dinner fresh from the grill.
Ideally, your backyard bar will be incorporated into the design of your custom outdoor kitchen. If that is not possible, you may have to go with another option, such as a freestanding patio bar or a bar cart. Whichever option works best for you, here are seven ideas for backyard bar designs and 10 things to consider including in your outdoor bar.
1. Sports Bar
Make your backyard bar the perfect place to watch the big game with your buddies by transforming it into a sports bar. The most important feature, of course, will be an outdoor television – or maybe more than one – if you have space and want a truly sports bar-feel for the area. If you do not have room for a television, you could also do a roll-up projector screen and a projector that you can store when not in use. Once you have your television squared away, add some sports bar décor honoring your favorite teams, install a kegerator for beer on tap, and consider having some custom glasses or coasters made to finish the look.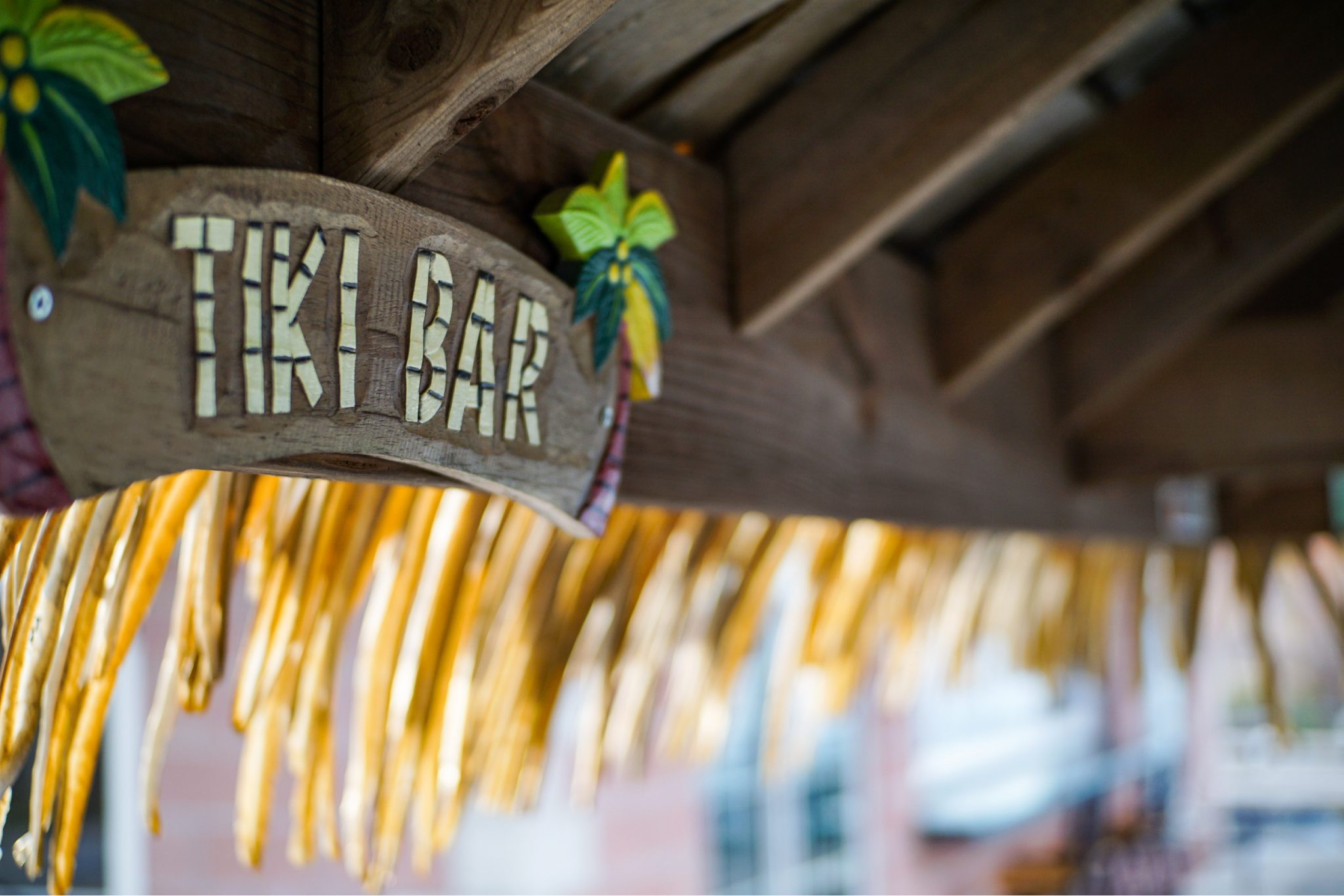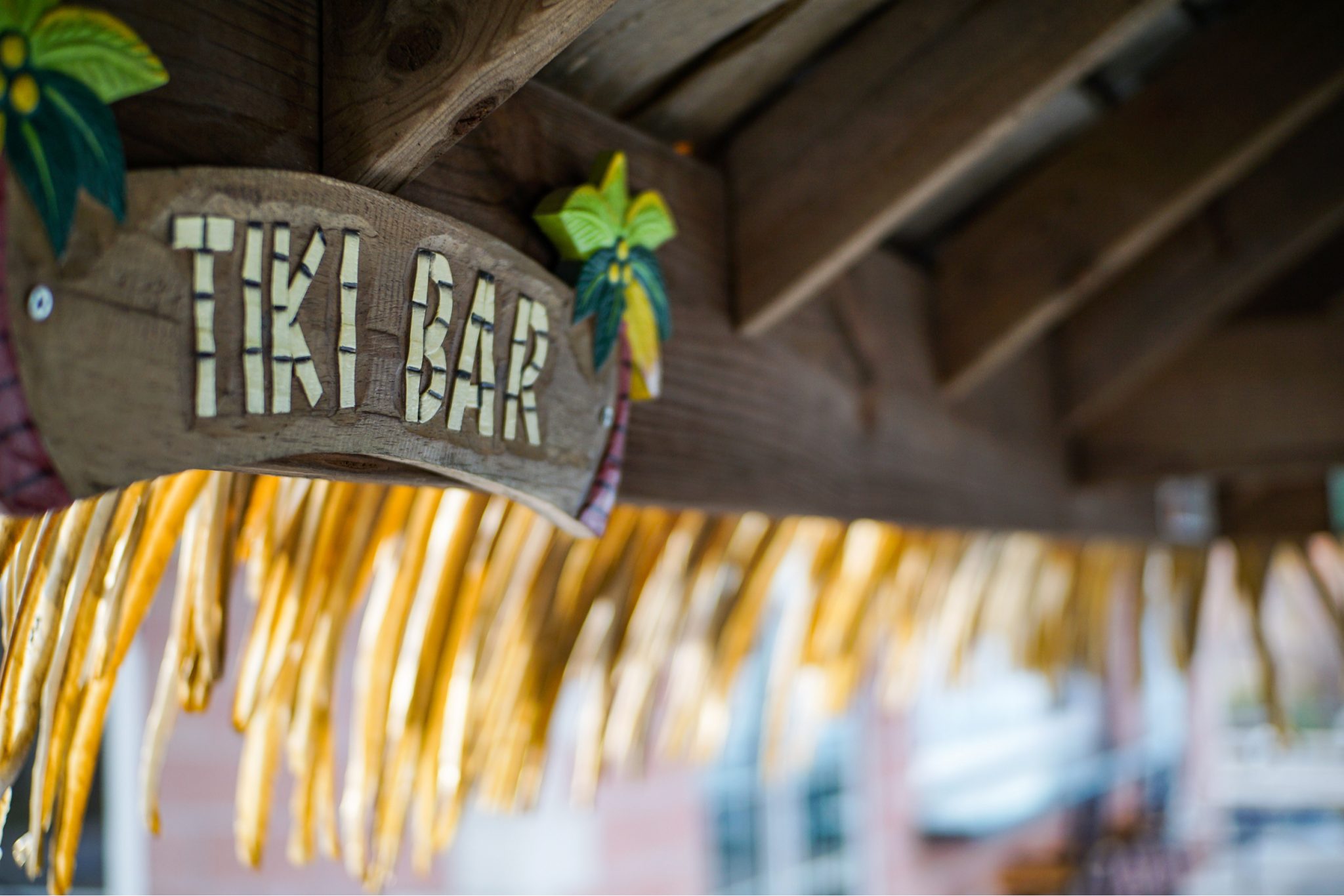 2. Tiki Bar
Tiki bars fit in quite well in Southern California, and everything you need for an island feel is easy to acquire. Tiki torches can be purchased almost anywhere, tiki bar décor is easy to find online or at local stores, and tiki barware is readily available. A thatch roof is a must, and you are going to need some signage that let's everyone know who's tiki bar it is.

3. Beach Bar
Similar to a tiki bar but not quite as kitschy, a beach bar is a great choice for a Southern California backyard. You can still opt for the thatch roof and signage, and be sure to include beach or island décor. To go for an authentic experience, consider bringing in sand for your bar area so that your guests can have their toes in the sand and a drink in their hand.

4. Fire Pit Bar
A bar built around your fire pit is the perfect place to gather with friends. Combining your bar with a fire feature also allows you and your guests to enjoy your outdoor living area later into the evening and extends your outdoor entertaining options later in the year.

5. Bar with a View
If you have a great view, build your bar so that the seating faces it. If possible, position the bar so that folks sitting on the barstools do not have their backs to the other guests. Also, make sure that when you are designing your bar and choosing barstools you make choices that will not block the view from your outdoor living areas.

6. Poolside Bar
You cannot go wrong with a poolside bar. With or without a beachy theme, a poolside bar is sure to be a favorite hangout throughout the summer.

7. Swim-Up Bar
You could also take things one step further and incorporate a swim-up bar into your outdoor kitchen. Swim-up bars are often found at resorts but are still rare in backyards, which makes this a particularly fun addition and something that is sure to impress your guests. Design the stools so that the seat is either at or just below the water level so you and your guests can have a drink while enjoying the water. If you have the space and the budget, it would be ideal to have both a poolside bar and a swim-up bar, which would allow guests to enjoy a drink or snacks both in and out of the water.
What to Include in a Backyard Bar
1. Wine Refrigerator
If there are wine drinkers in your family or in your circle of friends, consider including a wine refrigerator in your patio bar. If you are designing it as part of your outdoor kitchen, you can do a built-in that sits under the cabinet. But if you do not have space for that or do not have a patio kitchen, you can also purchase a freestanding wine refrigerator. If you only buy a bottle of wine every once in a while, you can just keep it in your outdoor kitchen's regular refrigerator, but if you or your expected guests are at all serious about wine, you will want the more-precise temperature regulation offered by a wine fridge.
2. Beer Dispenser/Kegerator
If you and your friends prefer hops over grapes, a beer dispenser might be a better choice. Both built-in and freestanding options are available, so you can make a kegerator work in almost any type of patio bar situation. Of course, you can always keep bottles of beer in an indoor or outdoor refrigerator, but it is more fun and more like a party when you have it on tap.
3. Beverage Dispensers
Selecting a signature cocktail to serve at dinner parties and backyard gatherings is a great way to have a fun drink to serve your guests while limiting the amount of work you do to serve drinks all night. If you choose something that can be made ahead of time, serve it in a drink dispenser so that your guests can serve themselves and you are not stuck mixing drinks. Having a few drink dispensers on hand is a good idea anyway, since it allows you to easily serve water, tea, lemonade, and other beverages for adults and kids.
4. Cold Beverage Tubs
This can be built into your patio kitchen counter or your outdoor dining room table, or it can be tubs you store when not in use. You just need something leakproof that you can fill with ice and cold beverages before your guests arrive.
5. Blender Station
Blended cocktails are always a hit on a hot summer day, so consider adding a blender station to your outdoor kitchen. The easiest way to do this is to simply add a portable blender to a countertop near an electrical plug. If you want more of a conversation piece, you can instead install the blender base in the countertop in your patio kitchen.
6. Ice Maker
If you plan on hosting parties of any size, the ice maker in your indoor refrigerator is probably not going to be able to keep up with demand. You can purchase ice at the store and keep it in coolers or bins for use during the party, or you can upgrade your backyard bar with a dedicated ice maker so that you always have plenty of ice on hand.
7. Bottle Opener
This is a small thing, but if you are serving bottled beverages and cannot find a bottle opener, it's a bit of a disaster. To avoid this party foul, make sure you have a bottle opener or two on hand in your outside bar. This can be handheld bottle openers that you keep in a drawer or an installed bottle opener tucked under the counter or on the side of your bar or barbecue grill. If you go this route, make sure there is a basket underneath it to catch the bottle caps.
8. Recycling Bin
If you spend any time in your outdoor living areas, you likely already have a trash can on hand. When hosting parties with drinks served in bottles or cans, you also need a recycling bin. If you have an available cabinet in your outdoor kitchen, you can opt for a pull-out bin. If not, a freestanding bin will do just fine. Make sure you clearly label it so that you do not end up separating recyclables from trash at the end of the night.
9. Sink
If you are incorporating your patio bar into a custom outdoor kitchen, you likely already have a sink as part of the design. If not, you might want to consider adding one. Outdoor sinks are incredibly handy when you are preparing food outside or hosting a party. The biggest challenge will be if you do not have a sink in your patio kitchen currently but would like to add one, because this requires installing a water line and a drain line. This might be a challenge, but, if you can swing it, it is well worth it.
10. Bar Cart
If you do not have the space or budget for a complete outdoor kitchen or a permanent patio bar, there is still an option: bar carts. Bar carts are inexpensive, can be stored when not in use, and can be wheeled around to wherever the party is. Even if you have a bar as part of your backyard kitchen, you might still want to keep a bar cart around to easily bring out hard liquors and mixers that you likely do not leave outside between parties.