Driveway Designs for Cape Cod Style Home
Cape Cod-style homes were first built by Puritans in New England in the Colonial Era. Architecture was simple, symmetrical, practical, and welcoming. These were solid, sturdy, budget-friendly homes that most often featured a central chimney and centrally located front door.
Historically, siding was usually shingles or clapboard, but you will find modern Cape Cod architecture with vinyl siding and more current choices. Front and back porches are other variances often found in modern Cape Cods that are generally not found in historic homes.
While largely unadorned by design, these charming cottages with their shutters, steep roofs, picket fences and climbing roses originating in Cape Cod became synonymous with cozy, beach living. In the last century, Cape Cod-style homes came back into popularity and you can now find this decidedly New England architectural style across the country, particularly in coastal communities.
If you have purchased a Cape Cod style home or are planning to build one, you will need to decide where you want to pay homage to the original style and where you want to include contemporary features. One of these choices will be determining the best driveway design and materials to complement your home.
To help you get started, here are six driveway design tips and materials for your Cape Cod style home.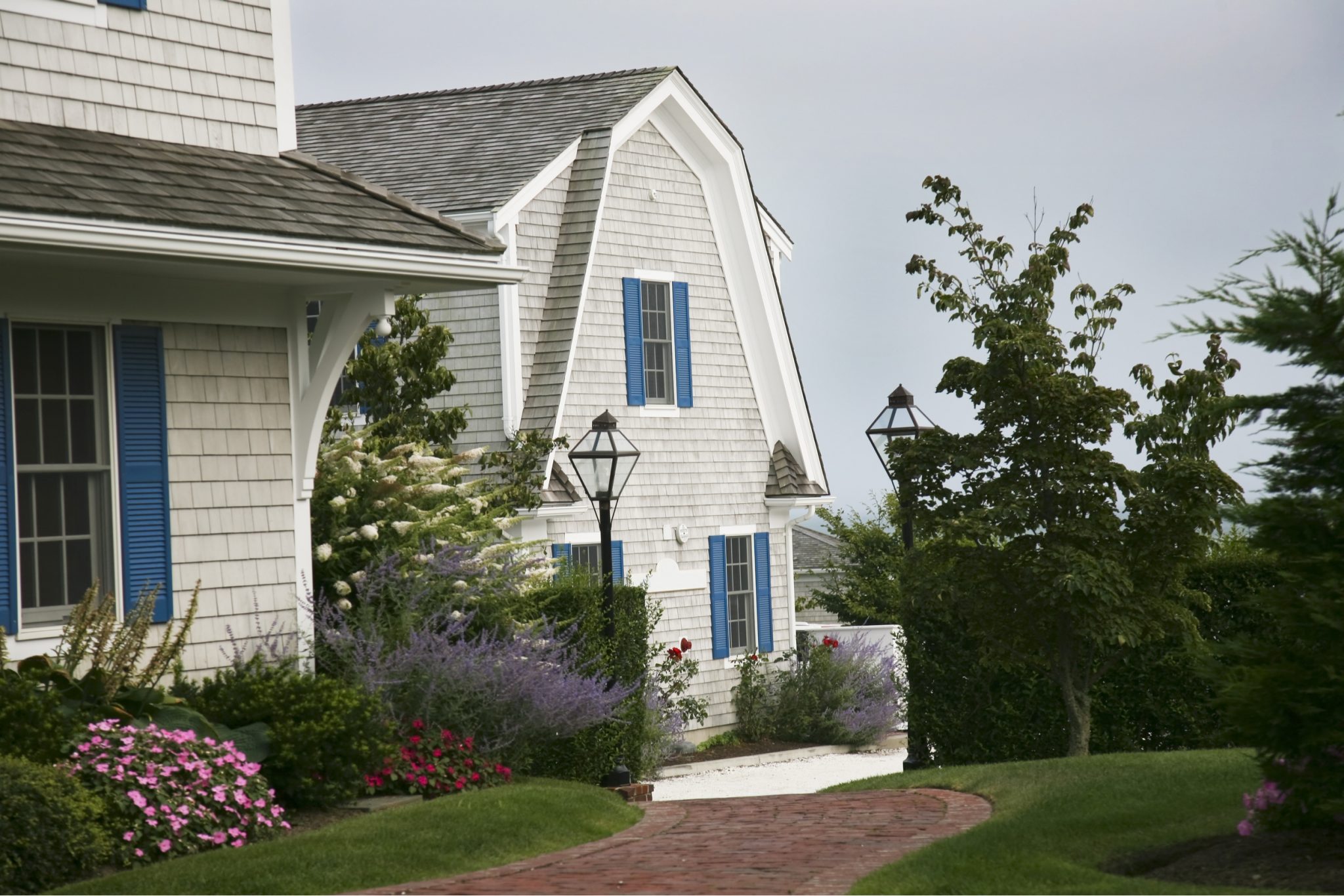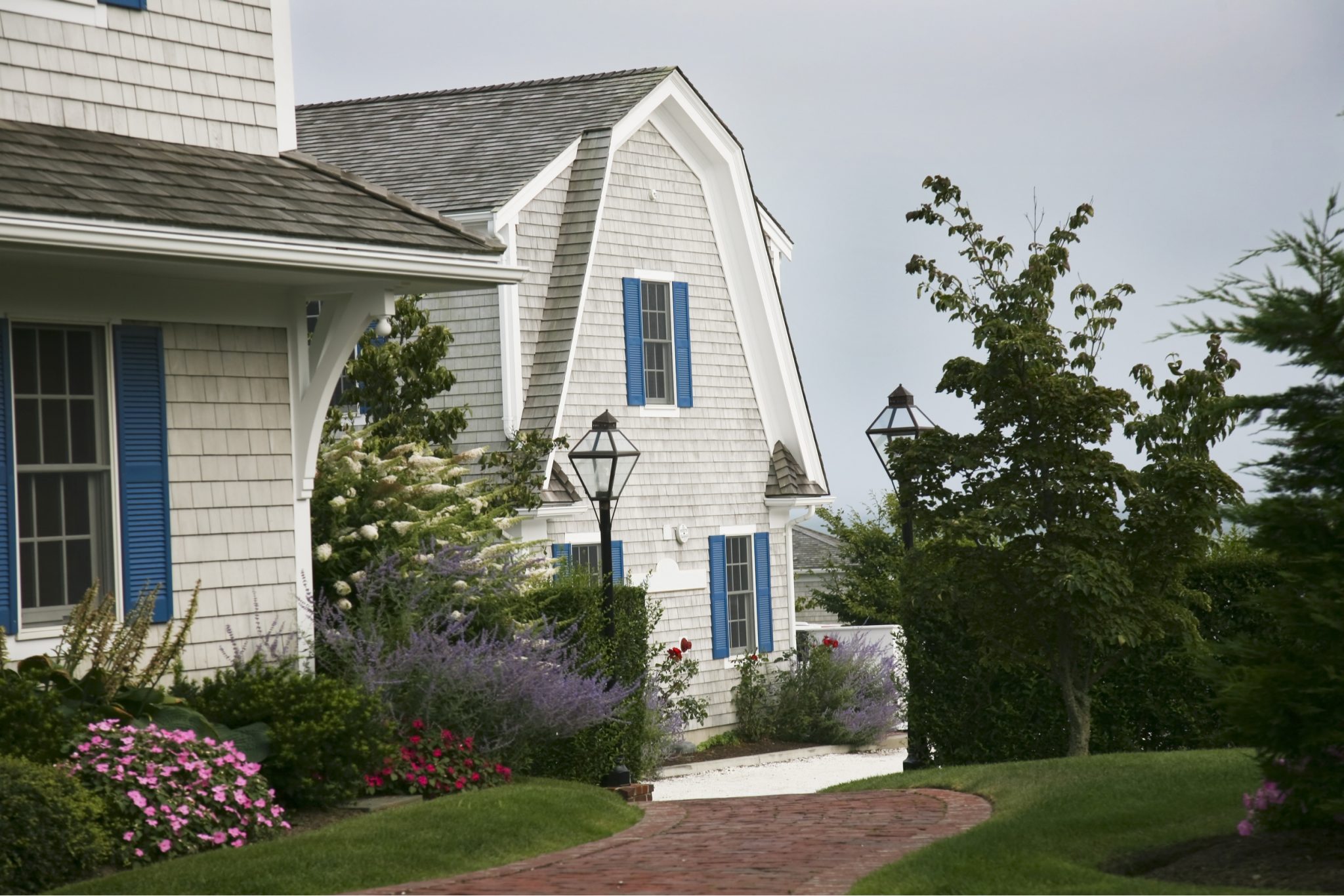 6 Driveway Design Tips for a Cape Cod Style Home
1. Bricks
Brick driveways and walkways are commonly found alongside Cape Cod architecture offering a rustic, traditional look that complements most historic home styles. While natural bricks can be quite attractive and considered an eco-friendly option, they are made from compressed clay and are more likely to break or crack than most of the other options on this list. This is particularly true if you live in an inland area or in the mountains where winter brings hard freezes, or if heavy vehicles will frequently drive or park on your driveway.
Another issue with natural clay bricks is that they come in limited color and size options, so this might make it more difficult to find a choice that suits your style.
This does not mean that you should not use bricks, which can be quite attractive and complementary to a Cape Cod style home, but it does mean that you need to take these factors into consideration when choosing driveway materials.
If you are interested in the visual appeal of bricks but are concerned about the limited options or the potential for breaking and cracking, you may want to consider concrete brick pavers instead. Paving stones come in a variety of shapes, sizes and colors, but you can achieve the look of bricks with rectangular brick pavers that will give you the traditional look you are after but allow you to choose from much broader color offerings. Durable pavers are less likely to crack or break but, if they do, they are much easier to replace.
2. Paving Stones
Paving stones, including concrete brick pavers, are a durable, slip- and skid-resistant option that perfectly complements Cape Cod architecture. Installing a paving stone driveway is usually around the same cost as installing a stamped concrete driveway but is much easier to repair if a crack should occur and can be used right way, rather than waiting nearly a month before you can fully use a concrete driveway without concern.
Pavers come in a wide array of colors, shapes and sizes, which means you can easily create the look of a brick or cobblestone driveway. Pavers also allow you to opt for a more modern design but keep the old-world feel of traditional materials.
Installing a paving stone driveway is more expensive than gravel, crushed shell, asphalt or slab concrete, but, as mentioned above, is about the same cost as installing stamped concrete. While pavers can be a bigger investment, they are one of the few hardscape options that can actually increase the value of your home while, of course, significantly increasing curb appeal as well.
3. Stamped Concrete
Poured slab concrete is really too modern and not a great choice for a Cape Cod style home; therefore, if you want to a concrete driveway, you will likely want to go with stamped concrete. Stamped concrete looks both rustic and higher-end than some other hardscape options and can be a good choice for many architectural styles. This is a durable material that can last decades, but it is difficult to match the color and make repairs that do not stand out from the original design. Since concrete is prone to cracking over time, it is likely that you will need to make repairs, so keep this in mind before deciding on a stamped concrete driveway design.
4. Gravel
Gravel is an inexpensive ground cover that comes in a variety of colors and is a workable option for most budgets. While most people may think of farmhouses, cabins or country homes when they think of gravel, this hardscape option is hugely popular and is used in driveway designs for modern home driveways, Craftsman homes, Spanish-style home driveways, and just about any other architectural style.
If you are looking for an understated driveway design that will function well for driving and parking while visually playing a backup role and not competing with your home for attention, gravel may be the right choice for you. This unassuming option will let your home be the focal point and can always be spruced up a bit with a brick or paving stone border.
5. Crushed Shell
Crushed shell driveways look, feel and function much like gravel driveways. Like gravel, crushed shell will assist in erosion control and limiting runoff and will function well for driving and parking, all without competing with your house for attention. Choosing crushed shell for your driveway is also a great way to continue the beachy feel of a Cape Cod style home throughout the landscaping. The added bonus with crushed shell is that you are choosing an eco-friendly option that will make your home and property greener.
To dress up a crushed shell driveway, consider adding a paving stone or brick border. While brick tends to crack under heavy traffic, you will have far fewer issues with that if using in it as border, since this type of application should get very little traffic.
6. Turfstone
Turfstone is not often used with Cape Cod style homes, but this may be being overlooked as a solid option for a strong, durable driveway design that complements the home style. Cape Cod homes are simple structures that are often surrounded by lush, green lawns. Because a lack of adornment is part of the design, it makes sense that a simple driveway that fades into the background would be a good choice. With Turfstone, you can have a sturdy driveway for parking and driving while also having turf growing up through the negative spaces that are part of the design. Therefore, your driveway can blend in better with your lawn and provide the functional aspects you need without drawing attention from your beachy Cape Cod-style cottage.