Driveway Designs for Modern Home
The architectural style of a modern home calls for a driveway design that increases curb appeal while complementing your home's façade. As you peruse these driveway design tips for inspiration, keep in mind that what borders your driveway is just as important as the material you choose. For example, gravel or a well-manicured hedge is a good choice to carry your sleek design into your landscaping.
9 Modern Home Driveway Designs
1. Gravel
Gravel driveway designs are usually not the first option that comes to mind for modern homes, but this less-expensive, attractive choice should not be overlooked. The trick is to forgo the common gravel found at home improvement centers and head to your local rock yard to find far more stylish options in black, dark gray or deep brown. Monochromatic gravel complements a modern home quite nicely, while also alerting you with an appealing crunch when guests arrive.
2. Crushed Shell
If you are looking for eco-friendly driveway design tips, crushed shell might be a good choice for you. Generally made from oyster shells, crushed shell driveways look similar to driveways covered with small gravel and are gaining popularity as an environmentally responsible alternative to petroleum-based products, such as asphalt.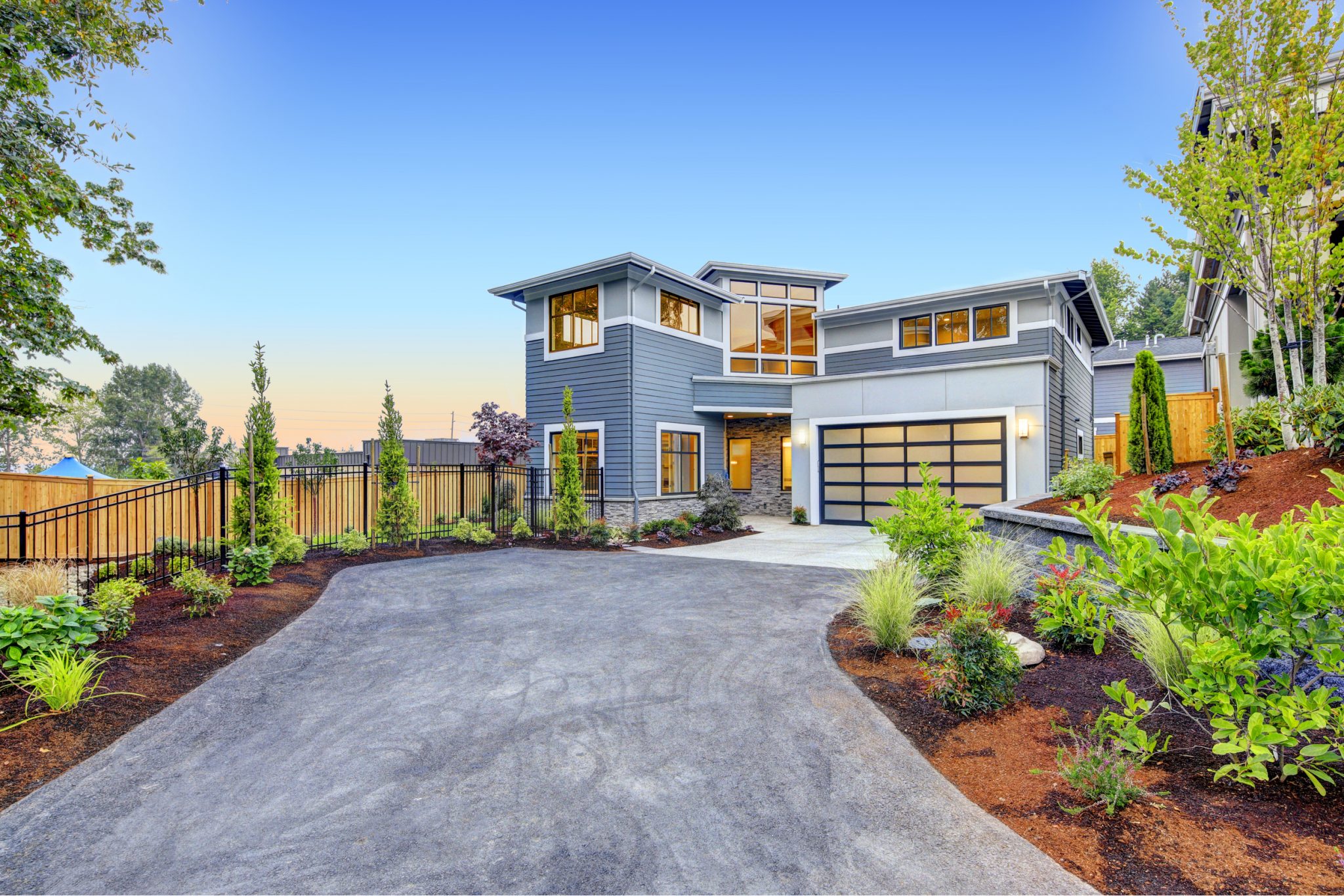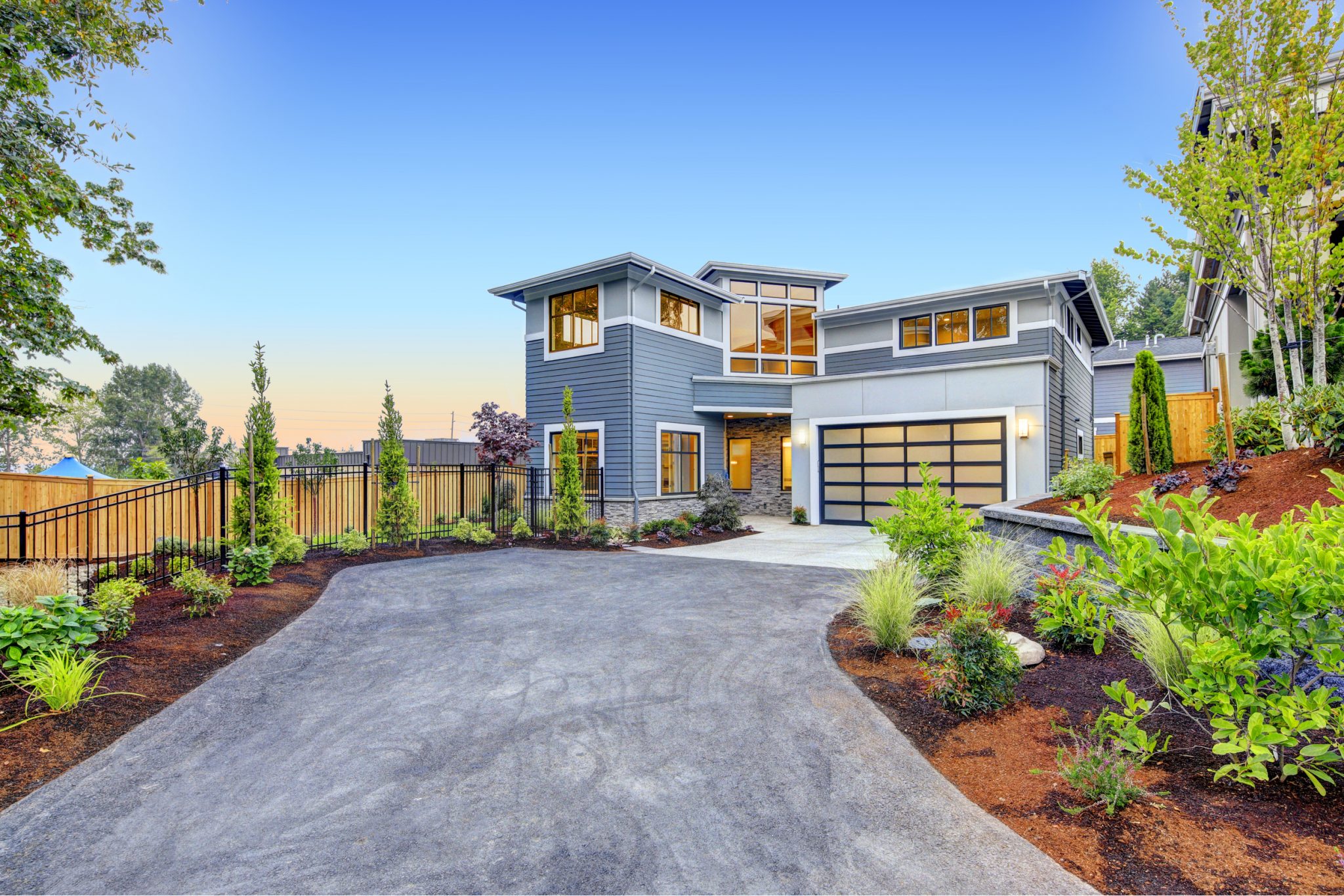 3. Asphalt
Asphalt has largely fallen out of fashion for driveways, but it is worth mentioning here, because some homeowners with modern homes appreciate the black, solid surface providing a sleek approach to their home. Asphalt tends to crack over time and will need to be sealed regularly to keep its visual appeal, so be aware of this before you choose asphalt for your driveway design.
4. Chip Seal
Chip seal is also referred to as tar-and-chip and as chip-and-seal, so you may have heard of this popular road and driveway option by one of those names. Chip seal driveways are made from stone and liquid asphalt, which creates a paved surface that is more solid than gravel and less expensive than conventional asphalt. You can expect to add another layer of chip seal about every 10 years, but this is a durable, attractive option that will complement your modern home without attracting attention away from its architectural style.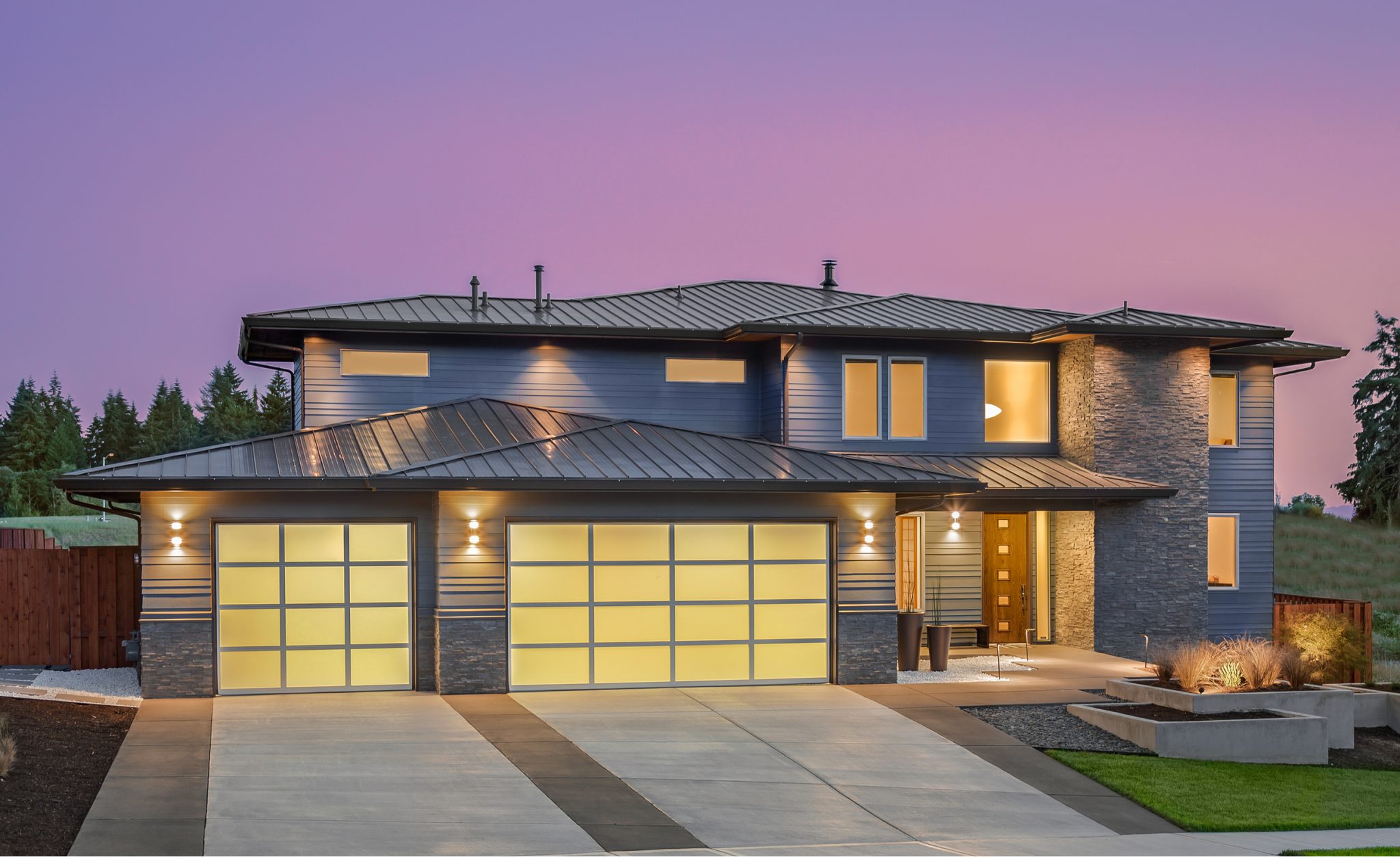 5. Poured Concrete
Concrete slab driveway designs are generally less expensive than stamped concrete or paving stone options. Concrete is durable, strong and can last for decades. While slab concrete is often considered boring when compared to the patterns and styles available in stamped concrete or paving stone designs, the stark, monochromatic appearance can perfectly complement a modern home. The downside to concrete slabs is that they are prone to cracking, difficult to repair and almost impossible to match if repair or replacement is required.
6. Stamped Concrete
Stamped concrete shares most of the attributes of slab concrete but allows you to add patterns or textures to enhance the visual appeal. A stamped concrete driveway is generally more expensive than slab concrete and about the same price as a paving stone driveway. Stamped concrete generally looks more similar to paving stones than to slab concrete, so, if you are not going for the stark, modern look of slab concrete, you may be better served to opt for paving stones. You will get a similar look but with more durability and longevity without the cracking that often comes as concrete ages. Pavers also offer more options in terms of patterns and designs.

7. Paving Stones
The wide variety of colors, shapes and styles available make pavers a solid choice for any architectural style. This slip-resistant, durable option installs quickly, does not require time to cure before use, and is easy to repair if one or more pavers gets stained or cracks. There are many style and pattern options, but for modern home driveway design, square, concrete paving stones are one choice you should consider. One option is to create an irregular pattern with different sizes to create visual appeal with the straight lines. Another option is to create a pattern with pavers of the same size to create a sleek look to complement your modern home. Another modern driveway design tip is to seal the pavers with a high-gloss sealer for a modern sheen.
8. Turfstone
Turfstone is a type of permeable paver offered by Belgard. These interlocking, concrete pavers reduce run-off and erosion by allowing rainwater to filter back into the soil. What makes this a unique option for modern home driveways is that Turfstone pavers provide a strong, solid surface for parking and driving, but the negative spaces throughout the pattern allow turf to grow. This gives your driveway texture and color not possible with most hardscape options.

9. Concrete Slabs with Borders
If you like the stark look of concrete for your modern home driveway design but are concerned about the potential for cracking over time, smaller slabs with borders may be a better choice for you. This is an incredibly popular option for driveway design tips for a modern look. Generally, you will see concrete slabs separated by borders with large gravel or artificial grass. Aside from creating an attractive look that will increase your home's curb appeal, choosing smaller slabs with borders reduces the chance of cracking over time and makes it easier to make repairs, since you can just replace the cracked slab, instead of your entire driveway.