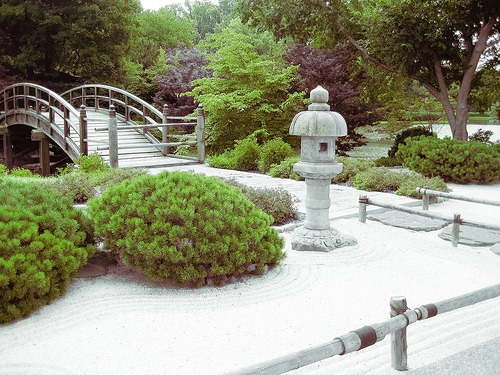 Sometimes, it takes seeing a design element in action to convince you to implement it. Though there are many applications in which concrete pavers play a starring role, they do shine in Japanese and zen gardens alongside a variety of other plants, structures, rocks, and water features.
We'll explain the aesthetic principles of Japanese and zen gardens. Along the way, we'll show you examples of how homeowners across the globe weave them into their yards.
The Aesthetic Principles of a Japanese Garden
Miniaturization –
Due to space constraints in many Japanese homes, the gardens are typically small. However, materials used often represent larger things in nature. For example, a rock can symbolize a mountain or an island. Bonzai trees are another perfect example as perhaps a giant tree isn't practical for the homeowner.

Concealment –
Design elements are often hidden and revealed as one moves through most Japanese gardens, unlike a zen garden (as we explain below). You'll never see everything in one glance as with each change of direction there is something new to please the senses.
Shared Elements –
Japanese gardens integrate views and existing structures into the overall design in order to make the garden seem larger than it really is. This lends to an overall cohesive look that embraces nature.
Asymmetry –
Nature doesn't possess exact symmetry so neither does a true Japanese garden, though modern homes these days utilize straight lines to complement Japanese or zen garden features. There also isn't usually one focal point. Large structures are placed to the side or softened by trees or bamboo. Overall, the garden should appear to be wild, but immaculately manicured.
What's the Difference Between a Japanese Garden and a Zen Garden?
The real answer is nothing, because a zen garden is a style of Japanese garden. The term zen comes into play because the gardens surrounding Buddhist temples are minimally-designed to encourage meditation and reflection. However, in the West, the term zen garden and Japanese garden are often used interchangeably without any distinction.
However, there is one major differentiating factor when it comes to true zen gardens (also called karesansui or Japanese rock gardens). One should be able to see an entire zen garden from from one or two vantage points in order to prevent the mind from wandering. A wandering mind doesn't meditate well.

Elements of a Zen Garden
Sand is often used in zen gardens to represent water, the beach or the sky. Raked patterns imitate ripples, the overall tranquility of the beach or even clouds. White sand symbolizes purity but any color is considered acceptable. Note that the design above incorporates the zen principle of being able to see most of it the yard at one time, without clutter.

More to Meet the Eye
A Teahouse

The Entrance Is Critical
Bridge to Tranquility
Koi Ponds

Maple Trees and Other Plants

Your Turn…