Outdoor Shade Structures: A Must for the San Diego Sunshine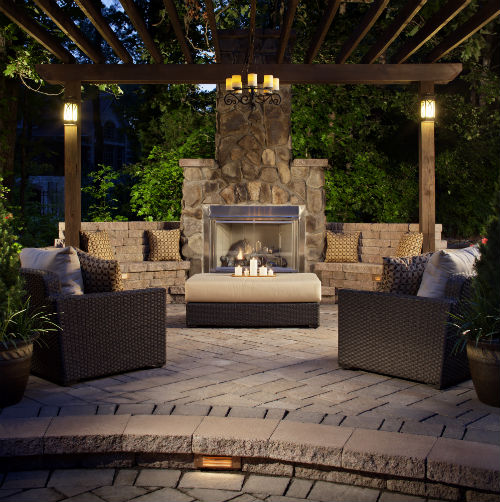 Gotta love the weather here in San Diego, but sometimes too much sun is still too much sun. Chances are, if you spend a lot of time in your yard entertaining or just relaxing, you've thought now and then about how to maximize shade on those blazingly bright days (and aren't most of them)? 
Short of staying inside with the air conditioner on full throttle, there's another way to stay comfortable during the hottest days: install a shade structure in your backyard that lets you use your space during even the sunniest hours of the afternoon (it just might keep the ice in your margarita from melting, too).
So, a shade structure – what exactly is it? Its shortest definition is that it's a structure built or installed above a deck or in a yard to provide shade and protection from the elements. Beyond the obvious benefit of offering shelter from the sun, shade structures can add an aesthetically pleasing look to your yard and even – depending on what you choose and where you put it – lower your electricity bills.
Types of Shade Structures
Perhaps a patio cover or umbrella come to mind first, and sure, you can use those, but below we highlight every kind of shade structure you might want to consider before making your final decision.

Pergolas —
These relatively simple structures are typically rectangular and open-sided with a latticed roof. Pergolas have support posts and beams but no walls or traditional roof. Similar to an arbor, but larger and often attached to a home or deck, pergolas are usually made of weather-resistant wood. Pergolas are intended to act as frameworks to support climbing plants like jasmine, clematis and wisteria that spread over the top of it to form a green canopy for shade below.
Originally used in Mediterranean regions, pergolas did then what they do now: lessen the heat of the sun while allowing its inhabitants to enjoy the nature that surrounded them.
Pergolas can be simple or complex depending on your taste and contain seating, retractible shade canopies and specially designed architectural detail like masonry columns instead of wood.

Pavilions —
Similar to canopies, but sturdier, pavilions usually sport a minimalist structure of at least four legs rooted to the ground and supporting a lightweight fabric on top. Some people consider a pavilion like a pergola but with a closed roof. Pavilions are freestanding structures and their sizes can vary.
The word,"pavilion" derives from the Latin word, "pavilion," which means butterfly, evoking the fluttery look of the material that covers it. Pavilions can be permanent or portable and covered with canvas or other screen material that can be removed. The design of your pavilion can be fancy or functional based on where you put it in your yard and how you plan to use it. 

Gazebos —
Another freestanding shade structure, a gazebo is traditionally eight-sided with a solid peaked roof. Modern-style gazebos range from open-roof designs with any number of sides and available in any number of styles from "Japanese zen" to "exotic tropical" complete with a thatched roof. Gazebo sides are mostly open, allowing for breezes to waft through and cool you further.
Most garden gazebos are built with wood and shingle, although metals like wrought iron can be used as well. Design details can include ceiling fans or glass panels to make "windows."
Gazebos tend to be smaller than pergolas or pavilions.

Cabanas or Beach Huts —
These options are available as sealed solid structures, screened-in freestanding areas, or even elaborate and permanent tents. Usually the cabana or beach hut has one open side leading to water of some sort, like a pool or hot tub. More extravagant cabanas and beach huts have more than one room, doors for privacy and even plumbing for an after-pool-time shower.

Palapas —
Some people consider palapas a type of canopy, but "tiki hut" is more apt. Palapas tend to be round, open-air shade structures with wooden support poles, and a roof thatched with dried palm leaves. Some homeowners use palapas for outdoor bars and eating areas, or around pool areas to keep out the sun. The simplest palapas are available with one support pole in the center of the structure, but variations like the two-pole palapa also exist. Like any other shade structure, palapas can be customized and made as elaborate as you desire.

Shade Sails —
Shade sails consist of shade cloth attached to support posts with heavy-duty footings. Hardware attaches the cloth to the posts, achieving striking concave, "sail" shapes. Many times, the shade sail support structures are attached to an existing deck or patio, lending shade to the area. Shade sails achieve their look and durability through installation methods that tension the sails properly so they'll withstand wind and rain.
If you really want to get fancy with shade sails, you can use two contrasting colors for aesthetics and also install lighting and most refreshingly – a misting system.
Awnings —
We've all seen awnings over restaurant and store windows, but they can be used on homes as well. Awnings are installed to a permanent support such as to the side of a home. Sizes ranges from just covering windows to providing shade for an entire patio. Awnings are made of water-resistant fabric and many are adjustable with the angle of the sun or even retractible to allow for cool evenings.
Shade Structure Considerations
Like for most yard additions, you must first decide how and when you'll use your shade structure. Do you plan a lot of backyard parties? Do you have a pool? Are you just looking for a place to read without the summer sun burning your retinas? Consider all this and then think about if you want shade in the same areas every day. If you want more versatility with where you find your shade, then permanent shade structures might not be the right option. Spend some time observing the way the sun hits your deck or patio or wherever you want more shade. Many permanent structures aren't adjustable, so unless they block all sun all the time (if you want that), you'll want to carefully look at alternatives.
Keep in mind though that some permanent shade structures are retractible, adjustable and customizable to meet your needs. 
Also evaluate how "prominent" you want your shade structure to look. Will it be a focal point or just an accent? Your answers will dictate size and type of structure.
Speaking of size, measuring for the addition of a shade structure is crucial. Nothing ruins the look of a yard more than its elements being out of scale and proportion. Paint on the grass or dirt the dimensions of the structure you are considering to see how it might look in relation to your other yard accents and furniture.
When you're at the point of purchasing or hiring someone to build your structure, know what it is you want. Is it privacy? Is it an extension of your home? Is it just good old fashioned sun protection? All of these considerations will inform the design and details of your shade structure.
Final Thoughts 
As you cycle through your options, remember that your neighbor's gazebo might be your palapa. Whatever you choose, ensure it's a reflection of your personality and a beautiful addition to your outdoor space.
Your Turn…
What type of shade structure do you have or are you considering? Let us know in the comments below…
Photo Credits: Intro: Install-It-Direct; Pergola: Install-It-Direct; Pavilion: Lowes.com; Gazebo: http://www.flickr.com/photos/andrewbain/3018606435/sizes/z/in/photostream/; Cabana: http://pinterest.com/pin/183873597256363147/; Palapa: PalapaKings.com; Shade Sail: Moran Canvas Products