Small Patio Ideas + Space-Saving Solutions (PRO Tips)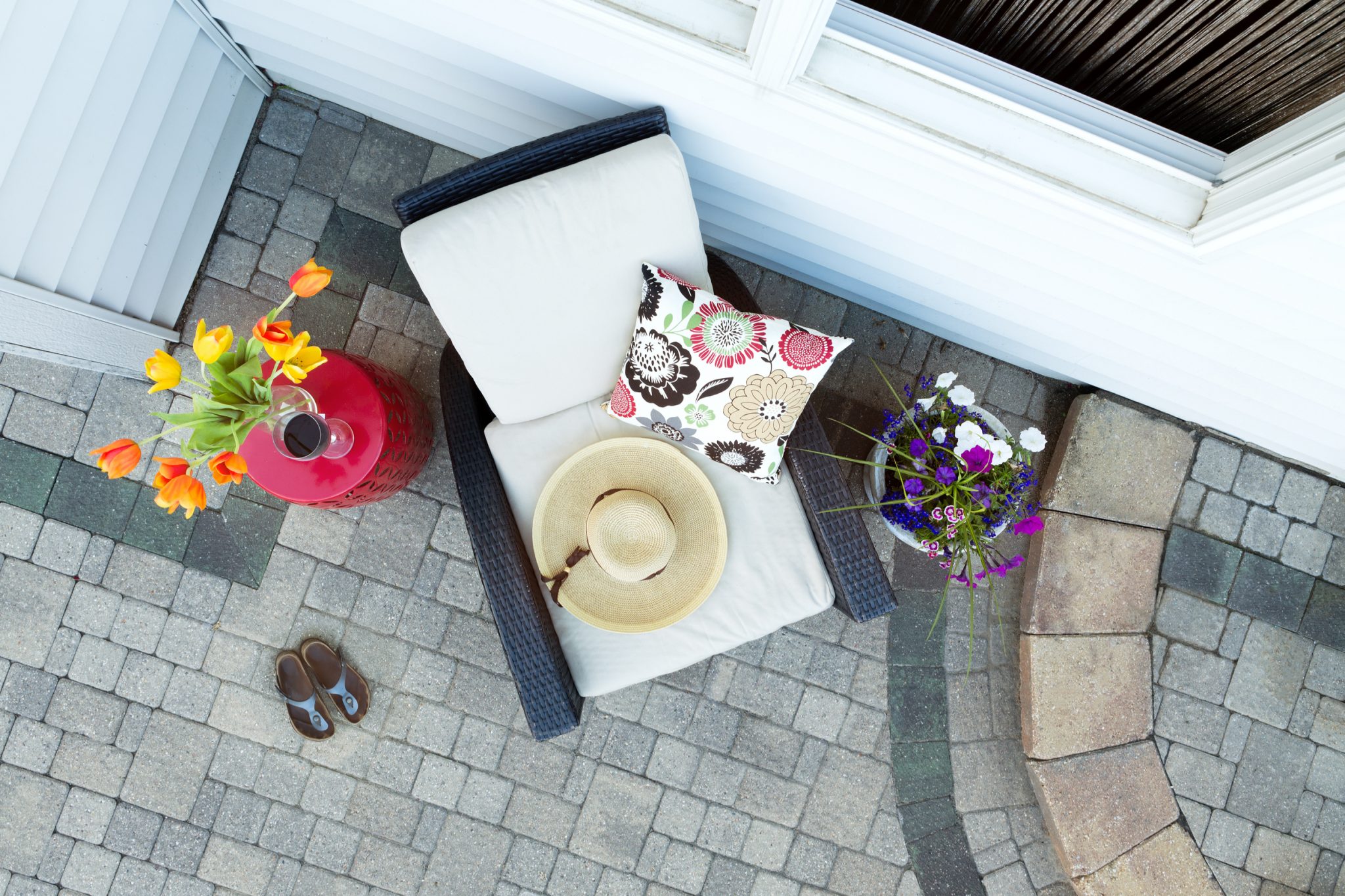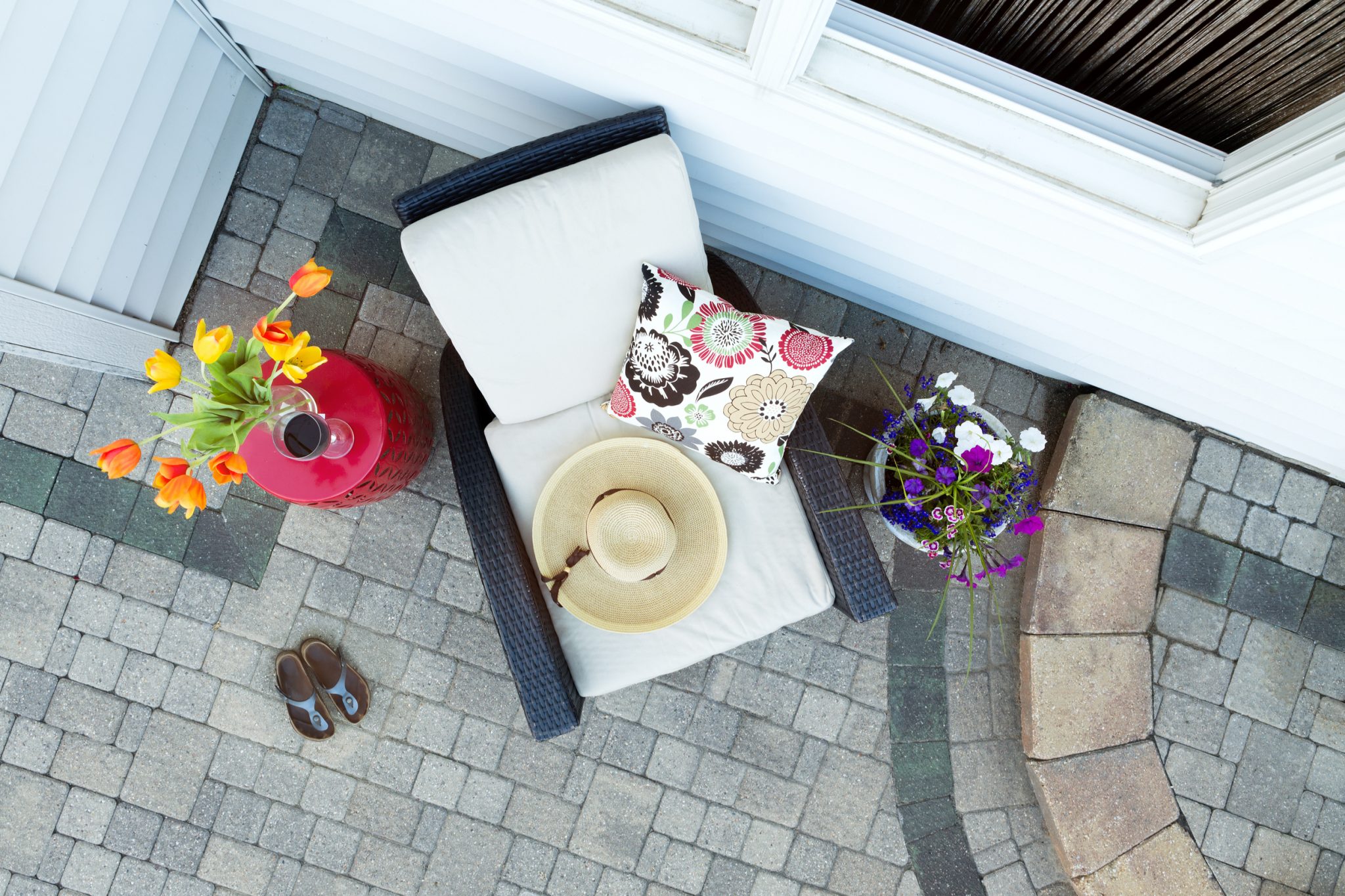 If you have a small patio but big dreams for your outdoor living area, you may need to get creative to maximize the space and create a multi-functional backyard sanctuary. Even with little room, you can still entertain guests, grow food, cook and dine outside, and even have family game nights.
You simply have to maximize the space you have, seek out furnishings that can serve more than one purpose, take advantage of vertical space and make sure things do not get too cluttered or crowded.
Here is everything you need to know to do just that.
How to Maximize Small Patios
Whether or not you already have a patio, the first step in maximizing the space is to make a list of all of the functions you would like your patio to have. Do you want to use your outdoor living area for cooking and eating outdoors? To grow herbs, read and play with your kids? To host a weekly game night with friends? Making a list of everything that you would like to do on your patio will help to inform the decisions you make about patio design, features and furnishings.
The next step is to prioritize this list by determining which functions are most important to you and which functions you think you will use the most. This will also help you make decisions as you choose furniture and what to include. For example, if it is most important that you have a play area for your kids but you would also like to eat outside occasionally, you might choose a folding table that can be stored out of the way when not in use.
If you have an existing patio, the next step is to declutter it. Get rid of everything that you do not need or do not use. If your current furniture does not work for the priorities you have listed, then it is time to part with it as well.
If you do not have an existing patio and are in the design stages, this provides you with a great opportunity to maximize your space. For example, you can incorporate permanent seating around the perimeter of your patio to save space. Another thing to keep in mind is that you are working with a small space, which means you may be able to use higher-end materials. For example, your budget might not allow for an expansive paving stone patio, but if you are only working with a small space, materials are much less expensive and might allow you to upgrade to paving stones. You may also be able to afford to add more features, since your budget does not have to cover as much ground.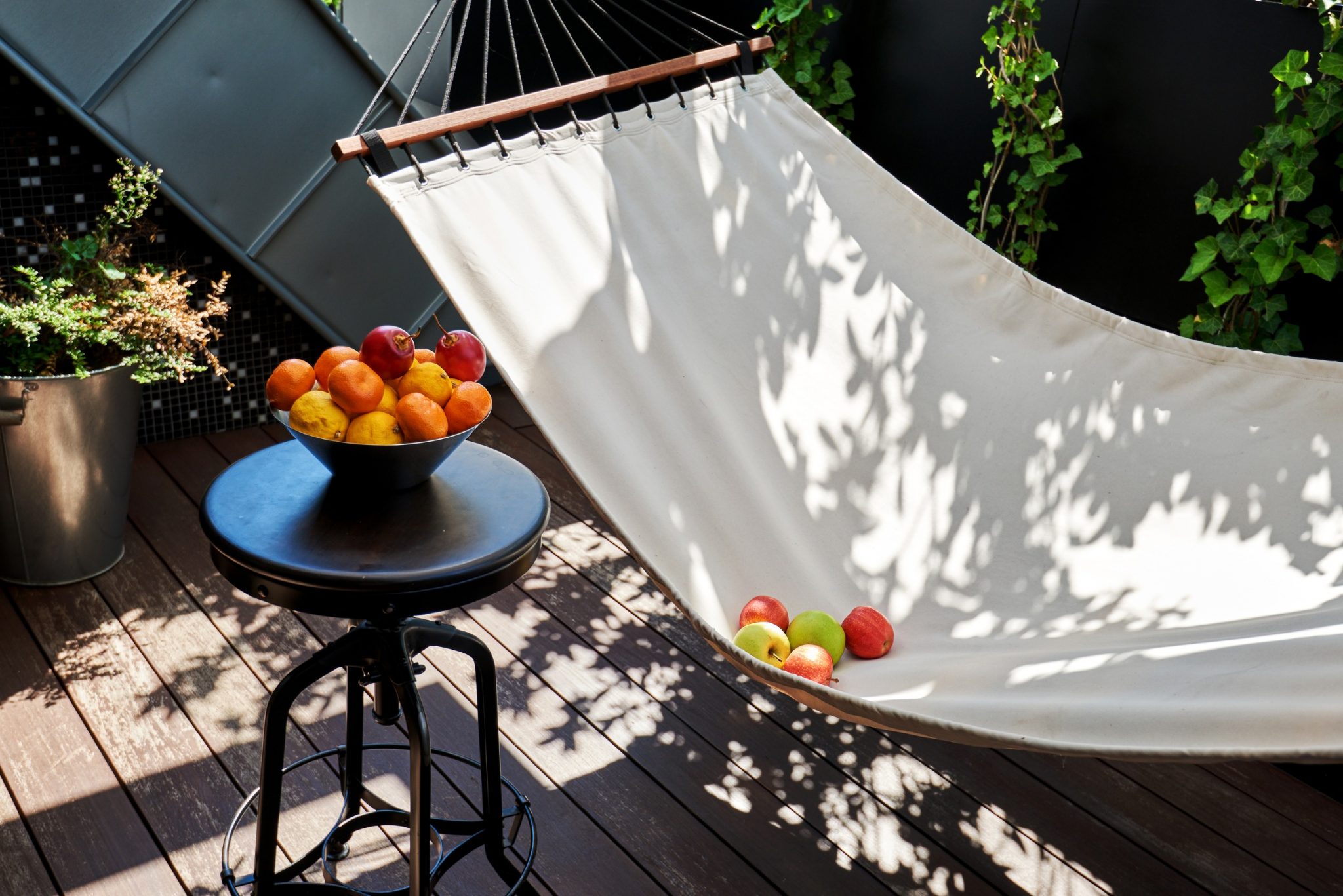 Small Patio Seating and Tables
When working with particularly small spaces, it is generally best to use narrow benches around the perimeter of your patio to maximize seating without losing space behind your furniture. These can be built in or standalone. If possible, it is even better to have perimeter benches that have built-in storage. Your benches can form the shape of an L in two corners, be on either side facing each other with two open ends or wrap around three sides of your patio, depending on how much room you have and how much seating you need. You might also consider benches that fold down when in use, and then can be folded up and stored against the wall when you need the space. Alternatively, hammocks are great for relaxing and particularly easy to take down and store in a small space when not in use.
If you like to have your morning coffee outside and want a table to set it on, consider getting a bistro set. These small sets with a table and two chairs are perfect for one or two people to enjoy coffee or small meals without taking up your entire patio. Some bistro tables (and other patio tables) also have ice buckets incorporated, which is perfect for a patio where everything needs to serve more than one purpose.
Side tables may also do the trick and take up much less room than a dining table.
For extra seating when you entertain guests, keep folding chairs handy in a corner, shed or garage so that you can easily expand your seating without taking up space when you are not entertaining. If you only plan on using a patio table every once in a while, you can also purchase a folding table for this purpose, and then store it behind your benches, in a shed or against a wall when not in use. If you have a wall nearby, consider a murphy table that is attached to the wall and folds down when needed, then can easily be folded up and secured against the wall to open up the space.
Other options include narrow picnic tables and benches, which also come in folding options, or smaller patio chairs that open to reveal hidden storage compartments.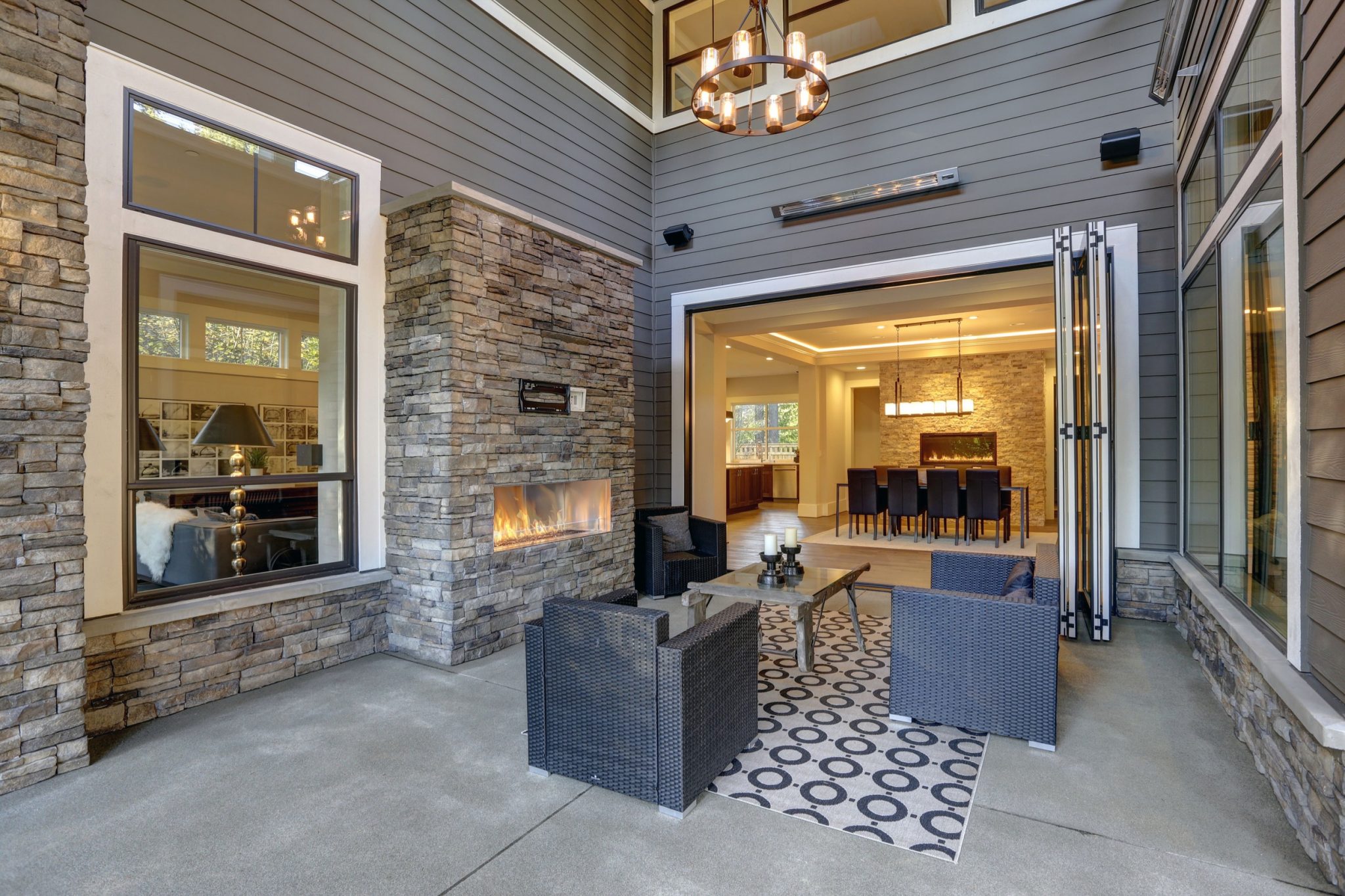 Small Patio Storage
Storage is essential when designing a multi-functional small patio. You need to be able to quickly and conveniently store unnecessary items, and then be able to easily bring them out when they are needed. This might include dog beds, patio cushions, grilling tools, or toys for children or pets. Deck boxes are great for this purpose, but you may not have room to include one.
Look for chairs and benches with hidden storage, buy a coffee table that has built-in storage, or consider a tall, narrow cabinet that has a small footprint and takes advantage of vertical space.
When furnishing your patio, specifically look for items that can serve at least two purposes, such as seating and storage.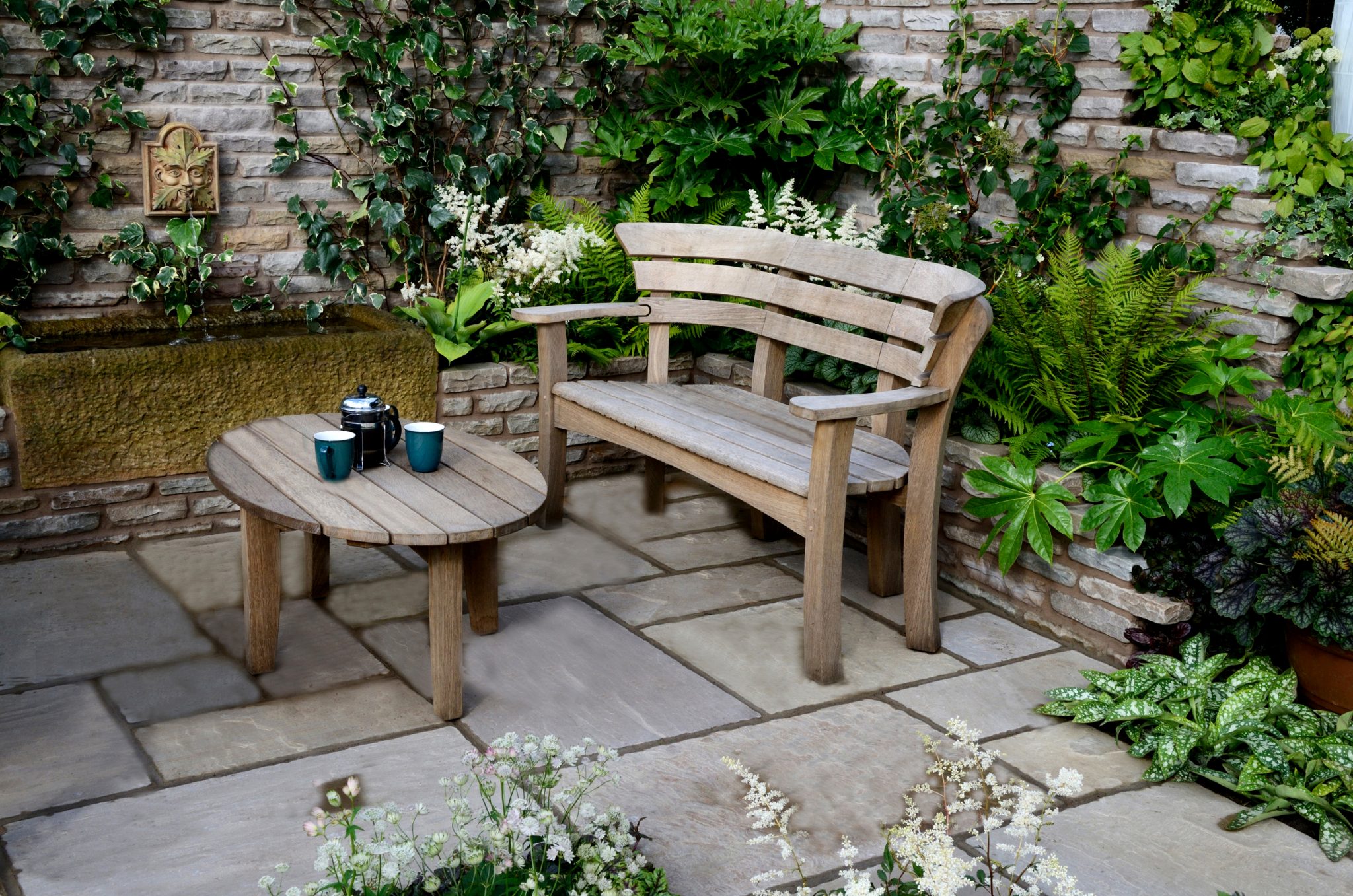 Small Patio Extra Features and General Tips
If you want to incorporate a fire feature into your outdoor living area but you do not have room for a fire pit or fireplace, you still have lots of options. You can choose a small, portable chimenea that will take up little room in the corner of your patio, a dining table with a built-in fire feature in the center, or a thin, electric fireplace that can be mounted on a wall. There are also small, portable fire pits that have a tile border for setting drinks, so if you do not need a full table, this might be a good solution for you.
If you would like to be able to watch movies outdoors, install a pull-down screen, rather than a permanent screen to save room. Newer projectors take up hardly any room at all, but if you have an older, larger projector, consider putting it on a wheeled cart that can be pushed out of the way when not in use.
Barbecue grills can take up a lot of space, so if you typically cook for four or fewer people, consider getting rid of your large grill and purchasing a small, tabletop grill that can be put away when not in use.
Patio bars also take up a lot of room, so if you like to entertain and to include adult beverages in that entertaining, consider installing a murphy bar. Murphy bars look like cabinets mounted on the wall, but when you open it, it provides a bar surface with storage space for bottles and glasses.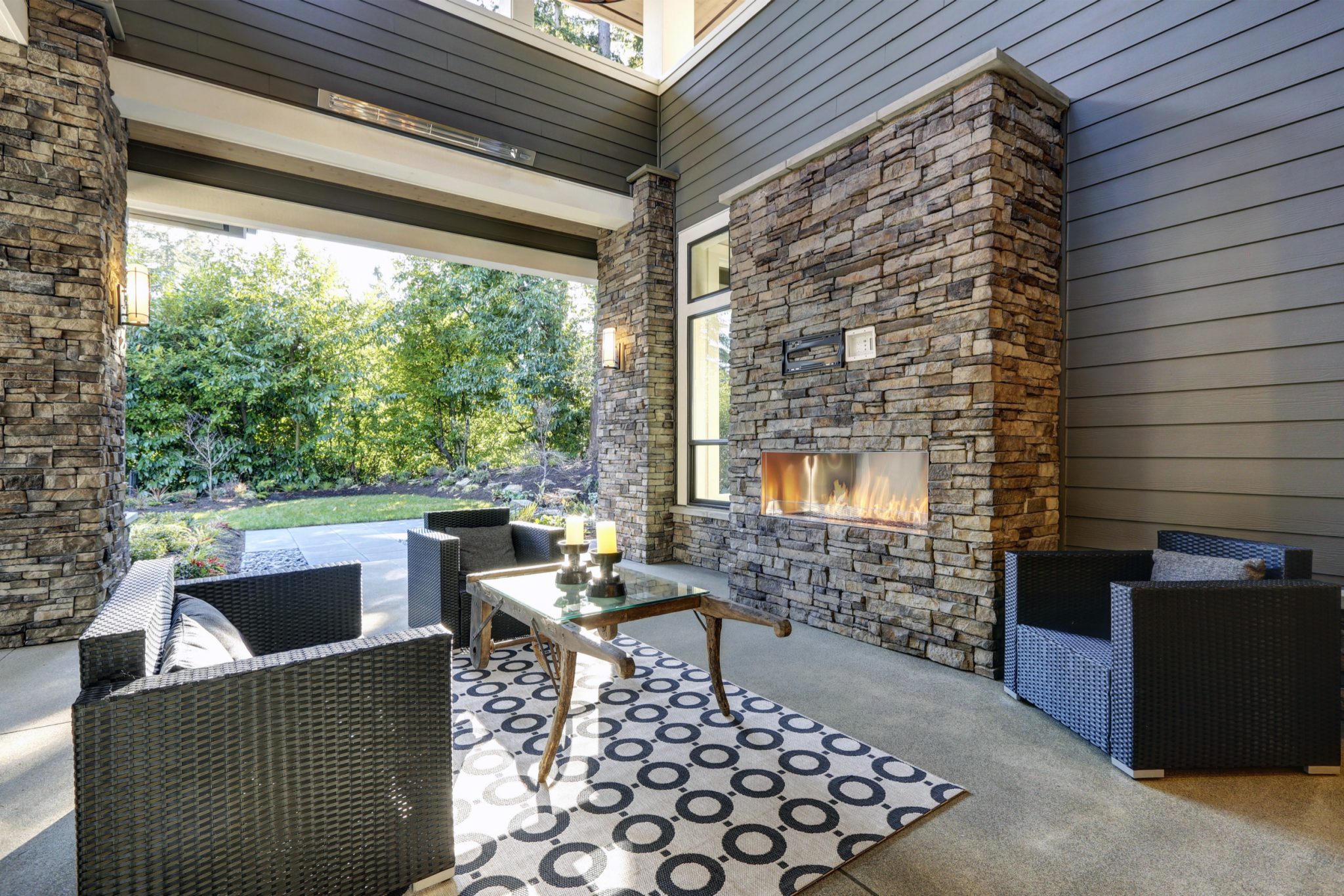 Be sure to add pops of color and plants to give it a cheery, welcoming feel. Patio rugs and cushions are the easiest way to incorporate color and create a welcoming space. Adding a mirror to your small patio décor can also make the space feel larger and more open.
Going vertical is always a good idea in small spaces, such as with a murphy table, murphy bar or tall storage cabinet. Adding a vertical garden also takes advantage of this vertical space without much of a footprint and provides an easy way to include plants on your patio and to grow some of your own food, if that was on your list of things you would like to do in your outdoor living areas. Vertical gardens are perfect for growing herbs and lettuces, and incorporating it on a small patio allows you to have these culinary ingredients conveniently close to the kitchen.
Small Outdoor Living Areas: Further Reading
How to Declutter Your Outdoor Living Areas + Help the Community