High-End Outdoor Living Spaces That Are Installed in a Day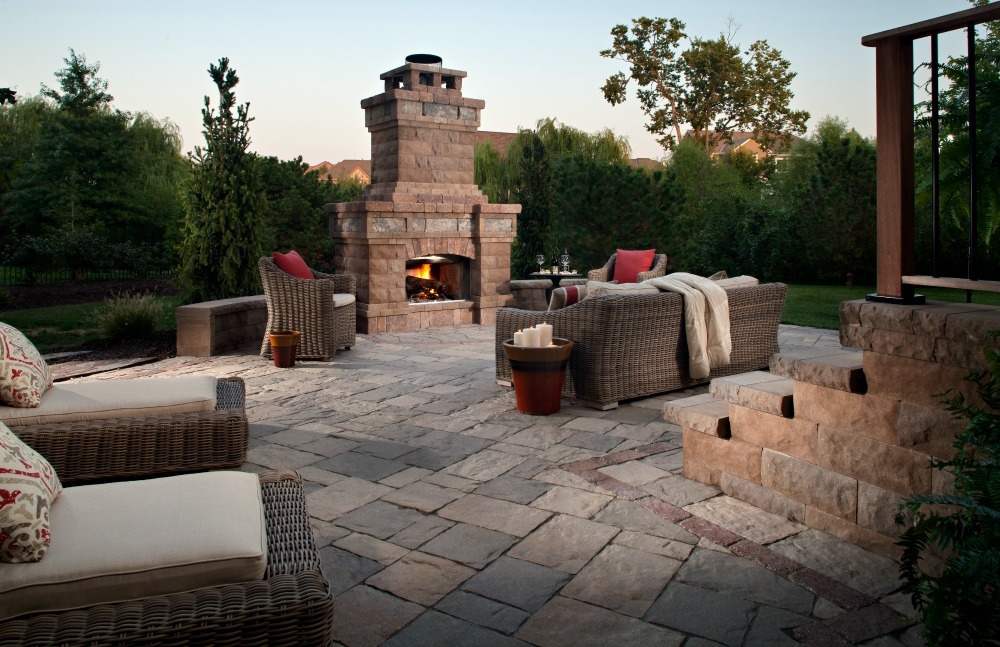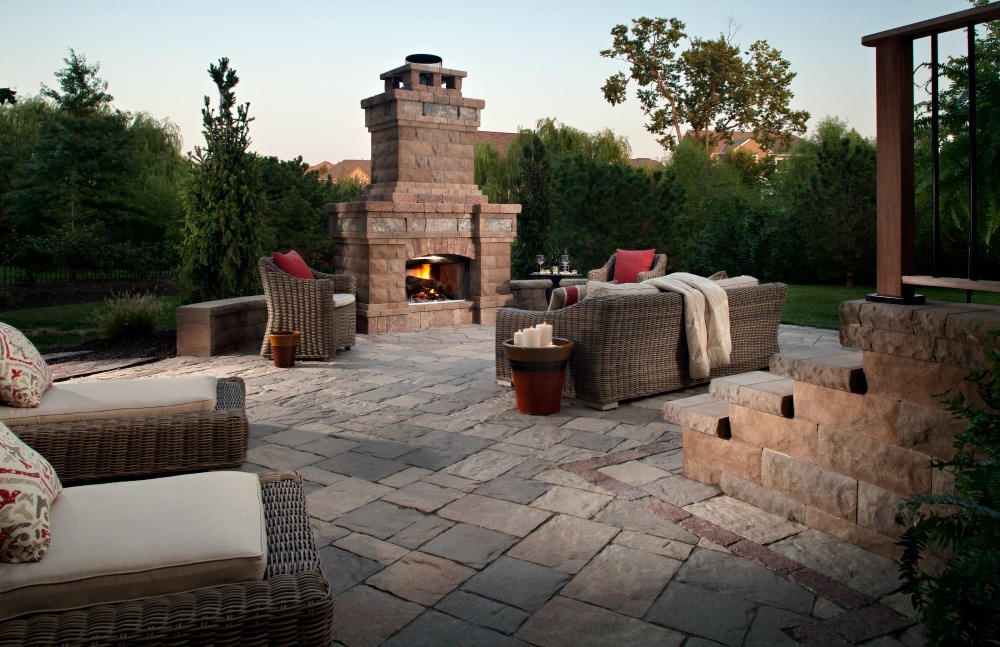 If you'd like to refresh the backyard, it isn't too late to create the high-end outdoor living space of your dreams in time to use it in the upcoming warm weather months. Prefabricated modular outdoor living and kitchen pieces are made in a factory, delivered to you and can be installed in a matter of hours versus weeks of messy and expensive construction.
Benefits of Modular Design
Modular outdoor design pieces are designed to fit together to create beautiful outdoor living spaces from seating areas to fully-functional outdoor kitchens. You could combine a barbecue island with a pizza oven or a fireplace with a seating area. Or, do all of the above.
Because the pieces are pre-fabricated, the cost compared to having something custom designed and built is drastically lower. And, modular pieces allow homeowners to pace the installation according to budget. This means it is possible to start with a barbecue island and then add a fireplace when budget permits.
Installation of a modular outdoor living space can take a matter of hours, as the pieces can be stacked onto existing hardscape. Usually, there is no footing required but some modular pieces are designed to sit below grade on a quickly-installed concrete pad.
Choosing from pre-designed pieces eliminates the agony of decision making by allowing you to focus on selecting from a handful of gorgeous options.
Belgard Elements
If you would like continuity between concrete pavers and an outdoor living space, consider a modular system such as Belgard Elements. Many homeowners mix and match paving stone shapes and finishes to break up the look. These durable pieces are designed to withstand extremes in temperatures which is why they are excellent for barbecues and fire features. They can also be customized with outdoor lighting.
"Our Elements Collection is made up of pre-built modular hardscape features that make creating an outdoor living space easier and more affordable," Ken O'Neill, senior vice president of sales and marketing for Belgard Hardscapes. "We're predicting more of an emphasis on outdoor renovation in 2015, and these outdoor kitchen units, brick ovens, fireplaces, fire pits, water features and other decorative pieces make for perfect updates to your outdoor entertaining space."
Those looking for a sleeker modern design with rustic charm may opt for Belgard Elements new Bordeaux series. Stacked Lamina Stone provides the aesthetic appeal of real stone in a lightweight form. It's topped with a Cordova Stone countertop as well as trim finishes that have the look of limestone.
The Bristol series is a tumbled stone trimmed with flagstone look that blends well into almost any style of home or landscaping. Two color options include a warm earth tone and a cool grey. This series has the most options (wood boxes, motorized water features, fireplace, outdoor seating areas) and can have low voltage lighting installed prior to delivery. It can also include stainless steel cabinet doors and sinks.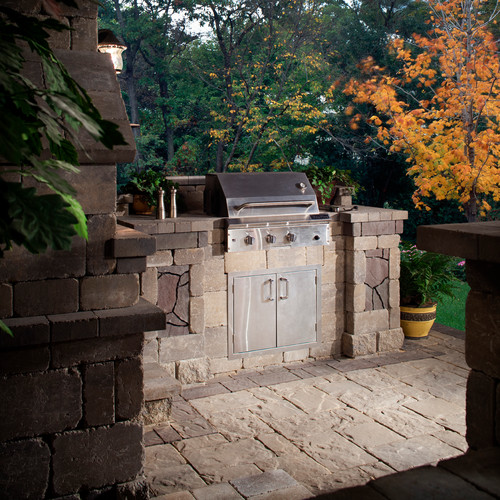 There is also the reasonably-priced Brighton fireplace series for those who would like to simply add a bit of warmth to the backyard. It comes in a choice of five colors.

Keep in mind that in addition to the modular units, Belgard has a number of accessories like seat walls and edging pieces that tie the overall look together.
Trending Now: Brick Ovens
Belgard manufactures a line of brick ovens to address the growing demand for outdoor kitchens more bells and whistles than a barbecue. The authentic, Neopolitan dome design creates a unique Flameroll that pulls the flame over the top of the dome and down the sides for even temperatures and cooking at high heat. Brick ovens not only look fantastic and lend an upscale twist to an outdoor kitchen, but they also mean that you can cook perfect pizzas in literally a few minutes. Brick ovens come in models that are freestanding, on carts and set into modular pieces like the one below.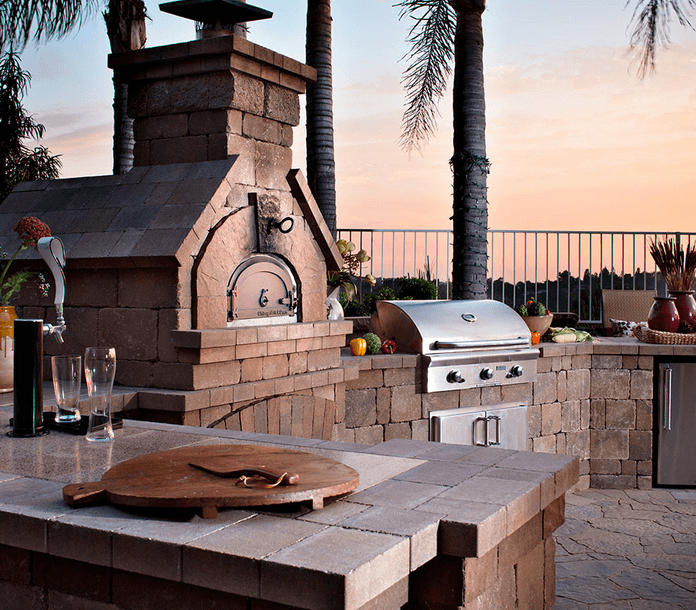 Add Instant Warmth with Fire
Extend your backyard's usable timeframe into fall and winter months with the addition of a fire pit or fireplace. Fire pits are available in a number of sizes so it's important to analyze how you'll use your space. And, it's even more important to check with local building codes to determine what is permitted in your neighborhood. That being said, gas burning fire pits and fireplaces tend to have less restrictions than the wood-burning type, which typically must be 10 feet or more away from existing vertical structures.
Belgard Elements modular fire features are easy to install and manufactured to withstand a wide variation of temperatures. Belgard also makes affordable fire pit kits that can be added to existing hardscapes with protective liners to shield the surface below it from heat. Don't forget to test wind direction to make sure smoke isn't blowing undesirably.
Good to Know
If you need a gas line run to your barbecue or electrical wiring, a permit may be required with installation done by a licensed plumber or electrician. Your contractor will be able to help identify this need and connect you with recommended professionals.
The installation site must be able to handle the weight of a modular system. To give you an idea, some fireplaces can weigh in excess of  4000 lbs. If a forklift is needed, the site must be able to provide sufficient access… all the more reason to consult a professional.
A high-end modular system like Belgard Elements will need to be ordered and installed by an authorized installer like Install-It-Direct. The pieces will be shipped directly to you and installed on a concrete pad to keep the system stable. The location of the concrete pad will need to be discussed in advance.
The rise of in popularity of outdoor livings spaces means that the investment will likely add value to your home.
Your Turn…
Have you been considering a modular outdoor living space? Curious as to how much it might cost? Just ask.