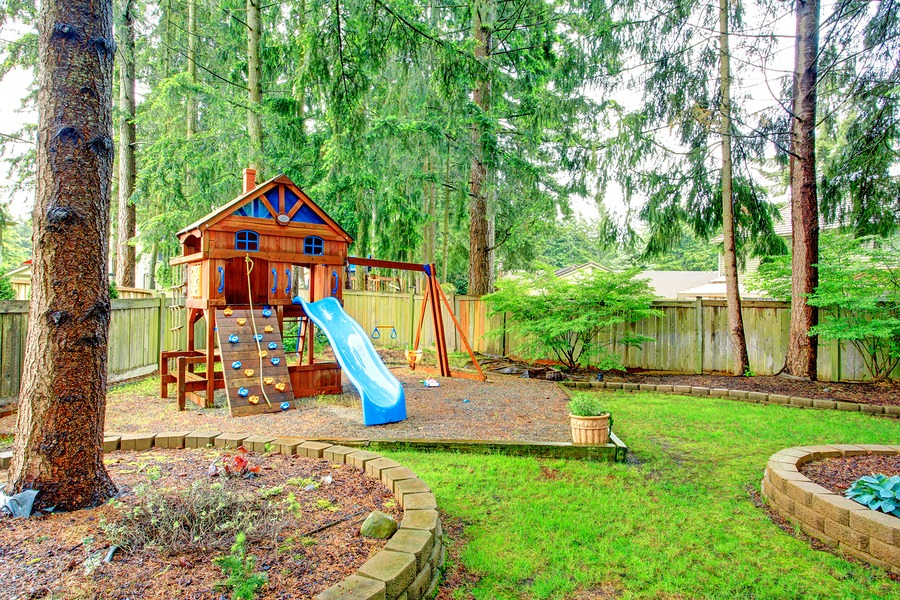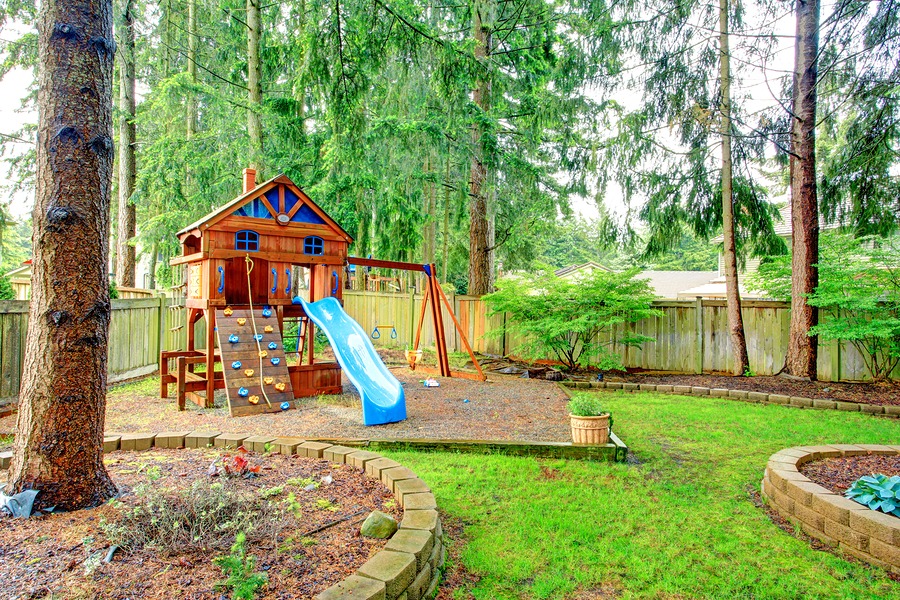 Look no further for creative ways to make the backyard a place your kids will love to spend time in. These ideas for sprucing up their play space will keep them active and entertained there which is key in San Diego where it's possible to enjoy the outdoors almost every day of the year.
1. Incorporate Natural Elements —
It  took us a while to notice the mini skate ramp because it's tough to miss the swing set suspended from massive tree branches. With the expansive grass and basketball court, what kid wouldn't want to play here?
While this is an extreme implementation, look around your own yard for sturdy branches to hang swings from.
2. Use Playground Tiles —
3. Create a Custom Zip Line —
If you have the space, creating a zipline for kids in the backyard is easy because of the wide range of kits available on the market. You can even purchase a glow-in-the-dark zipline seat for extra fun after dark. Have a big backyard? They make adult zipline kits, too.
4. Keep the Kids in View —
These clever homeowners oriented chairs for prime socializing and viewing of the kids while they play on the nearby structure. Not to mention, the wide band of grass provides ample space to somersaults and toddling. A set up like this gives parents peace of mind and the kids freedom to explore on their own.
5. Chalkboard Walls —
Forget drawing on the sidewalk, create a cool chalkboard wall. Not only does it break up the fencing, add a little privacy and provide a nice focal point… the kids will love it. Note that standard chalkboard paint won't stand up to the elements. Most homeowners use something like a flat exterior latex enamel instead of paint. Do some research before you decide.
Of course, there's no need to recess it into the fence. Bolt it into a cinder block or brick wall or hang it like a picture frame on a wooden fence. The sky is the limit.
6. Maximize Space —
Have a small backyard? These homeowners went vertical with a minimalist swing set that can be removed once the kids are done with it. The swings are also high enough for littles and pets to play on the grassy area underneath. Plus, let's face it, this is a cool-looking swing set.
7. Build a Treehouse —
A treehouse is the quintessential symbol of a kid-friendly backyard. Not only does it give kids a place to play with friends as well as boost fine and gross motor skills through climbing and imaginative play, experts suggest that treehouses teach kids a balanced approach to risk.
Modern society's sensitivity to risk (and lack of mature trees in suburban communities) is perhaps why we don't see many of them in backyards these days, but there are many professionals who specialize in treehouses that pay special attention to safety as well as maintaining the natural growing habit of the tree.
8. Natural Playscapes —
Experts suggest that kids play longer and stay more engaged in natural playscapes that resemble the great outdoors. A simple patch of sand bordered by loose, stable rock is one of the easiest ways to achieve this. Sawed-off tree stumps for kids to navigate, logs to use as balance beams and even simple sticks to draw in the dirt are very easy ways to keep the kids busy in the backyard.
9. Repurpose Household Items —
This clever homeowner used leftover pallets to create a cool-looking kid-sized table. Take inventory of existing materials around the house and see what your imagination can develop. Even better, involve the kids in the project and they'll appreciate it even more.
10. Build a Climbing Wall —
Climbing walls are all the rage and it just takes space to do it and a simple kit. Building strength and coordination is much more fun than staring at a digital screen.
11. Light it all up —
This spectacular tree house lights up in a kid-friendly manner during the holidays. It lives in the backyard of some pretty cool grandparents who wanted their kids to remember later in life how fun it was to play there. The installer avoids placing lights where kids may trip or rest their hands. Cords are hidden or staked. Cool fact: The green lights on the tube slide can be seen from inside, creating a psychedelic look all of the way down.
As you might imagine, the tree house is just as intricately-decorated on the inside as it appears on the outside.
12. Install a Splash Pad —
If a splash pad sounds complicated, kits make it a reality though it's best to have a professional install it. The water is usually absorbed back through the pad and recirculated–UV light sanitizers and chlorine kill bacteria.
13. Keep it Simple —
Step 2 and Little Tykes make a variety of durable play tables that aren't difficult to assemble and do come with umbrellas. This one sits on sand and happens to blend in seamlessly with the yard decor. The succulent planter detracts focus off the play equipment. Fill the compartments with water, shells, sand or whatever you like and  be surprised by how long young kids will stay engaged with a sensory table like this.
14. Build Some Shade —
15. Create Temporary Fun —
Don't want to nail a chalkboard to a wall or build a treehouse? That's OK! Find collapsible teepees and other play equipment that you can store in the house when they're finished playing outside.
Your Turn…
How do you make your backyard kid-friendly?