15 Ultra Kid-Friendly Backyard Ideas
There are plenty of studies showing that both kids and adults benefit from spending time outdoors. Getting outside and into nature helps us think clearer, reduces stress, and can even make us heal faster. But we do not need research to tell us that being outside makes us feel better; we experience it whenever we have a chance to enjoy our outdoor living areas, play with our kids in the backyard, or explore one of the many hiking trails in Southern California.
Creating a kid-friendly backyard is a great way to encourage your kids to spend more time outside in the fresh air and sunshine. A fun play space with lots of options will help keep them active and entertained while they enjoy the great weather we are lucky enough to have all year in San Diego County and the surrounding area.
Try out some of these kid-friendly backyard ideas to transform your backyard into the ideal spot for your kids to play, relax, create, and grow.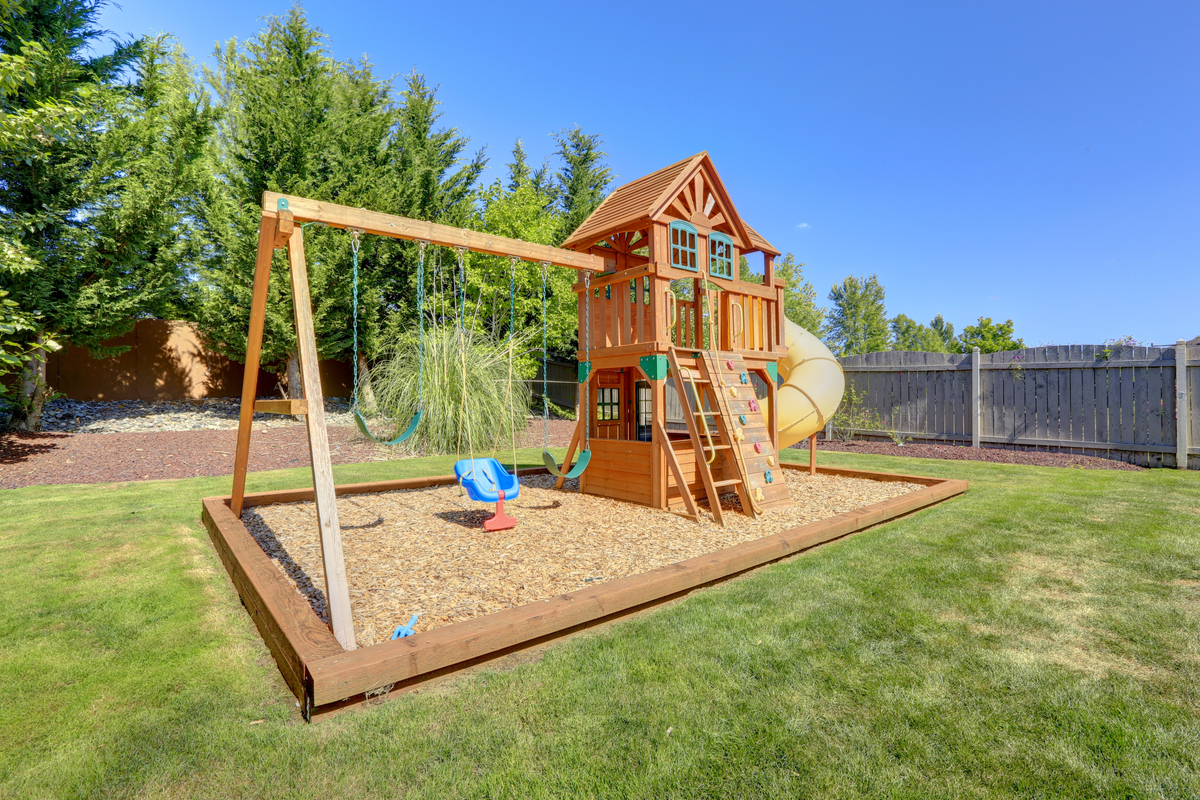 1. Include a Play Structure
Including one or more age-appropriate play structures is a good way to encourage being physically active while having fun. Kids and their friends are sure to love spending hours climbing, swinging, sliding, and playing right in your backyard. If possible, choose a play structure that can grow with your kids to allow you to get more years out of your investment.

2. Choose a Good Ground Cover
Two of the best options for providing a smooth, level, cushiony surface for playing are rubber playground tiles and artificial grass. Interlocking playground tiles come in a variety of colors and can be used around play structures or in play areas. If your yard is all hardscape, you can also cover part of a concrete or paving stone patio with rubber tiles to create a softer area for your kids to play or relax.
Another option is to go for artificial grass, which can be used under play structures, in play areas, and to function as a grassy lawn area for kids, pets, and adults to enjoy. Lawn areas are great for active play and for lounging when they just need to relax. While natural grass will work for this, there are several benefits from artificial turf that should be considered. Properly installed manufactured lawns provide a level, even surface for running and playing. They also are easier to clean if the space is shared with pets that use the area as a restroom. While natural grass can more easily harbor bacteria, the porous backing on artificial grass allows pet restroom areas to be cleaned simply by hosing them down. You can also use a product like Urine Zero to kill bacteria and stop odors.
A synthetic turf lawn requires no mowing, weeding, aerating, edging, or irrigation. Aside from the occasional fluffing, leaf removal, and rinsing off dust, there is little maintenance needed to keep artificial grass looking its best and ready to enjoy. Manufactured grass also drains well, which means your kids can even enjoy it after it rains, and you will not have to worry about mud or wet blades of grass being tracked into the house.

3. Build a Playhouse or Treehouse
Many of us have happy memories of spending hours at a time in a playhouse or treehouse throughout our childhood. It was a place to play, a secret clubhouse, and a place to spend time just being a kid in whatever way suited us best. As adults, we know how important it is to have our own spaces – like man caves and she sheds – but we sometimes forget that this is important for children as well. It is just as important for them to have safe spaces where they can destress, read, play board games with their friends, or just have quiet time.
Unless you are particularly handy and have building experience, it is best to hire a professional to ensure the safety of the structure. You can also purchase pre-fab playhouses that you can easily assemble.

4. Add a Sports Court, Field, or Climbing Wall
If your kids love soccer, basketball, golf, or climbing, you can customize their play space to encourage them to continue enjoying these healthy activities. An artificial grass putting green is ideal for practicing their short game without the maintenance of natural grass. If basketball is more to their liking, you could build a full or half basketball court you can enjoy with them. A single soccer goal on an artificial grass lawn allows them to practice soccer at home before their next game, while a climbing wall is a unique addition with a small footprint, so it is even an option for a small backyard.

5. Include a Sandbox
Those of us who live near the beach know how much children love to play in the sand and that they never seem to grow tired of it. Since we cannot take them to the beach every day, one way we can give them the opportunity to play with sand at home is to include a sandbox in their play space. If you do not have a lot of room or would prefer to avoid a permanent installation, there are lots of affordable, portable options, such as sand play tables and small sandboxes with lids.
For a more permanent sand play area, consider an attractive, wood sandbox complete with benches and a canopy cover to protect your little ones from the sun while they partake in creative play.

6. Add Chalkboard Walls
Chalkboards are great for encouraging creativity and providing a space where your kids can express themselves through words and images. You can add a chalkboard to the wall of a play structure, paint one onto your fence and add trim as a frame, or install one on a covered patio. Purchasing a chalkboard designed for outdoor use is the easiest and most convenient option. If you choose to paint it onto a wall or fence yourself, keep in mind that standard chalkboard paint from your local craft store will not hold up to the elements when used outside. Be sure to purchase chalkboard paint intended for outdoor use.

7. Provide Shade for Protection from the Sun
Install shade sails or set up a canopy to provide shade for the play area. This will protect your little ones from the sun while making their play space more enjoyable on hot days.
8. Install a Splash Pad

Small, portable splash pads can be purchased online and are a good option for folks with smaller backyards or limited budgets. These are so affordable that you can pick one up for less than $10 and have it set up in minutes. These small splash pads are usually best for small children and will need to be put away between uses, but they are inexpensive and easy to set up, so this might be a good option for you.
If your budget allows and you have the space, consider installing a paving stone splash pad for kids. This can be incorporated into your patio or can be installed as a separate play area. Pavers provide a slip-resistant surface, so they are great for water play areas. This is also an attractive option that can be used as a seating area or for other purposes when not being enjoyed by your kids on a hot day.

9. Provide Good Lighting
If kids might be playing in your backyard while the adults gather around the fire pit at an evening soiree, make sure you have good lighting that will keep everyone safer and make your play areas easier to enjoy at night. The best way to light the space might be with café lights strung above play structures or with fairy lights wrapped around them. It might include path lights leading to the play area or marking the edge. Or it could even include task lighting that illuminates particular features or an arts and crafts space.

10. Repurpose Household Items
Save money and find a new use for things you no longer need by moving them into the outdoor play space. For example, if you have lost the lids to some of your plastic food storage containers, use those lidless containers to stock an outdoor play kitchen. If you have old hats or jewelry you no longer want, add it to a dress-up play area in a playhouse or on a covered patio.

11. Install a Zip Line
Add a bit of adventure to your backyard by adding a zip line. Zip line kits for kids are available online and come with instructions describing how to install them between two trees in your backyard. If you happen to have a big backyard with large trees, there are also zip line kits for adults available.

12. Create Natural Playscapes
Spending time in nature is good for our health and well-being. While we may not be able to spend lots of time hiking, skiing, or camping, we can create natural spaces in our outdoor living areas. At the very least, we can incorporate natural elements into our backyards. Use cut tree trunks as stools at craft tables, add natural stepping stones leading to play areas, use logs as balance beams, or look for tree branches sturdy enough to support rope swings.

13. Maximize Your Space
If you have a small backyard or just a small space to dedicate as a play area, it is important to maximize the space you have. One way you can do this is by taking advantage of vertical space. This might mean painting a chalkboard on a fence, installing a climbing wall, adding a Murphy table that can be pulled down for crafts or snacks, or hanging rope swings from sturdy trees.
Another way to maximize space in play areas is to use temporary structures and play options. This might include tents, inflatable bounce houses, portable sandboxes, or an outdoor sand and water activity table that can be stored when not in use.

14. Include an Arts and Crafts Area
Encourage creativity and self-expression with an arts and crafts station just for kids or for you to enjoy doing craft projects as a family. This could be a dedicated space in your child's play area or it could be a temporary setup on your patio. Dedicating a space to a fairy garden can be a fun project for the whole family. Either way, create a space stocked with arts and crafts supplies where your children can be creative or take some time away from group activities for some quiet time on their own.

15. Create a Chill-Out Space
Everyone needs a break sometimes. Whether it was a tough day at school or they are not getting along with one of their siblings, sometimes your kids are going to need a space where they can decompress and just chill out. For some kids, this is just their preferred way to spend time – reading a good book, drawing, writing in their journal, singing along with their favorite songs, or partaking in other relaxing activities. Of course, they can do all of these things in their room, but creating a chill-out space outside allows them to enjoy these activities while also spending time outdoors in the fresh air.