Retaining Wall: What It Is & Benefits
Turning your yard into a spectacular…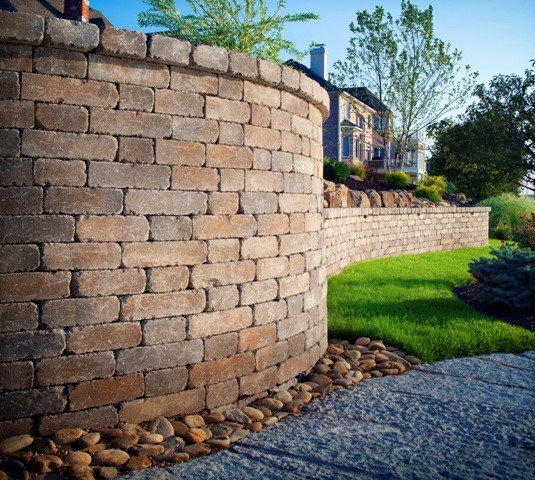 …focal point is easier than you may think.
One of the best ways to improve your outdoor living space is to
add a retaining wall. Retaining walls not only enhance the aesthetics
of a yard, they offer protection for the surrounding soil.
If you're debating on whether or not a retaining wall is right for you,
take some time to consider the many advantages these structures provide.
What is a Retaining Wall?
A retaining wall is essentially a stabilizer for soil. It is used to prevent soil from cascading down a hill or slant. There are several styles of wall blocks used to construct retaining walls, but concrete and natural stone are the most preferred options.
Some block styles interlock, which makes it easier to assemble a wall. Regardless of the type of blocks used, a properly constructed retaining wall will be sturdy enough to handle the pressure of sloping soil.
What Options are Available?
In the past, homeowners had very few options when it came to retaining barriers. With recent advancements in design and structure, there is now a myriad of choices.
You are no longer stuck with the dull gray blocks of yesterday. Eye-catching colors, interesting textures and distinctive patterns allow you to create a wall that matches your unique tastes.
Many styles are even fabricated to replicate the richness of natural stone or brick.
Not only do you have choices when it comes to size, shape and color, you can choose from different types of construction, including freestanding sitting walls, tiered designs, curved walls and columns.
Each style offers a unique advantage, whether you want a modern, full-sized raised patio or a rustic enclosure for your garden. The type you choose depends on your yard size and how you plan to utilize the wall.
How Can a Retaining Structure be Used?
As a homeowner, you most likely want ample options for improving your outdoor living area. When it comes to retaining walls, there are countless ways you can enrich your landscape.
To turn your yard into a unified, striking showpiece, you can choose a retaining block design that matches any existing paving stones on a driveway, walkway or patio. You can also enclose outdoor kitchens or gardens and create an impressive entertainment area or private getaway.
Showcase your favorite blossoms by adding pillars, encircle a fountain with an illuminated sitting wall, or create extra usable space with stone steps.
For a more practical approach, cordon off sections of your natural grass or synthetic turf with a small retaining wall. No matter how you use them, retaining walls bring color and texture to any outdoor area.
What are the Benefits of Building a Wall?
The different varieties of retaining blocks provide visual interest that will suit any yard. Most block designs will complement various pieces of landscape.
Some prefabricated blocks are made to closely resemble authentic stone, which means you can save money without sacrificing value.
The multiple blended colors of some styles provide attention-grabbing appeal, while the rugged textures reflect the wonders of nature.
In addition to being visually pleasing, retaining walls prevent soil movement. This is particularly useful in areas where arid temperatures cause erosion.
By building a solid wall on a level foundation, you can also protect your yard from excessive water drainage. Your landscape will remain safeguarded and beautiful, which means you can avoid any costly repairs to your property.
Why Choose Blocks Over Timber or Other Materials?
With the durability, usability and flexibility that block walls provide, any other choices are virtually unnecessary. Many contemporary styles are made to withstand all types of weather, so a well-built structure can last hundreds of years.
Block walls are also easy to install, which means you will not have to overpay for labor. Interlocking designs allow for easy assembly and a secure fit.
Columns, sitting walls and retaining units created from block systems are designed to flow with the shape of your yard or patio. If you have pavers that arc around the edges of your terrace, you can choose a curved retaining wall to mirror the charm of that space.
No matter what type of wall you need, block retainers will provide you with the form and function to vastly improve your outdoor living space.
A retaining wall can add elegance to your yard as well as provide protection for your natural or artificial grass, garden and patio. While constructing a wall is easy for many people, it's best to consult a professional first.
Install It Direct can provide assistance and offer tips on how to choose your materials. Join our mailing list or sign up for a free estimate today, and you will soon be reaping the rewards of having a beautiful and functional retaining wall.