20 Grilling Tools Essential for a BBQ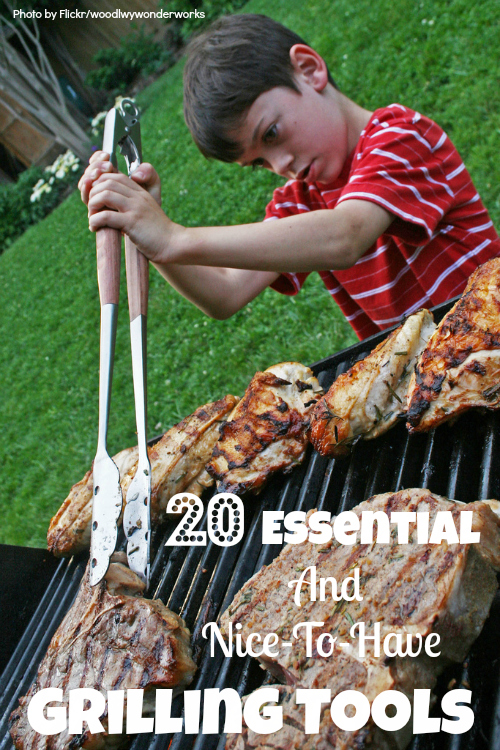 Now that you've cleaned your barbecue in anticipation of warm weather and massive amounts of outdoor entertaining, it's time to get down to business.
What essential grilling tools do barbecue enthusiasts need to get the job done right?
We've got a list of must-have and nice-to-have barbecue gadgets you may not even know you need.
Essential Grilling Tools —
In this short video, Martha Stewart shows us her favorite tongs and spatulas and, of course, recommends more than one for each type of meat as not to mix flavors.
She also points out that tools with wooden handles don't conduct heat, which is why she prefers them to metal.
1. Long-Handled Tongs
Long-handled tongs are great because they can be used for a variety of foods, from corn to hot dogs and beyond.
A lot of grillers tend to reach for the fork, but stabbing meat causes juices to release which results in a loss of flavor and moisture.
Go for long-handled tongs versus kitchen tongs to avoid burning your hands if you need to reach food at the back of your barbecue.
2. A Grill Brush
Keeping the grill grates clean is a must for health and taste reasons.
Have  a look at your manufacturer's instructions to select a grill brush that's right for your grates, but remember it's easiest to clean the grate when their hot so you may want to turn them on for 10-15 minutes before scrubbing them.
3. A Spatula with an Offset Handle

The offset handle allows you to really get under food cooking on the grill while keeping your hand away from the heat.
Unless you're grilling on a small barbecue,  go for a long-handled spatula–metal or silicone work best for barbecuing.
4. Grill Mitts
Every once in a while, you're going to need to grab something hot, whether it's to lift a grate to catch something or remove a grill pizza stone.
5. Fire Extinguisher
Not only should there be a fire extinguisher in your barbecue area, know how to use it by re-reading the directions occasionally.
6. Long-Handled Basting Brush
Keep food moist and juicy by basting with marinade, butter or whatever goodness you have on tap, especially in the last few minutes before you pull the food off the grill.
7. Instant-Read Thermometer
Rather than constantly slicing into your meat, have an instant read thermometer tell you it's done because it's way easier and less damaging to food.
8.  Flashlight or Grill Light
You need to see your food, right? I'm not sure we need to elaborate much on this point.
9. Chimney Starter (Charcoal Grill)

Ditch lighter fluid for good by using a chimney starter with a few sheets of newspaper and a match to get your charcoal going.
The Nice-to-Have List of Barbecue Gadgets —
10. Himalayan Salt Block

It is a real salt block harvested from the Himalayan mountains, often pink in color and said to be one of the purest forms of salt in the world.
It's meant to naturally salt your food (without adding a heavy table salt-like flavor). So all you need is some Himalayan salt, your protein and, perhaps, a squeeze of lime versus a heavy marinade.
Plus, the salt block eliminates the risk of charring food!
Salt blocks are popular choices for barbecuing seafood such as skewered shrimp or scallops and for serving foods like cheese or sushi at room temperature.
11. Skewers that Slide
No more struggling with uncooperative kebabs with this handy gadget that has a disc on the end to help push meat and vegetables off with ease.
They are even dishwasher safe.
12. Pizza Grilling Stone

In the event you don't have a woodfired pizza oven in the backyard, a pizza grilling stone may be the next best thing.
They come in round or rectangular, but make sure to use a thin crust as the pizza will cook from the bottom up and if your bbq isn't clean, your pizza will taste extra-smoky.
13. Rib Rack
A rib rack not only allows air to circulate around your precious ribs, it also conserves grill space for other food.
The rack props the ribs up vertically and can be used for chicken breasts and other meat, too, but make sure you have a drip pan somewhere underneath.
14. Hot Dog Roller
OK, this might seem unnecessary but think about it: You'll never struggle while flipping hot dogs with this handy gadget that spins hot dogs and sausages around and around.
Glide a spatula over the dogs to roll them on the rack or invest in motorized version that can plop on the grill.
This way, you don't have to worry about hot dogs falling through grates, plus, they'll cook evenly.
15. Skillets and Other Cookware

Why dirty up your kitchen if the grill is already going?
Rather than roast veggies in the oven or on the stove, with perforated cookware grilled asparagus or even wok Chinese food can be yours over the grill.
16. Meatball Grill Basket

Any meat tastes better smoked, right?
Why not grab your favorite recipe and load it into this highly-rated and handy grill contraption.
Then, think about how awesome your meatball subs will taste.
17. Potato Griller

Apparently, exposing the potato to indirect heat results in a buttery texture–without the butter (though we're sure a little extra won't hurt).
A potato griller like this averages around $10, so if a heaping baked potato is your speed, this might be an excellent investment.
The spike allows heat to enter the inside of the potato for more efficient cooking and they say this works well in a regular oven, too.
18. Grilling Planks

The original plank pairing is said to be salmon and cedar, pioneered long ago by residents of the Pacific Northwest.
Make sure the wood is untreated—be it cedar, alder, hickory or maple—and soak it for an hour or so to add moisture and prevent burning.
Add wine, vinegar or citrus juice to the water in order to infuse the plank with aromas as it soaks.
It's also important to lightly season a new plank by placing it on the grill and turning it over once after a few minutes in order to prevent it from warping.
19. Hamburger Wrappers
Sure you could cut up wax or parchment paper yourself but for a very inexpensive price, you can have these little squares at the ready to separate freshly pounded burgers with ease.
Bleached or unbleached, these papers can save time and aggravation.
20. Jalapeño Pepper Roaster

Peppers seem to be all the rage so cook them with ease using this handy contraption.
Stuff them with cheese, meat or whatever your heart desires while infusing them with smoky goodness.
This highly-rated item has the added bonus of being dishwasher-safe.
Your Turn…
What are your essential barbecue tools?
Photo credits: spatula, Flickr/Dinner Series; chimney starter, Flickr/Eric Kilby; Himalayan salt, Flickr/George Arriola; pizza stone, Flickr/m.gifford; paella pan, Flickr/PincasPhoto; cedar planks, Flickr/Neeta Lind.