How To Expand Your Living Space with a Sunroom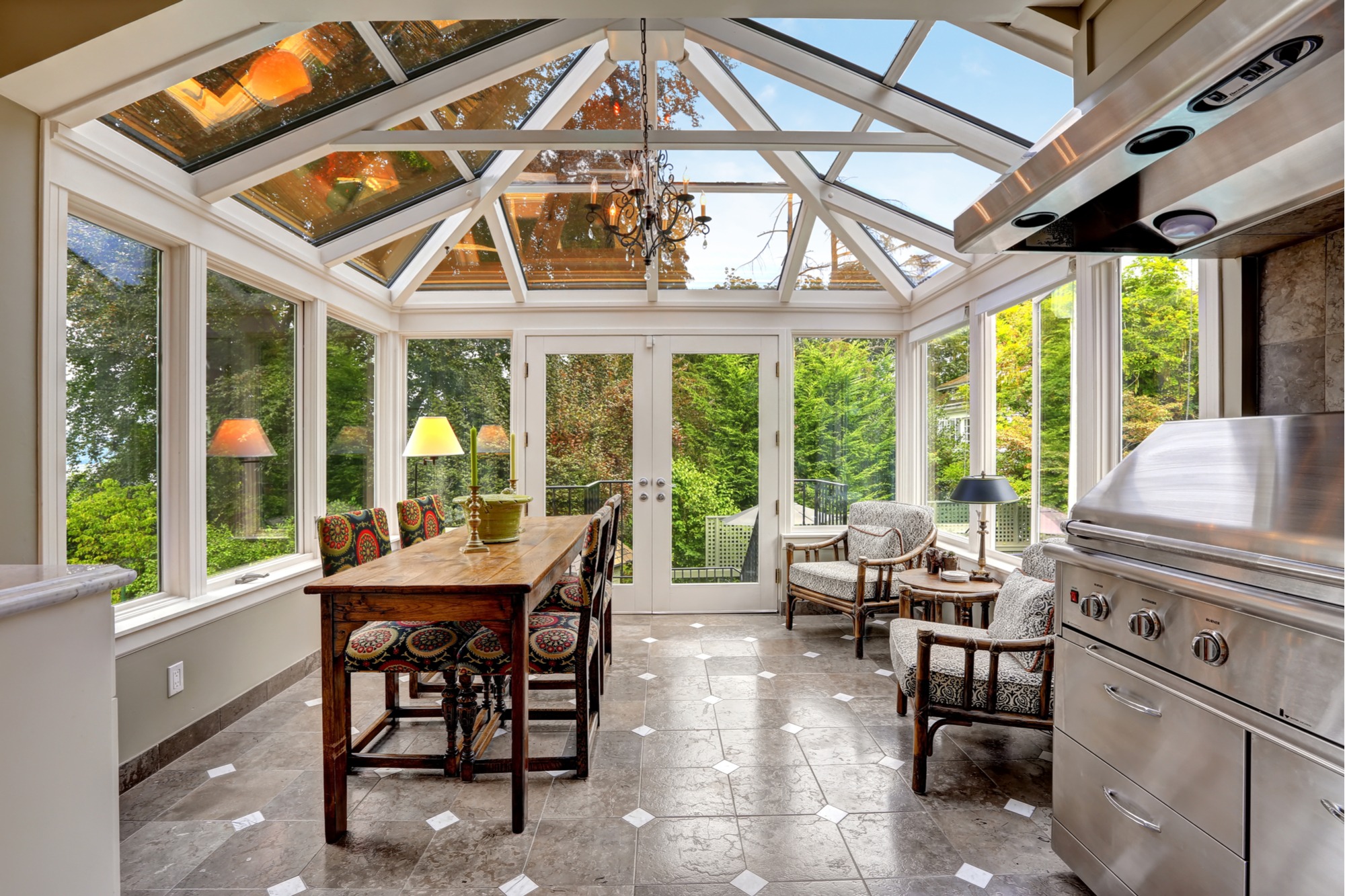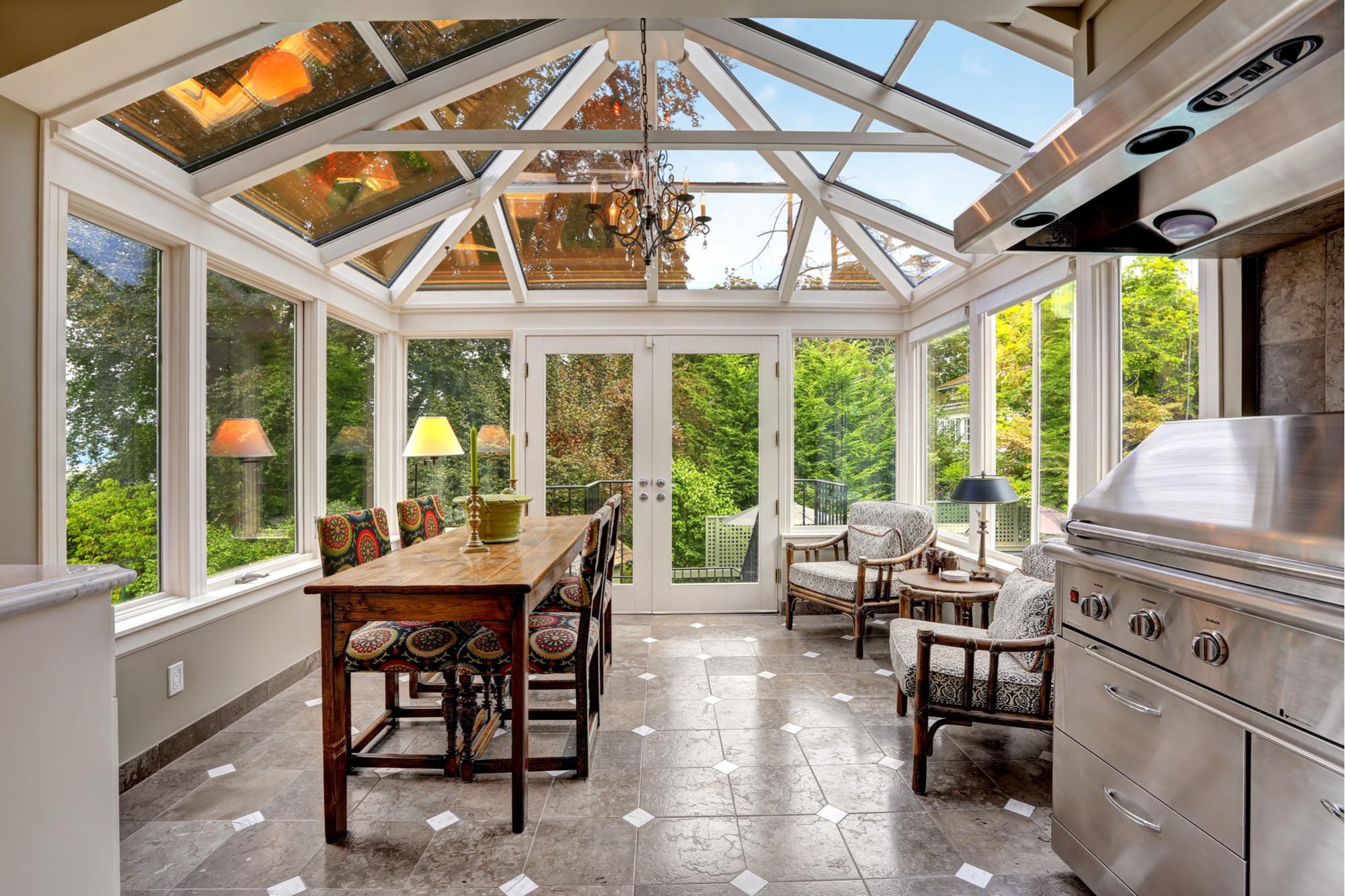 Most homeowners would love to have more living space to accommodate their family, guests, hobbies, pets or lifestyle.
Room additions are an option for those who have the space and budget to accommodate such a sizable home improvement project, but this is out of reach for many homeowners.
Another option is to create outdoor living spaces that can be used when entertaining or to provide more room for your family to enjoy.
Outdoor living areas are a great idea and a must-have feature for Southern California homes, but they may not be the ideal substitution for a room with four walls and a ceiling if you need more interior space for purposes not well suited for the outdoors.
For example, a covered patio may not provide enough protection from the elements for a sewing room and may not provide enough confinement for a play room for children or pets.
In these situations, a sunroom might be a better option and will provide you with a solid structure that can serve a variety of purposes.
Sunroom Benefits
Sunroom is a general term for solariums, conservatories, screened-in porches and some types of gazebos that attach directly to your home.
Patio enclosures of almost any kind can be called a sunroom, although some would argue that your patio enclosure should be a bit more solid and feel more like an interior room to deserve to be called a sunroom.
Anything less would be a screened-in porch at best.
For the purposes of this article, we consider a sunroom any type of structure that is completely enclosed, has a roof and attaches to your home.
Here are 11 benefits of sunrooms that are reason enough to consider adding one to your home:
1. Adding a sun porch will instantly increase the square footage of your living space.
2. A sunroom can instantly increase the value of your home.
3. Sunrooms are generally much less expensive than conventional room additions.
4. Sun porches are generally constructed much faster than complete room additions.
5. Screened or windowed patio enclosures provide a great transitional space between indoor and outdoor living areas.
6. Sun porches make it possible to keep the party going when inclement weather arrives without having to take the party all the way inside.
7. Sunrooms with screens or windows allow you to enjoy the outdoors without dealing with bugs, which can be particularly bothersome during al fresco dinner parties.
8. Sun porches are easier to heat than open patios, which makes cold-weather entertaining more comfortable and more enjoyable.
9. Sunrooms provide a safer, more controlled environment for play areas where your children (or pets) can enjoy the sun and fresh air any time of year in a confined space.
10. Sunrooms are more secure and provide better protection from the elements for tools, hobby supplies, gym equipment or other belongings.
11. Sun porches are flexible living spaces that can be used for a variety of purposes to help you more fully enjoy your home.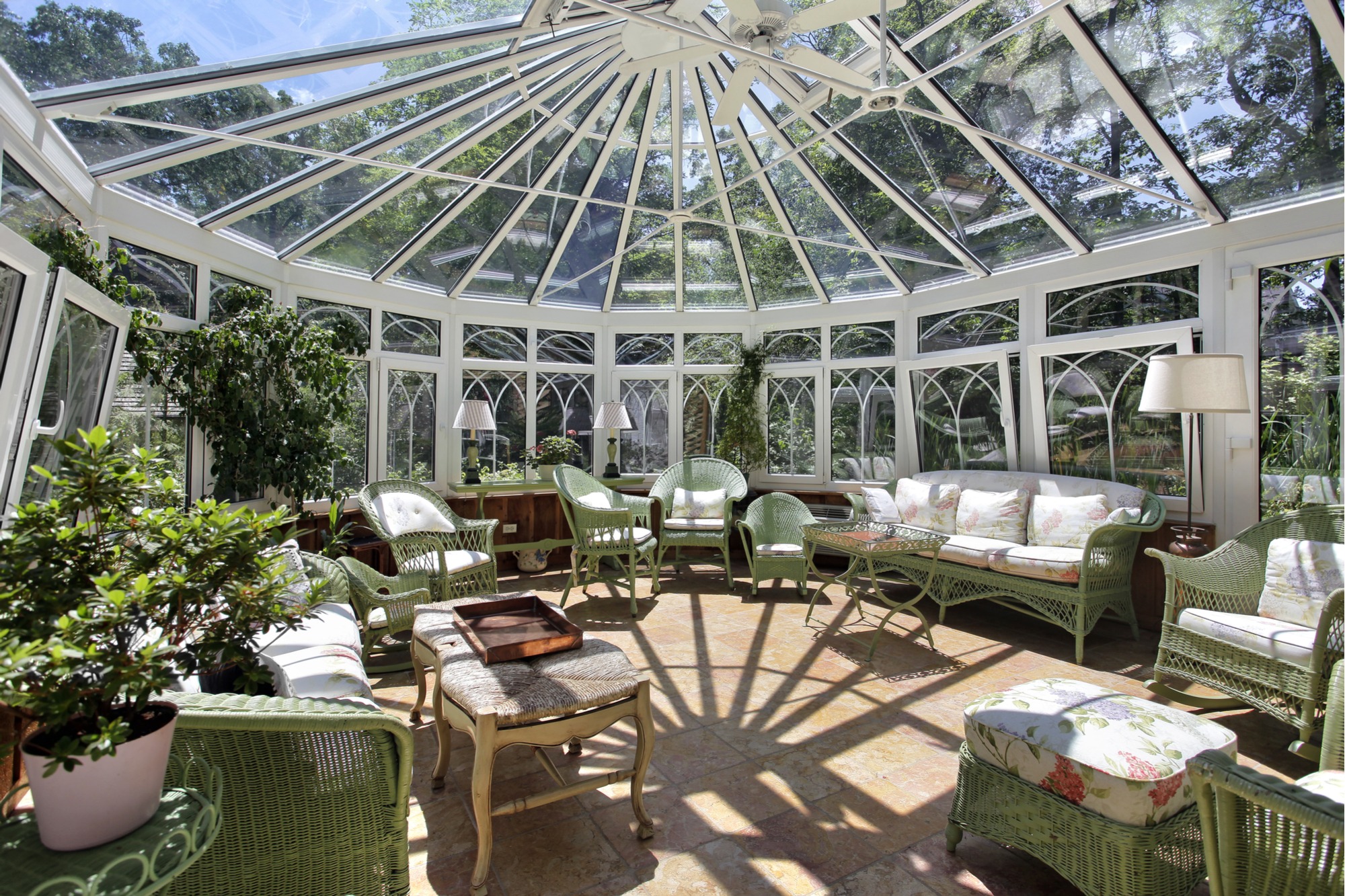 15 Uses for Sunrooms
Sun porches essentially function as additional rooms in your home; therefore, these flexible spaces can be used for just about any purpose for which you would use a spare bedroom.
Plus, they are even more appealing than spare bedrooms for some purposes, since they allow you to more fully enjoy the sunshine and fresh air.
Here are just 15 of the many ways you can use the extra space provided by a sunroom:
1. Dining room for indoor-outdoor dinner parties
2. Living room for entertaining
3. Family room (particularly for homes with only one living room)
4. Play room for children or pets
5. Yoga studio
6. Art studio
7. Game Room
8. Summer bedroom or summer guest room
9. Gym
10. Sewing room
11. Pet room (particularly if you do not like having a litter box or dog toys in the house)
12. Mud room
13. Meditation space
14. Craft room
15. Office
Do-It-Yourself Sunrooms vs. Pre-Fab Sunrooms vs. Site-Built Sunrooms
There are basically three options for adding a sunroom to your home.
You can purchase a kit and assemble it yourself, hire a contractor to install a pre-fabricated sun porch or hire a contractor to build a sunroom on site.
For most homeowners, hiring a contractor to install a pre-fab sunroom will likely be the most desirable option, but let's take a look at the options to help you better determine which is best for you.
A sun porch of any type can increase the value of your home; however, you may not see a favorable return on investment (ROI) with a site-built enclosed patio.
According to the Remodeling Magazine 2014 Cost vs. Value Report, site-built sunrooms offer a better ROI in San Diego than in other areas of the country.
The sunroom addition considered is a 200-square-foot addition that includes footings, a foundation, post-and-beam framing, low-E windows, insulation, quarry tile flooring, venting skylights, a ceiling fan and a few additional features.
So this is for a pretty nice sunroom, but still serves us well in comparing options.
The report states that a sunroom of this caliber would cost an estimated $82,425 in San Diego and has a resale value of approximately $56,059.
This is an ROI of 68%, which is more favorable than the 51.7% ROI they estimate across the country, but may not be enough of an ROI to entice most homeowners to make this type of investment.
On the other hand, a site-built sun porch gives you more options in terms of design and allows you to better match the architecture of your home.
At the other end of the spectrum is the DIY, pre-fab option.
This is, obviously, the most affordable option and is a good choice for handy homeowners who want to quickly increase living space even on a tight budget.
This type of kit can cost as little as a few thousand dollars to install, particularly if you have an existing patio to use as the foundation.
Here are a few do-it-yourself, pre-fabricated kits that are available on Amazon.
While this type of sunroom is not going to increase the value of your home nearly as significantly as a site-built option, it will serve your family well in terms of providing additional living space.
Another benefit of choosing this option is that you can place it directly on an existing paving stone or concrete patio — even if the patio is larger than the square footage of your kit.
This makes DIY, pre-fab kits an easy, quick option for homeowners who are adept enough to take on this home improvement project.
Your third option is to purchase a pre-fabricated sunroom from a company that offers installation or to hire a contractor to install a pre-fab kit.
This will be more expensive than doing it yourself, but — particularly if you are not super handy — you will likely end up a more satisfactory end result.
A contractor may be able to make some customizations to suit your needs, will be able to properly affix the structure to your home, can assist you with the permit process, and may be able to install a patio or flooring.
If you have an existing patio, installing a pre-fab sunroom can take place in as little as one day, which makes this a particularly appealing option for folks looking to immediately increase their living or entertaining space.
Additional Considerations for Sunroom Additions
When considering patio enclosures, there are many options and features to contemplate.
Determining whether you want an elaborate solarium or a simple, screened-in porch, deciding between windows or screens, and choosing the right flooring option will help you design your space and determine your budget.
For example, if you have an existing covered patio, you could inexpensively turn it into a screen room by adding a frame, door and durable screens.
If you do not have an existing patio, you will need to decide between patio materials, such as lower-cost concrete or durable, attractive paving stones.
You will also need to decide how much square footage you want to add.
If the screened porch will primarily be a pet room or a play room for use during inclement weather, you could choose a smaller design that will likely be more affordable.
If your sunroom needs to accommodate a large dining table, pool table or gym equipment, you will need a larger space.
An important consideration is whether or not you want the space to allow for easy climate control.
If you plan to use the room as you would use interior living space throughout the year and will need to heat and cool the room accordingly, you should consider good windows that will make the room more energy efficient.
If you do not plan on heating or cooling the room anymore than you might heat an open patio when entertaining in winter, than less-expensive screens may be a viable option for you.
Keep in mind that you will need to make some heating and cooling decisions when designing your sunroom addition.
If the room is properly attached to your home and has solid, insulated walls and windows, you may be able to simply use your home's heating or air conditioning to control the temperature of the room.
Otherwise, you may want to install a ceiling fan, air conditioner, fireplace or stove for room-specific climate control.
Flooring options should be considered according to the way you want to use the room.
If you want to the room to feel more like an interior space, choose flooring that matches or complements the flooring throughout your home.
If you want the room to feel like an enclosed patio that is an outdoor entertaining space, opt for a paving stone or slate patio for the floor.
Sunrooms are perfect for use as a transitional space between your interior living areas and outdoor entertaining areas, so paving stones with an attractive area rug are always a good choice.
Sunrooms: Final Thoughts
Solariums, conservatories, screened porches and other types of sunrooms provide easy, quick ways to increase the square footage of your living space and your home's value.
The variety available makes sunrooms an option for just about any homeowner, whether your home improvement budget is just a few thousand dollars or closer to $100,000.
They can be installed on an existing patio to make them even more affordable and are a great way to enhance your outdoor entertaining areas with a bug-free, climate-controlled room that balances the benefits of both indoor rooms and outdoor rooms.
If you are in need of a little extra space for your art studio, home office, pool table or outdoor dining room furniture, consider a sunroom addition to quickly and affordably improve your home and meet your needs.