How to Incorporate Themed Gardens in Backyard Landscaping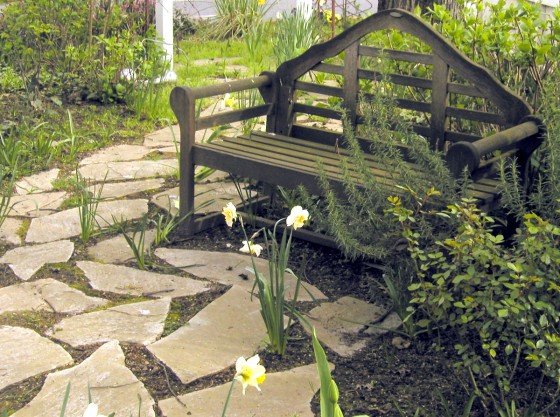 When homeowners begin to consider backyard landscaping ideas, they may be starting with a clean slate in a yard where landscaping and hardscapes have not yet been installed.
Alternatively, they may be considering a backyard remodel where they will either need to work around some existing features, such as paving stone patios or swimming pools, that they want to keep or are not easily removed.
When working with a yard that has no current landscaping, the possibilities are nearly limitless, since there are no current features around which they must work.
In this case, homeowners can work with a landscape designer to create a plan that includes outdoor livinge spaces, garden areas, lawn areas, walkways and special elements, such as water features, a putting green or a children's playground.
When working with a space that already has some features they wish to keep, such as an existing outdoor kitchen or water feature, they may have smaller spaces to work with when completing the redesign of their backyard.
Themed gardens, such as edible gardens, white gardens or moonlight gardens, are an ideal way to truly personalize your outdoor spaces and an easy way to come up with a design template to help you organize your vision for your yard.
If you are starting from bare ground, you can design your yard around one or more themed gardens that show your personality, provide outdoor entertaining spaces for guests, offer a quiet retreat where you can slip away to read or meditate, or simply present you and your guests with a beautiful environment that adds visual appeal to your home.
But theme gardens can be an even better idea when you are working with smaller spaces or spaces in different sections of your yard when you are coming up with landscaping ideas that can work around your existing features.
This is because you can create an attractive, welcoming garden in just a small space, if necessary, or an expansive garden, if you are working with larger spaces that you would like to redesign.
Incorporating smaller gardens with particular themes is also a great way to stretch your landscaping budget and create a backyard landscape that looks as though it cost much more to install than it actually did.
With a bit of planning and creativity, you can easily create a backyard oasis that is inviting and relaxing on any budget, particularly when you choose a theme to incorporate throughout.

Ideas for Themed Gardens
Rose Gardens
A simple rose garden is, perhaps, the most common themed garden found in residential landscaping.
This popular option provides beautiful blooms and can actually be more varied than one might think.
With the number of rose varieties available, you can create a brilliant display of color that includes miniature roses, a floral carpet of groundcover roses, short rose bushes and taller rose trees.
A beautiful rose garden is a great option for fans of this popular flower, but do keep in mind that the presence of thorns might not make this a good choice for homes with small children or curious pets.
Roses also require some botanical knowledge and more care than many other flowers, so be prepared to prune, fertilize and baby your beauties to keep them looking their best.
White Gardens
A white garden is the perfect way to add a bit of elegance to your backyard, or to brighten up a dark or boring spot.
Although called a white garden, these gardens are actually a blend of green and white, and adding the right shades of green can make a significant difference in the overall look of this landscaping feature.
If you choose to install a garden of this theme, it will be a focal point in your yard, so you will want to treat it as such.
Define the space with an attractive border, such as a white picket fence or a paving stone walkway, and include attractive seating options that invite guests to stay and enjoy the peace and tranquility this type of garden can provide.
To create this garden, select white flowers that bloom at different times of the year to ensure that your garden will always be white.
Some options include tulips, lilies, daffodils, rhododendrons, hydrangeas, gardenias and daisies.
If you have space to include trees in your garden, you might want to consider a magnolia tree, which provides stunning white flowers and an aromatic element, or a white birch tree, which has white bark.
Be sure to incorporate some different shades of green in your garden to set off the white, such as that offered by variegated plants.

Moonlight Gardens
If you like the idea of a white garden but are also interested in a garden that can be enjoyed at night, you might want to plant a moonlight garden instead.
This type of garden includes flowers and foliage that reflect the moon's light, allowing you to enjoy the glow of your garden at night.
A moonlight garden is much like a white garden, since the petals of white flowers beautifully reflect the moon's light, but including other reflective foliage – such as silver-leafed plants – will add more texture and variety.
Soft landscape lighting to illuminate walkways, trees or other focal points is a good idea when you plan to enjoy your garden at night.
Just make sure the lighting is not too bright, or it will take away from the moon reflecting off your flowers and plants.
Xeriscape Gardens
Xeriscaping is particularly popular in the Southwestern U.S. where its drought-resistance and low maintenance requirements make this type of landscaping a good choice.
This type of garden is centered on native plant species that thrive in your area without excessive water needs or soil requirements.
Choosing native grasses, plants, shrubs and trees means less pruning, watering and fertilizing, but can still provide a lush, attractive garden area for you and your guests to enjoy.
Rocks, walkways and stone seating options are good additions to a xeriscape garden design.
If part of your goal is to save water, you should also consider installing an automatic drip system to control irrigation and a natural ground cover to use around plants to help the soil retain moisture.
Good ground cover choices include gravel, wood chips, mulch or bark.
If you are not sure which plants will work best in your yard, your local garden center can help you come up with some ideas, which might include succulents, bougainvillea or acacias.

Butterfly Gardens
If you are working with a particularly small space but want to incorporate a theme that is attractive and unique, you might consider creating a butterfly garden.
You can attract butterflies to your yard by providing things they need, such as water, nectar and shelter.
A water feature, like a pond or bird bath, is a great addition to a butterfly garden, if you have the room.
If you do not have enough room for these features, you can still entice them to your yard while also including lots of color and fragrance by planting particular flowers, such as lilacs, marigolds, asters or a butterfly bush.
Keep in mind that butterflies like sunshine, so plant this garden in an area of your yard that receives plenty of natural sunlight.
Children's Garden
The focus of a children's garden should be twofold: to create a space for creativity, relaxation and outdoor play, and to educate children about nature.
You could include a small vegetable garden patch with easy-to-grow fruits or veggies to teach them about gardening and where food comes from.
You could also include elements of a butterfly garden to bring wildlife to this outdoor space for your children to observe, learn about and enjoy.
Adding whimsical statuary, cozy seating and places to hide away with a book or a drawing pad are also great elements to include in a children's garden.
The more interactive your garden is and the more appealing it is to all your child's senses, the more it will be able to serve its purpose as a personal space for your child to enjoy and a way to get them to spend more time outdoors.
Depending on the age of your children and their interests, you may want to include a sand play area, fun flowers (like sunflowers) that will tower over them, plants with vastly different textures, or aromatic herbs they can harvest and use when helping you prepare family meals.

Pizza Garden
This themed garden is perfect for anyone who loves making pizza, pasta and other Italian dishes.
It is also the perfect choice for people who have very little room, since it can be grown in a large garden plot or in something as small as a container on your patio.
If you have limited space with which to work, you might want to grow just some basil, oregano and garlic.
If you have the room, you can grow a fantastic pizza garden that includes tomatoes, basil, oregano, garlic, onions and green peppers.
All of these plants are easy to grow, which makes this a great family project for those who would like to start a vegetable garden with their kids.
Other Edible Gardens
Along the same lines, you could plant a salad garden that includes lettuces, tomatoes, carrots, radishes and cucumbers, or an herb garden with any assortment of herbs, such as rosemary, lavender, sage or thyme.
Planting a variety of lettuces can actually create a rather attractive garden, which has made edible gardens grow in popularity in recent years.
Many herbs, such as lavender, add color and fragrance to your yard, while also providing some natural pest controland herbs that can be used for cooking or medicinal purposes.
You will need more space if you plan to install a salad garden, but herb gardens are perfect for small areas when you do not have much room but would like to add lovely aromas and colors to your backyard.
Rock Gardens
Rock gardens are the perfect option for vacation homes, rental properties, or anyone who either does not have a green thumb or who wants an incredibly low-maintenance backyard.
Rocks of different shapes and sizes add texture and visual appeal to these gardens and can be acquired either at a garden center or, perhaps, from your own property.
When planning your rock garden, you can stick to desert plants and hardy trees that require very little care, or you can plant wildflowers, annuals or perennials to add more color.
Some popular choices include boxwoods, dwarf conifers and dogwoods.
Installing an automatic drip system for irrigation will make this option even more low maintenance.
Rock gardens that are designed to provide a simple, relaxing atmosphere also make great meditation gardens.

Themed Gardens: Final Thoughts
If you plan to include a themed garden in your landscaping design, be sure to define the space with a short fence, border, walkway or other hardscape option.
This will accentuate this section of your yard and bring attention to this focal point.
After putting effort into creating a theme garden for you, your family and your guests, be sure you include seating options in the garden, or overlooking the garden, so that it can be more fully enjoyed.
Regardless of the theme you choose, you can make your garden more visually appealing and save water by using natural ground covers, such as bark, mulch, homemade compost, gravel or wood chips around plants.
Another great way to save water and decrease the time it takes to care for your garden is to install an automatic irrigation system, such as sprinklers or a drip system, to take care of your watering needs.
Finally, landscape lighting adds another element to your theme garden and allows you to make safer walkways or accentuate particular landscaping components, such as trees or water features.
Personalize your outdoor living spaces and create areas where you and your family can relax and fully enjoy your backyard by adding one or more themed gardens to your landscape design.
Do you have a theme garden in your backyard? If so, tell us about it in the comments below.
Photo Credits (in order of appearance): stock.xchng, Morrhigan; stock.xchng, dannette; stock.xchng, thadz; stock.xchng, criscris1; stock.xchng, zumbari; stock.xchng, 4k-s.