20 of the Best Plants for Winter
Gardeners who live in colder climates where winter brings frosts and freezes often think they can only enjoy vibrant foliage and colorful blooms in the warmer months of spring and summer. But there are many winter plants that keep your garden looking attractive and welcoming even when the temperature drops below freezing.
If your outdoor living areas could use a boost of color to enhance their visual appeal in winter, check out these 20 winter plants that will help brighten even the dreariest days.
1. Pansies
If you are looking for winter plants that add vibrant color to your flowerbeds, pansies should be at the top of your list. They receive this high rating because they come in so many colors and, when planted in fall, will bloom intermittently throughout winter and into spring. Pansies can also bring color to winter salads, since these beautiful blooms are edible.
If you plan on eating your pansies – or any flowers – make sure you have a strong understanding of which parts of the plant are edible and which are not. You will also need to make sure you grow your pansies without chemical fertilizers or pesticides.
2. Crocus
Crocuses are a good choice for gardeners who live where it snows and who look forward to seeing those first hints of the coming of spring poking up through the snow. While crocuses do not last as long as some other bulbs in the garden, they flower quickly. This means that you can plant them in fall and enjoy blooms by late winter and into spring.
3. Primrose
Some varieties of primrose, including English primroses, begin blooming in late winter and early spring. This makes these perennials a good choice for flowerpots, window boxes, flowerbeds, and borders where you are hoping to add a splash of color in colder months. Primroses prefer partial to full shade, so they are also a good choice for shady spots in your yard.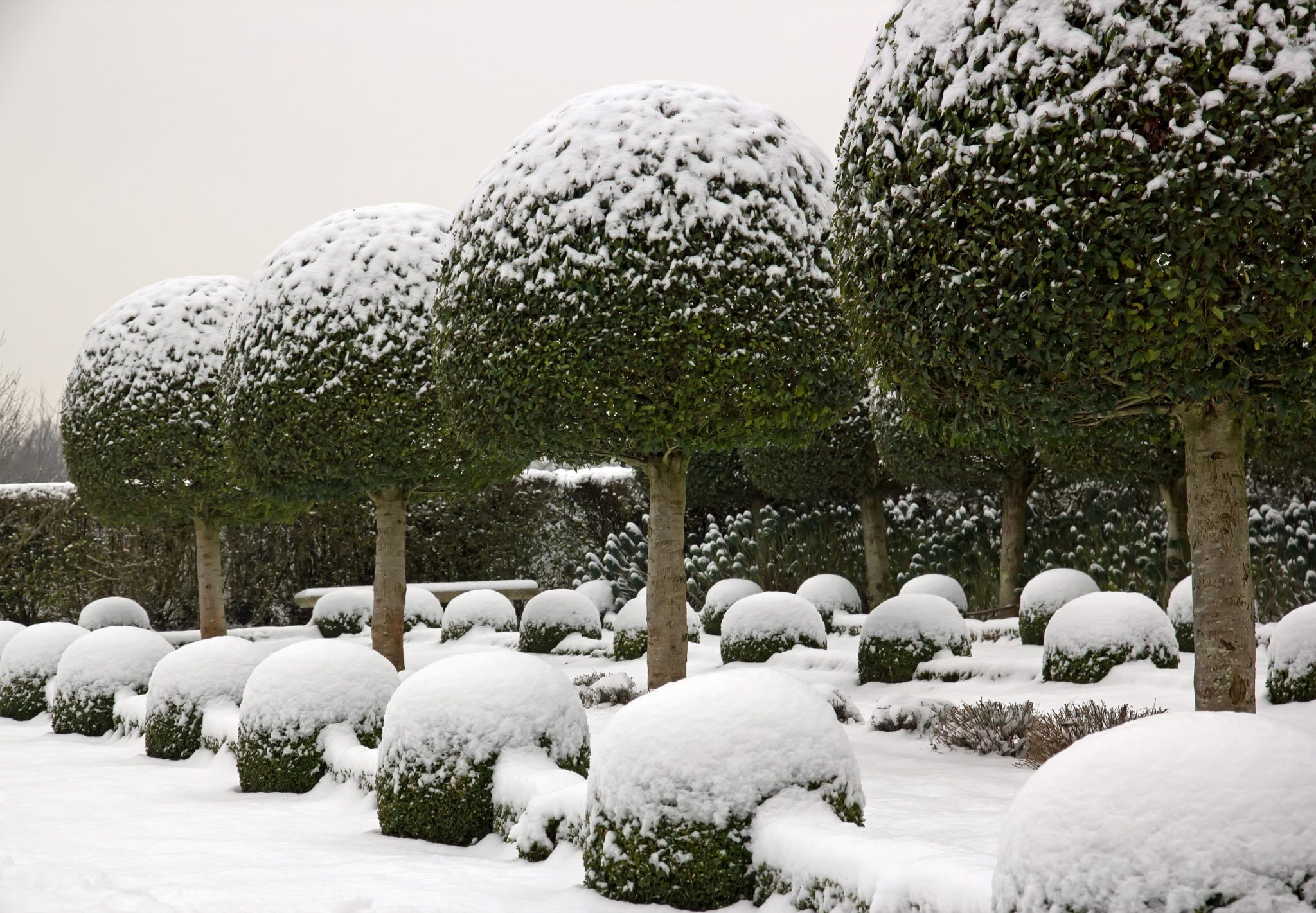 4. Boxwood
Boxwoods are versatile, evergreen shrubs that are just as attractive in a formal, manicured garden as they are in a more casual backyard. They can be carefully pruned into perfect hedges, shaped into topiary or left untrimmed for a natural look. Most importantly for your winter garden, they can withstand colder weather just fine and keep their vibrant, green foliage all year long.
5. Violas
Violas, like pansies, are the perfect addition to winter flower gardens. These hardy bedding plants can survive frost and freezes and will continue to bloom through winter in between these colder spells. If you care for them as you would food plants in your vegetable garden, you can also add edible viola flowers to salads and other dishes to add color to your winter menu.
6. Cyclamen
Choose a hardy variety that can withstand frost, and cyclamen will provide you with lovely flowers in shades of white, pink and red to brighten even the dreariest winter day. Cyclamen is a perennial, flowering plant that can be grown in containers or in the ground. One of its defining features is the unique shape of the blooms, which will increase the visual interest of outdoor living areas when planted near patios or in flowerpots on porches.
7. Snowdrops
Varieties of this low-growing perennial most often bloom in late winter, adding splashes of color to your garden with white blooms that hang down from the stem. Snowdrops are low maintenance and deer resistant, but they are toxic to both humans and dogs, so they are not a good choice for areas where children or pets play.
8. Winterberry
Winterberry is a type of holly but is not evergreen like other hollies. It may seem odd to include a deciduous option in a list of winter plants, but this one turns into a showstopper after it loses its leaves and shows off its bright red berries all winter long. If you are looking for brilliant colors for your winter garden, this shrub will fit the bill. Keep in mind that you need both a male and female plant in order to have berries in the winter. Some gardeners plant two or three female plants in the spots where they want winter color, and then one male plant nearby to ensure berry production.

9. Camellias
Not all varieties of camellias bloom in winter, so it is important to consult with a pro at your local garden center to make sure you get a variety that does. As an evergreen shrub, camellias offer visual interest throughout the year, but they truly shine in winter when much of the garden is dormant and they are stealing the show. With rose-like flowers mostly in white or shades of pink, camellias can be planted during winter while they are in bloom, which means you can see the color of the flowers before you purchase them.
10. Winter Jasmine
Winter jasmine can be planted as a ground cover or in borders to allow it to climb fences or rock walls. While you will not be graced with the delicate fragrance associated with other varieties of jasmine, this is a true winter flower that will bring bright splashes of yellow to your garden in January. This one is deciduous, so it will lose its leaves, but the winter flowers more than make up for its lack of foliage.
11. Holly Bush
Holly is a quintessential winter holiday decoration, so it should come as no surprise that hollies are excellent winter plants. Make sure you choose an evergreen variety to ensure winter color, which includes dark, glossy leaves and bright, red berries. Most hollies are either male or female, so you will need to ask your local garden center for a variety that does not need a male to produce berries, or you will need to make sure you plant both a male plant and a female plant to make sure your female holly produces berries in winter.
12. Daffodils
Daffodils are another of a small number of winter plants that actually bloom in winter. The brilliant yellow of daffodil blossoms is a welcome treat in late winter when most folks are missing the sunshine. You can plant these bulbs in the fall to fill in spots that are otherwise bare in winter or add these to your cutting garden to have beautiful yellow or white flowers for floral arrangements in late winter and early spring.

13. Bugleweed (Ajuga)
Bugleweed is an evergreen perennial with a maximum height of about eight inches, which makes it a good choice for use as a ground cover. Since it can be invasive, you will need to keep this one pruned and keep an eye out for runners. But it is easy to grow in areas where other options might not thrive, such as in the shade of trees or on slopes. The blue flowers will add vibrant color to your yard in spring and summer, but you can enjoy the foliage throughout the year.
14. Christmas Berry
Christmas berry plants prefer colder weather and will lose their berries when it gets too hot. This evergreen shrub can be grown indoors or outside and can be planted in pots or in the ground. These perennials can be invasive, so consider planting them in containers or borders with a barrier to help control growth. The green foliage and red berries will bring lots of color to your winter garden, while the clusters of white or pink flowers will brighten your yard in spring and early summer.
15. Creeping Thyme
Creeping thyme is a low-growing, evergreen ground cover that will stick around in winter. This fragrant perennial is hardy in zones 4 through 9 and will keep most or some of its foliage throughout winter depending on just how cold your area gets. While you might be looking specifically for winter plants right now, there are many other reasons to add creeping thyme to your yard. For example, it is deer resistant, low-maintenance and can even survive being trampled on by kids and dogs.
16. Japanese Yew
This evergreen shrub has dark green leaves and bright red berries, which add color and texture to your winter garden. Unless you are looking for a tree, be sure to ask your local garden center for a smaller variety that you can use as an accent plant or planted among other evergreens in borders around lawns or outdoor living areas. Yews are particularly toxic with no known antidote, so this is not a good choice if you have children, dogs, horses, or other animals that spend time in your yard.
17. Christmas Rose (Helleborus)
Hellebores flower in winter and resemble wild roses, which is why they are often called Christmas roses; however, they are actually a member of the buttercup family. This evergreen perennial will liven up your yard throughout the year, but is best known for its gorgeous, white blossoms that appear in early winter or midwinter and give you color into early spring.
18. Wintercreeper
Euonymus wintercreeper is an evergreen, perennial vine that requires little care and will grow almost anywhere. In fact, it is such an aggressive, fast grower that it is considered an invasive plant. This one is a thug, so do not plant it near desirable plants, since it will take over an entire bed or border while choking out everything in its way. But, if you have a large area where you have not had luck growing other options and are looking for winter color, wintercreeper might be the right choice for you. Look for flowers in late spring and summer, but enjoy the green foliage every month of the year.

19. Cabbage
Cabbages are not afraid of a little below-freezing weather and add soft shades of green, silver and purple to your landscape. Be sure to plant them before the temperature drops below 40 degrees to allow for germination, and you may want to consider planting a few seeds every couple of weeks between mid-summer and early fall to continue your harvest through winter. Cabbage is a particularly good choice for gardeners looking for attractive, edible winter plants to mix with other plants in flowerbeds and borders. If you are more concerned about looks than flavor, you can also choose ornamental varieties that are even more attractive.
20. Kale
Kale is another edible option for winter gardens that can add color and texture to flowerbeds and borders. Harvest just a few leaves at a time to allow your kale to continue providing healthy, leafy greens throughout winter. When you treat it as a cut-and-come-again green, you will also continue to enjoy the different shades of green the various varieties offer.
In Conclusion…
As you can see, there are plenty of options to keep your garden looking just as vibrant and welcoming in winter as it is in spring and summer. In general, gardeners living in colder climates will see more success in their garden if they spread a thick layer of mulch around plants in late fall before the first frost. This will help regulate soil temperature and help your plants thrive through winter.