Backyard Design Ideas for Sports Fans
Backyard design ideas should reflect the homeowner's style, meet their needs and incorporate features that will be used regularly. If you love playing tennis, your backyard could use a tennis court. If you love to entertain, a covered patio large enough for dinner parties is a must. And if you are a sports fan, why not transform your backyard into the perfect place to watch a game with friends?
To help get you started, we have eight backyard design ideas for sports fans that are sure to inspire you. Some require a landscape designer and professional installation, while others can be a DIY project for handy homeowners.
1. Outdoor Television with Speakers
Every list of backyard design ideas for sports fans should start with an outdoor television. If you love watching sports and you love spending time in your backyard, there is really nothing better than watching the game on your patio or even in your swimming pool.
Installing an outdoor TV can make this a reality in your backyard where you can then gather your friends, grab some snacks and settle in to root for your favorite team.
If you are thinking about installing a patio television, there are three important considerations to ponder before you purchase or install anything. The first is that you will need to determine if you are purchasing an indoor TV and hoping for the best, or if you are going to spring for the outdoor TV, which will be much more durable, designed to survive the elements and temperature extremes, and come with brightness levels specifically intended to make it possible to watch television in sunlight.
The next consideration is where to place your patio TV. It may be tempting to hang it on the side of your house but that will result in you and your friends facing a wall for hours at a time when you probably have some great landscaping and outdoor living areas right behind you. After all, if you wanted to stare at a television mounted on a wall, you can do that indoors. Instead, consider a more favorable placement where you can enjoy the game and your backyard at the same time.
While you are deciding where to place your patio TV, consider a flip-down or drop-down ceiling mount that allows you to store your television out of the way, and then impress your guests as you lower it into position to prepare for the game.
2. Projection Screen with Speakers
In lieu of an outdoor television, you could install a projection screen instead. Some screens are more affordable than televisions designed for outdoor use, plus there are do-it-yourself options that are even cheaper. It may also work better for you to have something that rolls up and can be stored completely out of the way when not in use.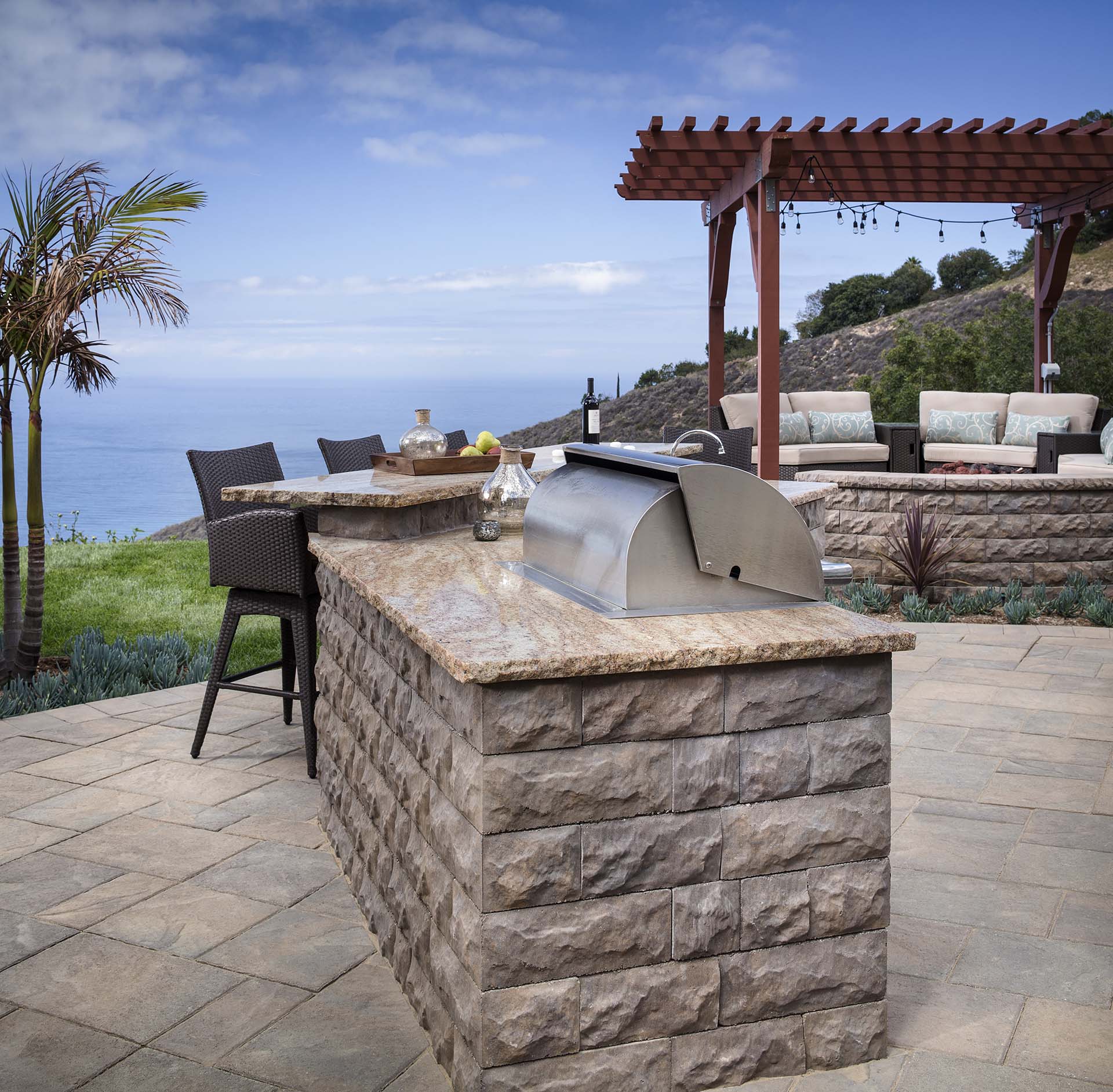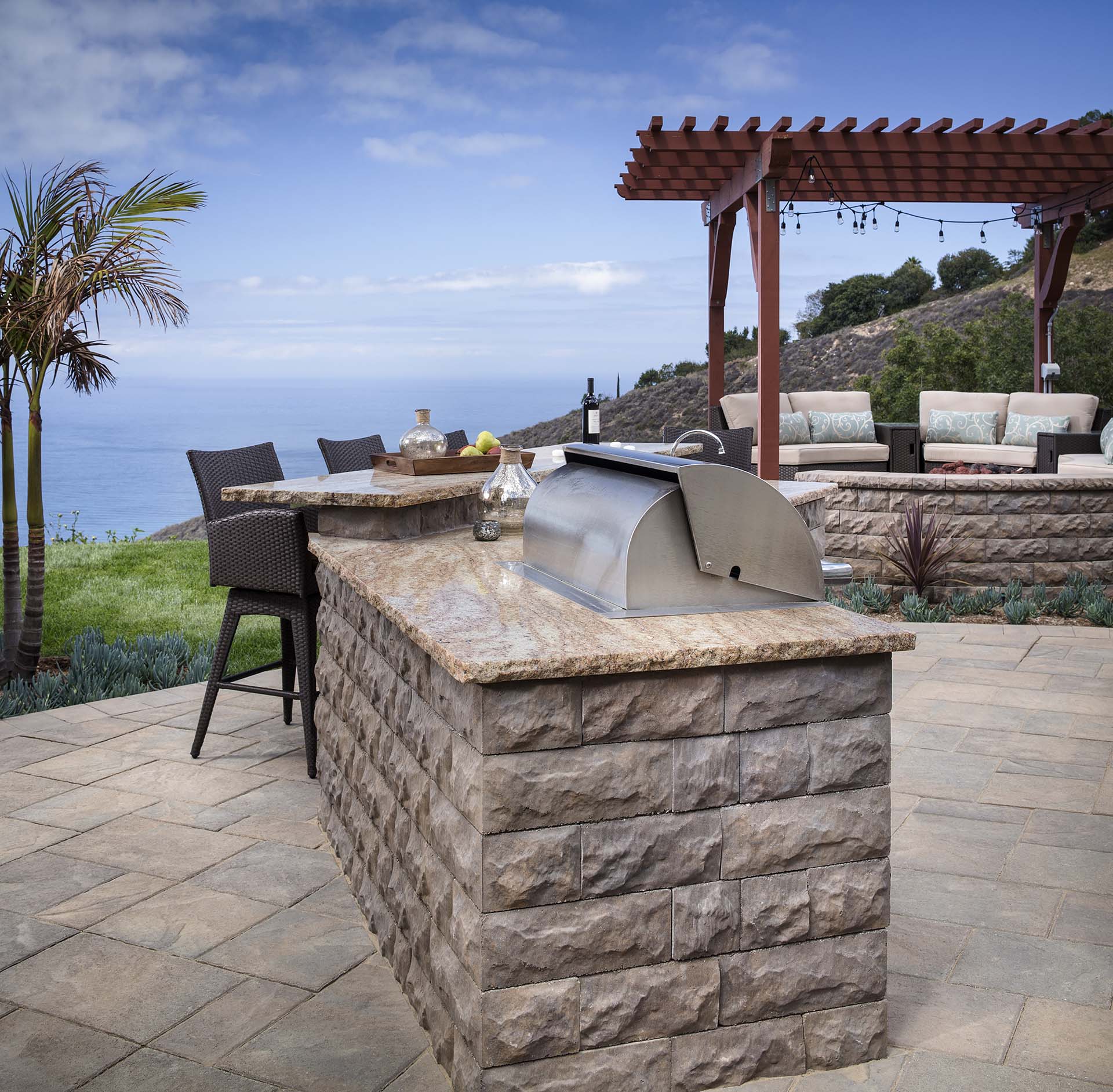 3. Outdoor Kitchen with Kegerator or Wine Fridge and a Refrigerator
This one is another obvious contender for the top spots on our list of backyard design ideas for sports fans. If you are going to watch or play sports in your backyard, you are going to need refreshments. A patio refrigerator is a must. Your outdoor kitchen is not complete without one anyways and, if you are planning on watching games outdoors, this allows you to keep water, soft drinks and party trays cold and nearby. This means you won't be missing that game-changing throw because you had to run inside for more salsa — and that, alone, is worth having a patio refrigerator installed.
Along with a conventional patio refrigerator, you may want to install a kegerator or wine fridge. These will also come in handy during your next dinner party, but they will probably be the most fun when you grab some buddies and head to the backyard to watch a game.
For extra points, fit out your patio kitchen with an ice maker and blender to increase your drink options.
4. Popcorn and Hot Dog Machines
The game is not the same without some stadium-worthy snacks, which is precisely why you might need to add a popcorn machine and a hot dog machine to your outdoor kitchen.
5. Stadium Seats or Bleachers
Now that you have a big screen, great speakers, a drink in one hand and a hot dog in the other, the only thing that is missing to complete the stadium experience is stadium seating. You can purchase new bleachers or stadium seats that look like seats from a ballpark, but you can just as easily go online and order authentic seats from places like Busch Stadium, Candlestick Park, Soldier Field, or Dodger Stadium.

6. Artificial Turf Putting Green
If you would rather get in on the action than watch it on TV, install a putting green in your backyard. If you like both watching and participating in sports, your own putting green means you can even watch a PGA tournament on your patio TV while working on your short game.
An artificial turf putting green is often the best choice for backyard golfers, since properly installed synthetic grass requires much less maintenance than natural grass and gives you a level surface that allows for a proper roll. Not only do you have a perfectly manicured putting green that never needs mowing; you also have a backyard putting green that does not get muddy after it rains.
To help you decide if artificial grass or real grass is right for you, check out our Backyard Putting Green Guide: Artificial Grass vs. Real Grass.
7. Basketball Court
If you prefer shooting hoops over swinging golf clubs, consider backyard design ideas that incorporate a basketball court. You can go for a full-size court, a half court or just a spot to shoot hoops, depending on how much space you have. But before you set up your hoop over an asphalt driveway or a concrete patio, you might want to think about upgrading your hardscape to a slip-resistant paver basketball court.
8. Horseshoe Pit or Bocce Ball Court
Bocce ball and horseshoes are low-key backyard sports options that almost anyone can enjoy. You can play them casually while watching a game on TV or get  serious as you challenge your friends to determine who will walk away a champion. Horseshoe pits and bocce ball courts also happen to be long and narrow, which means this might be a good opportunity for your landscape designer to maximize the function of an unused side yard.