Spruce up Your Home's Exterior with Fashionable, Functional Window Boxes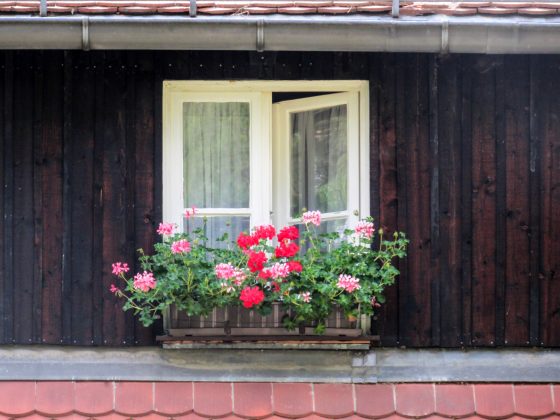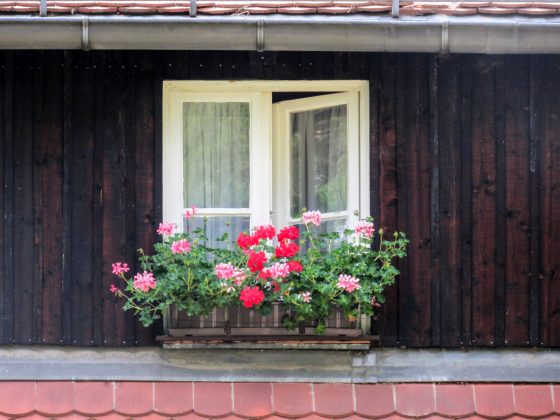 If your home's exterior could use a bit of sprucing up, and a new coat of paint either is not in the budget or is not enough to do the trick, you can add color and visual interest with window boxes filled with plants or flowers.
Window boxes come in a variety of styles and can be made of wood, composite, iron, aluminum, copper, vinyl and other materials, which makes it easy to find an option that fits the style of your home and will complement existing landscaping.
While window boxes are generally best suited for adding a bit of whimsy or old-world charm to the outside of a home, you can also find sleek, modern options for more modern homes.
Flower boxes are particularly well suited for adorning Mediterranean homes, homes designed to replicate those found in the European countryside, cottages surrounded by an English garden or simple façades that need a pop of color.
Why Decorate with Window Boxes?
Flower boxes add color to an otherwise drab exterior, and that is why most homeowners with window boxes make this design choice.
However, a window box can also serve other purposes.

For example, flowers or plants on your windowsill can increase privacy by partially blocking the view into your home.
Since some boxes are designed to be attached to fences or porch and deck railings, they can also increase the privacy of your outdoor living spaces.
If you like the idea of growing a vegetable garden or having fresh herbs just outside your back door but you do not want the responsibility of caring for a sizable garden, a windowsill garden can provide the same fresh herbs or small vegetables in a more manageable size that requires less maintenance.
You can also save time on yard work with window boxes by using a good potting soil or mulch that is less likely to have weed seeds in it.
When you grow plants or flowers in containers with good soil, you will have fewer weeds to pull as compared to planting in the ground.
If you are seriously lacking in the green thumb department, you can even purchase self-watering window planters that take the guesswork out of watering and make them even lower maintenance.
Plus, you can even opt for artificial flowers that require no weeding, no watering and no care at all – other than an occasional dusting off to remove dirt.

Tips and Ideas for Landscaping with Window Boxes
Here are 11 tips and ideas for successfully landscaping with window boxes:
1. Line your window boxes with eco-friendly, biodegradable coconut coir for a natural look and easy care.
2. Anything grown in a container usually is not quite as happy as things grown in the ground, so you may need to water your window box flowers more often than those in your flowerbeds.
3. Window boxes with artificial flowers or succulents are a good choice for second-story windows that do not open or gardeners who lack green thumbs.
4. If your windowsills are wide enough, you can simply set small containers and flowerpots on them to create your windowsill garden.
5. Window boxes are ideal for growing herbs and vegetables that do well in small containers, such as green onions or radishes.
6. Flower boxes on windowsills are a great choice for homeowners will small backyards, since they take up very little room and require no floor space.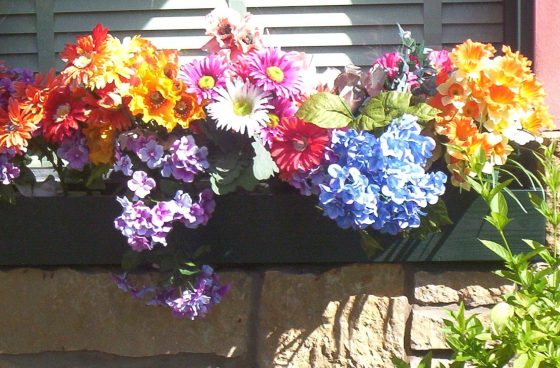 7. Window boxes are a great way to increase the whimsical feel of a butterfly or fairy garden.
8. Windowsill gardens are a nice size for teaching children about gardening without creating more yard work for yourself.
9. A window box can significantly increase the old-world charm of a rustic home.
10. Window boxes are a favorite of urban farmers who need to maximize their space for growing more herbs and vegetables.
11. Make your window boxes do double duty by planting pest-repellent, flowering herbs that will provide visual interest while also deterring insects from flying in your windows.
How to Plant Window Boxes
Planting in window boxes is pretty similar to planting any sort of container garden, but there are a few differences that should be noted.
Like most plants planted in containers, plants in your flower boxes will do best with soil that drains well.
To achieve this, you can add drainage rock to the bottom of the planter and mix perlite into your potting mix.
You should also regularly add mulch of compost to your window boxes to provide needed nutrients for your plants and flowers.
Flower boxes, like other containers, need drainage holes to allow for proper draining of the soil; however, because window boxes are placed against the wall of your home, they come with the particular issue of potentially dirtying or staining your exterior walls from the soil runoff that occurs after watering.
To avoid this, use plastic box liners, pots placed inside your flower box or a metal mesh lining to hold the soil inside the planter.
Before planting your boxes, make note of how much sun each window receives throughout the day to determine the type of plants or flowers that will do best in that location.

What to Plant in Your Window Boxes
Flower boxes are a great place to plant annuals, since these colorful blooms often flower longer than perennials, and window boxes are so small that is not as annoying to have to replace the plants regularly.
If you prefer very low-maintenance plantings, you can always fill your window boxes with succulents, which will add texture and diversity to your landscaping while saving water.
If privacy is what you are after, make sure you include plants with a bit of height, such as daffodils.
It is usually best to treat window boxes much like other containers during the planting process, such as planting trailing plants near the edge, taller plants in the back and mounding plants in the center to create a full, multidimensional look.
If shade is an issue, opt for impatiens, which will provide vibrant color in shady areas.
If your window box has gaps between the plants, pansies are a quick way to fill the gaps with lots of color.
Almost any herb will grow well in a flower box, so you can easily use your windowsill to grow your favorites and always have them on hand for cooking.
Several vegetables and fruits will also grow well in these containers, such as radishes, green onions, strawberries and lettuces.
Your Turn…
Do you have window boxes? If so, let us know what you like to plant in your flower boxes in the comments below.
Photo Credits (in order of appearance): stock.xchng, Ayla87; morgueFile, gracey; morgueFile, beglib; morgueFile, Forestedpaths; morgueFile, buzzatsea