16 Ways to Update Your Outdoor Living Space for Summer
The weather is warming up and it is time to prepare for the summer entertaining season in Southern California. To help you get your outdoor living space guest-ready, here are 16 ways you can update your patio and yard for exceptional summer outdoor living this year.
16 Ways to Update Your Outdoor Living Space for Summer
1. Add Shade Sails
Shade sails fit most budgets and are an easy way to update or expand your outdoor living areas while making them more comfortable for your family and guests. This is a great way to add protection from the sun and to keep your seating areas a bit cooler during the heat of a SoCal summer. Plus, if you already have something sturdy to attach it to, such as the eaves of your house and a fence, this is an easy project you can complete in an afternoon.
If you do not have a covered patio, this is an easy way to add some cover without the expense of adding a roof. If you already have a covered patio, adding a shade sail is a great way to expand your current outdoor living area or create additional seating or entertaining space.
If you do not have sturdy structures on which to attach your shade sails, you can also opt for umbrellas with weighted bases to add some shade to your outdoor living areas.
2. Upgrade Outdoor Lighting
As the evenings grow warmer, we are more likely to entertain outside later into the night. This means that we need adequate lighting to guide guests through our yards, create the right ambiance for our gatherings, and provide lighting for grilling after dark.
Make sure the task lighting in your outdoor kitchen provides adequate illumination for safely cooking and grilling on your patio. Check your path lights and other landscape lighting to make sure it is properly marking walkways and accentuating any features you want to have as focal points. Once you have your wired or solar lighting on point, consider adding some festive string lights to your entertaining spaces to create the right ambiance for evening gatherings.
3. Hang Patio Curtains
Patio curtains are an affordable upgrade to your outdoor living space that enhances privacy and provides a bit more protection from the sun and heat of a SoCal summer. If you have a covered patio, pergola, or canopy, you can simply purchase the appropriate hanging hardware and the patio curtains, and do this quick update over the course of an afternoon.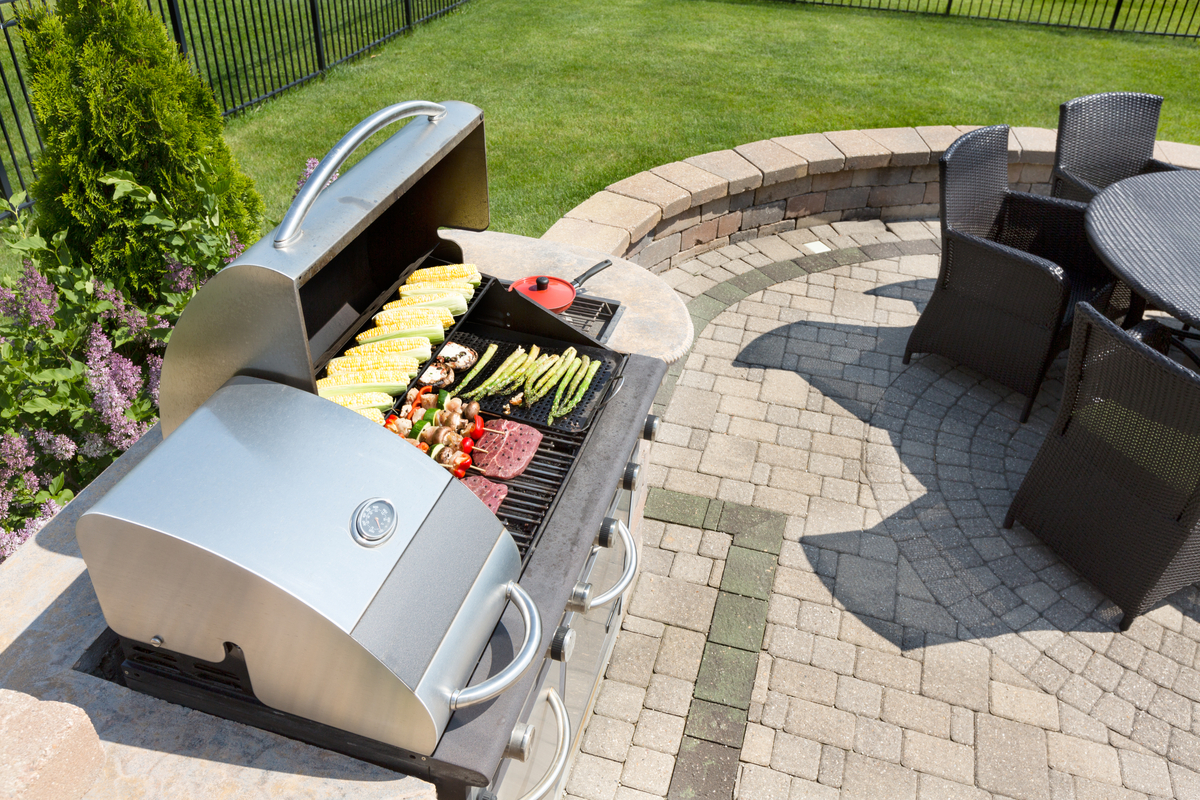 4. Update Your Grill
If you are still cooking over charcoal or your grill has seen better days, it might be time for an upgrade. If you are dedicated to the idea of charcoal, switch to lump charcoal made from natural or processed wood and skip the lighter fluid in favor of a chimney starter. If you are ready to upgrade your grill, consider propane, corn, pellet, or natural gas to find an eco-friendlier option.
5. Add a Fire Feature
Fire features are basically a must-have feature for summer outdoor living in Southern California. Even though the daytime temperatures may have us sweating throughout the day, we all know that it cools off after the sun goes down. This allows for some fantastic times gathered around the fire pit with friends on a summer evening.
If you have the budget, contracting a professional to install a paving stone fire pit or fireplace is your best and most attractive option. However, if you are working with a smaller budget, you can get the same effect from a portable fire pit or chimenea, either of which you can find for less than $100.
6. Add an Icemaker to Your Outdoor Kitchen
There are both under-counter and free-standing icemakers available, so there is some flexibility in how you can add this to your outdoor kitchen. Depending on your space and budget one of these options might be better than the other. The important part is getting an icemaker on your patio so that you can make sure you never run out of ice while entertaining and you can cross running to the store for bags of ice off of your pre-party prep list.
7. Add Outdoor Activities
Summer outdoor living is about more than just dinner parties under the stars and gathering with friends around the fire pit. Outdoor activities of any kind are a great way to bring people together, enjoy time outdoors, and make memories with your family and friends.
Cornhole or lawn bowling are good examples of easy, inexpensive, portable games you can add to your outdoor living space. A bocce court, horseshoe pit, or climbing wall are examples of some permanently installed options you might consider.
8. Update Your Waste Management
If you plan on doing a lot of entertaining this summer, consider updating your entertaining areas with waste sorting bins. This easy, eco-friendly update allows your guests to sort their waste into bins labeled for composting, recycling, or heading to the landfill. If you take your redeemable recycling to a recycling center, you might want to divide this out, even more, to have one bin for glass bottles, one for cans, and one for plastic bottles so that you do not have to sort them later.

9. Add a Putting Green
Nothing says upscale summer outdoor living more than your very own putting green in your backyard. Improve your short game and impress your friends when you invite them over to partake in some putting practice. Of course, if you are going to have a backyard putting green, you want to spend minimal time maintaining it and much more time enjoying it. To make this a reality, opt for an artificial grass putting green that will always be lush, green, and the perfect height.
10. Replace Your Natural Grass Lawn
While we are on the topic of artificial turf, you may also want to consider replacing your natural grass lawn with a synthetic one. This will immediately update your outdoor living space for summer by providing a level, even surface for playing or entertaining. Fake grass can be used right after rain and never turns brown from drought or heat, so this all-weather option is perfect for outdoor spaces that get a lot of use throughout the year. Also, this low-maintenance lawn option allows you to spend less time caring for your lawn and more time enjoying it.
11. Refresh Paints and Stains
Repainting your fence, deck or other structures is an easy, inexpensive way to instantly update your yard for summer outdoor living. A fresh coat of paint can make your spaces look new and fresh and, depending on just how much you have to paint, you can probably finish this simple home improvement in an afternoon or over a weekend. You can also repaint wood or metal patio furniture to give it a fresh, clean look.
Staining can be a bit more challenging and time-consuming – and is usually more expensive if you hire a contractor – but re-staining a deck, deck railing, fence, or patio furniture is also a great way to update your space.
12. Add a Pergola
Adding a pergola over a patio or walkway is a sure way to upgrade and improve the visual appeal of your outdoor living space. You can build your own pergola, purchase a kit that you can put together over a weekend, or hire a professional to make sure you love the end result. However you decide to build it, installing a pergola is an attractive, upscale way to add shade and visual interest for summer outdoor living.

13. Replace Old or Worn Textiles
Another easy, inexpensive update for patios is to freshen the look with new textiles. Add color with an outdoor rug or change up the look with new furniture cushions, floor cushions, and throw pillows.
14. Add a Pizza Oven
Cooking outside is so much fun during the summer, but you can make it even more enjoyable by adding a pizza oven to your outdoor kitchen. Imagine how great it would be to be popping pizzas in your outdoor oven while entertaining guests or to host a make-your-own pizza party where your guests get to choose their toppings and make their own pizzas in your patio pizza oven.
15. Add a Patio Bar or Bar Cart
For folks who have the space and budget, a built-in patio bar is a great update for summer outdoor living. If a patio bar is not in the budget right now, you can also purchase a wheeled cart for as little as $50 and deck it out as a festive, portable bar cart that you can store when not in use.
16. Add Color and Texture with Plants
One of the easiest and most affordable ways to update your outdoor spaces is to add color and texture with plants. Choose hanging plants to also enhance privacy or raised herb gardens to grow food plants right outside your back door. You can also define different areas in your outdoor living spaces by strategically placing containers planted with colorful blooms.