Modern Sheds Add Living Space and Extra Storage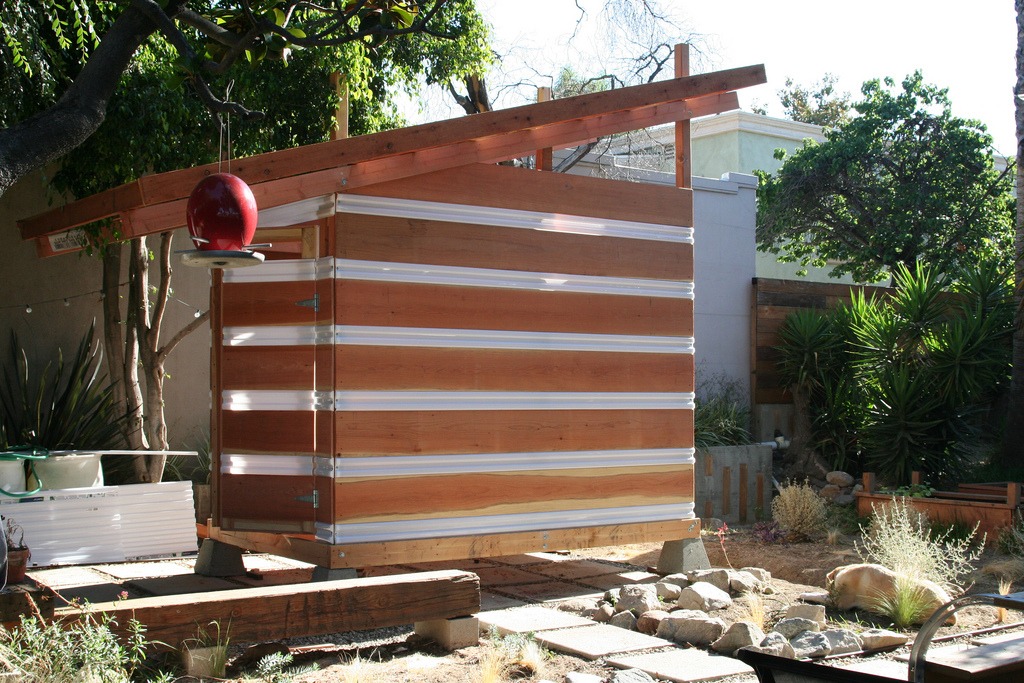 These days, garden sheds have evolved from simple storage overflow solutions to outdoor showpieces. The modern shed above was a prefabricated design created for Occidental College. The roof doubles as a solar panel.
Sheds now serve as private office space, secluded getaways and they are becoming increasingly popular as man caves and she sheds.
This evolution is made entirely possible by companies who specialize in creating prefabricated sheds with windows, doors, and sleek contemporary design. Adding prefabricated square footage is much easier and less expensive than adding on to your house.
Of course, even the coolest modern sheds are home to gardening tools but if you're been craving another room in your house, a shed just might be the answer.
Planning for a Garden Shed

First and foremost, you'll need to find out what your city regulations are. In some places, sheds with roof space smaller than 10'x10′ (or roughly 120 square feet of roof area) are exempt from permits. Others may require that the shed be placed a certain distance away from the property line or other structures.
If you don't know exactly where your property line is and don't have it marked on a set of plans that came with your home, it's easy to find someone to survey your property lines which ultimately may come in handy in the future.
The type of shed chosen needs to sit well on a foundation. If your shed doesn't come with a foundation or specific foundation instructions (check your desired shed), you can always create your own foundation by pouring your own concrete or using pea gravel
Next, you'll need to determine what size fits your needs. Think about everything that you'll need to store inside the shed and plan for even more space. Most homeowners wind up wishing they had  purchased or built a larger shed because they didn't plan the space well.
Or, if you're using the shed as an extra room, think about how you'll furnish it and especially whether or not electricity is needed. Do you need windows? Or, perhaps a Dutch door for some fresh air? Does your entry door require weather sealing or will a few bugs hurt? These days the options are seemingly limitless.

Typical Shed Construction
The material your shed is made out of obviously impacts the cost.
Wood –
Wood is the most customizable and traditional material for an outdoor shed. Wood can be painted or stained any color and dressed up with a variety of trims, accessories and you name it.
In order to avoid an unfinished or rustic framed look on the inside (that is also difficult to keep clean), you'll need to make sure the inside has finished walls or drywall. Another upshot to wood is that you can hang cabinets and fixtures inside the shed wherever you like.

Wood does require maintenance so that it doesn't weather over time, which means applying exterior paint every so often and making sure that rot and insects don't damage it.
Metal –
Steel or galvanized aluminum sheds are weather resistant and extremely cost effective, starting around $400 at big retailers. They're designed as storage without windows or fancy flair. If you just need a shed to store tools, this certainly does the job.
However, they're not quite as sturdy or heavy as wood sheds and may need to be anchored to the ground if you live in a high wind area, for example. They can be easily dented, are susceptible to rust and can be tricky to put together.
Resin –
Resin sheds are quickly becoming a popular choice because they are lighter, stronger and can be more durable than even wood sheds. They are typically more attractive than metal sheds with faux wood trim and a more house-like appearance. Cost is more than metal but less than wood but the interior is often finished and easy to keep clean.
They can't be painted but typically come in neutral colors. You also can't hang too many heavy things from the walls or ceiling or else it will collapse.
The Basic Types of Sheds
Custom shed –
Hire a draftsman (there's no need to splurge on an architect unless your space is uber sophisticated) to draw up the shed of your dreams. This might be in order if you're looking to match the look of your home or create a unique look. Price can vary.
Prefabricated shed –
Prefabricated sheds are where the market is basically exploding. If the thought of buying something cookie-cutter causes you to shiver, we're here to tell you that these sheds are so awesome that they can be the focal point of your yard.

A retailer like Home Depot offers simple prefabricated shed designs that you can customize online, order, have delivered and even have assembled quickly—usually it takes about a day or so to put them together and you might be surprised by the amount of detail these sheds have.
However, high-end prefabricated sheds provide a ton of flexibility in the event you decide to change the intention of your shed. Check out Modern Shed. Their designs are typically used for extra room space from exercise gyms to kids' playrooms.  They can even be designed to include electricity and plumbing. The time it takes to have your shed delivered is about five weeks and assembly is more labor-intensive.
Usually, prefabricated sheds have floors that enable them to be installed on
pavers
, concrete or uneven ground. Check with your shed manufacturer.
DIY shed – 
A variety of DIY shed plans can be found online for handy folks comfortable framing a shed from scratch. Fortunately, many of these plans have tips for keeping costs down like using composite instead of wood for trim and the like. Keep in mind, similar to prefabricated sheds, several people might be needed to finish the roof.
Shed Organization

The sky is the limit when it comes to how to kit out the inside of your shed. Grab those catalogs and have at it.
Because sheds tend to have drier air than inside the rest of your home, they are excellent places to dry flowers and herbs.
If you love vintage or another style that you can't pull off inside the home, why not use it inside your shed.
Your Turn…
Is your outdoor shed used as an extra room or as storage only?
Photo credit: Flickr/jeremylevinedesign