8 Outdoor Holiday Party Hosting Tips + Ideas
For fall and winter gatherings, Southern California is just about the perfect place to host outdoor holiday parties. The weather will likely cooperate, the temperature will probably not drop below a comfortable level, and your guests most likely will not battle snow and ice to get there. That said, entertaining outdoors in the winter does require some preparation and hosting a large gathering for the holidays can be a challenge.
To help ensure your outdoor holiday parties go off without a hitch, here are eight tips you can use to make holiday entertaining easier.
8 Tips for Hosting Outdoor Holiday Parties
1. Focus on fire features.
Of course, it makes sense to gather around the fire pit or fireplace in winter, since it might actually be cold outside, but keeping warm is not the only reason to focus on your fire features. Patio fireplaces and fire pits provide a warm, welcoming ambience for a social gathering and can make a party in oh-so-sunny Southern California feel a bit more like a winter soiree.
Arrange seating around your fire pit or face your patio furniture towards your fireplace to encourage your guests to get cozy and stay a while.
2. String up extra lights.
Since it gets dark so much earlier in late fall and winter, you will likely need extra lighting in your outdoor entertaining areas. Since it is the holiday season, this is the perfect excuse to hang extra string lights bordering your patio, crossing from your house to your gazebo or in your trees. String lights are also an inexpensive way to increase the festive feel of any party, so if you choose a color that is not Christmas specific, you may decide to leave them up all year.

3. Set up a self-serve patio bar.
Being a great party host can require quite a bit of effort, but you can keep your guests happy and lower your stress level by setting up a self-serve bar on your patio. By setting up a patio bar before your party, you get to take one thing off of your hosting duties list during your gathering. Plus, guests generally enjoy getting or making their own drinks so that they can customize them or pour just the right amount.
When entertaining in winter, you might consider serving warm drinks – either alcoholic or non-alcoholic – such as hot chocolate, coffee and tea.
4. Keep the kids busy.
If you are hosting an all-ages holiday party, you will likely have children in attendance. In order to allow the adults to talk, enjoy themselves and have a bit of a break from the little ones, be sure you have plenty of activities on hand to keep the kids busy and entertained. This might include holiday craft projects, seasonal movies, a holiday scavenger hunt or backyard games.
5. Keep extra gifts on hand.
If your guests will be exchanging gifts at your holiday gathering or if a white elephant gift exchange is part of the festivities, be sure to have a few extra gifts on hand. This way, if someone forgets their white elephant gift or brings an extra person to the party, you can make sure everyone there has something to unwrap.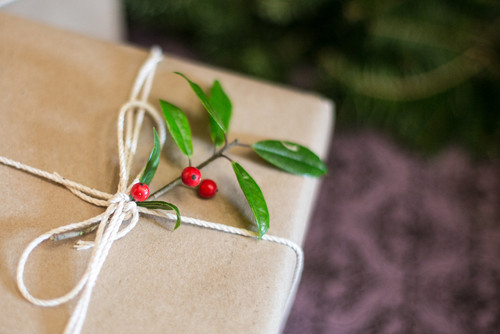 6. Have a plan for gift wrap and bags.
Most parties produce some trash and recycling, but a holiday party that involves a gift exchange produces a lot more. Have a plan to manage gift wrap, ribbons and gift bags before your guests arrive and make sure you have your receptacles clearly marked to save time separating recyclables from trash after the party.
7. Consider renting party goods.
For large, outdoor holiday parties, you may already be renting a tent or canopy to supplement your patio space and prepare for inclement weather. If so, you may also want to consider renting some of your other party goods, such as tables, chairs, tablecloths, napkins, plates and glasses.
If you are expecting a large gathering, you may not have enough seating for all of your guests or enough table space for everyone to enjoy your holiday meal. Renting tables and chairs is an easy way to ensure you have all of the seating you need while also avoiding bringing your interior chairs or tables outside to accommodate your guests.
If you also need more plates and glasses or prefer to not use your good china outdoors, you can rent plates and glasses too. As an added benefit, this makes less work for you after the party, since you will have far fewer dishes to wash. You can always buy additional dishes or glasses, but this requires you to store them for the rest of the year between holiday parties and to incur an unnecessary expense.
While you are renting goods for your outdoor holiday party, consider also renting tablecloths and napkins. Some of the benefits of opting for this is that you do not have to purchase and store linens, you can change your theme every year and you will not have linens to wash after the gathering.

8. Add something unique and memorable.
Make your holiday party a more memorable event by adding unique features your guests will not usually see at a seasonal gathering. This could be a step and repeat with a dedicated photographer as they enter the party, a photo booth with fun props, a cookie decorating table or group activities with lots of photo opps.
Additional Tips for Hosting Outdoor Parties