10 Ideas + Tips for Landscaping with Sedum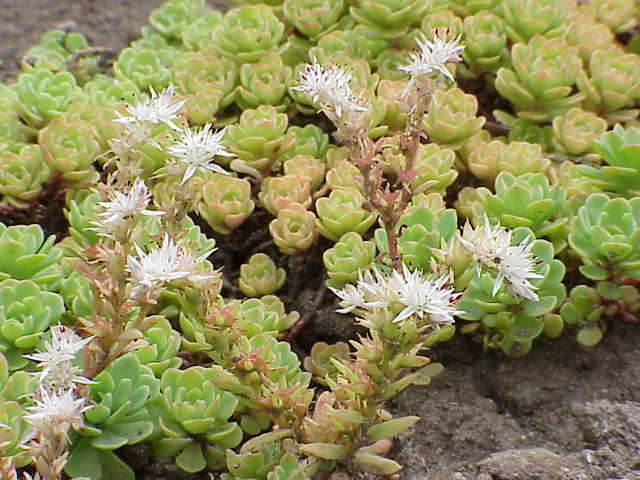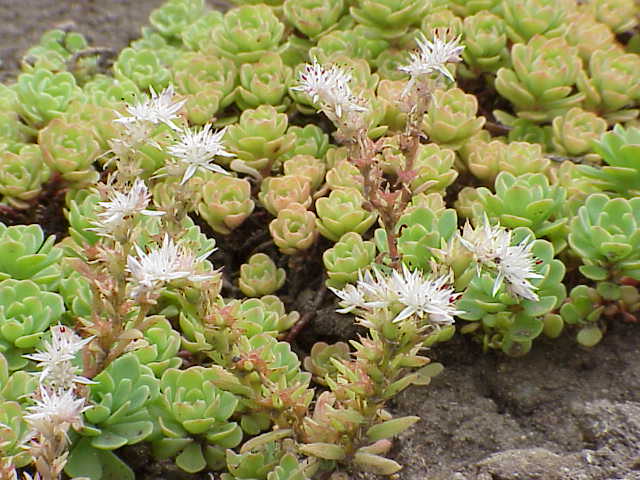 Sedums are resilient succulents that are part of the Crassulaceae family. There are hundreds of varieties from which to choose, and these stonecrops are known for thriving in poor soil or rocky soil where other plants do not fare well.
Sedum is a low-water, low-maintenance landscaping option that can be used as a focal point in your garden, a low-growing ground cover, a great container plant or to replace your entire natural grass lawn.
Here are some of the benefits of using sedum in landscaping:
Minimal water requirements once established
Spreads quickly
Easy to divide or take cuttings to use elsewhere
Minimal care required
Hundreds of flowering varieties offer many color choices
Comes in low-growing, cascading and taller varieties
Limits weed growth when used as a ground cover
Proper selection of different cultivars can allow you to enjoy blooms from early summer to late fall

10 Ideas for Landscaping with Sedum
1. Plant sedum along walkways or between stepping stones.
Low-maintenance sedum is a great choice for use along paving stone walkways or between paving stones. However, it is important to note that some cultivars are sturdy enough to endure traffic and some are not. Because sedums hold water in their leaves, many varieties cannot hold up to even light traffic, but others can withstand regular traffic from guests, children and pets. The experts at your local garden center will be able to help you find the right sedum for your walkway, so be sure to ask for assistance if you are not sure.
2. Plant sedum along driveways.
Sedums are perfect for use along short of long driveways. Because they are a low-water landscaping option once they are established, they are a particularly good choice if you want your guests to be greeted by a blanket of color and texture without running irrigation to the end of your driveway. Again, some sedums hold up to traffic better than others, so if you have drivers in your family who have a hard time staying on the paving stones or concrete, make sure you select a variety that can take an occasional beating.
3. Use sedum in container gardens.
A cascading sedum is a wonderful addition to a container filled with succulents and can also be used alone in planters. Spilling over the sides, sedums add a new element and visual interest to container gardens, particularly when they are in bloom. If your goal is to have a low-water, low-maintenance container garden in one or more of your outdoor living areas, sedums should definitely be on your list of choices.

4. Install sedum as a low-water ground cover.
Southern California is no stranger to droughts, which is one reason homeowners are replacing landscapes that require excessive irrigation with low-water options. For those who want to save water but still want their yards to be green and to enjoy seasonal blooms, low-growing sedum varieties are a great choice.
Living ground covers often require quite a bit of water, but sedums require very little and thrive in drought conditions once they are established. They also spread nicely and are easy to divide or take cuttings from to expand your coverage even more. Additionally, they work well in places where other plants will not grow, which makes them an even better choice for bare patches of earth where you want a living ground cover but have not had success with other options.
5. Plant sedum around trees.
Speaking of using sedum where other plants will not grow, sedums do just fine around trees with root systems that do not allow other plants to thrive. This makes sedum a solid choice for those circles of dirt around trees where nothing else seems to grow.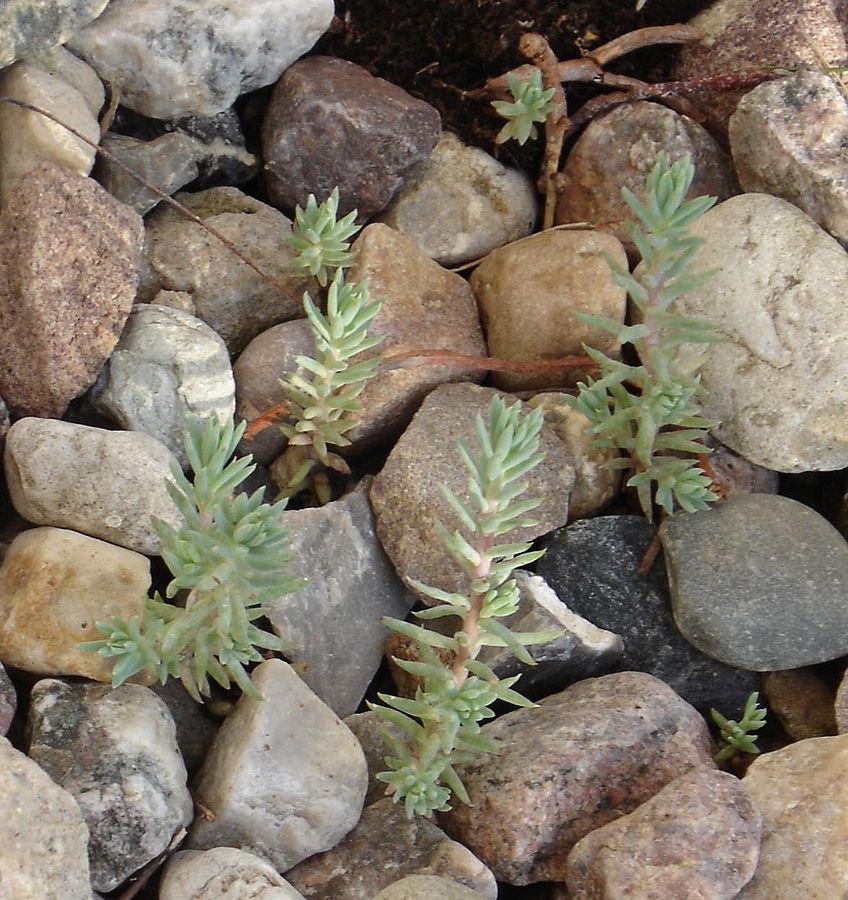 6. Install a green roof with sedum.
The green roof movement has not caught on in the U.S. quite as much as it has in other countries, but we are beginning to see them pop up here and there. If you want to be ahead of the trend — and if your homeowners association or local government allows them — you might want to consider installing a green roof with sedum cultivars.
This is not a project that homeowners should take on themselves, since there are too many things to consider. A green roof is a fantastic, eco-friendly option that is worth the extra effort and can last much longer than a conventional roof, but you really do need to bring in professionals who can assess your structure and properly install the planters and plants.
If you are considering a green roof for your home or business, sedums are among the top choices you should consider, primarily because they can grow quite well in the soilless growing medium often used in green roof installations.
7. Plant sedum around your pool deck.
This low-water option is a beautiful, low-maintenance choice for around your pool deck and will compliment your pool deck material, whether it is paving stones, travertine, wood, concrete or composite decking. Sedum will bring a nice touch of color to the area without requiring you to run irrigation, and choosing an option that can endure light traffic should provide you with a long-lasting ground cover that requires very little care.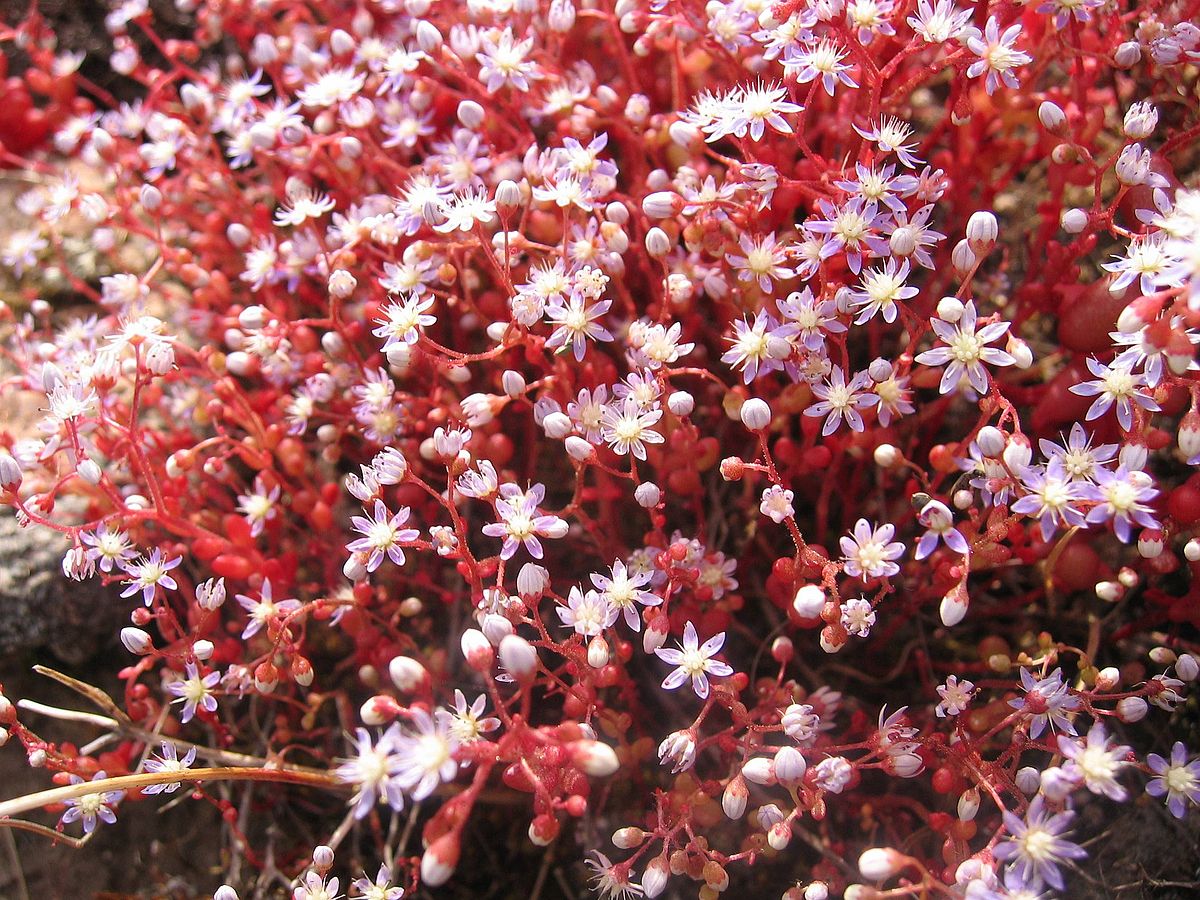 8. Use sedum to add color to rock gardens.
Rock gardens are one of many options more homeowners are considering as the movement towards water-saving landscaping grows. Sedums do well in poor soil and rocky soil, which makes them a good choice for areas that naturally have a lot of rocks, as well as man-made rock gardens.
Sedums will, of course, add a different texture and colors to your rock garden, but one of the best reasons to include them is the way they can beautifully cascade over the rocks.
9. Replace your natural grass lawn with sedum.
Replacing natural grass lawns with low-water, low-maintenance grass alternatives is definitely a growing trend and one worth taking seriously. By replacing some or all of the natural grass around your house, you can save money, save time and conserve water.
There are many options to consider, including artificial grass, gravel, paving stone patios, wood chips, and low-water, living ground covers, such as sedum or other low-growing succulents. Sedum is best used to replace areas of grass with little traffic, but you can choose tougher varieties for areas with more frequent travel.
Once established, sedum requires very little water or maintenance, which can help you save quite a bit of time and money over the years.
10. Plant sedum in borders and islands to add color to your low-water landscaping.
Since there are more than 400 varieties of sedum, this succulent group offers plenty of options in different colors, textures and heights. This makes it easy to include in your low-water landscaping in flowerbeds, borders and islands. You can easily find taller options for the back or center of the bed, low-growing options to cover lots of ground, or cascading varieties to spill over borders and add visual interest to your yard.
Your Turn…
What are your favorite ways to use sedum in your low-water landscaping?
Photo Attributes: Sedum glaucophyllum – Wikimedia Commons/Kurt Stuber; Sedum reflexum – Wikimedia Commons/Burschik; Sedum caeruleum – Wikimedia Commons/Tigerente