Backyard Landscaping Ideas
Our backyards are the best place to spend time with the family, relax, or entertain guests. If you have a boring or sloped backyard, you may be looking to spruce up the landscaping. We put together 50 backyard landscaping ideas to help you decide which outdoor elements will work best for your outdoor living space. Use the filters below to browse through the different ideas.
Instructions: Select the filters below to browse through the different backyard landscaping elements. To view the full image, click on the image itself.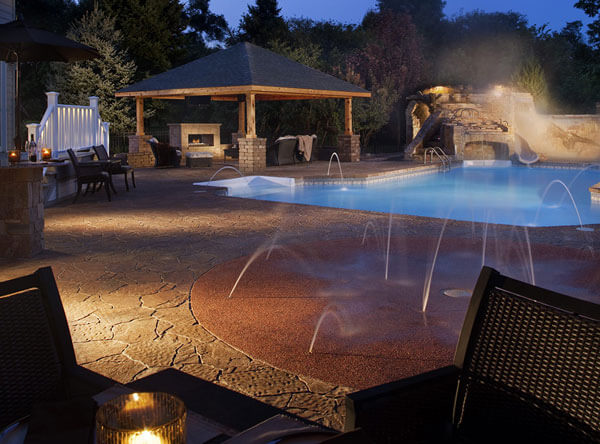 This landscape combines multiple hardscape options such as pavers, a fireplace, and a gazebo. Contrasted with a pool, waterfall, and splash pad, these water features create an inviting ambiance.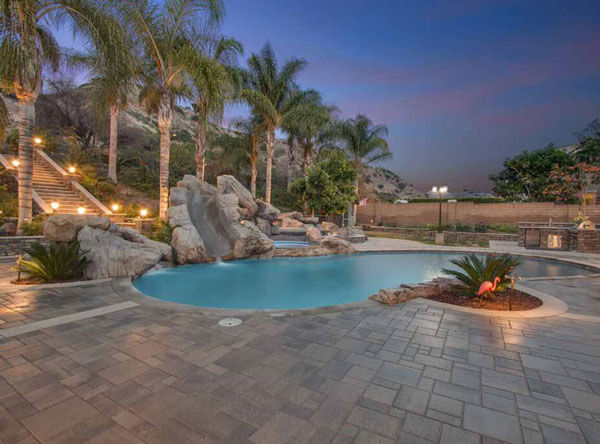 This tranquil backyard pool is surrounded by a sophisticated deck of interlocking pavers. The stone is also the setting for a spa and a sweeping waterslide.
This welcoming pool area matches a patio laid with elegant paving stones and hewn stone walls leading up to a dark wood decking, but the eye catching element is the amazing waterfall that brings the beautiful setting together.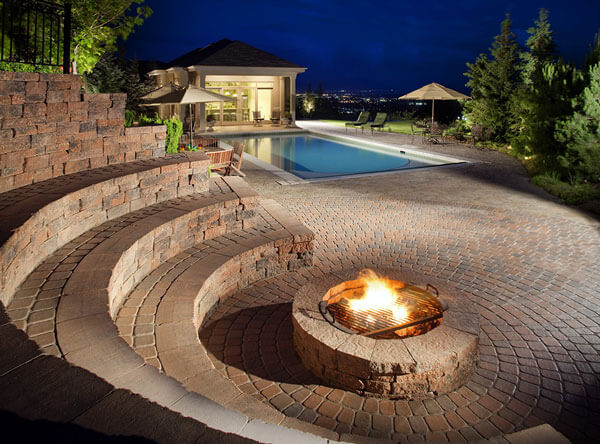 The theater style seating wall mixed with the circular pavers and firepit are great for entertaining large parties. The seat wall is a great way to transform a retaining wall into a usable area.
Tastefully matching a pool patio area with a putting green is a lovely way to incorporate all of the family's favorite activities into one backyard.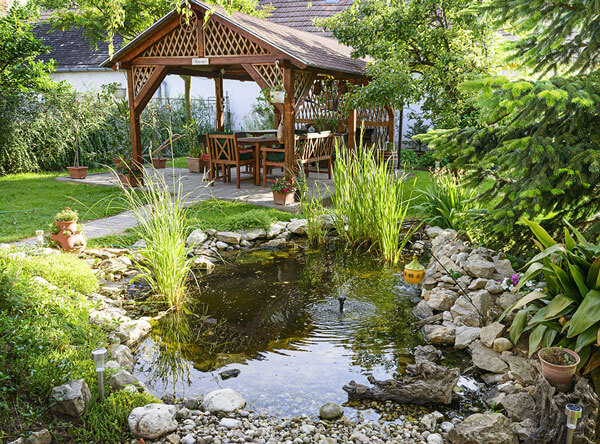 A water feature, in this case a small pond, can add serenity to your outdoor space, especially when it sits near a nicely framed gazebo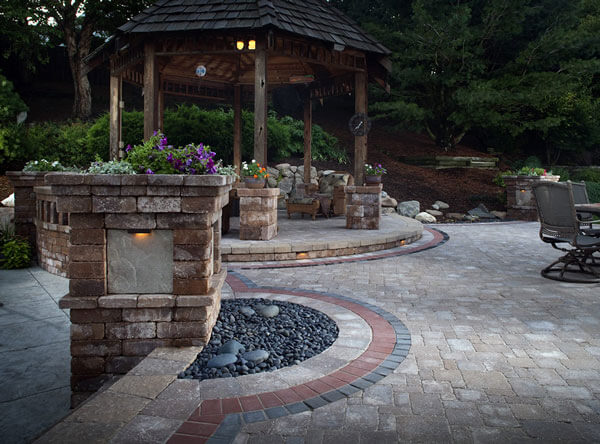 The colors of the red pavers and flowers help this artisan backyard landscape stand out. Grouped with a rustic gazebo, you have a timeless entertainment space.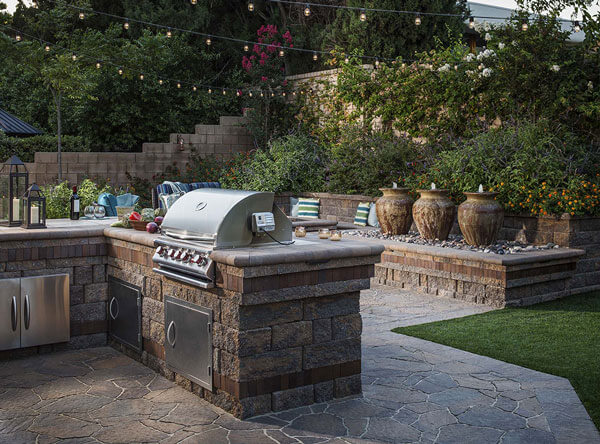 Level up your backyard landscape with an outdoor kitchen. Surrounded with gorgeous hardscape features, you will surely impress your guests.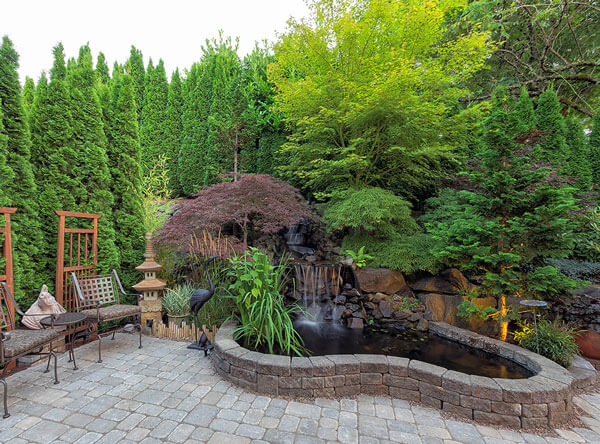 Perfectly punctuated with pavers, clean beauty gives way here to a lovely water feature. The pond even has a calming waterfall for contemplative days in the backyard.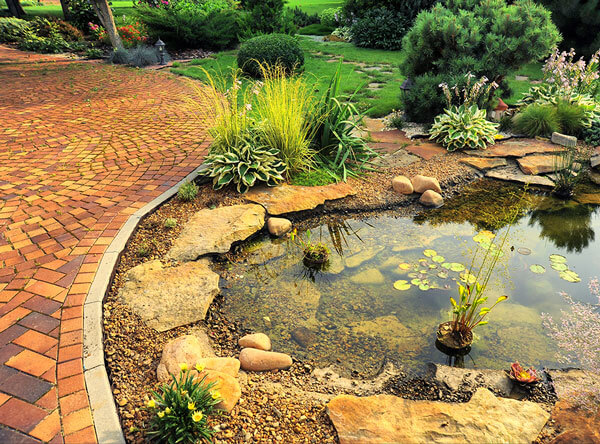 Even with modern paving stones, like the ones here, it is possible to match with a rustic water feature and still get a consistent outdoor atmosphere that is at once elegant and based in nature.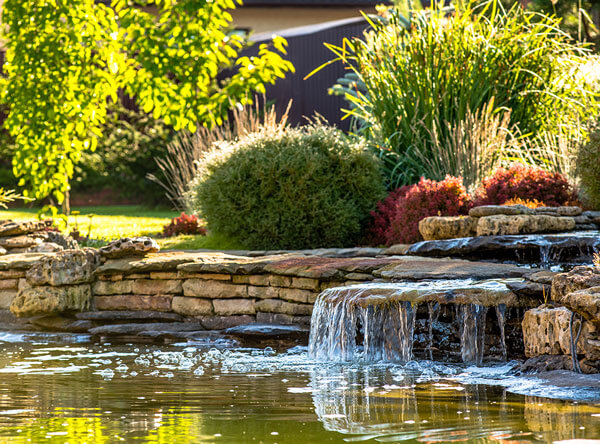 Positioning rough-hewn stone properly in this backyard water feature creates a lovely waterfall that flows serenely into a larger pool.
This tranquil pool like this one is an aquascaping element that makes a backyard feel cooler, calmer and more attuned to the natural environment.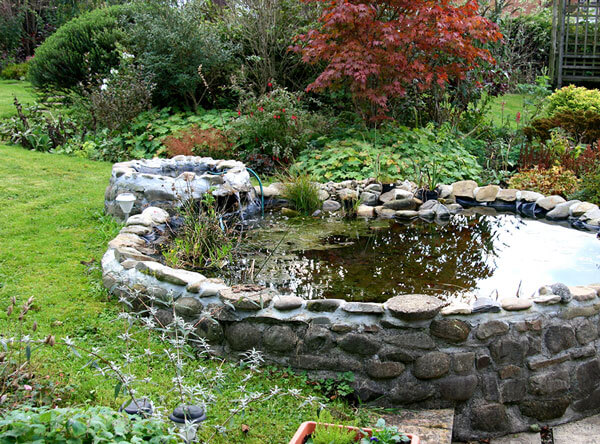 In this rustic backyard garden, a pond crafted of hewn stones gives off a feeling of quotidian grace. The addition of a trickling waterfall is a relaxing bonus for the eyes and ears.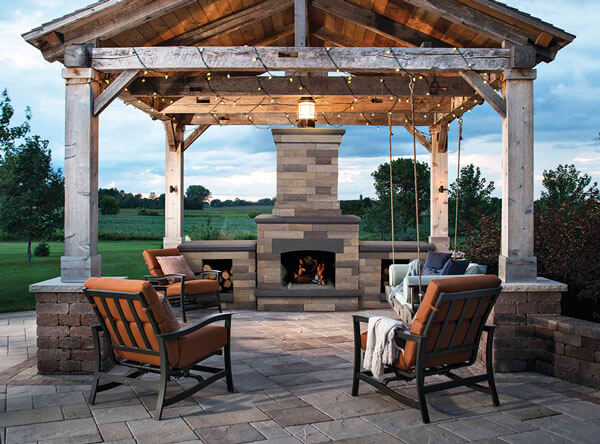 A fireplace and angled roof structure adds year-round usefulness to this outdoor patio, so it is possible to entertain or enjoy a romantic late night outside, even in winter.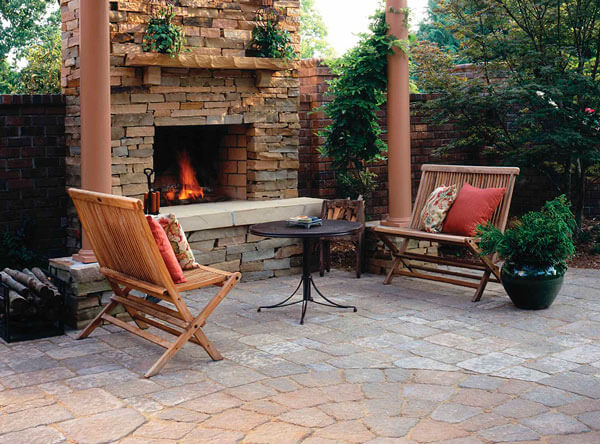 This is a lovely setting to enjoy the outdoors with a paving stone patio and full fireplace on the deck. These wooden benches are a perfect place to gaze up at the stars with guests.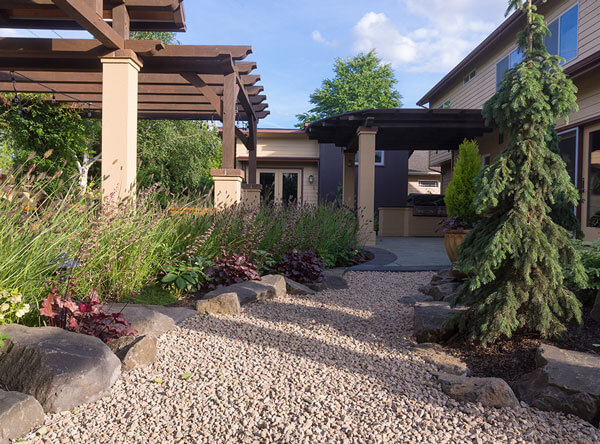 This pebbled pathway is a wonderful way to welcome guests to a backyard hideaway under a series of pergolas surrounded by lovely outdoor fauna.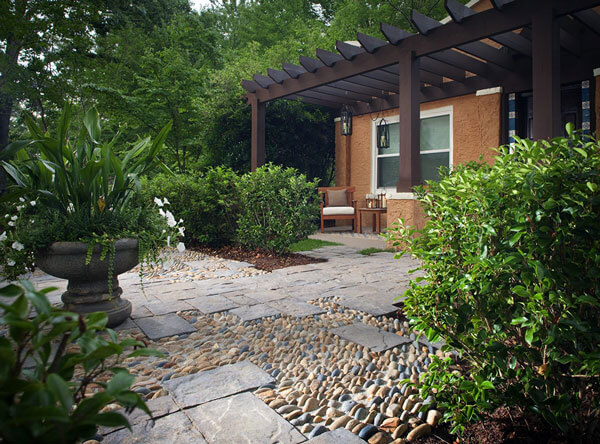 This landscape combines natural colors of the home and pergola with large pavers and pebbles for a natural aesthetic.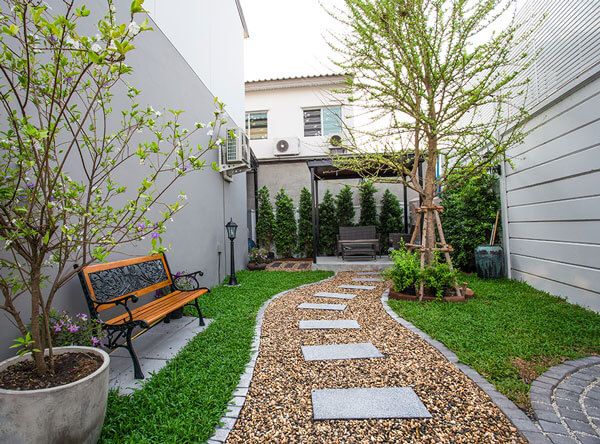 The winding stone walkway that leads to this patio is a whimsical and aesthetically pleasing way to let guests know to expect a hospitable atmosphere of friendship.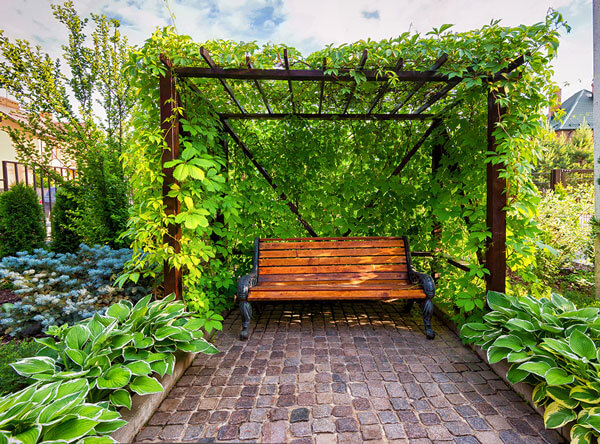 This purposefully ivy-overgrown trellis makes for a surprise hideaway in a garden set with elegant cobblestone pavers.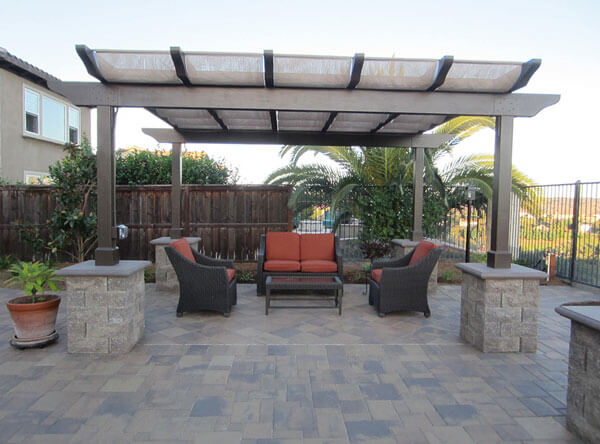 A gorgeous modern pergola is the perfect accent for sophisticated smooth lines of smooth stone on a patio. This seems like a wonderful place to enjoy a sunset after a long day.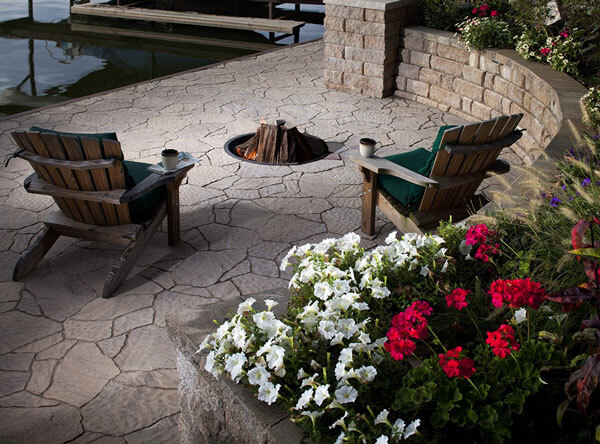 Perfect for warming up after a day on the water, the in-ground fire pit and flagstone pavers mesh well in this lakeside backyard.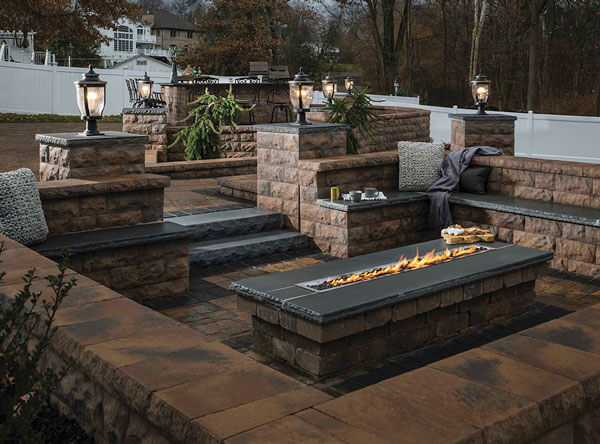 This backyard setup lets you enjoy s'mores in style. Smooth lines and a fire pit fire strip keeps things safe and clean while giving the yard warmth. Perfect for an outdoor Fall cocktail party.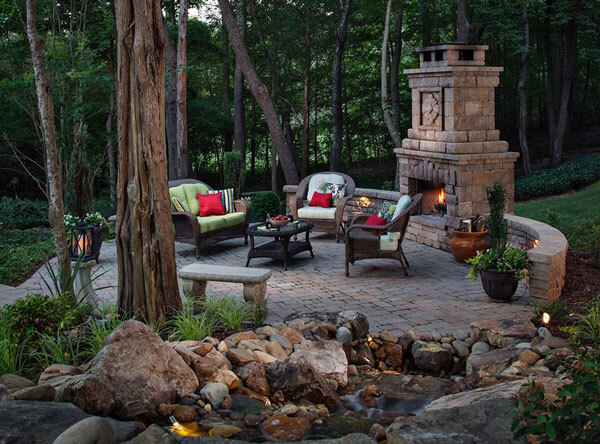 The abundance of trees and rock stream make this backyard design feel secluded. A nice hidden area for catching up with loved ones by the fireplace.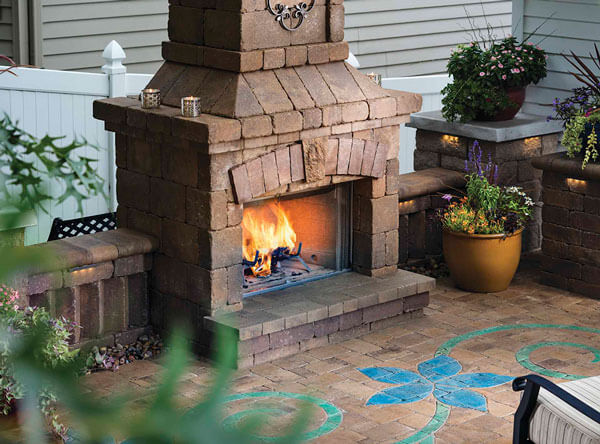 An outdoor fireplace turns even a chilly night into a time to enjoy outdoor space. Imagine sitting by the fire and snuggling on crisp evenings.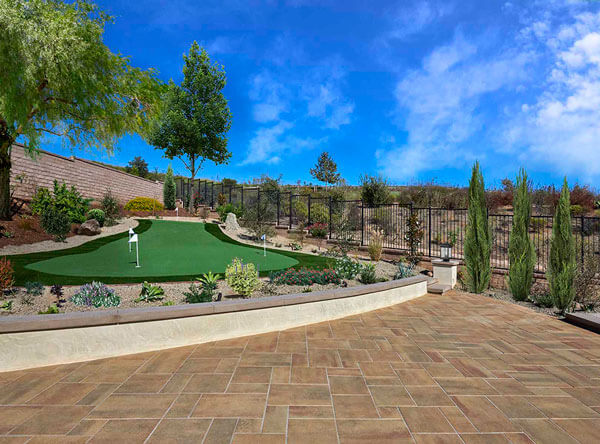 Adding a putting green to the backyard is aesthetically pleasing and great for anyone trying to lower their handicap on the course.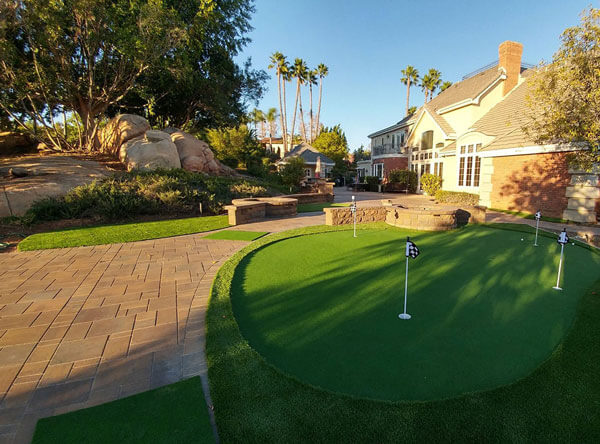 Pavers and a putting green are a great way to transform any backyard into an eventful entertaining space. Not only is the putting green great for practicing but for pets and kids to play on.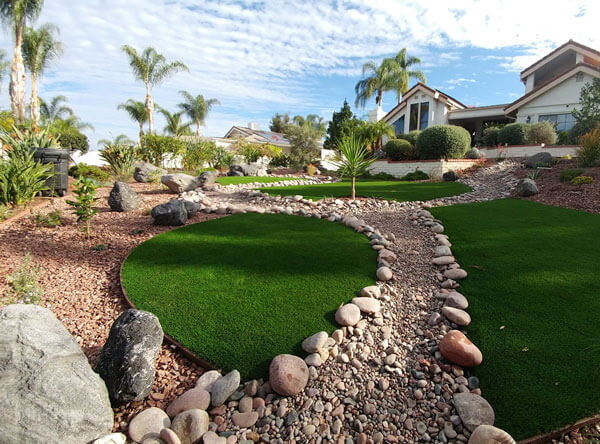 Artificial grass and a loose rock walkway create a unique landscape, especially with an Easter Island moai statue. This is a water smart landscape with beautiful drought tolerant plants throughout.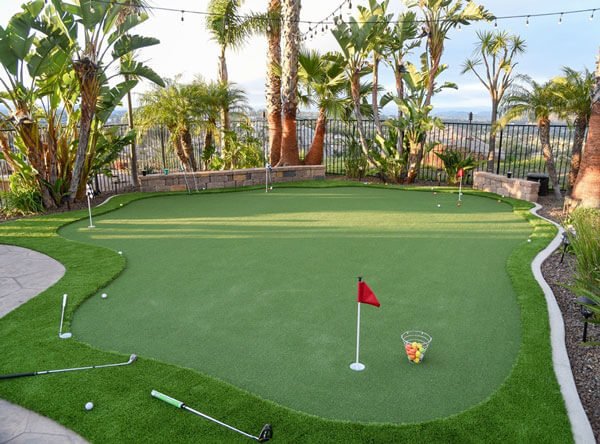 The putting green with multiple putting cups and surrounding palm trees create a relaxing vacation scene.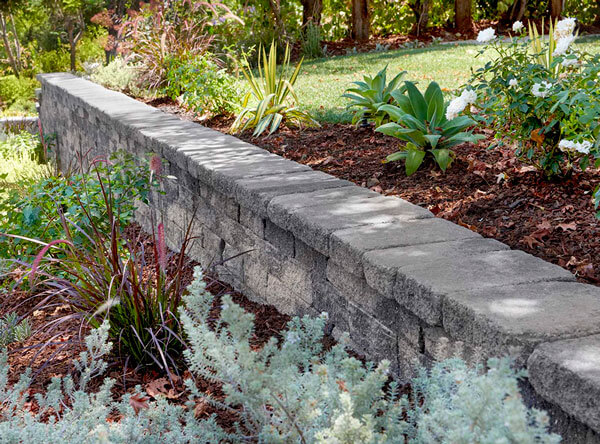 A garden half-wall of stone creates a leveling effect that makes the backyard landscape feel fuller and more verdant.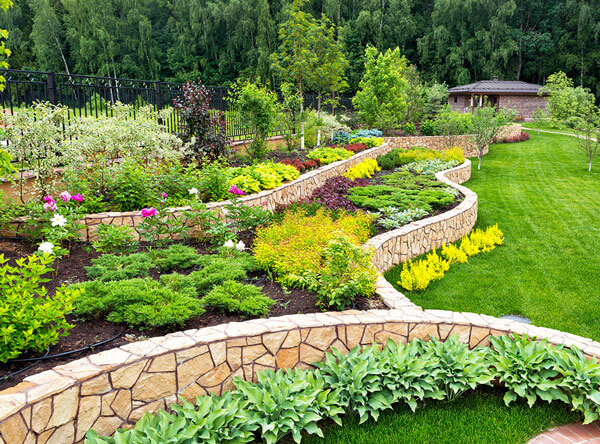 Neatly set flower beds, leveled with arching walls, creates a sweeping beauty that cascades down onto a manicured lawn.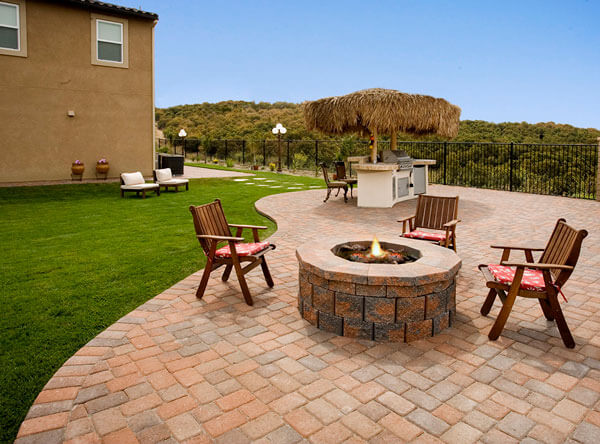 A well-appointed tiki bar and matching pavers and firepit turn this backyard landscape into a paradise.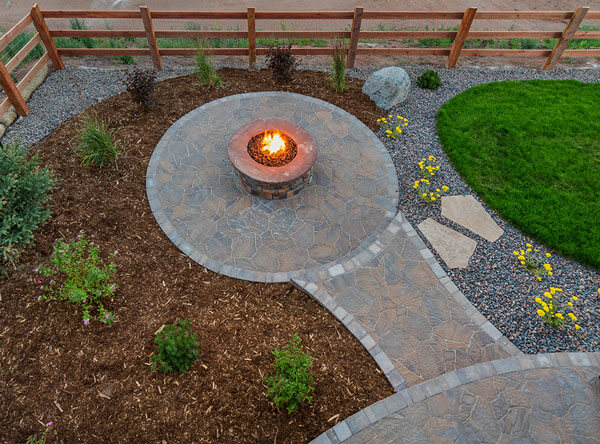 This beautifully arranged gas fire pit, surrounded neatly with interlocking pavers, has an advantage of never needing kindling or lighter fluid to get going, and it is so much cleaner than a regular wood burning counterpart.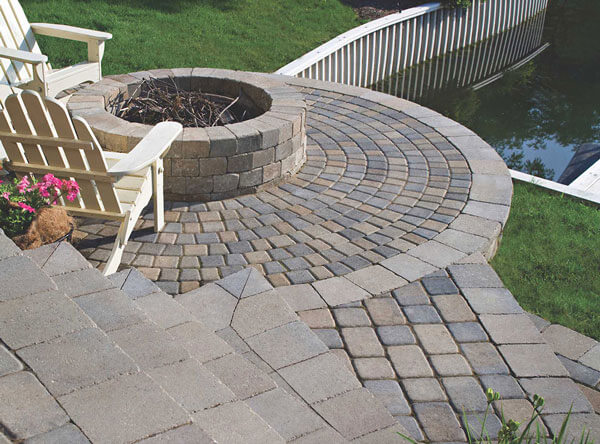 Multiple levels are a great way to utilize space in some backyard landscapes. Couple this with a pool and patio fire pit for a place to wind down.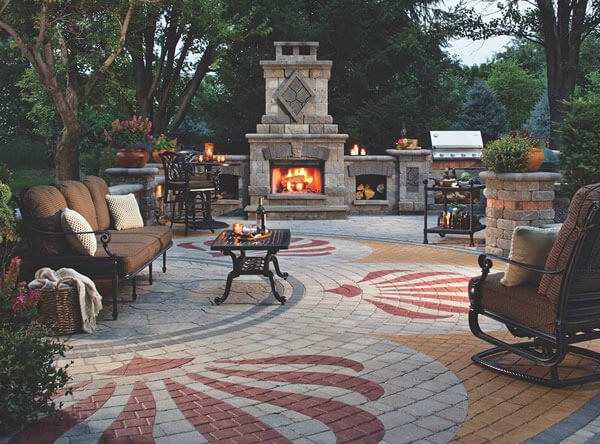 A fireplace adds comfort and style to a well-appointed paver laid back patio. This one made of rough hewn stone lends a rustic feel to the backyard landscape.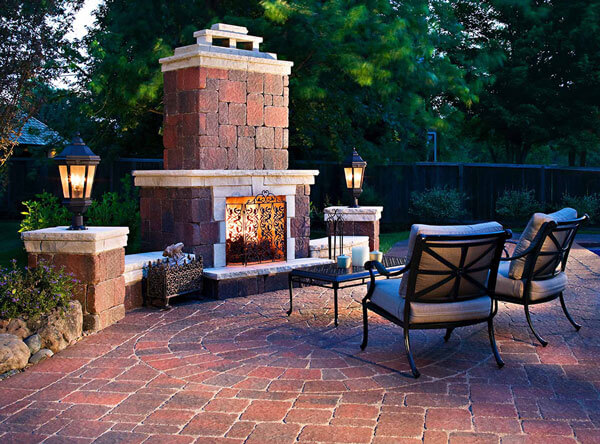 This elegant backyard set up includes a full fireplace for nights when you want to stay toasty on your patio. The faux gaslights give a classic victorian feeling to it all.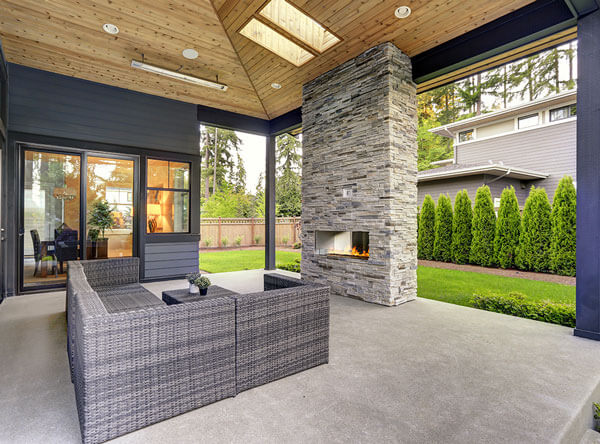 This ultra-modern patio is a part of the house itself, with a vaulted ceiling and clean lines leading to a balanced stone fireplace. It looks like the ideal spot for a warm drink on a cold night.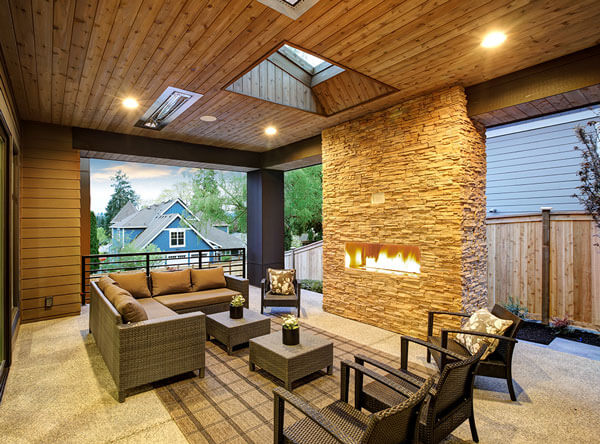 This outdoor space, with its beadboard ceilings, feels like a real part of the home, but walls that open out into nature to allow the comforts of inside in the outdoors. The added fireplace means that that outdoor setting never gets too chilly to enjoy.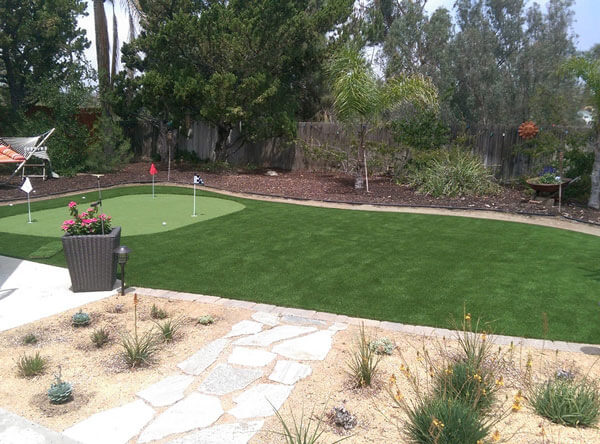 The drought tolerant design is brought to life with artificial grass and putting green. Utilize your backyard lawn space for practicing putts and family time.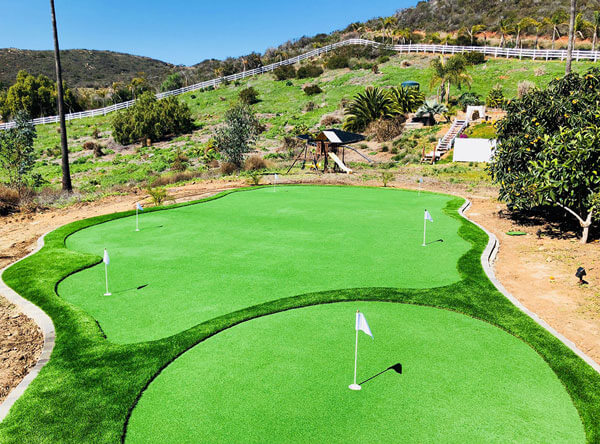 Backyard putting greens are a great way to enjoy the outdoors in the comfort of your home. No matter the size of your backyard, they can be installed in any size or shape desired.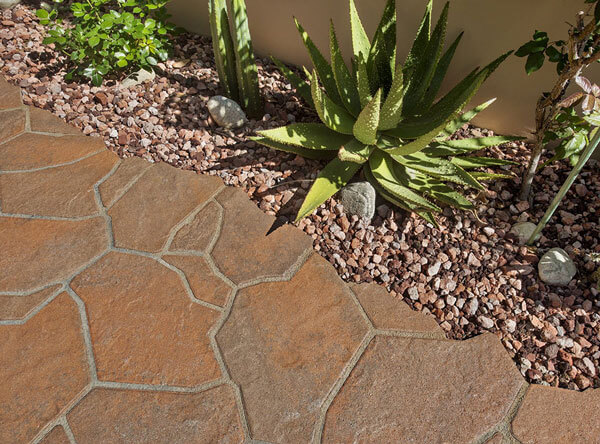 If you are into a Southwestern style backyard, incorporating red flagstone pavers with loose rocks and drought tolerant plants will do the trick.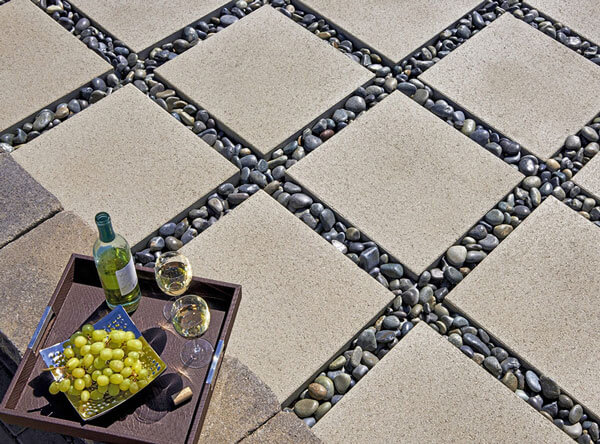 Pavers can be installed in different ways, as depicted here with tumbled pebbles in between.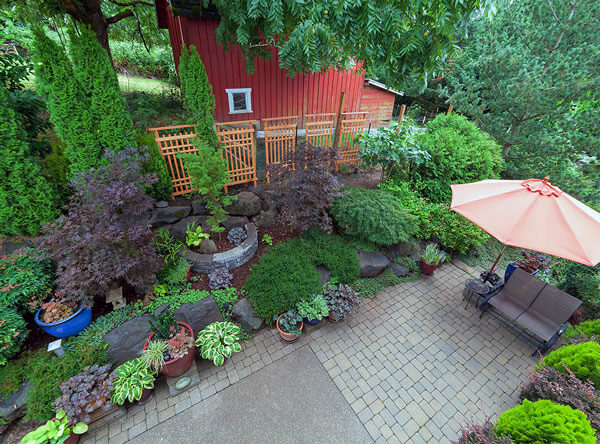 Paving stones and nicely set landscaping can include plants and shrubs rather than grass to surround a patio with a verdant yard atmosphere without the hassle of mowing.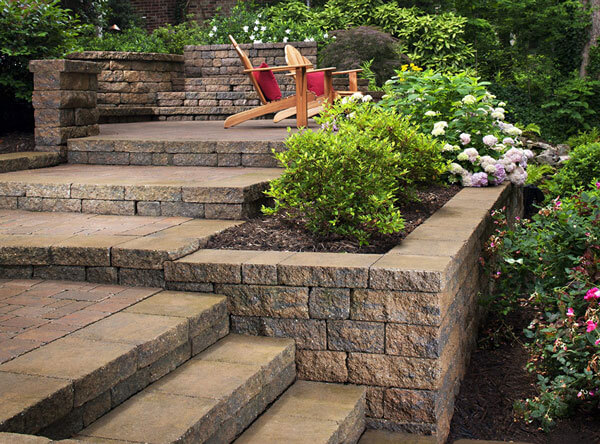 A steep slope can be transformed into a staircase with multiple garden beds, providing a relaxing stroll in your backyard.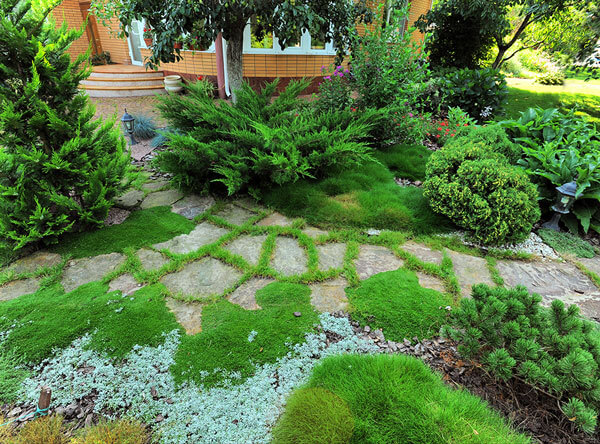 The rustic feel of overgrown flagstones can be a romantic treat, like in this casually quaint backyard setting.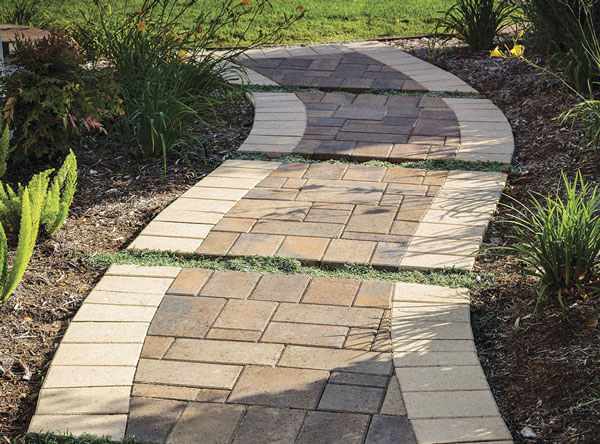 Pavers don't have to be interlocked together entirely. Integrate grass into your backyard walkways with pavers installed in sections.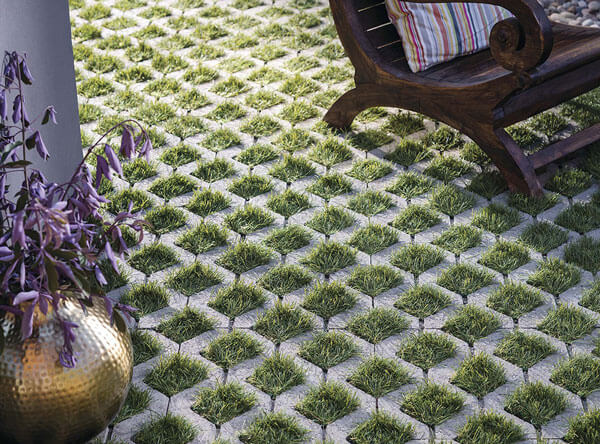 Grass pavers are a great addition to any backyard landscape. They allow rain to filter into the soil and look beautiful next to natural features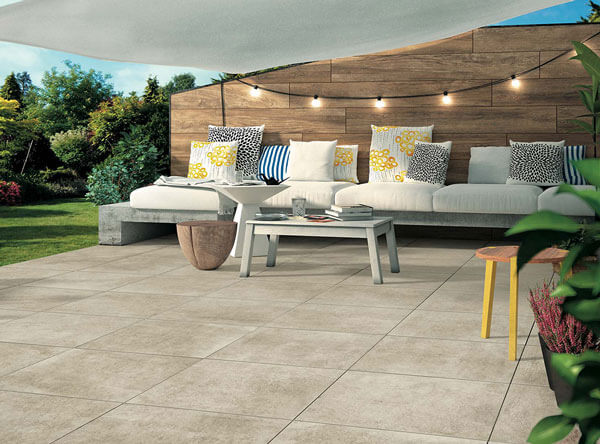 For a contemporary landscape, combine smooth concrete with wood and even a shade sail.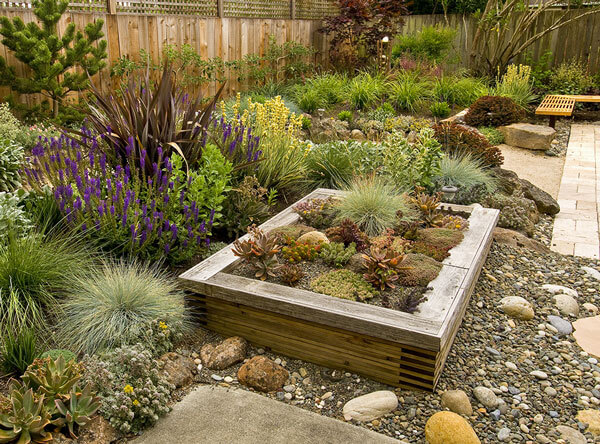 Replacing your grass with drought resistant plants is a great way to liven up your landscaping. They add a raised plant bed here for more levels and a better aesthetic feel.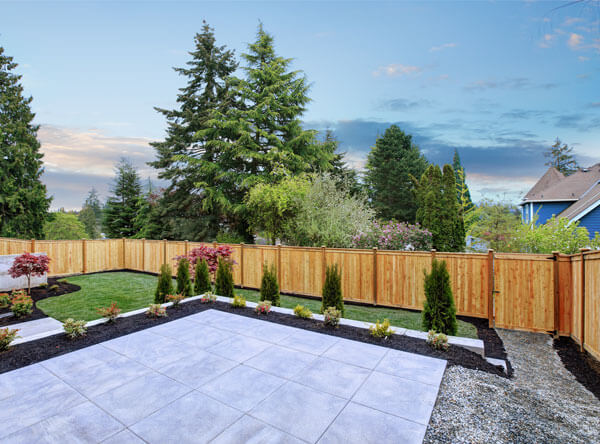 Elegantly lined concrete slabs matched with a gravel path give a clean and beautiful sense of balance to this backyard landscape which is surrounded by a nicely stained wooden fence.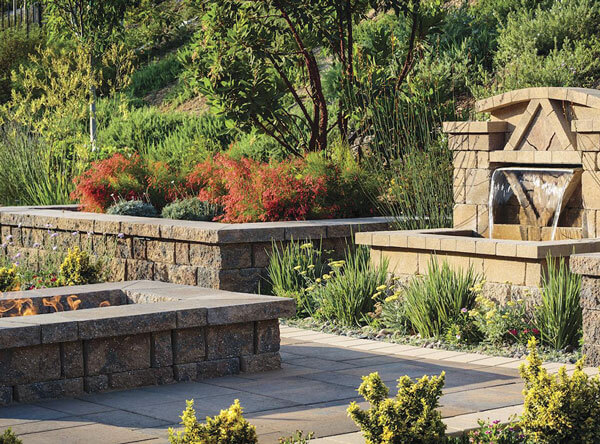 Introduce contrasting natural elements into your landscape with a fountain and firepit. Also, hillsides are a great way to show off different colors of vegetation.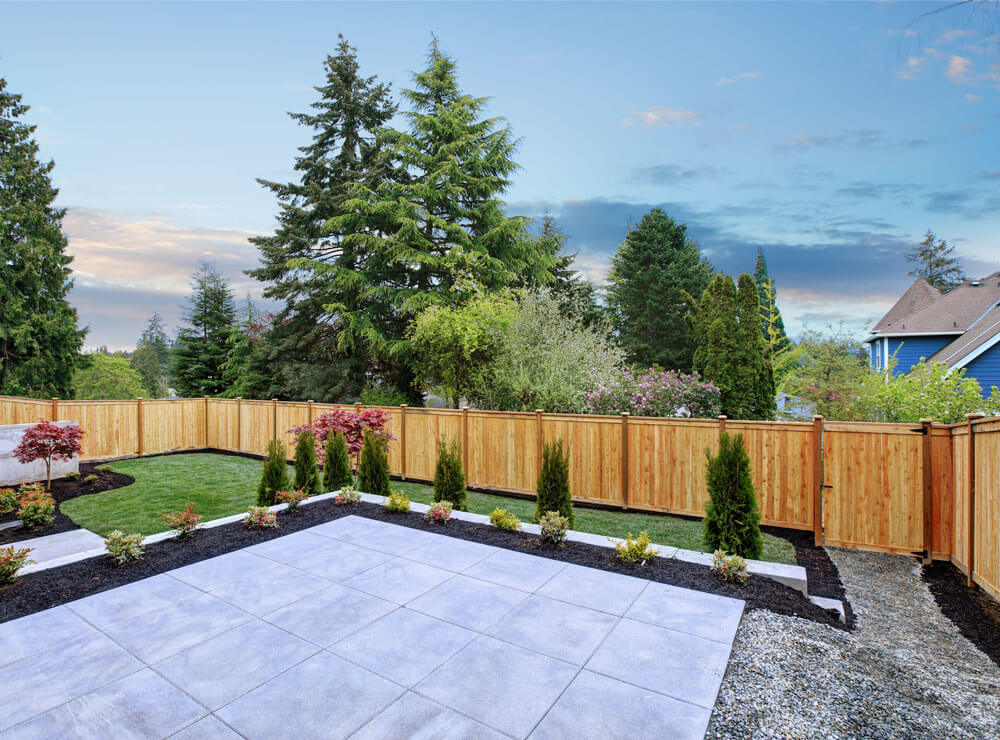 If you are interested in working with a professional landscape architect and designer, we can help! We service the city of San Diego, CA and can transform your backyard into the outdoor living space you have always dreamed of.