Driveway Designs for French Style Homes
French architecture includes many styles that have waxed and waned in popularity over the centuries. It was not until after World War I that French style homes became popular in the United States when soldiers came home after seeing these beautiful homes during their deployment. The styles of French architecture found in the US include chateaus, French Provincial, French Normandy, and French Country (a combination of elements from Provincial and Normandy).
In each of these styles within French architectural design, you will find elegant homes that combine sophistication with rustic charm. With their mansard roofs and dormer windows, quaint shutters, and stone, stucco or brick façades, French style homes can now be found across the country, primarily in upscale neighborhoods.
If you have a French style home, or are building one, then you know that this type of architecture is both elaborate and understated. Aside from and because of these attributes, this style of home exudes curb appeal. This, of course, means that driveway design and material choice are essential to ensure that you complement your home's façade and enhance – rather than detract from – its curb appeal.
To help you make the best choice for your home, here are eight driveway design tips and materials to consider.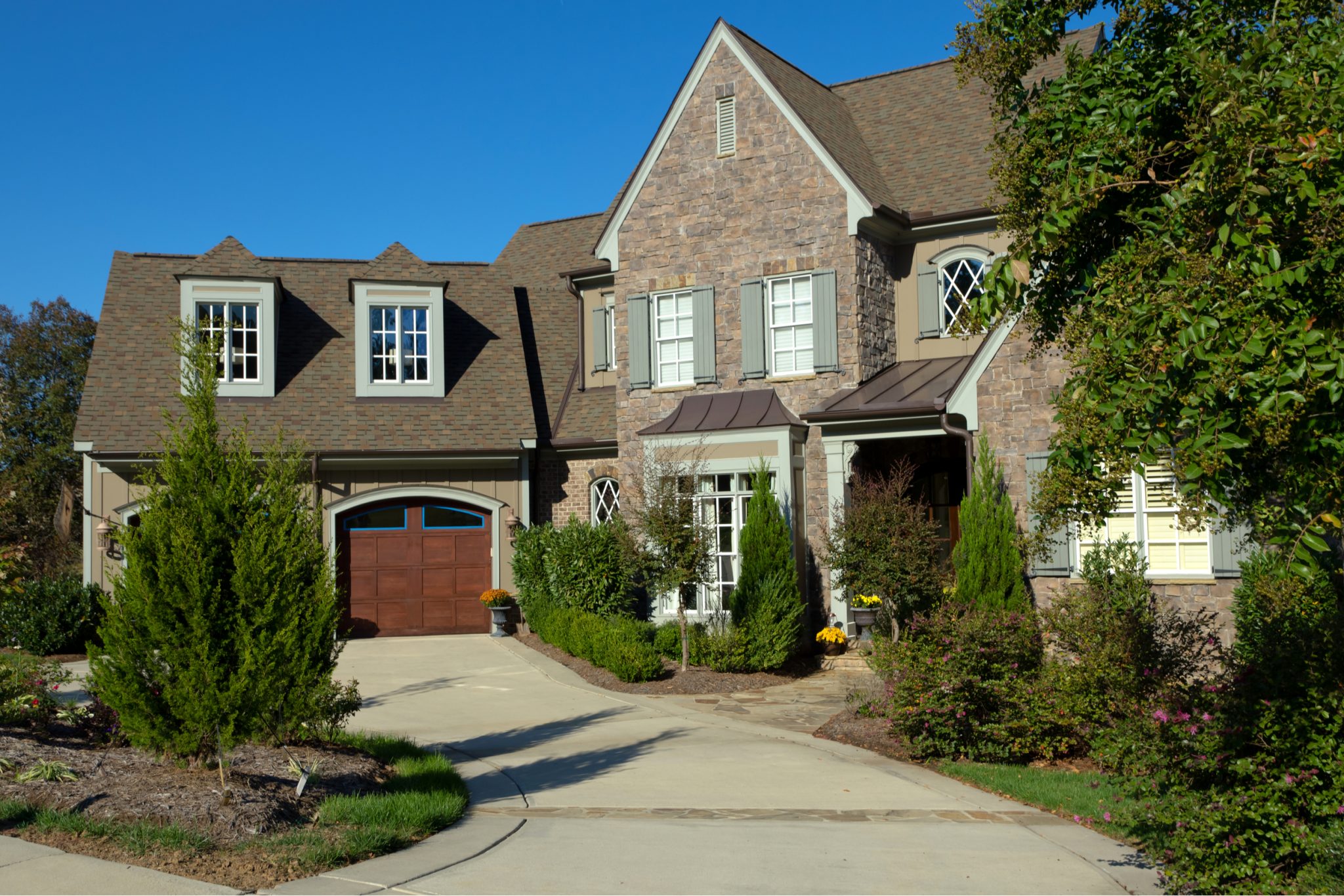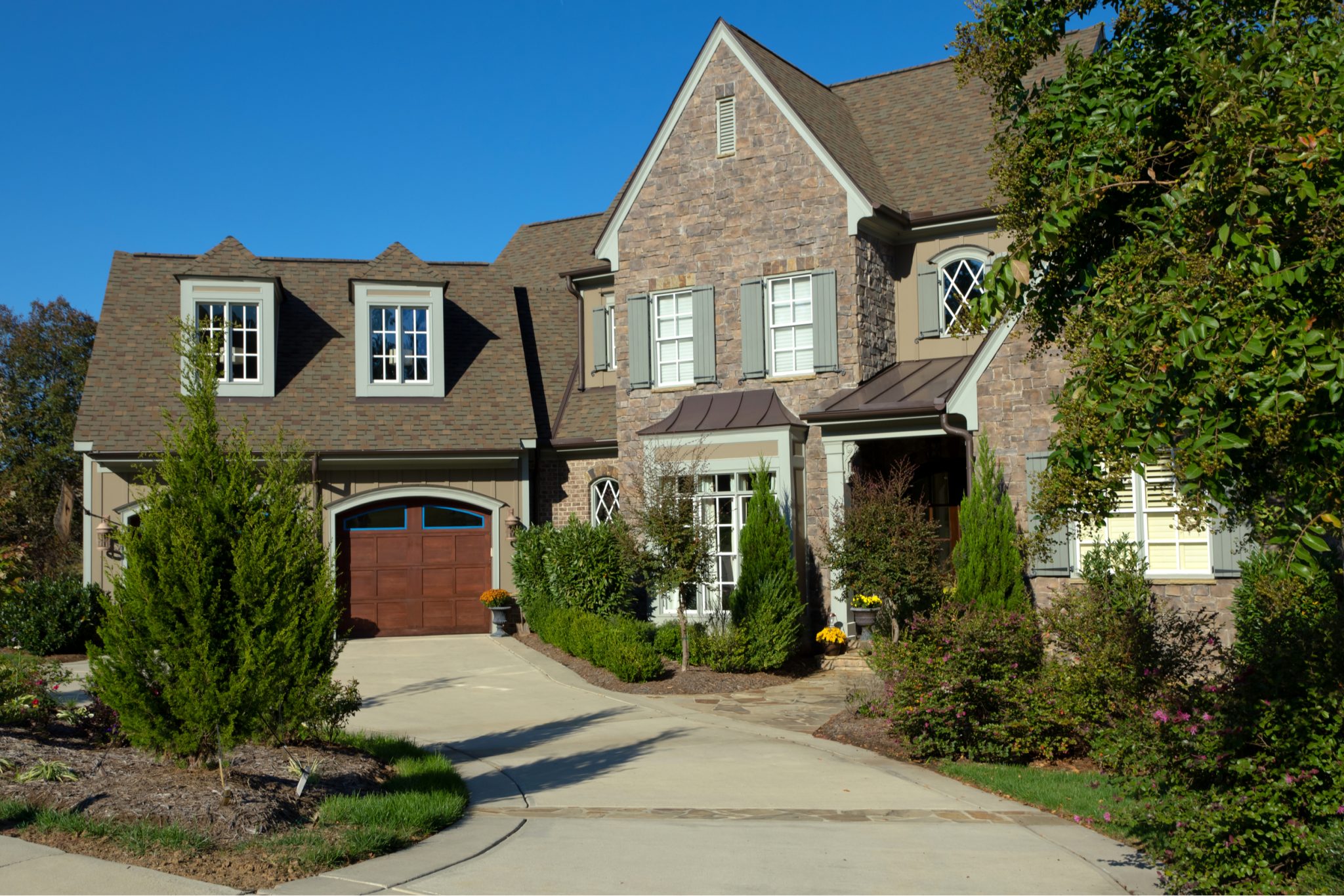 Driveway Designs and Materials for French Style Homes
1. Stamped Concrete
You will find French-style homes with poured slab concrete driveways, but this is not an ideal look for a country home. However, stamped concrete can have an old-world feel that makes it a better choice for this architectural style. Stamped concrete is a durable, attractive hardscape option that you can expect to last for decades. The downside to stamped concrete is that concrete tends to crack and is difficult to match when repairing those cracks.
2. Bricks
Natural bricks are an eco-friendly, attractive hardscape option for driveway design. Color options are limited and they tend to crack and chip over time, so you will need to consider that before laying a natural, clay brick driveway. However, you can achieve the look and function of bricks but with far more color and size options if you opt for concrete brick pavers instead.
By choosing concrete brick pavers, you can achieve a rustic or old-world visual and will not have to worry about them cracking and chipping over time. This is because they are less likely to crack or chip overall but also because, if they ever do crack or chip, you can easily replace these interlocking pavers by unzipping the design, replacing the damaged pavers, and putting the design back together.

3. Gravel
Gravel is a good choice for any architectural style that is influenced by country homes. Whether it is a Midwest farmhouse, an English Tudor or a French Provincial, a gravel driveway will serve you well in both function and visual appeal.
Gravel is more affordable than most hardscape options and comes in an array of sizes and colors, so you should have no problem finding the right one for your project.
The downside to gravel is that it will need to be occasionally refreshed and graded, but it has a visually appealing look, a satisfying crunch, and a budget-friendly cost that might just make it the right choice for your home.
4. Decomposed Granite (DG)
Decomposed granite pieces are smaller than gravel, which means that, with tamping or use, they come together a bit like puzzle pieces to form a sturdy, durable surface. Much of the DG you see used in Southern California driveway design or in walkways is composed of pieces so small that they look more like sand then crushed rock. When properly tamped, this type of DG driveway can have a rather rustic, dirt-road visual but with a more stable, less dusty surface. DG is a good look for a country home, so keep this one in mind as you work on your driveway design.
5. Crushed Shell
Crushed shell is similar to gravel in terms of how it looks, feels and functions. Like gravel, it helps with drainage and erosion control. Also like gravel, it will need to be graded and refreshed occasionally to keep the depth consistent and to keep it looking its best. If you are interested in green building materials, this is one to consider, since is an eco-friendly hardscape option.
6. Chip Seal
While perhaps not among the top options for driveway design for a French style home, a light-colored chip seal driveway could work with this architecture. Chip seal is made by combining liquid asphalt with stones, so it is a durable, solid surface that is budget friendly and could provide the right balance of visual appeal, longevity and cost for your project.
7. Paving Stones
Paving stones are the go-to driveway material for almost any architectural style. While they do cost more than gravel or poured concrete, the total cost of materials and installation is generally on par with stamped concrete. However, unlike stamped concrete, you do not have to worry about cracking and wear and tear over time. Paving stones are durable and usually do not crack, but, if they do, their interlocking design makes it much easier to replace just the damaged pavers and put your driveway back together looking just as good as before.
Since pavers come in various sizes, styles and colors, you will have no problem finding an option that works for your driveway design. You will also have no trouble finding options that offer the rustic, old-world look that will perfectly complement your French style home.
8. Circular, Horseshoe of Teardrop Driveway Design
Any driveway that is reminiscent of driving a horse-drawn carriage up to an upscale home in the French countryside is going to complement a French style home. This means that a circular driveway, teardrop driveway or horseshoe driveway is always going to be a good choice. Driveways that loop around in one of these configurations also provide superior function when compared to modern, straight driveways, since they offer more parking and the ability to drive forward both into and out of the driveway.