Natural Grass vs. Artificial Grass Around Pool Areas?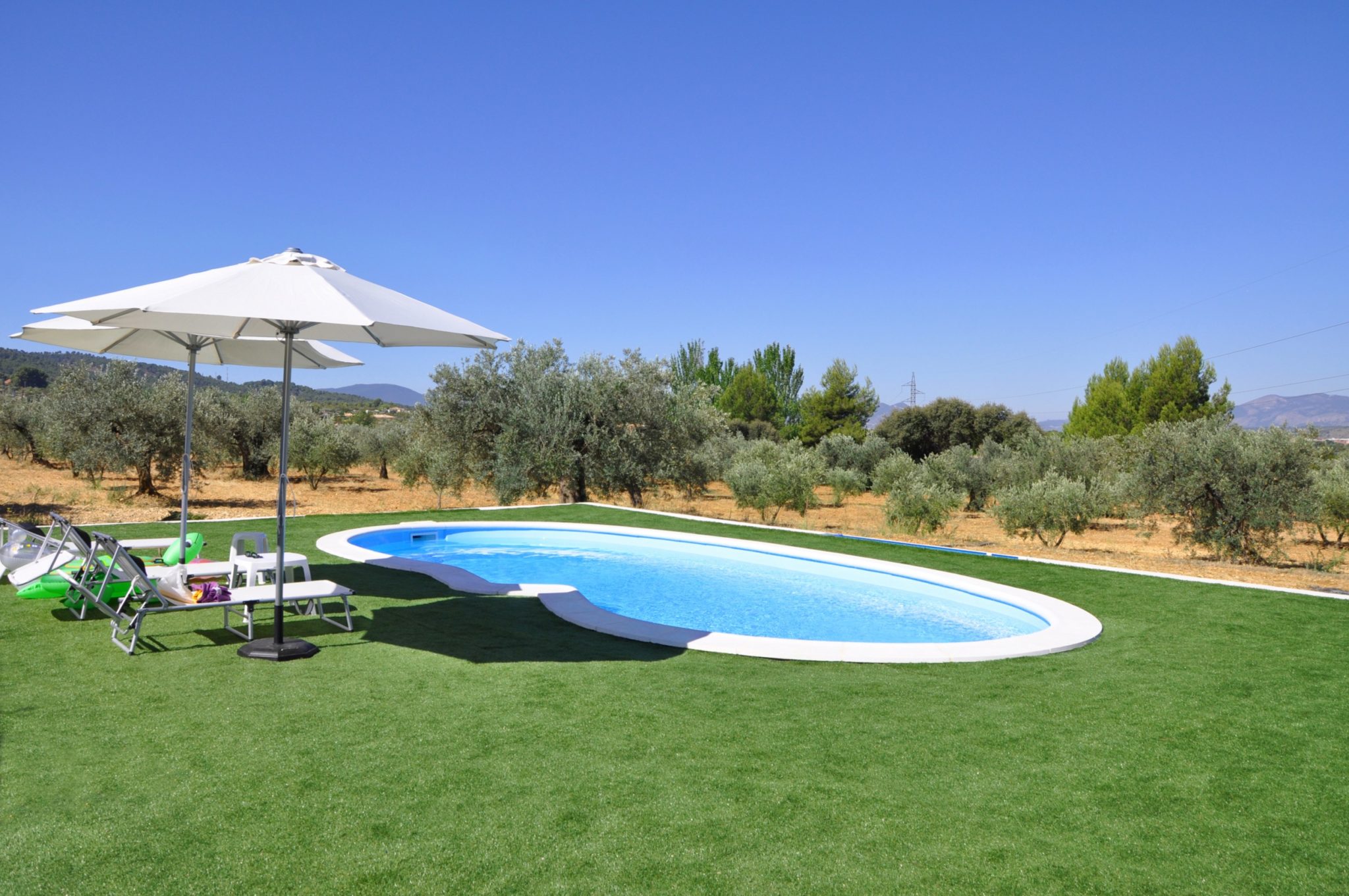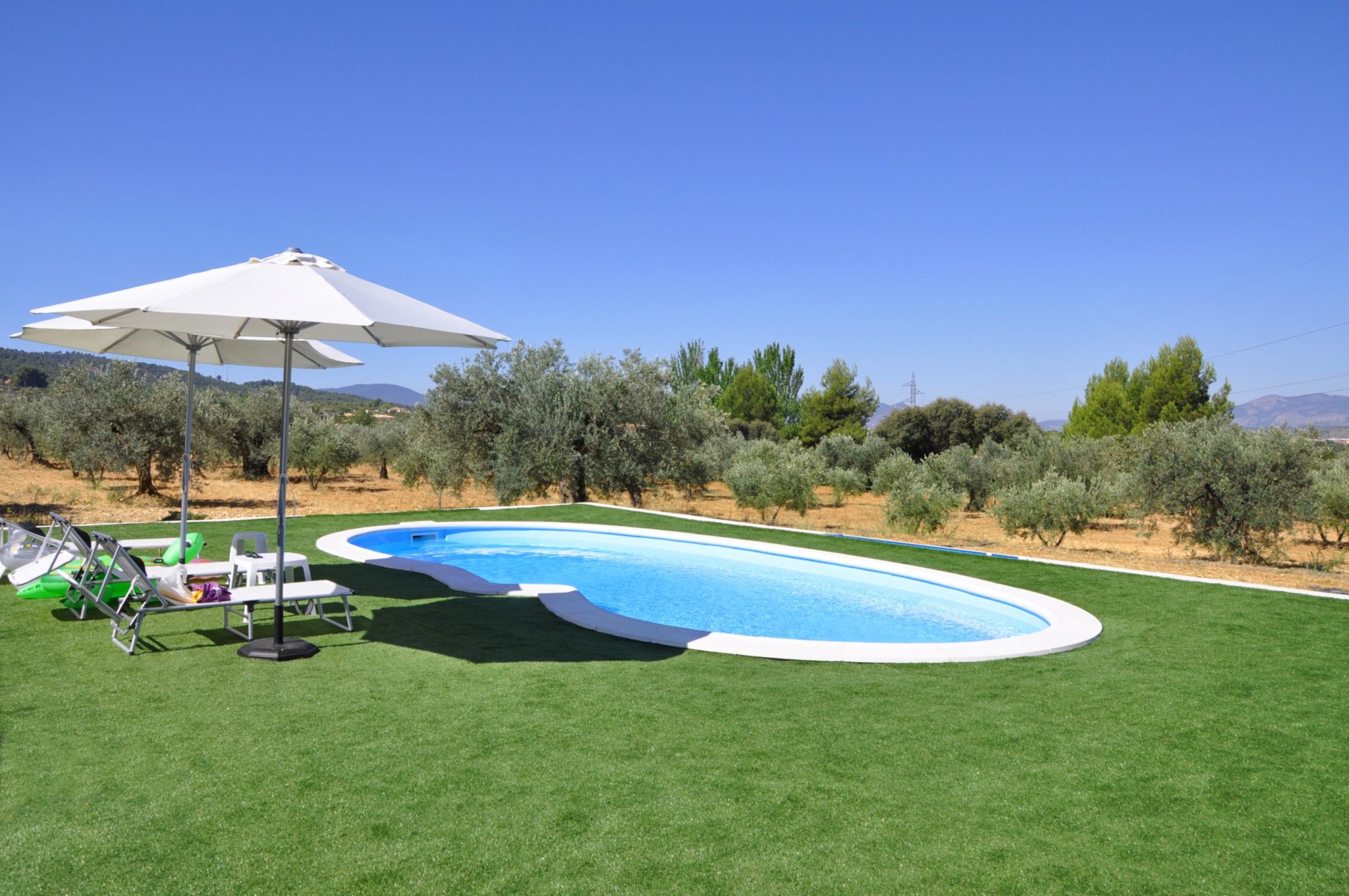 During summer in Southern California, backyard swimming pools are often the most popular hangout on the block. Many continue to get plenty of use throughout the year as kids hurry home from school to dive in with their friends and as family members steal away for a quick swim when visiting for the holidays.
What kind of grass is best around pools?
Spending time around the pool with friends and family is one of the many joys of living in Southern California. Because of this, homeowners often pay particular attention to the details when designing this outdoor living area. For folks who want to have grass around their pools, one of these considerations is whether they should install natural grass or artificial grass.
To help you determine which is the better option for your pool area, let's take a look at the main differences.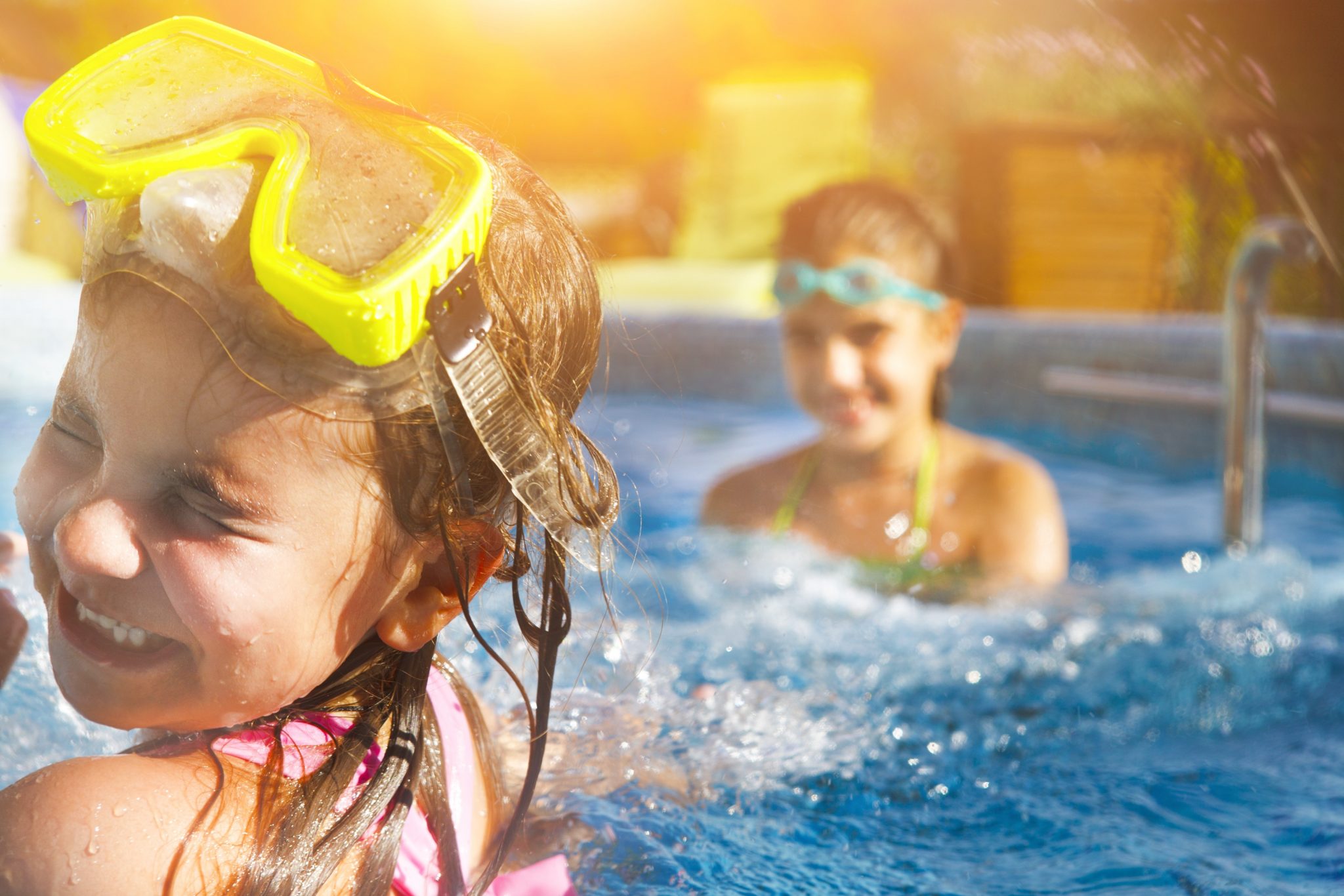 Natural Grass vs. Artificial Grass Around Swimming Pools
Natural Grass Around Pools
Some folks are automatically drawn to natural grass, since that is what most of us are most familiar with and the type of ground cover with which most of us grew up. When healthy and well maintained, natural grass can be a beautiful addition to your landscaping, whether around a pool or in other areas of your yard. However, while most of us connected grass with playing and having fun when we were children, as adults, most of us now connect natural grass with work…and lots of it.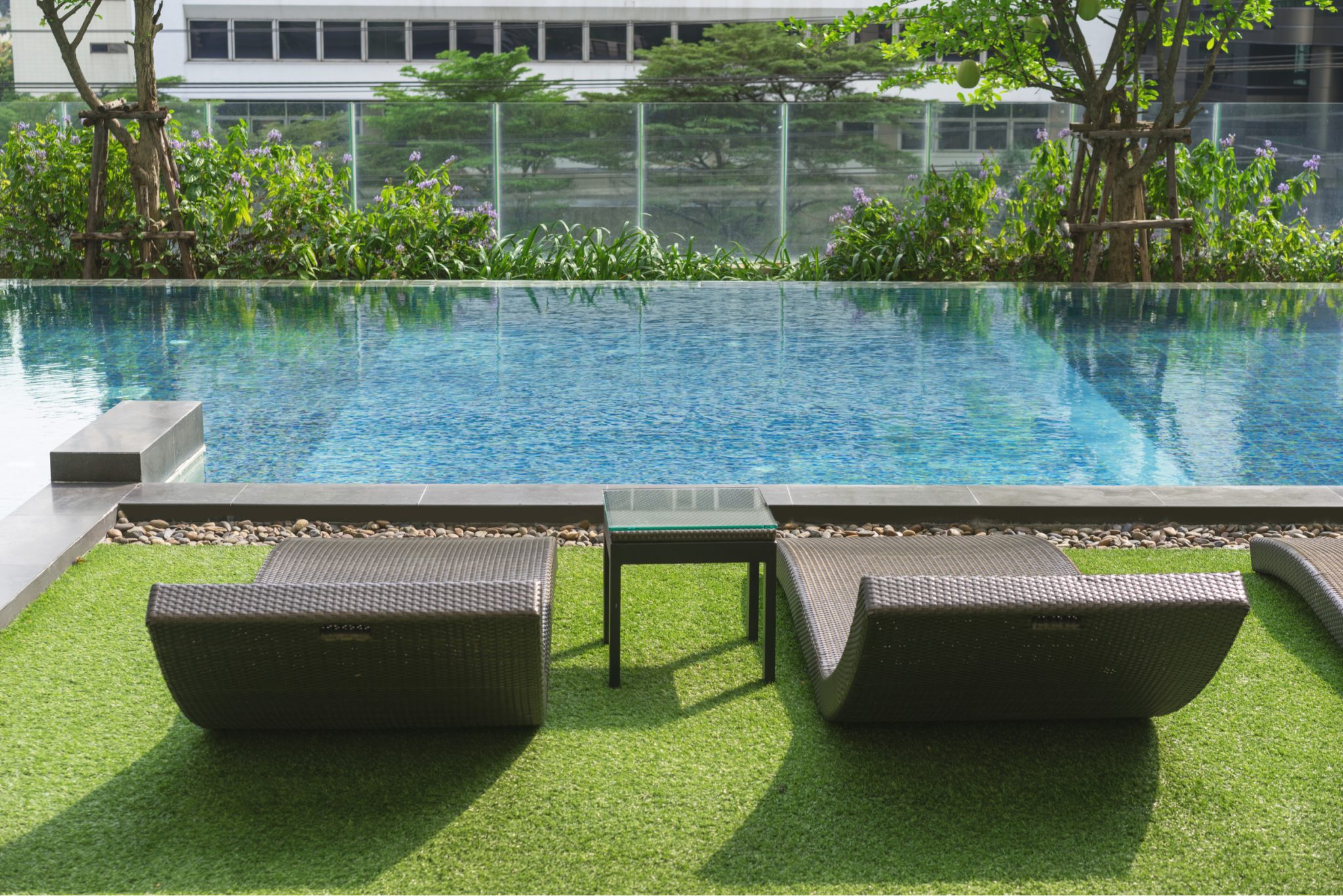 Natural Grass Maintenance
Conventional grass requires regular mowing, weeding, fertilizing, aerating and watering. This takes quite a bit of time and effort and is often not a guarantee that your grass will be healthy, evenly colored and attractive. Since this time could be better spent actually enjoying your swimming pool, this is the first reason why you may want to forgo natural grass.
Artificial Grass for Pool Area
Instead, you might want to consider artificial turf, which allows you to enjoy the look and feel of a natural lawn without the high level of maintenance. With synthetic turf, you may need to pull the occasional weed or spray it down to remove dust and debris every month or so, but this low-maintenance option offers a host of benefits while requiring little care.
The next thing to consider is the amount of traffic this area is likely to receive. Particularly in warmer months, the area around your pool is likely going to see some rather heavy use, which means you need a durable ground cover option that can withstand traffic and remain attractive. Heavy traffic can make well-worn, noticeable paths in natural grass, but this is not an issue with artificial grass, which is designed to handle heavy traffic.
Drainage without Mud or Puddles
You can also expect splashing, diving, playing, and climbing in and out of the pool to introduce a lot of water to the ground around your pool. Too much water is not good for grass or most plants, but an artificial turf lawn can handle excessive water just fine. The permeable backing also allows the water to properly drain so that you do not have to worry about puddles.
Additionally, synthetic turf is less likely to become slippery when wet, which helps to increase the safety of your children, pets and guests. As an added bonus, manufactured grass will not get muddy from all of that extra water; whereas, natural grass surely would.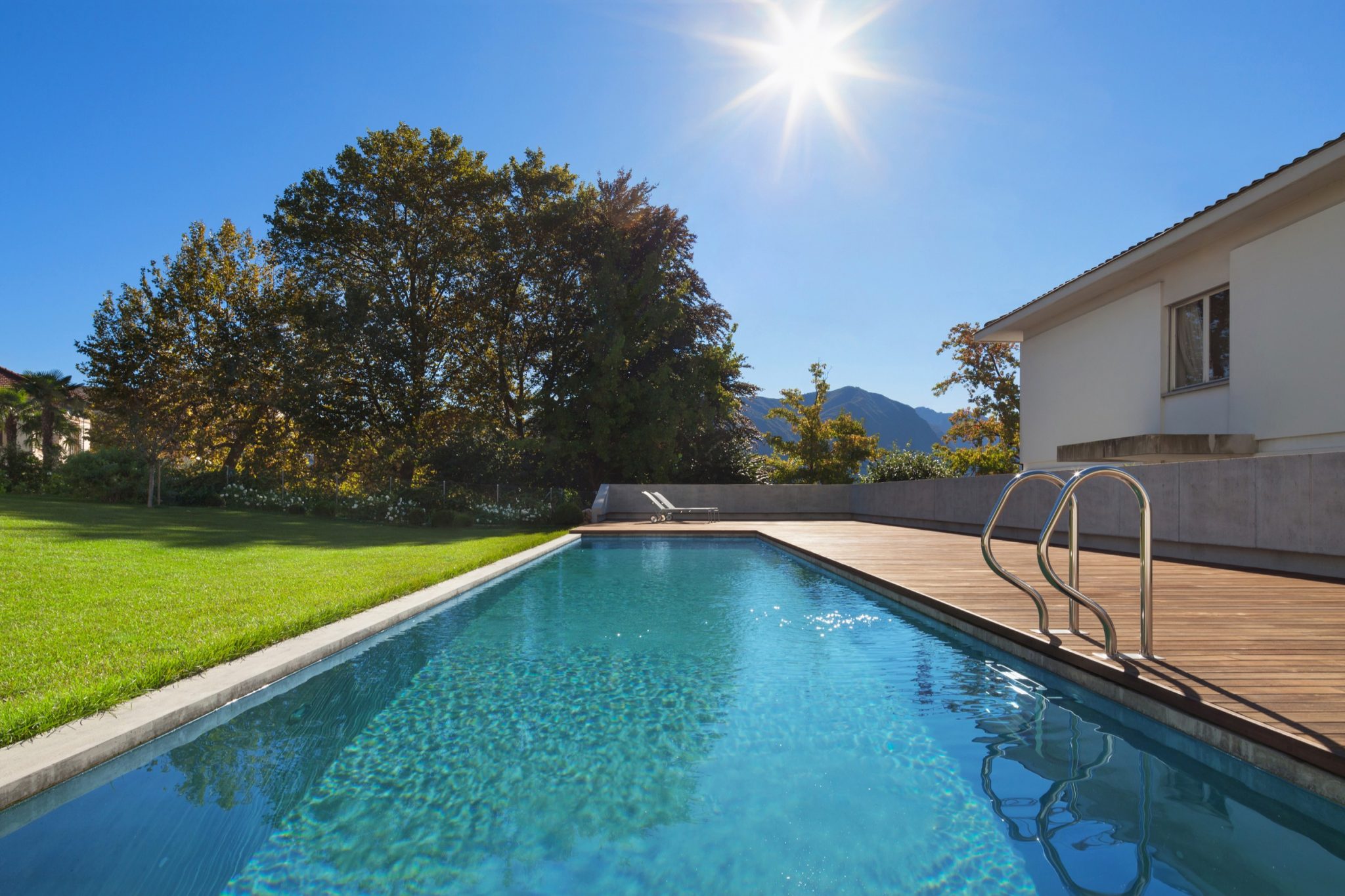 Chemicals and Clean Up
Another concern with natural grass is the introduction of chemicals, which can go both ways. If you use pesticides or herbicides on your lawn, they can be introduced to your pool water during the application process or on bare feet running across the grass to jump in the pool. Going the other way, pool chemicals can be introduced into your lawn by water being splashed out of the pool. Chlorine and other chemicals can kill natural grass, and the same goes for salt, if you happen to have a salt water pool.
It is also quite likely that blades of grass will be introduced into your pool water, which leads to more time spent skimming the pool to remove to debris and can lead to clogged filters. And, of course, wet feet running from the pool to the house can also track grass blades and mud into your home.
Both natural grass and artificial turf are nice for laying out or lounging with friends at a pool party. Artificial grass may be the preferable option here as well, though, since you can expect to be bothered by fewer bugs and do not have to worry about mud. While both conventional grass and manufactured grass will heat up in direct sunlight on hot days, synthetic turf tends to get warmer than natural grass. This can be easily remedied with a shade structure, laying out a towel or spraying down the grass with water to cool it off quickly. You will find that manufactured lawns cool off rapidly as soon as shade is introduced or they are no longer in direct sunlight.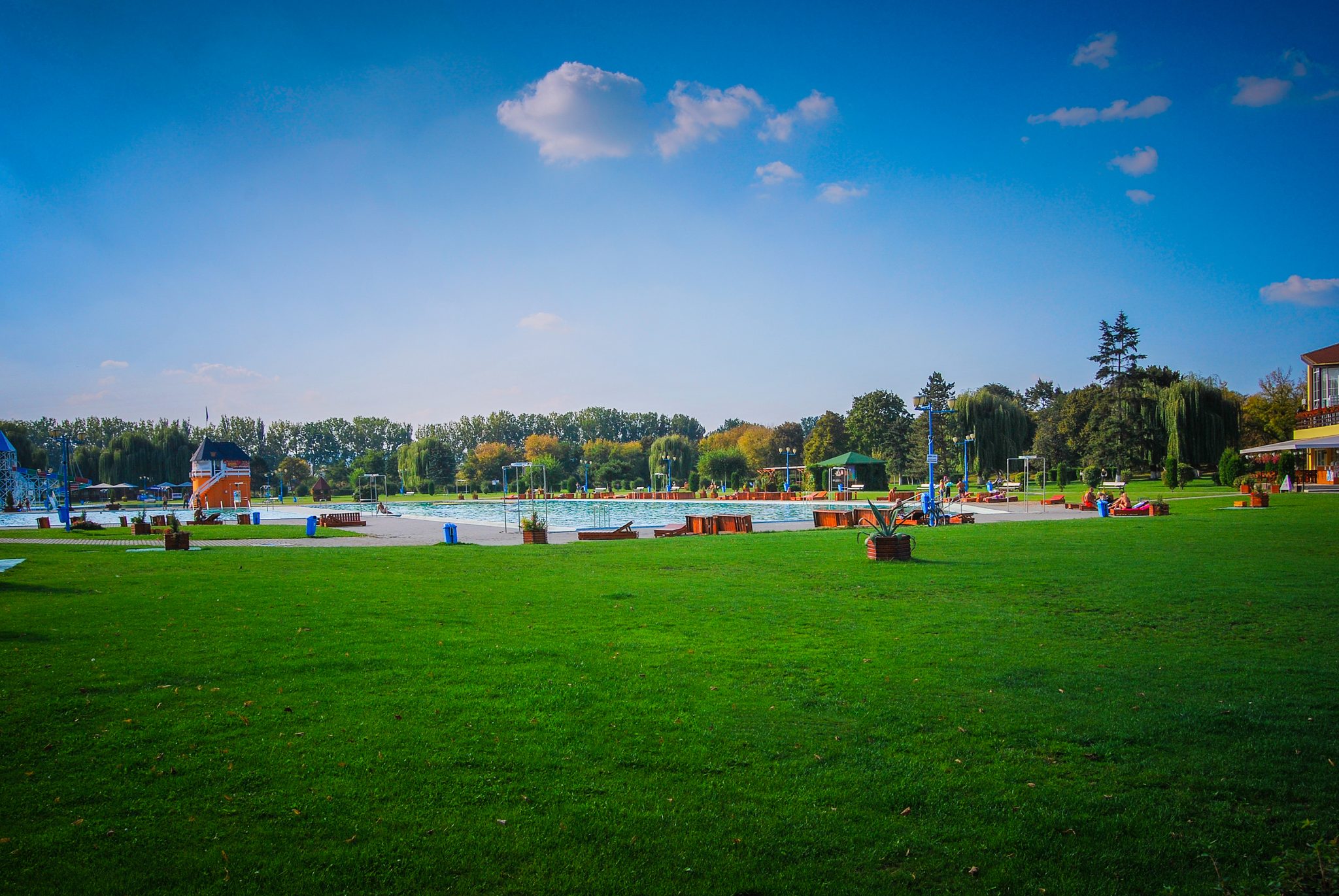 Water Conservation
A final consideration that you may want to take into account when choosing between natural and artificial grass is that your swimming pool is already using a lot of water. With Southern California in an almost constant state of drought, we need to be mindful of ways we can conserve water. This does not mean that you have to give up your swimming pool, but it does mean that you might want to look at low-water landscaping options for the area around your pool. This, of course, would include a variety of pool deck materials, such as paving stones, bricks, wood or concrete. It also includes artificial grass, which can be used alone or in conjunction with another of these materials to create an attractive pool area for you, your family and your guests to enjoy.
Further Reading: Pool Decks and Pool Area Ideas