How to Landscape Around an Inground Pool
A backyard pool is a beautiful thing. Often the centerpiece of a property, a pool's landscaping can make or break the look of your swimming space. Decking, plants, lighting – it all adds ambiance and depending on what you want, privacy as well. So, whether you're installing a new pool or renovating an existing one, read on for insight into how to take poolscaping to the next level.
Poolscaping Considerations
When landscaping a pool area, four major elements should be top of mind: safety, privacy, function, and aesthetics.
Safety —
If you have small kids and/or pets, or entertain often, safety will be of prime importance. This means you'll want to consider fencing, slip-resistant surfaces, and adequate lighting.
Privacy —
If neighbors can peek into your yard and you'd rather they not, fences can again take center stage in your pool's landscaping. Other options include vines, plants, and shade structures.
Function —
Easy entry to your pool is a must in most cases, so overdoing boulders and other typically potential stumbling areas may be ill advised. Good visibility is also a key concern, and will inform where you place landscape and pool lighting.
Aesthetics —
The sky's the limit here, depending on your personal taste and preference. Natural, tropical, modern – they're all looks on the table that can be incorporated into your poolscape. Also, keep in mind that well designed pool landscaping tends to increase your home's resale value.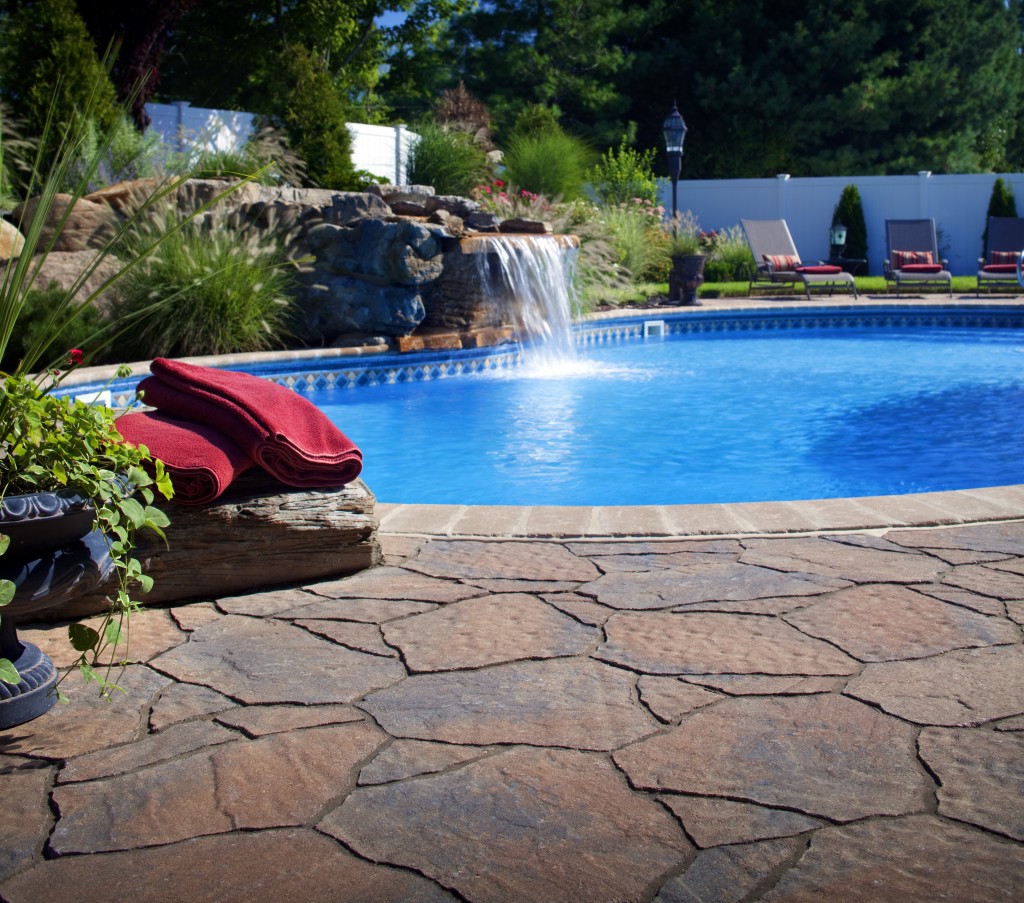 Poolscaping Planning
Before you start landscaping, you'll probably give a lot of thought to the look you want to achieve and how your space will be used. For instance, do you want a classic landscape design or a minimalist one? As previously mentioned, different pool landscaping themes include natural, tropical, and modern, and homeowners typically try to extend the vibe of a home to the pool area. This means that if you have a traditional home, an overly designed and modern pool landscape may not be for you. Consider the materials and colors used in your home and apply them to your poolscape.

Here are some questions to ask yourself:
— How will I primarily use the pool? Will it be for exercise, entertainment or visual enjoyment?
— What impression do I want my pool to make? Do I want it to be a major part of my home's design or viewed as a fun add-on?
— Where is my pool located? Is it right outside my door or is it a bit removed from the center of the home?
— Is my pool accessible in all seasons?
— What kind of storage will I need? Do I need to add a shed or other option for pool games and toys and pool equipment?
— How do people access my pool right now? Do I need to make access more convenient?
— Do I prefer a more formal or informal setting?
— What colors do I like?
— How many hours a week can I devote to maintenance?
— What's my budget?
Once you have some answers, it's a great idea to do a site analysis and draw (or have a pro do it for you) your property elements to scale on a piece of paper. Note where your pool is in relation to your home, any existing landscape features, and any surrounding buildings/structures. Other elements to detail include locations of electrical sources, utility lines, water spigots, and air conditioner units.
All this detailing will help you decide what elements you can reasonably infuse into your landscape for maximum appearance and efficiency.

Poolscaping Elements
Once you decide the best combination of form and function, and the overall look you're going for, you're ready to select some landscaping components.
Fencing —
Fencing around pools is typically adopted when homeowners have small children. Privacy is another reason to add a fence, which you can jazz up with training vines for a softer look. The type of fence you choose depends on your aesthetic preference, but options include aluminum, wood, and PVC, which can be molded into a variety of looks. Take into consideration whether or not you have a salt water or chlorine pool before adding a fence, because the salt can corrode some fencing materials. Many inground pool designs with fences tend to feature black ornamental aluminum fences because they have a simple look and require little maintenance.
Lighting —
Lighting provides beauty and safety around pools. It's advisable to use a combination of path lights, tree uplights, spotlights and down lights. String patio lights can be added to trees and other areas for extra glow. If you are going for a tropical design, which is popular in Southern California, tiki torches is another cool add-on.
For energy efficiency, low-voltage LED systems can be used for landscape lighting to light stairs or paths and fiber-optic lighting lights areas but don't transmit electricity. Solar lights are also easy to maintain and will remain lit into the evening around the pool.
Other lighting options can include a fireplace or fire pit for entertaining.
Plants —
Incorporating plants into your pool's landscape design can be a sticky wicket. For one, you want to ensure you don't select plants or trees that shed leaves, seeds, needles or other debris that can be swept into your pool. Secondly, fruit trees and other bee-attracting plants can be a nuisance to swimmers. You also want to know what types of shrubs, flowers and trees do best in your region and climate. Tropical plants do well here in San Diego, and blend with the existing natural landscape, but this won't be the case on the East Coast.

When choosing plants for your pool landscape design, find out what USDA hardiness zone you live in, write down the plants and trees that thrive in your zone, and choose those that integrate with your desired look and need.
If you already have a lot of trees on the property or face a tree-lined area or other lush backdrop, adding a lot of plants around your pool may not be necessary.
In any case, low-maintenance, water-wise plants are best.
Evergreen plants are typically the most recommended for pool landscaping before they stay green year round and don't shed a lot of leaves that could get into your pool and pool filter. If you go for evergreen trees, they're also great for privacy. Low-growing evergreen shrubs and dense ground covers such as juniper and dwarf nandina provide nice barriers and filters between the yard and pool and prevent leaves, mulch, and other debris from blowing onto the patio and into the pool.
Flowering annuals round out pool landscape designs to give a shot of color and look nice in containers from terra cotta to metal that fit the overall landscape theme. A good rule of thumb is to plant about 70% evergreen plants and fill in the remaining areas with 30% annuals like verbena and marigolds.
Succulents are great for pool landscaping, too, and are wonderful drought-resistant plants. Consider agave attenuata, sedum, and plumeria.
For an extra decorative touch, vines are worthy choices to weave over fences and through trellises. Try jasmine, trumpet vine, and bougainvillea.
Finally, popular tropical plant choices include palm trees, birds of paradise, and bromeliads.
Decks/Patios —
Patios and decks can feature beauty and safety for swimming pool areas. Material options include stamped concrete, limestone, brick, tile, and pavers. Consider non-slip surfaces to protect kid injuries if your pool is used by children. Keep pool access in mind, too. If the cement around your inground pool borders your lawn, and swimmers have to trek through grass to get to the pool. they'll take debris with them into the pool. Stepping stones and walkways leading to the pool will eliminate that situation to a large extent and provide a natural path to your pool. Landscape borders with polished river rocks to match the decor of your pool area. Besides blending well with waterscapes, river rocks are smooth and rounded enough that they won't hurt bare feet.
Shade Structures —
Many pool owners add gazebos, arbors, pergolas, and other shade structures to pool areas to tie swimmers places to cool off before heading back into the pool. Pool houses and cabanas are also popular options and give guests a place to relax when they're not in the pool.
Boulders —
Boulders should be in context to your pool's design. If you're not going for a natural look, boulders will seem out of place. If you do use boulders, it's best to group them around the pool and include them amidst lush landscaping otherwise they will look too stark against your pool.
Your Turn…
Swimming pool landscaping is a definite extension of your home's design and so should blend well with your existing aesthetic. Plus, the pool's role as an entertainment mecca, relaxation spot, and kid play zone, means that how you choose to landscape impacts the enjoyment of your pool. Comfort, convenience, and fun are all part of the decision process, so choose wisely! Get a better idea of how much your landscape project will cost with our landscape design costs guide.