Landscape Design Costs – 2021 Pricing Guide
When you think of updating your yard's landscaping, the first thought that comes to mind is the cost. The team at Install It Direct has put together this 2021 landscape pricing guide to help you understand the factors and options that impact the price of your custom landscape design.
Landscape design involves planning, surveying, design, feedback, and installation. At each of these stages, you'll have a multitude of options to choose from and a wide range of pricing for each. 
Due to the countless variables and options involved in landscape design, the cost of the entire project can range from $100 all the way up to $50,000.
In this guide, we'll break down the cost of hiring a landscape designer, estimated landscape materials and features costs, additional costs, and tips on how to get started.
First, let's take a look at the typical costs of a landscape designer and their offerings. 
The Cost of Hiring A Landscape Designer
Consulting with a landscape designer costs anywhere from $50 to $150  per hour.  A pricier consultant fee usually includes a full suite of services such as project management, installation team oversight, and more. An initial landscape design consultation will help you flesh out your yard design ideas, and discuss the costs, timeframe, and feasibility of the project.
In the United States, the average cost of initial landscape design services is $4,000.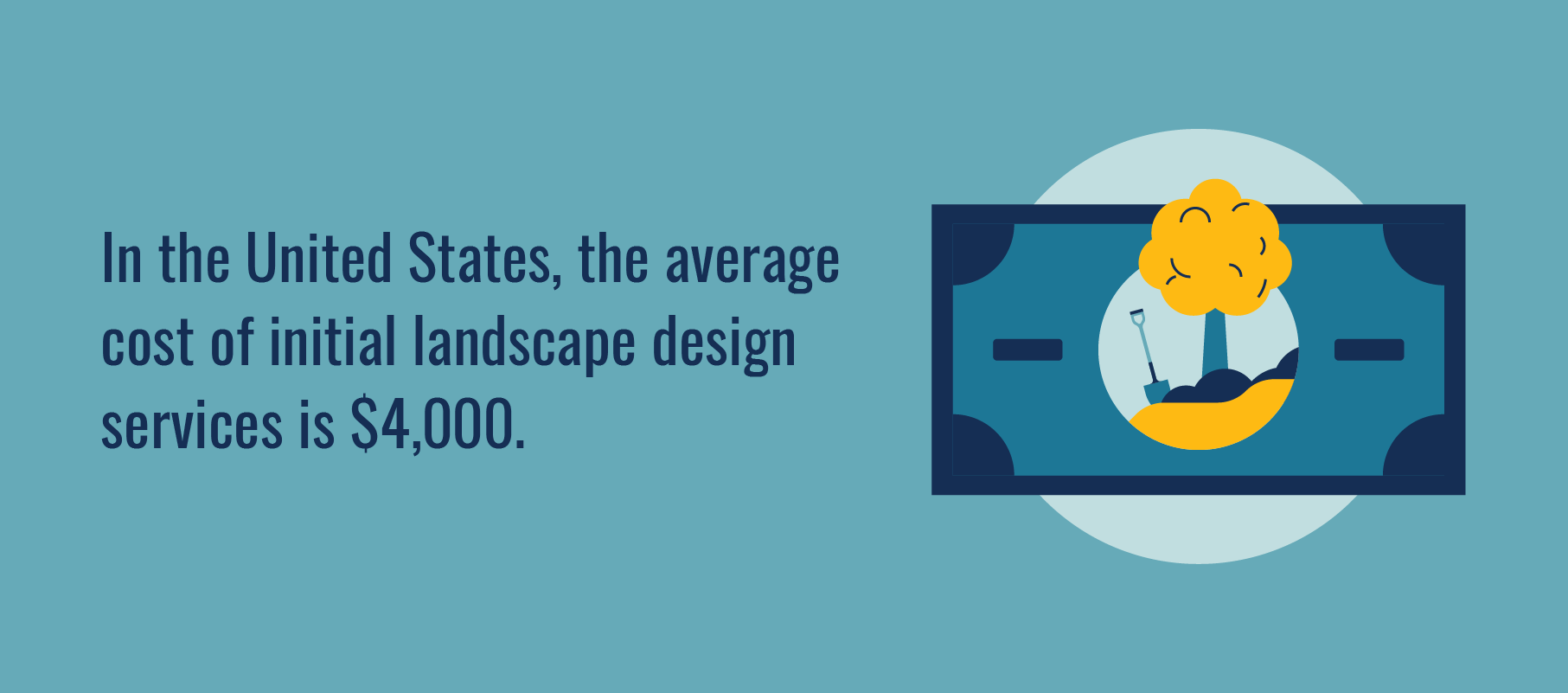 Sitting down with an experienced landscape designer who can create a custom estimate and design package is a crucial first step of any successful landscape install. They'll offer suggestions and advice about how each element works with each other, along with providing balance and variety to the proposed landscape. They'll help you understand the costs of each feature, and guide you on how to get everything in your wish list with the desired budget. 
The average cost of a 3D landscape design rendering is $500.
What's included in a landscape design package?
Initial consultation 

Budget consultation and guidance

Initial design renderings

3D renderings and/or fly-through videos

Project quote

1 or more meetings with the designer to review project plan

Construction contract

Final walk-through with designer and project manager
Cost Breakdown of Popular Landscape Design Features 
Your design rendering will include everything you want to include in your landscape, from gravel, to artificial turf, or even an outdoor fireplace. Next, it's time to determine the pricing of each of the elements you've chosen. Here are the average costs of some of the most popular landscape elements and features. Note that the following costs do not account for installation fees.
Common Landscape Materials Costs 
Landscape Material 
Average Cost
Artificial Turf

$5– $15 per square foot

Pavers Cost

$10 – $17 per square foot 

Landscaping Stones
 

$25 – $900 per ton

Crushed Stones
 

$20 – $50 per ton

Sod Installation

$1 – $2 per square foot 
Common Landscape Features Costs
Landscape Feature 
Average Cost

Outdoor Kitchen 

$6,000+

Outdoor Barbeque

$250 – $3,500

Outdoor Fireplace

 

$9,500+ 

Pre-made Fire Pit

$100 – $1,000+ 

Custom Built-in Fire Pit

$1,500+

Freestanding & Retaining Walls

$1,500+

Fence 

$2,500+

Pergolas

$2,000 – $5,000

Outdoor Lighting

$1,000+ 

Deck

$4,000 – $11,000 

Gazebo

$3,000 – $10,000
Common Water Feature Costs
| | |
| --- | --- |
| Water Feature | Average Cost |
| Backyard Pong | $1,000 – $5,000  |
| Swimming Pool | $25,000 – $80,000  |
| Waterfalls | $500 – $5,000  |
| Water Fountains | $200 – $10,000 |
| Streams | $10,000+ |
| Splash Pads | $1 – $2 per square foot  |
Additional Factors in Determining Landscape Installation Cost
Property Size

The biggest consideration in cost for any landscaping project is the size of the property. The larger the property being landscaped is, the more it will naturally cost. For most aspects of landscape design the cost will be calculated per square foot. 
Site Topography

Topography consists of the examination of the forms and features of the land surfaces in the design site. Your property will be surveyed to note the soil composition, contours and slopes, elevation and grading, existing foliage, and the direction of the sun in relation to shade placement.
Understanding the interplay between these elements in your yard will help our team make appropriate recommendations for feature placement and appropriate material usage. The cost to level a yard 
Existing Yard Features

For some landscaping, the owner chooses to completely demolish the yard and start over from scratch, removing any existing features. The more features of the yard that are retained, like trees, brush, and grass, the less expensive the landscape design will be. 
For instance, paying to have trees removed, and then replaced with new trees, will be much more expensive than simply keeping the existing trees. Keeping parts of the landscape "as is" will reduce the overall cost.
Existing hardscape demolition can cost anywhere from $2,000 to $10,000.
Overhead, Operations and Labor 

If you're looking to hire a landscape design company to design and install your project, you can expect to pay more than just materials. Keep in mind that a lower price often means less-than-ideal project results. 
A company that values quality and professionalism will charge accordingly for overhead, operations and labor costs. In addition to paying a team of workers to install your project, the landscape design company will also need to cover project overhead and operations costs. 
Project overhead costs include:
General liability 

Workers compensation insurance 

Licensing and certification fees 

Payroll
Operations costs include:
Delivery fees 

Clean up fees 

Fueling fees 

Pallet fees 

Permit fees 
Ask your project manager for a price breakdown of what you'll be paying in project overhead, operations and labor costs to get a better understanding of the cost breakdown of your project.
Cost-Effective Tips to Save Money On Landscape Costs
1. Keep the Trees, Foliage & Existing Yard Elements Where You Can

The simplest way to save on landscaping costs is to retain what you already have. The trees, bushes, and flowers in your yard can be incorporated into the new design which saves on costs. Why cut down and remove a tree just so you can replace it with a new one? Talk with your landscape designer if the current plants and foliage aren't quite to your liking, to see if there are ways to trim or reduce the size and incorporate it into your new design.
2. Include Ground Cover Plants Where Possible

Ground cover plants can provide huge value to your landscape design. Low to the ground, and easy to maintain, ground cover plants (like creeping thyme, horned violet, and bugleweed) add color and texture to your yard. For shaded areas where grass refuses to take root, ground cover can be used to flesh out the green space, all while keeping weeds at bay.
3. Reuse Materials 

Reusing materials for your landscaping project is great for the environment and your budget. Materials like gravel, sand, pebbles, and mulch can be moved or rearranged to complement the new design. If concrete needs to be demolished as part of your redesign, the broken pieces of concrete can be reused as "urbanite" and pieced together to form an attractive walking path or patio. Instead of throwing out old materials from your previous landscape, you can reuse, or upcycle them to be incorporated into the new layout.
4. Get It Installed Right The First Time 
To get the exact landscape design you want — and have it done right the first time — it's best to turn to professionals. When faced with the various costs of installing a new landscape concept at your home, it may be tempting to consider hiring general contractors, day laborers, or even attempting to do it yourself.
When it comes to landscape design, cheaper is almost never better. Mismatched foliage, reliance on cheap materials, and a tacky layout make for a bad-looking home. Worst of all, if you decide to hire a professional to fix your mistake, you wind up paying twice. That's why it pays to get the job done right the first time.
At Install It Direct we use elite construction teams, professionally-trained landscape designers, and a dedicated repair and maintenance team that's available to address any issues that occur after your new yard is completed. These staffing differences and our dedication to customer satisfaction puts Install It Direct in a different class than our competition. As a result, our work costs more, but every aspect of the process — from design to construction — is superior.
Get A Free Estimate