Tips for Landscaping Near Swimming Pools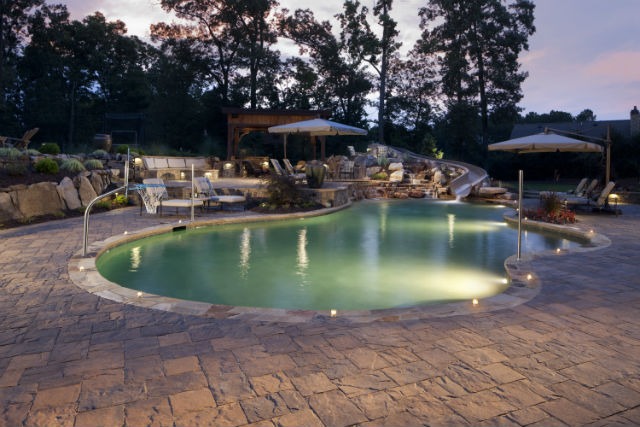 When selecting plants to use near a swimming pool, it's important to keep some criteria in mind in order to keep the area safe for swimmers and pool equipment running effectively. Plus, you probably want a resort-like ambiance, right?
Issues to Consider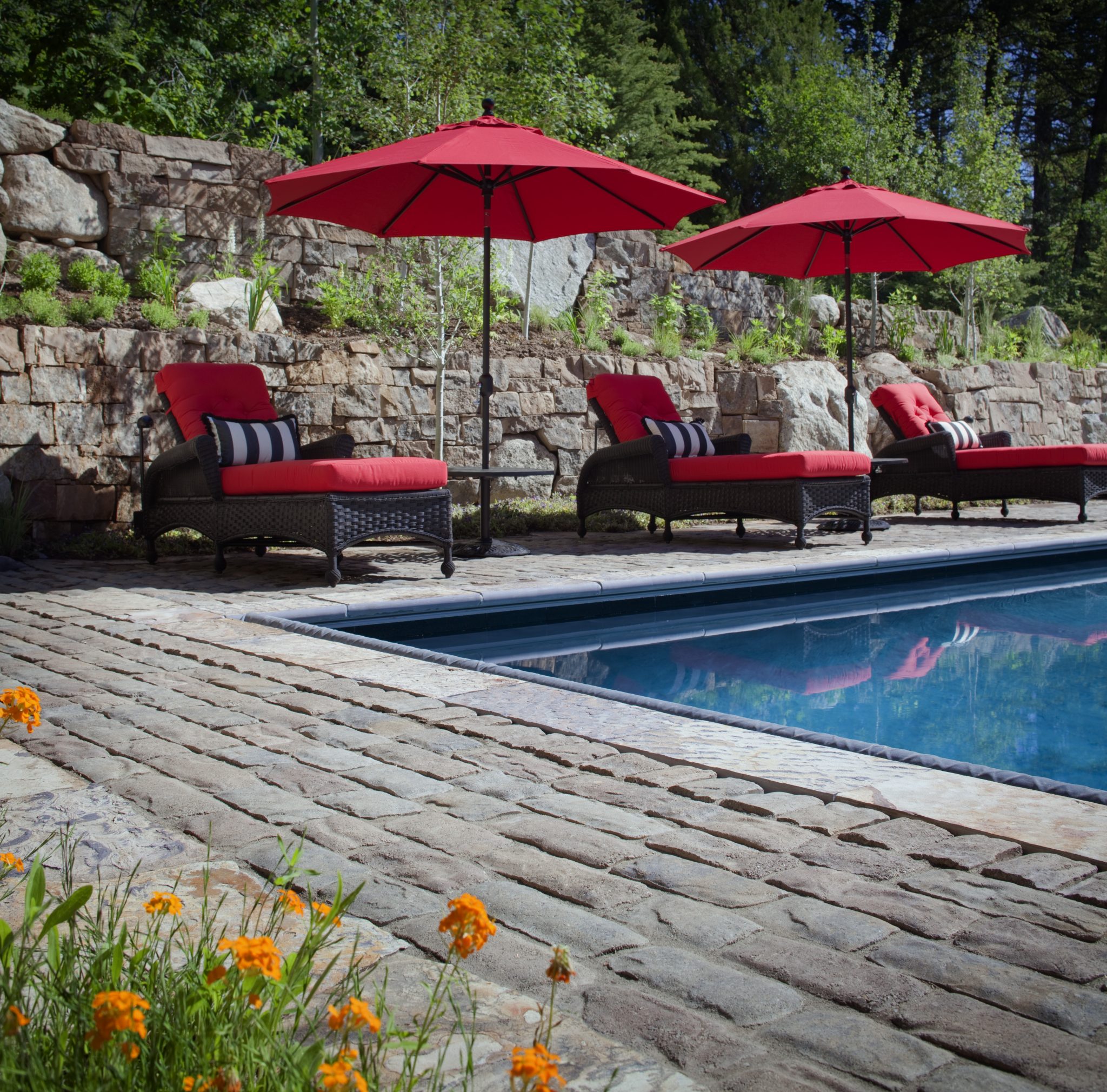 Pools are often surrounded by light-colored pavers or poured concrete that can reflect both heat and sunlight which is usually compounded by light also reflected off the pool water.
You'll also need assess whether the areas planted will receive the occasional splash of chlorinated water (this is less of an issue with natural swimming pools, of course) from swimmers or pool sweeping equipment as well as water overflowing over pool edges.
Do you need to hide pool equipment or soften any harsh lines? Plants can help blend the pool itself into the landscape.
Most homeowners tend to gravitate toward a lush look with pops of color, which often translates to tropical plants–and they do tolerate life near a swimming pool quite well–but the suggestions  below are geared toward Southern California gardens trending water-wise.
Plants to Avoid Near Swimming Pools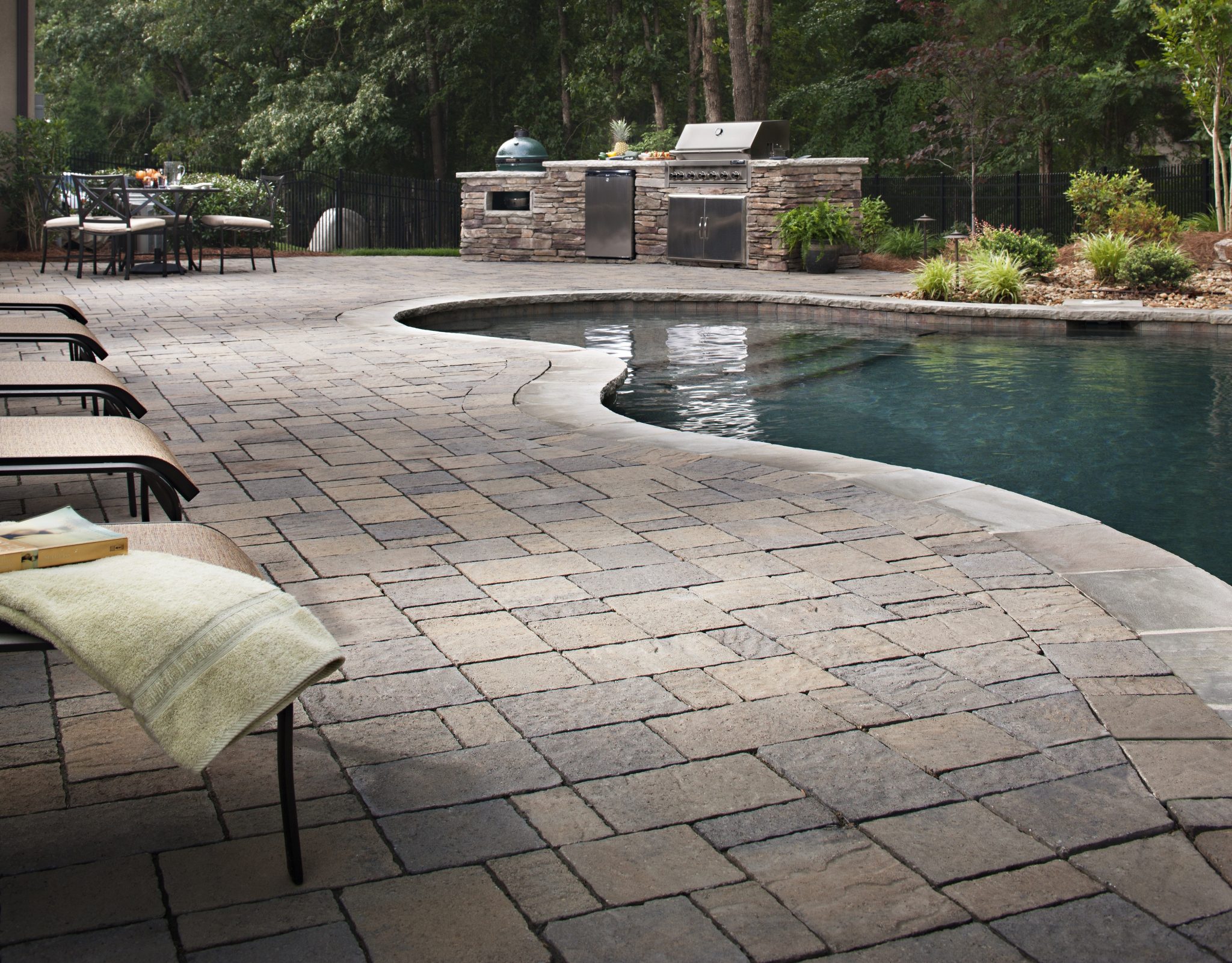 Depending on your space, it's probably best to avoid plants with thorns or other irritants since people will be cruising around the space in swimwear.
Plants and trees with big root systems could potentially disrupt the integrity of your pool so these will also need to be avoided. Also, you'll likely want to skip flowering plants like sages and fruit trees that attract insects. Not only do you risk bee stings, but also insects drowning in the pool that you'll have to fish out. Kids don't exactly love floating bugs.
And, of course, the number one irritant when it comes to plants–litter. Maple trees next to swimming pools are like oil mixed with water. Less debris in the pool equals a lower risk of it damaging your equipment along with less labor expended by you fishing leaves and clutter out of the pool. Bamboo near a pool would be disastrous, for example, with small little leaves blowing daily into the water. A little bit of plant litter, however, is inevitable.
Tall Plants that Work Well Near Swimming Pools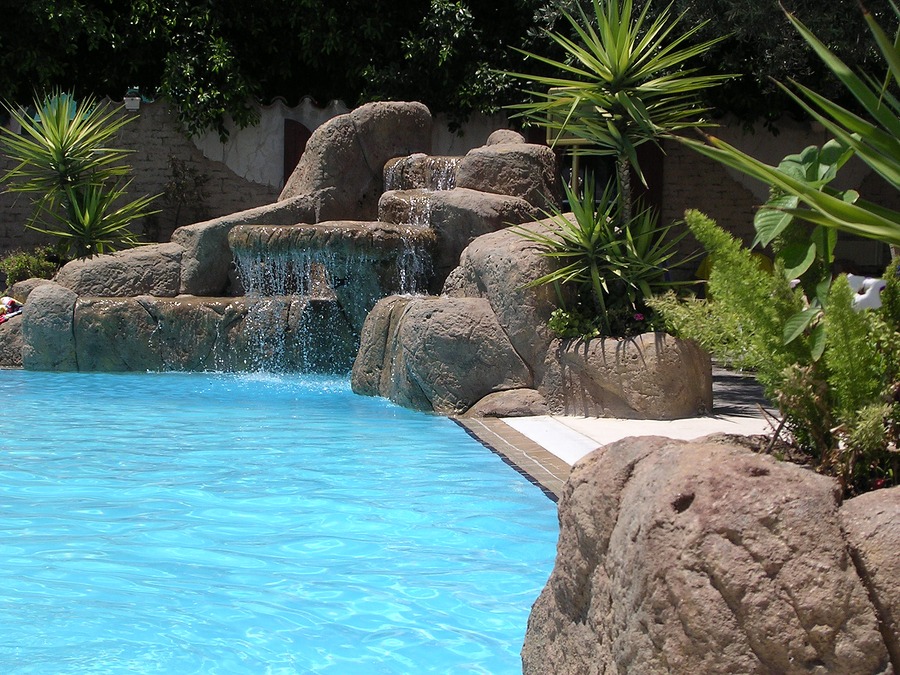 Palm trees –
A number of palm trees prove popular choices around swimming pools. Queen palms provide nice filtered shade and typically reach heights of 15-20′ in the landscape. Some palms like Mediterranean fan palms can handle water and excess light but they'd need to be planted away from traffic as their trunks are sharp. Remember, also that miniature pygmy date variety has thorns underneath the fronds.
Papyrus –
With its slender stems topped with green fuzzy pom-poms, papyrus is an excellent option for height. Line fences with it or cover unsightly spots in the yard.
Cordylines –
Pair your papyrus with colorful cordylines, evergreen palm-like shrubs or trees, which can usually be purchased fairly inexpensively (in small containers) at big retailers like Home Depot. Cordylines include ti plants (often seen in Hawaii or as houseplants) and dracaenas that span from reds to browns to multicolored.
Banana trees –
Ornamental banana trees have stunning huge leaves that create the resort-like look many homeowners would like. Just make sure to keep them out of wind.
Birds of paradise –
Both the giant version (reminiscent of a banana tree with also the same need to remain out of the wind) and regular version do well near swimming pools providing interesting foliage and tropical-looking, bird-like flowers.
Low to Medium Height Plants
Agapanthus –
Agapanthus shoot up showy, 3′ flowers in the spring and summer that are white or different shades of blue depending on the variety you choose. The leaves clump near the ground during the rest of the year. They look nice mixed in with other grasses and groundcovers.
Agave –
Agave attenuata made our list of low-maintenance succulents because it does well in a variety of situations with very little care, including near swimming pools. Be prepared to hack off rosettes or plan space for the plant so spread normally.
New Zealand flax – 
New Zealand flax or phormium plants come in a wide range of colors (brown, pink, bronze, red, yellow, variegated) and heights  from 18″ to 7′. This spiky plant has sword-like leaves that stem up from the base. Mature plants will produce blossoms during the summer that hummingbirds love.
Kangaroo paw – 
Kangaroo paw looks stunning in combination with New Zealand flax but shouldn't sit in standing water and definitely needs sunlight. They have little fuzzy flowers that can be yellow, pink or red and resemble kangaroo paws.
Jade plant – 
Hack off a jade plant branch from a neighbor and stick it in the ground because this succulent is easy to grow in a number of conditions. The paddle-shaped leaves add architectural interest and can be green or yellow and orange.
Aeoniums – 
Use Aeonium succulents to plug bare spots in the poolside landscape. The round rosettes compliment grasses and other upright plants mentioned on this list. They don't require much water but can tolerate it. The rosettes shrink then whey're thirsty.
Good Groundcovers Near Pools
Creeping Jenny –
This hearty ground cover comes in pretty deep green and gold colors. Its long, flat stems have a tendency to spill over planter edges which softens walkways or containers.  It can also handle damp soil and some foot traffic.
Artificial turf
Many homeowners are opting for poolside artificial turf because it is must less sensitive to the elements than most other groundcovers that won't take well to the myriad of conditions including excessive water and foot traffic.
Plants to Hide Pool Fencing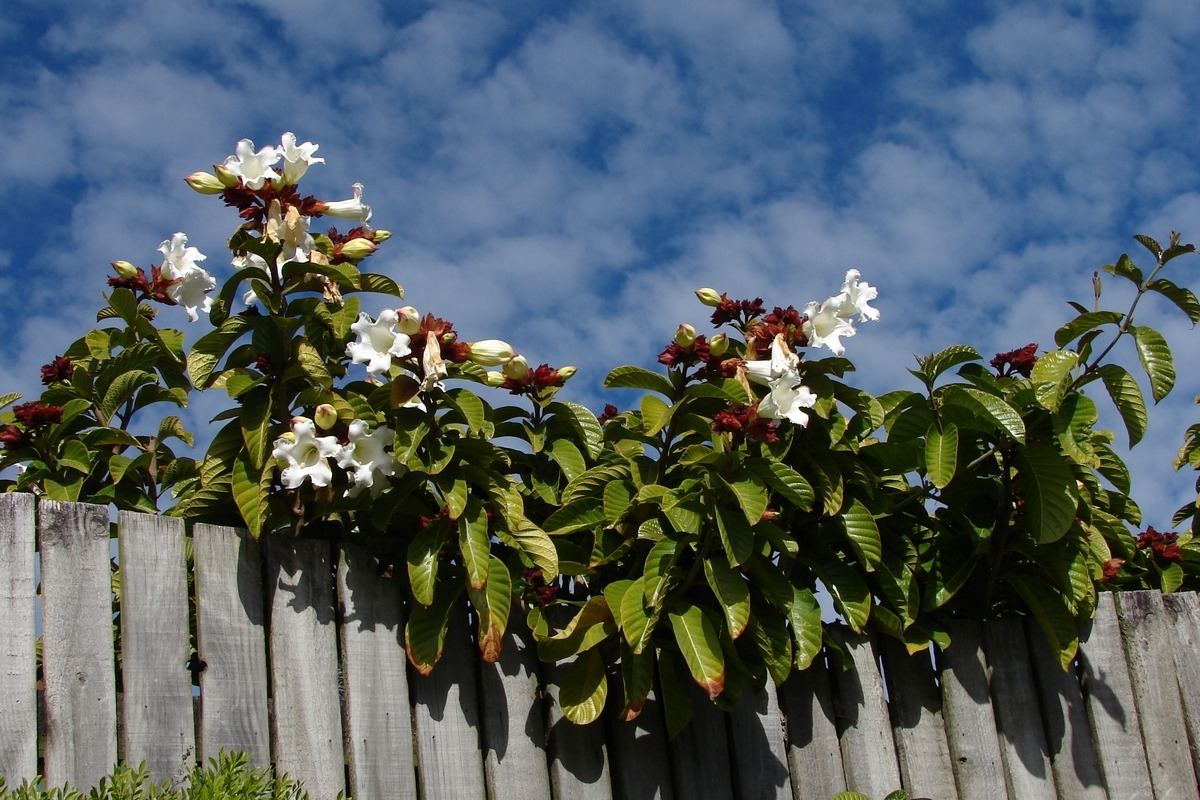 Installing a pool fence may be necessary to prevent young kids and pets from entering the area without adult supervision. And, it doesn't have to be unsightly. A number of vines that grow well in Southern California won't drop debris. Train a hibiscus plant to vine or use an equally tropical-looking Beaumontia grandiflora (pictured above) to cover the fence.
However, many homeowners are opting for glass fencing around swimming pools which is easy to compliment with plants running along one or both sides of the glass.
Minimize Plants
The easiest way to negate the worry of what will land in your pool and survive nearby is to minimize their use by using decorative pavers to add visual interest.
Your turn…
Which plants do well around your pool?
Photo credit: beaumontia grandiflora, Flickr/tgerus