7 Ways to Create Indoor-Outdoor Entertaining Areas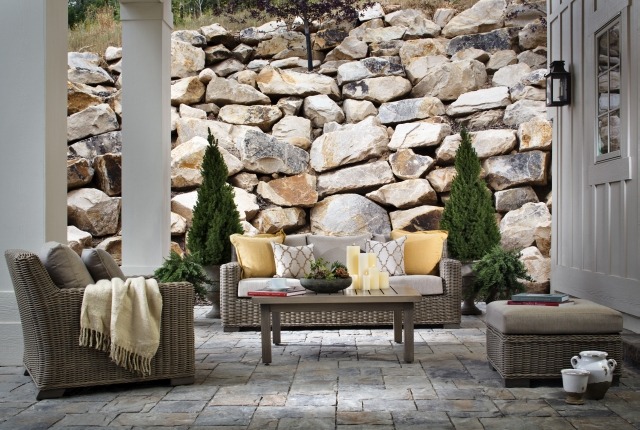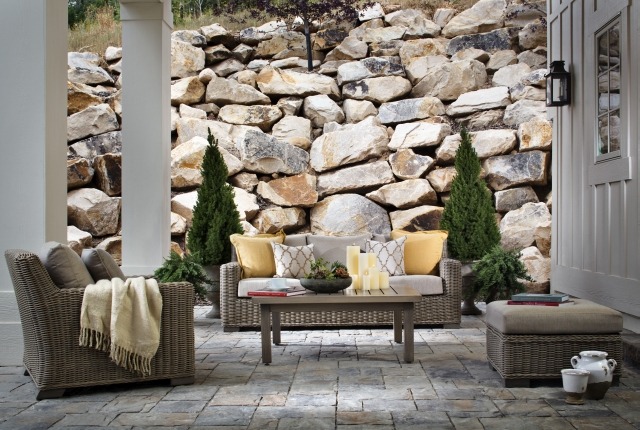 Southern California homeowners can enjoy outdoor living any month of the year, which is one of the reasons outdoor entertaining areas are such an integral part of landscape design in this area.
While most detached, single-family homes at least have a patio and often have more complete outdoor rooms, it is generally only newer homes that are designed to seamlessly integrate indoor and outdoor entertaining.
If you are looking for ways to create indoor-outdoor living spaces for you and your guests to enjoy, here are seven tips to get you started.

1. Choose the Right Space
Creating a space that feels like an indoor-outdoor living area can be best accomplished by choosing an outdoor space that is immediately adjacent to an indoor room.
Adjoining spaces can be much more easily connected in a manner that allows for a good flow that makes them feel like a continuous space.
There is nothing wrong with walking down a path from your house to your exterior entertaining space, but if you are trying to create an indoor-outdoor room, this will most likely not create the atmosphere for which you are hoping.
If you have no choice but to place the outdoor space away from your house, you can cover the walkway and add lighting to create a hallway feel between the two entertaining areas.
This may not create an indoor-outdoor room, but it will make your guests feel more like they are moving from one space to another in a more congruent manner.
If you are able to place your outdoor area next to your house, it is best to position it against a wall you can open up in some way to connect the two spaces.
Most homeowners find it most appealing to connect their patio to their kitchen, dining room or living room, but any indoor space where you plan to entertain will work.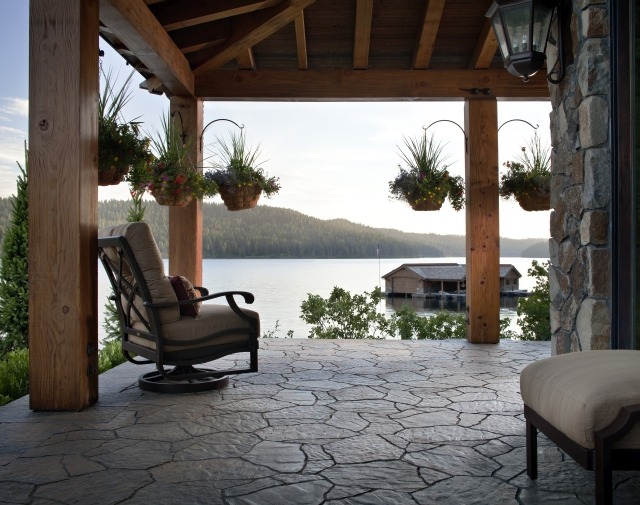 2. Cover Your Outdoor Living Area
If you want outdoor living spaces to feel like an extension of your interior rooms, you cannot have the sun or rain beating down on your guests.
Covering your patio — at least partially — is a must to make your space truly feel like your indoor and outdoor spaces flow together seamlessly.
This can be accomplished with a permanent, solid roof structure, a pergola or — if a more budget-friendly option is needed — a canopy.
Shade sails might have a look that is more outdoorsy than the vision you have for your space, but this is another affordable option that provides protection from weather and can make your outdoor living area feel more like an exterior space designed to function as a room.
When you add a cover of some sort over all or part of your outdoor living area, you do not need walls to make it feel like a designated space, which allows you and your guests to more fully enjoy the open feeling of outdoor rooms.
3. Keep the Floor Flowing Throughout
Choose flooring for your outdoor entertaining space that is the same or complementary to the flooring in the adjacent indoor room.
This consistency creates spaces that flow together and make the exterior room feel more like a contiguous extension as your guests step outside.
Travertine is one example of a paving stone product that functions well, is durable and looks great indoors and out.
Etched concrete is another option that can be carried from an interior room to an outdoor space.
If you do not plan to replace existing flooring inside, paving stones are likely your best bet when creating an adjacent outdoor space.
The variety of styles and colors available makes it easy to design a paving stone patio that will complement your home's architecture and decor, and pavers go well with classic, traditional, colonial, Mediterranean, ranch and modern styles (as well as any other architectural theme).

4. Connect the Spaces with Large Doors or Movable Walls
How you connect your indoor space and patio is one of the most important factors when creating a fluid entertaining area.
This will determine whether your guests feel like they are stepping from inside your house into your yard or like they are simply moving from one part of a continuous entertaining area into another, open-air part of the same space.
The bigger the opening, the better.
If your budget allows, replacing a large section of the exterior wall with a folding window wall, over-sized pocket doors, bi-fold doors, accordion doors or lift-and-slide patio doors is ideal.
This allows for a large opening with few or no barriers creating a distinct border between the spaces.
French doors are a more affordable option that will also work if you are working with a smaller wall or a smaller budget.
Sliding glass doors are, of course, the most affordable option, but conventional sliding doors do not always create a seamless transition from an indoor space to an outdoor one.
Most people definitely feel like they are stepping into a backyard when they step through a sliding glass door, and only half of the space that the door occupies actually opens.
This leaves the other half looking like a large window and creating a barrier between the two spaces.
However, larger sliding French doors that open from the middle will work to create an appealing opening to connect the spaces.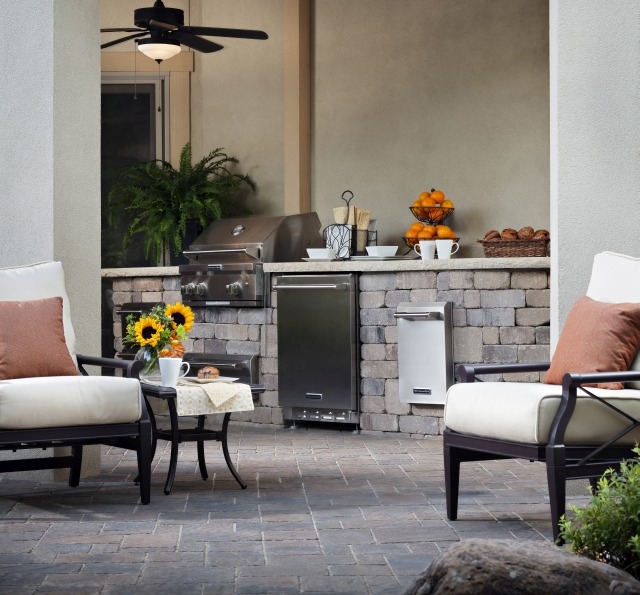 5. Locate Your Outdoor Kitchen Wisely
A patio kitchen anywhere in your yard is an appealing feature and a must for homeowners who entertain outdoors regularly.
However, if your goal is to create a fluid indoor-outdoor entertaining area, the most efficient and visually appealing choice is to locate your outdoor kitchen in close proximity to your indoor kitchen.
This will allow you to easily carry food and beverages back and forth between the two, which will be particularly helpful if you are prepping ingredients in your indoor kitchen before taking them outside to cook on your built-in barbecue grill.
If your indoor and outdoor kitchens share a wall, you may even be able to install a pass-through or bar in the common wall to connect the spaces and make transporting food and drinks more convenient.
If you are not able to place your patio kitchen for easy access, a rolling bar cart is handy to have on hand for carrying food to the grill or distributing drinks to your guests.

6. Decorate Adjoining Spaces Coherently
Make your indoor-outdoor entertaining area feel like a continuous space by implementing a complementary decor scheme.
Sticking with a single theme and using harmonizing colors inside and out is an easy, affordable way to make a statement that these spaces go together.
This can be as simple as using matching throw pillows in both areas, or you can take it a step further and decorate both spaces with matching furniture or rugs.
You can also make your outdoor room feel more like an extension of your home by including pieces that could be used either indoors or outdoors, such as outdoor beanbag chairs or attractive patio sofas.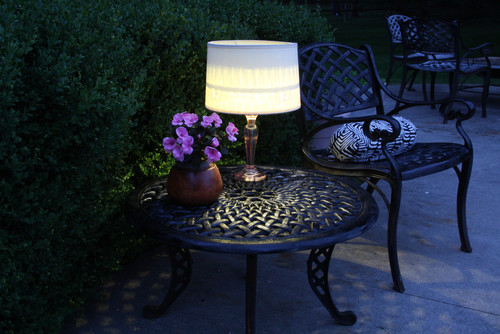 7. Plan Appropriate Lighting
Softer lighting is appropriate for outdoor entertaining spaces and is an important part of creating a relaxed, inviting atmosphere for gatherings.
However, you do not want your outdoor lighting to be too dim or your guests might feel as though they are stepping from an indoor room bathed in bright light into an abyss of darkness.
Lighting that gradually softens as you move farther away from the door connecting the spaces is generally best, but also remember that the light from your indoor space may be adequate for this transition if there is a large opening between the two spaces.
Your Turn…
Do you have indoor-outdoor entertaining areas?
What did you do to make these two spaces flow together?