Quarantine DIY Home Improvement Projects
We are all spending more time at home these days, which, for many of us, means spending as much time as possible in our backyards. The outdoor living areas we once used to host weekend barbecues and dinner parties are now functioning as outdoor offices or providing a much-needed opportunity to enjoy a little fresh air and sunshine while keeping ourselves and our loved ones safer at home.
To make your outdoor living areas even more beautiful, functional, and comfortable, here are five DIY home improvement projects that you can complete during quarantine. Not only will they make isolating at home more enjoyable – you will also keep loving these outdoor improvements once you can finally go back to hosting those famous dinner parties and bringing your family and friends together for a backyard cookout. 
Creating a Play Area for Kids
Everyone spending more time at home means kids are not able to have playdates at the playground or see their friends at school. That leaves it up to you to keep them entertained, active, occupied, and engaged. There are lots of resources and activities for kids online, which have been a huge help during quarantine. However, it is also great to encourage kids to spend more time outdoors engaging in active or creative play and maybe a bit less time looking at screens. Creating an inviting play area is one way to do this.
This DIY home improvement project can be pretty simple or it can be rather involved. It just depends on how elaborate of a play area you plan to create. There is a wide variety of play equipment available with many options that can be ordered online and assembled upon arrival. You can opt for a simple swing set, or you could choose an expansive playset with slides, bridges, swings, ladders, climbing walls, sandboxes, and tucked away spots for your kids to hang out.
If your kids are small, you can opt for an easy-to-assemble, plastic playset that will only take a couple of hours to put together by yourself. If you choose a larger play structure with multiple features, it might take a couple of days and require a couple of adults.
You may also choose to forego playsets completely and create a backyard play area for kids filled with over-sized checkers games, a tent or teepee, a miniature soccer set, carnival games, or a splash pad.
Regardless of the type of playset or other activity options you choose, you will need a dedicated space where your kids can safely enjoy some much-needed time outdoors. If you have younger children, you will want to make sure that the area is fenced to keep them from wandering off and strangers from wandering in. You will need to make sure there are no poisonous plants in the area, trim low-hanging branches, and keep shrubs pruned to avoid injuries. If pets will be sharing the area, you need to make accommodations to ensure that pet waste can be easily removed before playtime. You will also need to reduce tripping hazards as much as possible.
Your playground ground cover is going to play a big part in the safety and comfort of the play area. For example, if you choose properly installed artificial grass, this will make pet waste cleanup easy, will provide some cushioning for the inevitable falls and roughhousing, will minimize tripping hazards and slipping, and will provide a low-maintenance ground cover that does not get muddy when it rains.
Another option to consider is rubber. Rubber mulch provides a bit of cushion and is increasing in popularity for playgrounds, but it dirties over time, can be smelly when it is hot, and is often made from recycled tires, which could expose your kids to toxins. Rubber tires or a poured rubber surface is probably a better option, particularly since it is a solid surface and does not have small particles to ingest or inhale. Solid rubber playground surfaces provide a smooth, flat, slip-resistant surface. The biggest drawback with solid rubber is that it is more expensive than most playground ground cover options.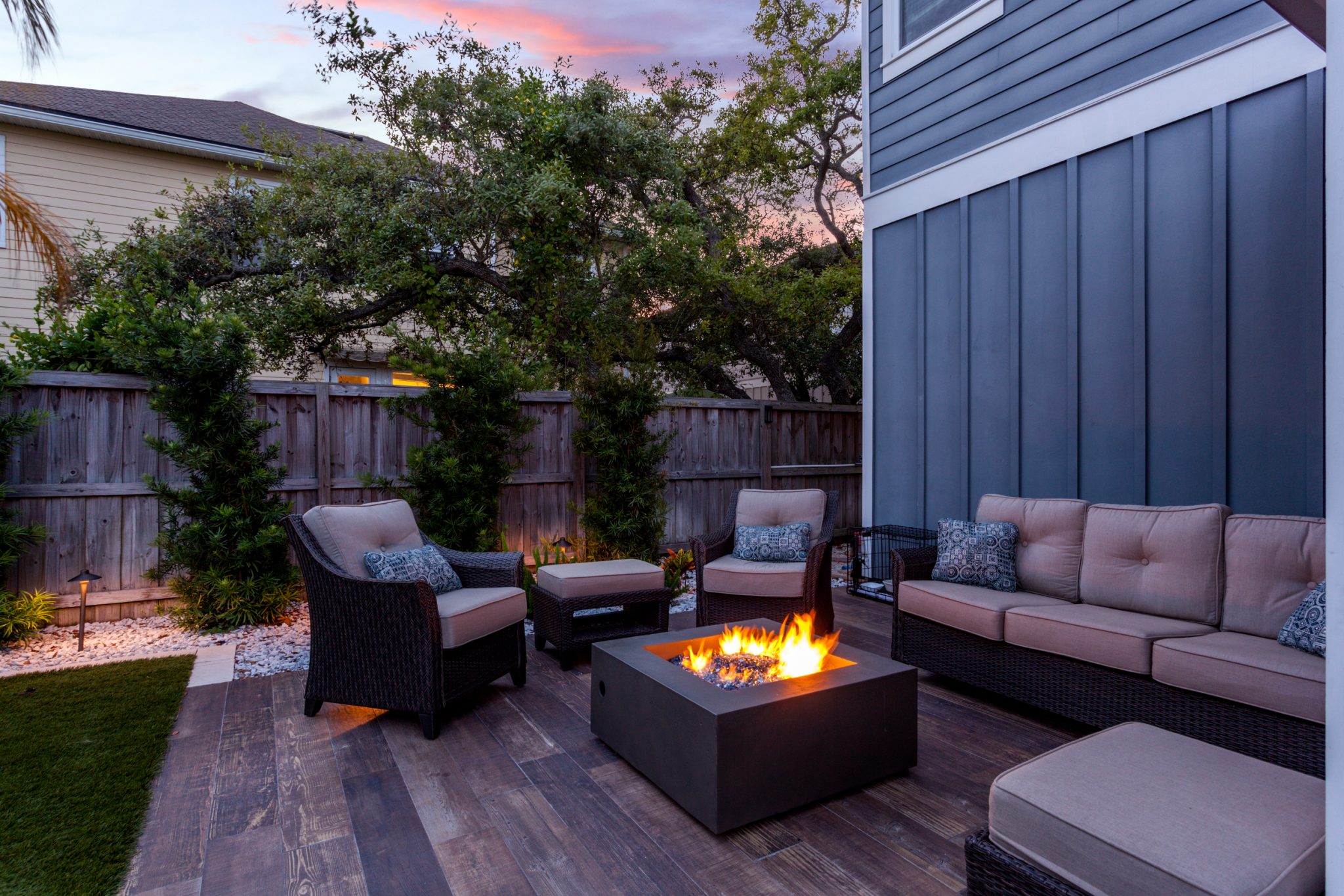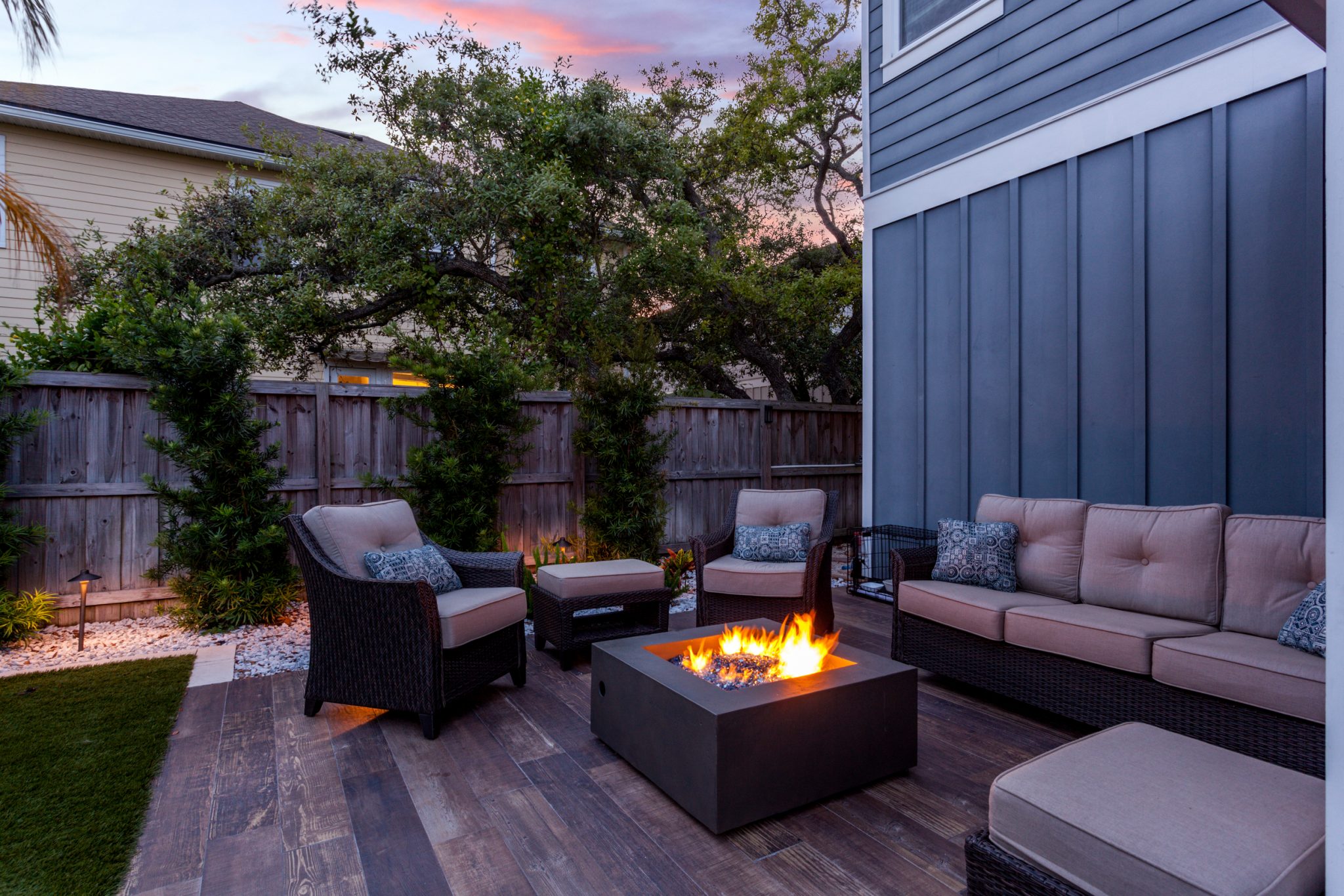 Installing a Fire Pit
We will start with the easiest one, since even the least-handy homeowners can install some type of fire pit. The most basic option is to purchase a portable fire pit, some of which are available for less than $100. If you go this route, all you need to do is order a fire pit online or pick one up at your local home improvement store, bring it home, and place it.
The next step up would be to purchase a fire pit kit, which generally consists of paving stones and a fire bowl. Kits sometimes do not come with screens, so be sure to purchase a screen as well. Paving stone fire pit kits can be put together with or without mortar, so this is a simple DIY home improvement project that just about anyone can do. These are generally more attractive and look more permanent than portable options, so if your budget allows and you can stack pavers, you might want to consider this option over a portable fire pit.
Before installing a DIY fire pit, check with your city, county, or homeowners' association to make sure fire pits are allowed and to understand any restrictions regarding placement or how large your fire pit can be.
You will then need to choose a location, which should be at least 10 feet from structures, trees, and bushes. If you have large trees in your yard, make sure there are no low-hanging branches in the area where you plan on building your fire pit. You should also consider creating a patio area around your fire pit with a non-flammable ground cover, such as gravel or paving stones. If you have other landscaping ideas you plan on doing during your time at home, be sure to consider those when choosing the location and style of your fire pit.
These options, of course, focus on wood-burning fire pits, since running a gas line is not something a homeowner should try to tackle on their own. If you are interested in a gas fire pit, you will need to work with a contractor who can get the permit, run the line, and install the fire pit for you.
Here are some resources to help you get the most out of your fire pit:
Fire Pit Safety + Maintenance Guide for Your Backyard
What Is the Best Firewood for Fire Pits?
Tips for Campfire Cooking with Your Fire Pit
5 Wood Alternatives for Woodburning Fire Pits + Outdoor Fireplaces
Backyard Movie Theater
It might be a while before we are comfortable catching a new release in a packed theater, but you can watch all of your favorite movies and shows right in your backyard. It is a great way to spend time with your loved ones, add another function to your outdoor living areas, and enjoy spending more time outside. Plus, an outdoor movie theater is something that you and your family will continue to use long after quarantine is over.
This DIY home improvement can be as simple as a sheet hung on a wall and an inexpensive projector or as elaborate as a roll-down screen powered by a remote with a theater-quality projector and sound system. This means that you can do this one on almost any budget and even in a small space.
For an affordable and easy-to-set-up backyard movie theater, a good middle point it choosing a pull-down screen that is operated manually and a rolling cart with a decent projector. The rolling cart will allow you to easily store your projector, extension cord, and other accessories when not in use and will help save space on your patio. The pull-down screen allows you to roll your movie screen up and out of the way when not in use. Foldable projector screens are quite popular too.

Building a Pergola
If you would like to spend more time enjoying your outdoor living area but there is not enough shade to make it comfortable, a pergola might be the perfect solution. Pergolas are one of the most attractive shade options and will be an immediate upgrade for your patio. If your plan is to build your own pergola, you have two basic options: buying a pergola kit or building a pergola using plans you can find online. The kit is going to be easiest, while finding plans online will give you more options to build a pergola that perfectly fits your space and needs.
With either option, you will likely need a permit and will need to familiarize yourself with local building codes.
Handy homeowners can build a pergola, but if this seems like a bit too big of a project, you can also hire a contractor to draw up plans, handle the permit process, and build the pergola for you. Since this is an outside project, it should be easy to maintain social distancing if you choose to use a contractor for this one.
Once you have installed your pergola, you can increase the shade coverage or privacy by adding vining plants, patio curtains, or a fabric cover.
Here are two additional articles to inspire you:
Stunning Pergola Ideas + Tips for Your Home & Garden
Installing a Paving Stone Patio
Of all the DIY home improvement projects and landscaping ideas on this list, this one will be the most challenging for some homeowners. This is because a properly installed paver patio requires many steps and a bit of skill. However, handy homeowners can install a paved patio area if they have patience and are willing to watch a few videos and learn how to complete each step.
While it is not an easy project – or a fast one – the end product will be a beautiful, functional patio that will make your outdoor living area an even better place to spend time. When we are all spending more time at home, a project like this that will make it more enjoyable to spend time outdoors is definitely worth it.
To give you an idea of what it entails, here are the basic steps for installing a paving stone patio:
Call 811 to determine the location of underground utilities in the area.

Demo your current landscaping.

Excavate 7.5 inches from the end of the graded slope.

Grade the area to a two-percent slope.

Compact the soil.

Place geotextile fabric.

Lay two inches of class II road base and compact it.

Lay two more inches of class II road base and compact it.

Hose down the road base and compact again.

Make and place your screeding guides.

Pour bedding sand over the base.

Level the sand with a rake.

Screed the sand with a 2×4 to a one-inch depth.

Lay your pavers in your chosen pattern.

Use a wet saw to cut the border stones.

Trench the border.

Install bond beam footings in the trench.

Pour concrete and set the border stones.

Pour joint sand to cover all of the paving stones.

Put a pad on the compactor and tamp the sand.

Sweep or blow the remaining sand off the top of the paving stones.

Gently wet the pavers until water stops soaking in.

After your new patio is completely dry, seal the pavers.
We know this list looks daunting, but we have all seen paving stone patios that were not installed properly. If these steps are not followed, particularly the steps that involve compaction, your patio will eventually have spots that shift, sink, or buckle. So, it is well worth following the steps and doing this right. You will be investing too much in the materials and process to have it not turn out well in the end.
A paver patio is a fantastic home improvement project that can increase the value of your home and instantly beautify your yard. Most importantly, it provides a space where you can spend time outdoors and get in some great family time while you are all at home together.