How to Plan a Landscape Design
Landscape planning is an exciting part of moving into a new home or updating your current one. Deciding which features to include, designing the perfect outdoor kitchen, or building an amazing dog run for your four-legged friends is certainly part of the fun. But there is more to it than picking out patio furniture and choosing the perfect throw pillows, so let's get down to the business of planning a landscape.
How to Plan a Landscape Design: First Steps
First and foremost, you have to have a plan. Do not go into this with the idea that you will work on one section of your yard at a time, and then hope it all comes together in a cohesive design. It does not work like that and you will end up with a disjointed, piecemeal design that lacks cohesion.
It is fine to complete one section at a time, and this might be necessary based on your budget and your schedule, but you need an overall plan before you break ground.
The first step in landscape planning is to determine your budget. This will guide all of your other decisions, including which features you can include and how much professional help you can afford.
The next step is making your must-have list. This is the part of the planning process where you decide what you absolutely must include in your design. This might include a patio for outdoor entertaining, a vegetable garden, a dog run, an outdoor kitchen, a playground, or a swimming pool. It also needs to include the basics, such as outdoor lighting, walkways, proper drainage, privacy needs, and access for future repairs.
Next, come up with your wish list. This list includes the landscaping features you would like to have but did not quite make it to the must-have list. Set this list aside but keep it handy. As you begin to put together your landscape plans, you may be able to add items from this list to the design – even if you are not going to complete them until a later date.
Once you have an idea of your budget and what you want to include, you will need to decide if you will be working with a landscape architect or landscape designer or if you will be taking on this project on your own.
If you are starting from scratch and your budget will allow for it, a landscape architect may be your best bet. These professionals put together a site plan with elevations, a drainage plan, irrigation plans, and a lighting plan. Landscape architects generally only come up with the overall design, and then you hire a landscaping company to bring it to fruition.
If you are remodeling your existing landscaping, a landscape designer will usually cost less and will work well for this situation. Some landscape designers only provide designs, while others have a crew that can install some or all of the project.
If you decide to take on landscape planning on your own, keep in mind that you will at least need to bring someone in to look at grading and make sure you have proper drainage and do not have elevation issues before you begin working with contractors to install features.
Once you get down to designing your landscape – with or without professional help – place your big, must-have features first, and then move on to the rest. For example, if you are installing a swimming pool, you will need to know where that will be located before you plan the rest of your design.
You will also need to create a timeline to keep your installation on track and limit setbacks. For example, if you are going to install a brick patio but you also need to run electrical or plumbing lines through that area to reach your outdoor kitchen, you need to be sure those contractors run their lines before your patio contractor lays the bricks. Your timeline should start with hardscapes and work its way to plant installation.
Lastly, have a clear vision of the look and feel you are going for in your overall landscape design. Do you want a clean look that will complement the traditional architecture of your home? Sleek lines with a modern feel? Is your main focus to enhance curb appeal for prospective buyers?
You will need to be clear on the overall look and feel you want for your property before you put designs on paper.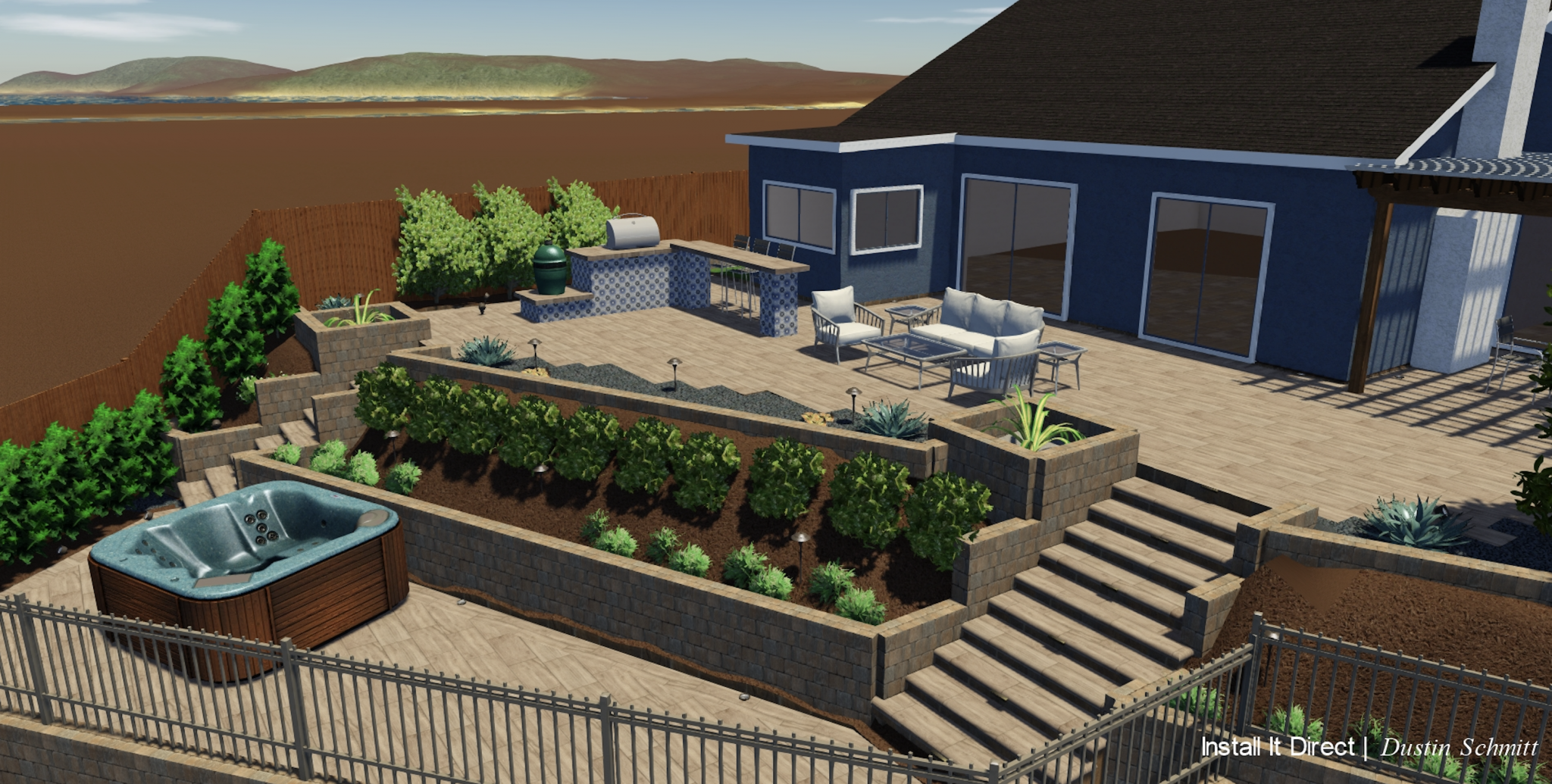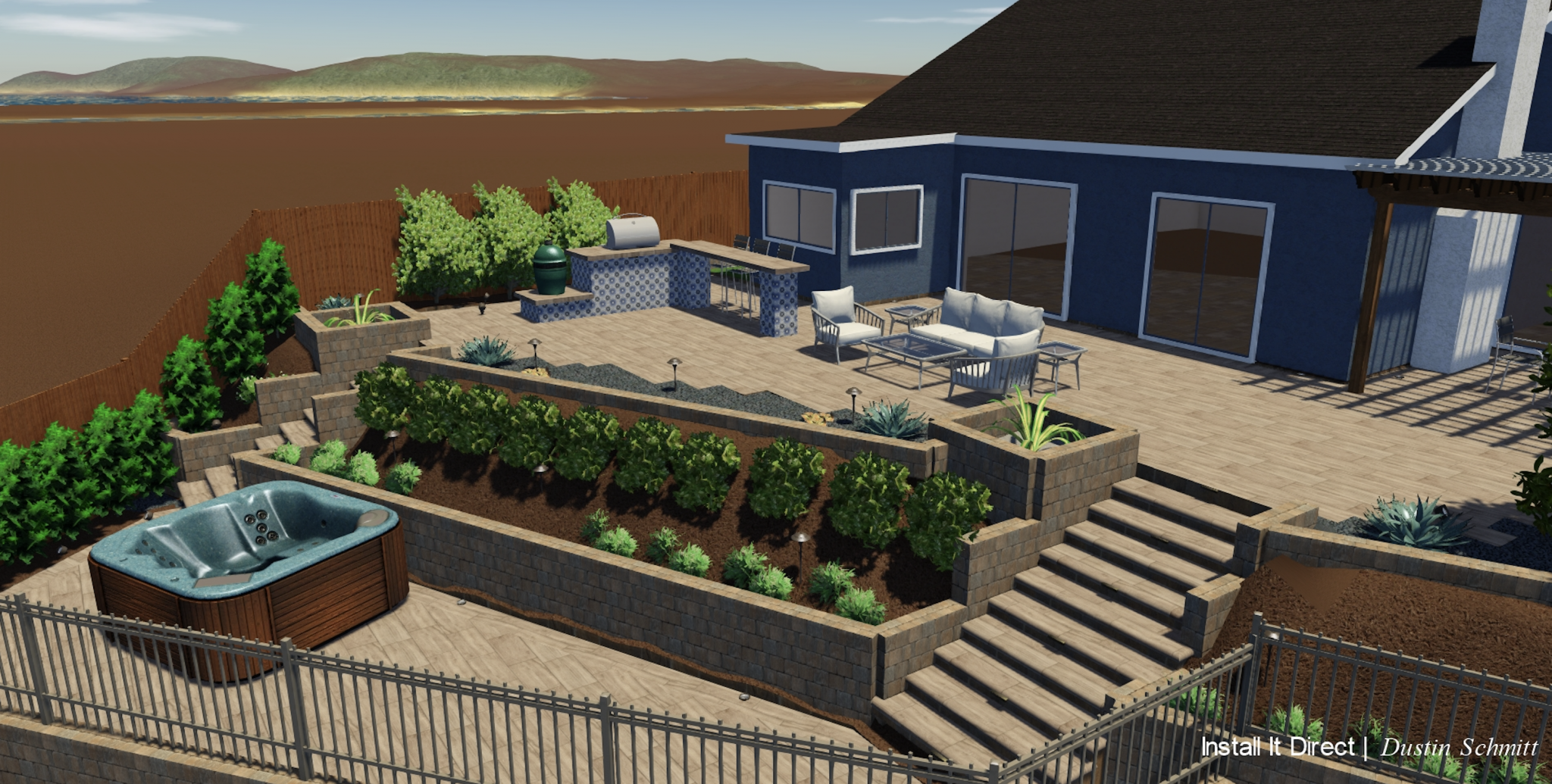 How to Plan a Landscape Design: Breaking Ground
Before breaking ground on your project, you will need to realistically assess your handiness. If you have successfully built a deck, laid tile or put together a pergola in the past, then you probably have the skills and knowledge to successfully complete these tasks again. This is a great way to save money on labor and allows you to focus more of your budget on aspects of your landscape plans that you are not comfortable tackling yourself.
If you have no experience with running electrical wires for outdoor lighting or putting together the above-mentioned pergola, then you will likely be best served by leaving these tasks to the professionals and getting your hands dirty later in the project when it is time to plant trees or spread gravel.
Unless you work in the field, there are some landscaping projects that are always best left to the pros, such as installing artificial grass lawns, swimming pools or paving stone patios. These hardscaping features require considerable ground prep that determines the quality and function of the end product, so it is best to leave these to the professionals.
Whether you are doing some of the work yourself or letting professionals handle the entire install, you will need to find reputable, reliable contractors. Ask questions, read reviews and make sure you are comfortable with them before you sign any contracts.
Most contractors will handle the permit process for you, but make sure you confirm this, since you do not want to get caught completing projects without permits.
Do not shy away from the groundwork. Starting from scratch or remodeling your existing landscape gives you the opportunity to do the project right and ensure its longevity. Level the ground before spreading gravel, amend the soil before planting your vegetable garden, and plant your fruit trees in gopher baskets the first time so you don't have to replace them later.

How to Plan a Landscape Design: General Tips
Here are a few more things to consider during landscape planning:
1. Consider how much time you want to spend maintaining your landscaping. If you want a low-maintenance yard, you may want to forgo that natural grass lawn you were planning and opt for synthetic turf that requires no mowing, aerating, edging, or fertilizing.
2. Remember that planning where to plant different plants is almost as important as planning your permanent features. Different plants require a different amount of sun each day and have different irrigation needs. Make sure you plant your plants where they have the best chance to thrive and group them into zones with similar water requirements.
3. Plan for storage. You will need storage for large items, like shovels, rakes and wheelbarrows, as well as smaller items, like patio cushions and gardening gloves.
4. Know the growth rate and size at maturity for any plants, bushes or trees you plan to include in your landscape planning.
5. Keep energy and water conservation in mind when making your landscape plans. This will help you save money in the future while also reducing your home's environmental impact.