10 Trees and Plants that Signal Fall in a SoCal Garden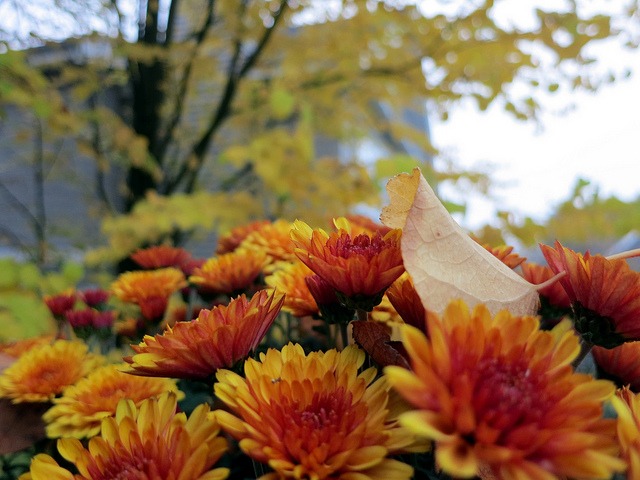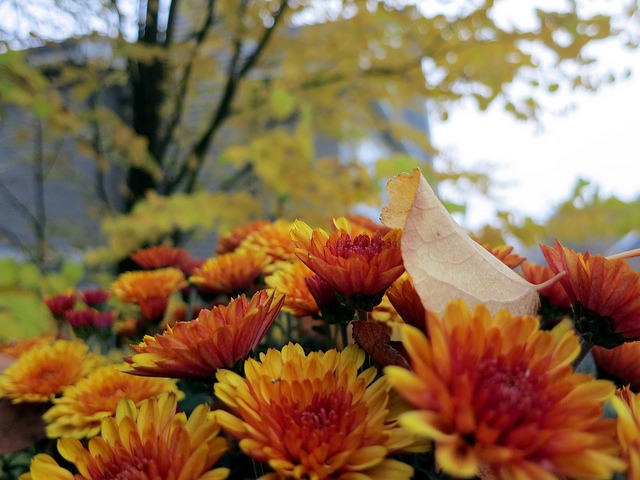 Transitioning from one season the next is a rather non-event in Southern California. Our consistent sunshine is a major draw for residents but some miss the cool weather and the way leaves change color in other parts of the country.
We can't tell you how to drop outdoor temperature but with some planning, gardeners can have trees and plants in the garden that change with the seasons or add the orange, red and golden hues fall is known for. Here are ten good suggestions for an outdoor living space.
Ginkgo Biloba (Maidenhair)

Ginko Biloba trees are incredibly hearty trees that grow well in Southern California. The beautiful leaves are iconic in Asian decor making these trees an excellent choice for a Japanese or zen garden. Be sure to purchase a grafted variety that is male. Autumn Gold is a good example. Ginkgo Biloba get a bad rap because the female variety drops a very stinky cone after blooming that is reminiscent of rotten butter. These trees grow up to 60′ tall and 35′ wide, prefer sunshine, and have a root system that won't disturb nearby driveways and other hardscape.
Lagerstroemia (Crepe Myrtle)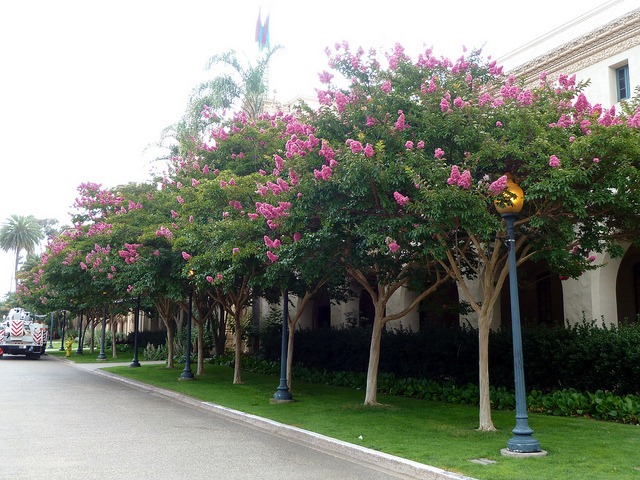 We covered crape myrtle recently because it's one of the best trees for a drought-tolerant landscape in San Diego and incredibly common likely due to its moderate size. The pretty tree blooms white, pink, red or purple flowers from summer through fall. The above photo is of crape myrtle trees planted in Balboa Park. Gardeners also particularly like the grey-brown trunks, the fact that these trees survive with neglect and the lack of pruning. Heights average about 15-20 feet. The leaves turn yellow, orange or red in the fall depending on the exact cultivar.
Koelreuteria bipinnata (Chinese Flame Tree)
This small deciduous tree is native to Asia. Fragrant yellow flowers give way to rose-colored paper seed packets that look like Chinese lanterns and are fantastic in flower arrangements. The pretty green leaves turn yellow before dropping in the fall. The Chinese Flame tree needs full sun and has well-behaved roots so is good to plant near hardscape like pavers and in lawns. It can grow up to about 30′ tall and wide, and is commonly used in parks as an excellent shade tree.
Liriodendron tulipifera (Tulip Tree)

Tulip trees are native to North America and have uniquely-shaped leaves that someone took a bite out of them. But what gives the tree its name are pretty yellow-green, tulip-shaped flowers with an orange rim that emerge in the spring. Leaves tend to rustle in the wind–yielding the sounds of fall–as well as turn yellow and drop in the fall. It may be best suited to large yards but makes an excellent choice for a shade tree. This tree grows up to 90′ tall and about half as wide.
Peonies

Yes, peonies actually grow well in Southern California. If you'd like them to re-bloom year after year versus planting a new tuber each season, consider the Itoh series by Monrovia Nursery. They are a bit smaller than tree peonies, with some growing only 20″ tall and 30″ wide. But even tree peonies enjoy our climate so gardeners with enough space for larger tubers can make a go of them. Peonies come in a variety of colors and flower shapes. While you could plant them in fall colors their very presence alone tends to signal fall to many people.
Chrysanthemums
Like peonies, chrysanthemums are another excellent fall flower choice. Rotate summer flowers out of containers plantings and insert mums. Garden mums grow in the ground and re-bloom annually. A good rule of thumb is to pay attention to where you're purchasing the chrysanthemums. If their potted in an indoor setting, they're more suited as cut flowers or house plants (referred to as florist mums). If they're outside in a garden center, the plant is likely to survive in the ground.
Euphorbia tirucalli 'Sticks on Fire' (Red Pencil Tree)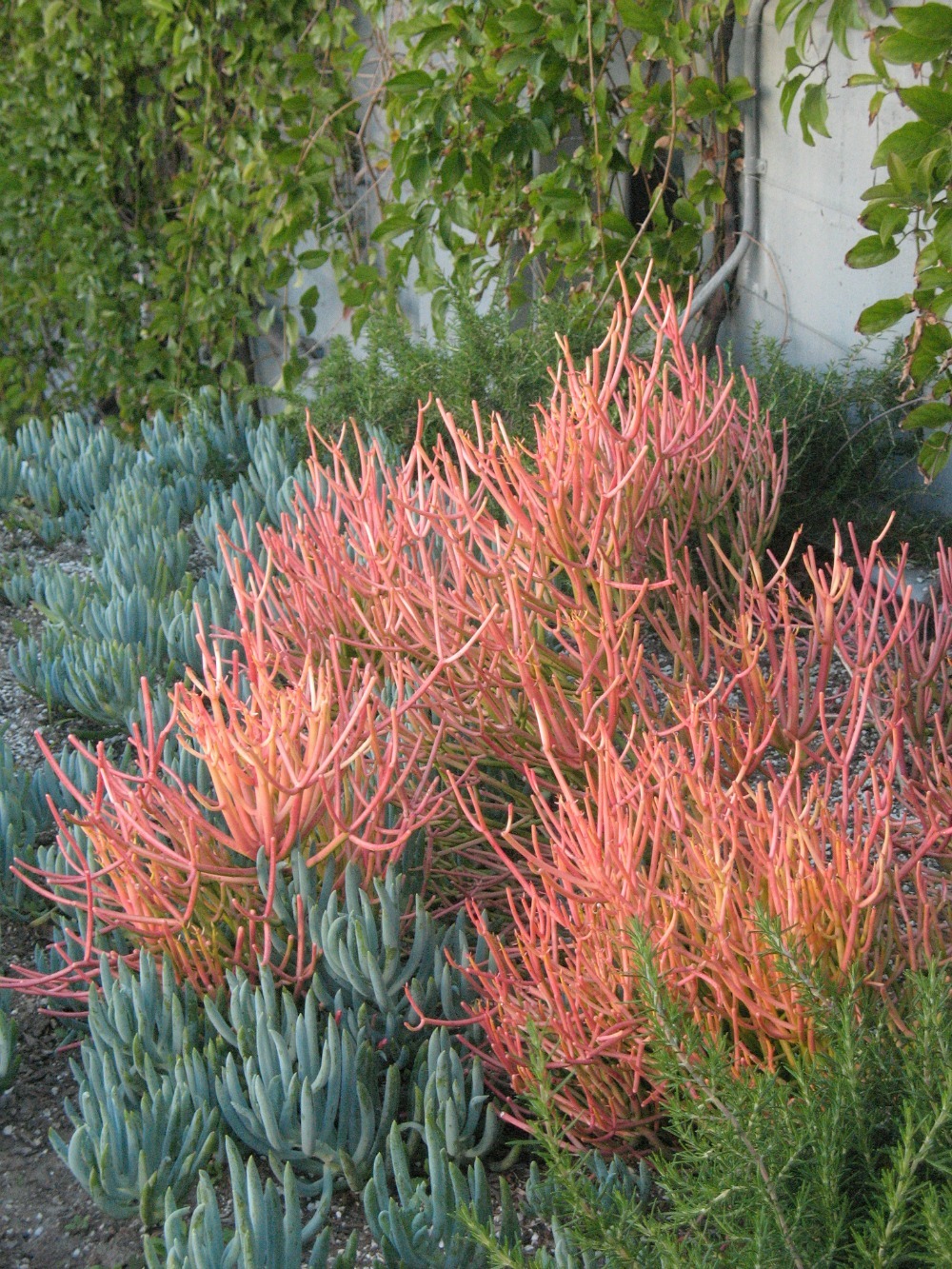 Fall color is also possible for the succulent gardener. Sticks on fire with its orange and yellow coloring is one of the best choices. Usual height is about 4-8′ tall by 3-5′ wide. Leaves are shaped sort of like pencils and become a bit more yellow in the summer and darker orange in the winter.
Note that the plant has a milky sap that some people are sensitive to. It only appears when you break a stem, but it's never bothered me. I have several of these plants around the house. They are relatively low-maintenance as well as easy to cut and transplant to other parts of the garden.
Zinnias

Zinnias are annuals that bloom through fall and often in early winter. These stunning flowers tend to grow quickly, require little maintenance and flood a space with color. For fall color, opt for the red, yellow and orange varieties. Gardeners can even save a few dollars by growing them from seeds sown just 1/4″ deep. Be sure to deadhead zinnias for maximum blooming and, as you can see, they make excellent additions to a butterfly garden or a border planting.
Sage and Other Herbs
A change of seasons is a sensory experience so opt to include herbs that generate smells of fall cooking like sage and rosemary, especially near seating areas. A wide variety of sage plants grow well in Southern California and are also good drought-tolerant choices. Deer won't nibble on it. Some sage plants have variegated leaves while others stay a consistent green. Visit a local nursery to find a variety that is right for your garden.
Marigolds

Your Turn…
Keep in mind that choosing a deciduous tree means raking up leaves after they drop. How do you make your outdoor living space experience a change of seasons from summer to fall?
Photo credits: chrysanthemums, Flickr/ruthanddave; gingko biloba, Flickr/ptrktn; Crape Myrtle, Flickr/cwlcutler; tulip tree, "Plodovi Liriodendron tulipifera" by The original uploader was Gmihail at Serbian Wikipedia – Transferred from sr.wikipedia to Commons by Micki using CommonsHelper.. Licensed under CC BY-SA 3.0 rs via Commons; itoh peony, Flilckr/50697352@N00; sticks on fire, Flickr/27722079@N04; Creative Commons 2.0; Zinnia, Flickr/drphotomoto; marigold, Flickr/dmatos, Creative Commons, 2.0