10 Examples of Stunning Modern Front Yard Designs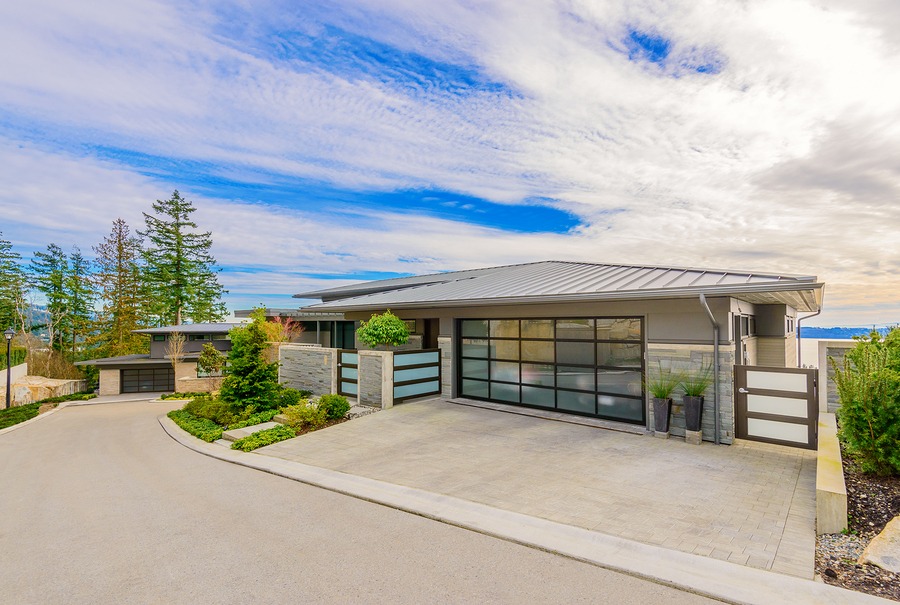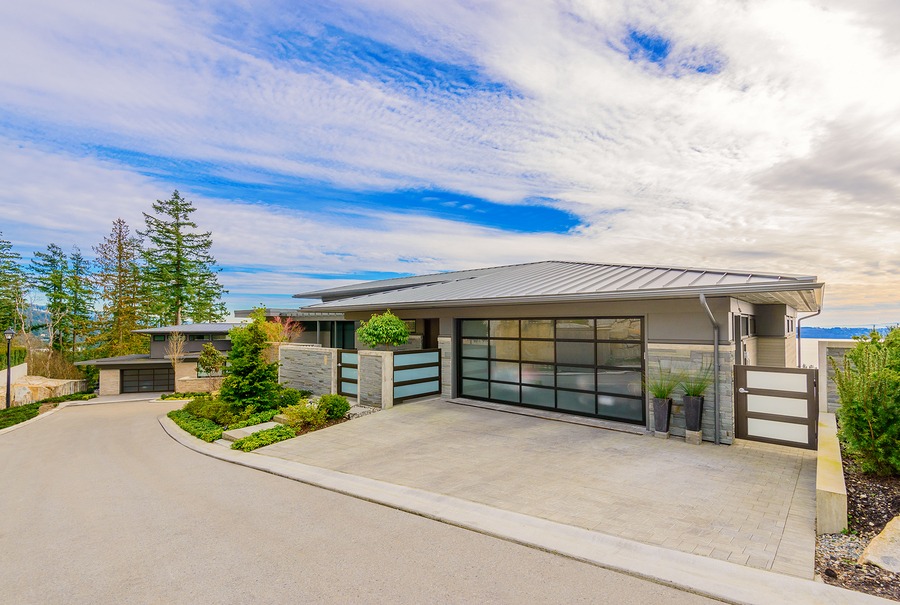 Less is more in a modern landscape. It's a strategy that might seem easy, but it isn't always. Because every element used is deliberately placed and noticed, it requires homeowners to be more certain of their choices. This can be difficult for gardeners who fall in love with everything they see at a local nursery.
The good news is that a modern landscape can be extremely water-wise and appropriate for the current California drought.
Since the front of the home is where first impressions are made, we're showcasing ten examples of modern front yards and highlighting the techniques these homeowners used to make them noteworthy.
1. Opt for Glass Instead of Wood
The homeowner in the top photo integrated frosted glass into several gates as well as the garage door. More foliage is planted in this yard than in most typical modern front yards but, in this case, the plants help soften the cold look of the glass.
Tempered glass won't shatter, weathers the elements and it easy to clean. However, you'll want to research what is involved with replacing panels in whatever design you choose should they become cracked or damaged.
Glass fencing in lieu of wood or metal fencing is also common in San Diego in situations where there is a view.
2. Incorporate Metal
Metal is a beautiful way to cleanly define a space. The architect above used custom copper raised planting beds. As copper patinas over time, its color becomes more striking and rich with hints of turquoise. Metal pots, sculptures, rain chains and rain gutters are other ways of integrating this element into the yard. Custom metalwork can be costly but when used in the front yard like this it can signal that the rest of the home may have high end features, as well.
3. Geometric Shapes
Almost every example on this page showcases an example of geometric shapes as part of a modern front yard design. The home owner above used a variety of poured concrete rectangles to form a walkway to the front door that not only better utilizes the space, but also creates an illusion of grandeur upon reaching the front door.
Plants are also often placed in geometric shapes as well. A good rule of thumb is to plant in three's or five's. Plants in a group of three are placed in a triangle shape while groupings of five are placed three in front and two in the back—staggering the plants so that all are visible if standing in front of the arrangement.
Without getting into too many details, studies have shown that our brains are pleased more by odd number plant placement in the yard than we are with pairs (which signal formality—i.e. flanking a door with a plant on each side).
4. Minimal Plantings
Almost the entirety of this home's front yard is pictured and only five different types of water-wise plants can be seen. Each has been strategically and sporadically placed in what looks like more-or-less equal spacing in groupings—a strategy that is common in modern landscape design.
Notice that the yellow cactus is placed next to the blue agave focal plant in the round container. Color contrast like this allows the groupings and plant choices to stand out more.
5. Use Grass Tiles in a Grid
And when we say grass tiles, we don't necessarily mean live grass tiles. Artificial grass is a perfect solution for those who don't want the hassle of mowing, fertilizing and caring for small patches of grass in grid patterns that are also used to make spaces feel larger. It is also capable of being walked on or driven over.
Alternatively, water-wise ground covers like thymes or dymondia can work as well. Grass tiles are most commonly mixed with concrete in a grid pattern of squares and rectangles or perhaps a combination of the two.
6. Focal Point Plant
While it's not a mandatory strategy, some owners choose one plant to serve as a focal point—usually a tree, enormous succulent or unusual plant of some kind—in the yard. The homeowner above chose a single palm tree to draw the eye upward.
7. Pavers
Low maintenance concrete pavers liven up large spaces like driveways and patios. A variety of patterns with clean lines and muted grey tones please lovers of minimalism. And as covered previously, pavers have a number of advantages over poured concrete including increased durability and ease of maintenance.
Another option for homeowners looking for a little green in their front yard includes Turfstone. These pavers provide space to grow greenery directly through them while allowing rainwater to filter through back into the ground. This eco-friendly solution softens modern front yards that have mostly decorative stone and hardscape. Not a fan of the grass idea? Many homeowners fill Turfstone space with pea gravel in lieu of grass.
8. Decorative Stone
Modern yard design incorporates a variety of textures, and utilizing one or more different types of decorative rock is common in most. White marble rock, blue river stones and pea gravel are used on their own or as mulch around plants, such as in the design above.
9. Pops of Color
Maybe this color isn't your thing, but one has to admit that this yard would have a completely different feel without the lime green door that serves as a gateway to the house. Flanked by fencing with rich horizontal wooden planks as well as circular stepping stones, this entry is certainly eye-catching.
10. Clever Lighting
This row of cacti is quite striking during the day, but the homeowner kicked it up a notch by spotlighting each one for a dramatic nighttime view. The ambient light likely serves a dual purpose of guiding people to the front door at night. The tree lit up on the other side of the walkway balances the lighting.
Your Turn…
What are your favorite elements of a modern front yard?