9 Romantic Picnic Ideas
We have all been isolating for months now and, while we know that the best way to keep ourselves and others safe is by staying home and avoiding contact, video chats do get old. At some point, you may want to meet a new dating partner in person, and you are certainly going to want to spend time with someone you have been dating for a while. But, as we know, if it is not someone with whom we are isolating, we need to follow a few protocols to reduce the risk of contracting or spreading the novel coronavirus.
According to the Centers for Disease Control and Prevention, "smaller outdoor and in-person gatherings in which individuals from different households remain spaced at least 6 feet apart, wear cloth face coverings, do not share objects, and come from the same local area (e.g., community, town, city, or county)," are considered lower risk. (CDC.gov)
This makes a backyard picnic a better choice than indoor options when it comes to scheduling a date with someone with whom you are not isolating. Sure, this limits your date options a bit, but you can still have fun, romantic, social distance dates with just a little bit of planning. Plus, for those of us fortunate enough to live in Southern California, this will continue to be an option any time of the year.
So, let's start with some risk reduction options you might want to plan into your date, and then move on to nine romantic date ideas to inspire you.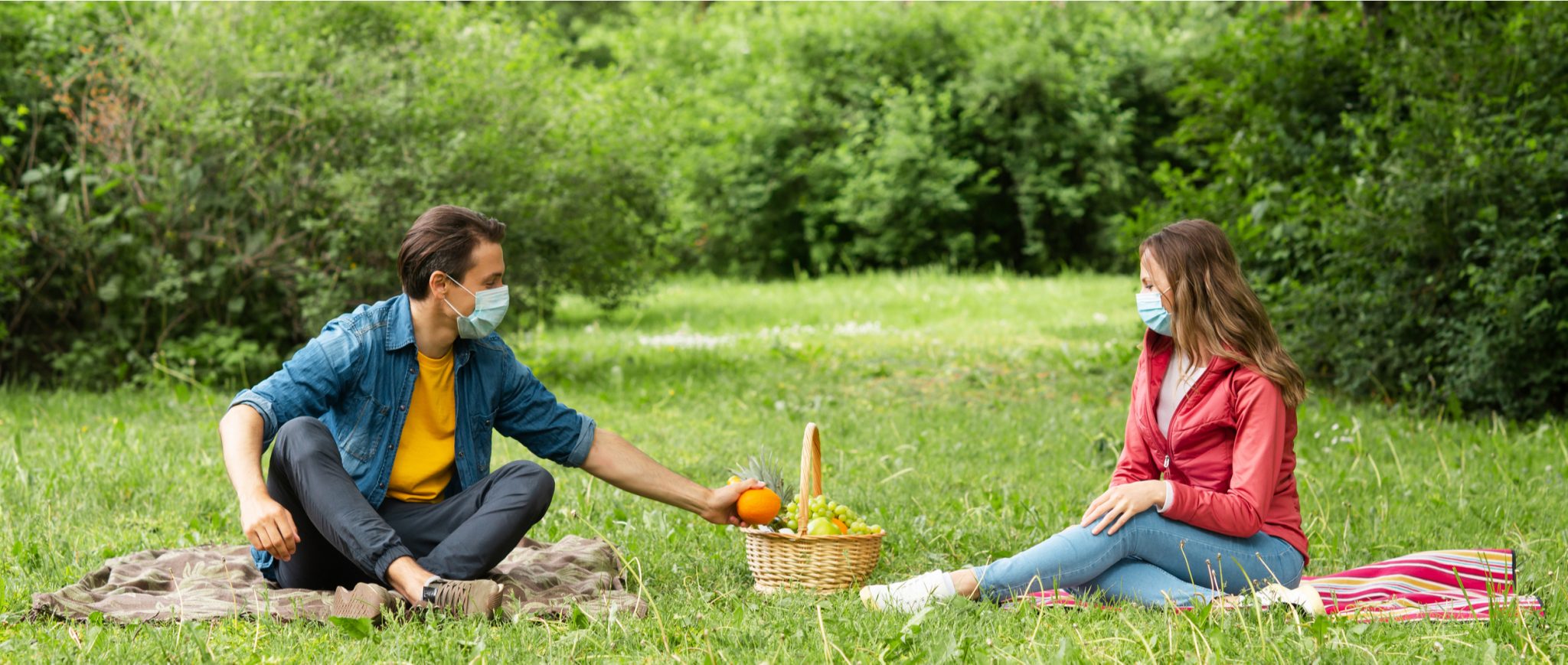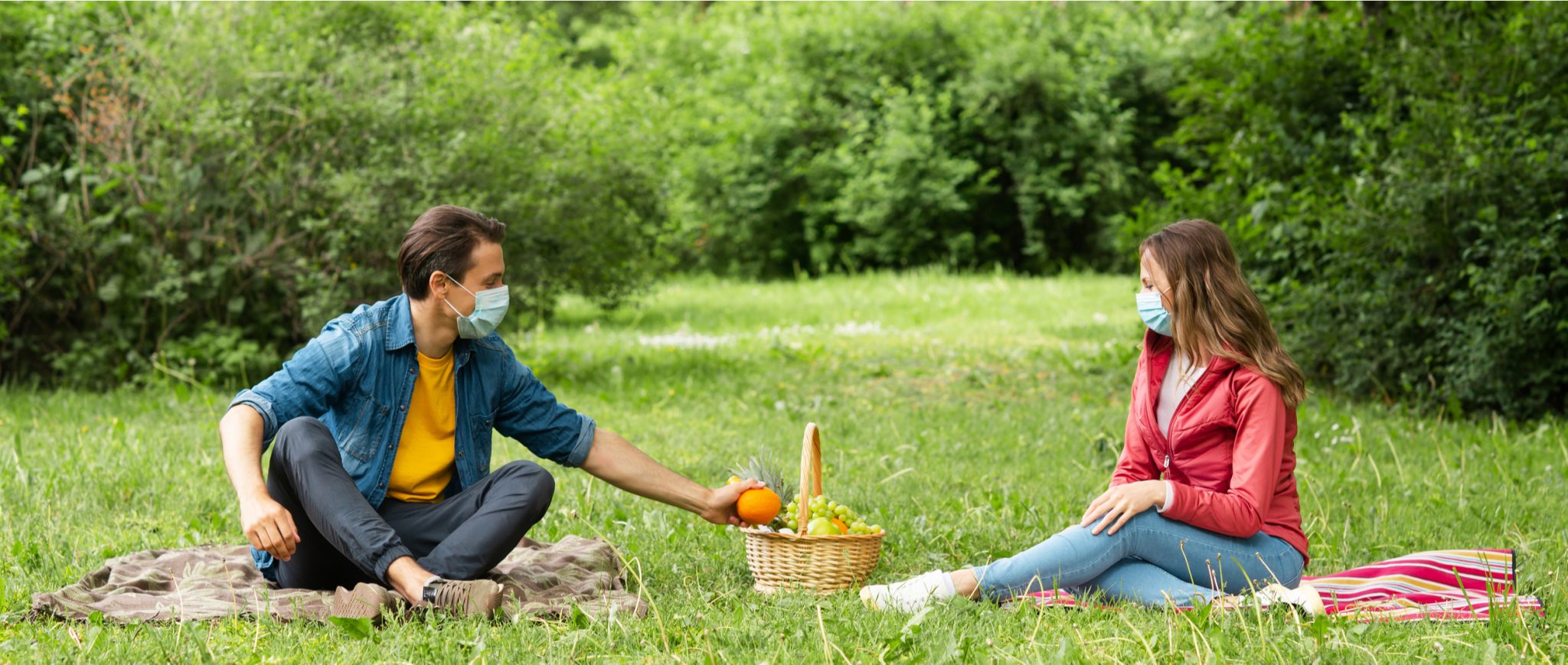 How to Reduce Risk on Social Distancing Dates
It is not possible to completely remove the risk of contracting or spreading the novel coronavirus, but there are steps we can take to reduce the risk as much as possible. Here are some ideas you might want to consider for safer social distance dating.
1. Limit your interactions with other people prior to your date.
Even if you are usually pretty good about avoiding contact with others when in public, be even more careful if you know you have a date or other gathering coming up. Make sure your dating partner agrees to this as well.
2. Stay outside.
It may be tempting to move the date inside at some point, but the experts are very clear that we are safer outside. So, set up a comfortable environment with everything you think you might need so that you can avoid moving the date inside or going in and out of the house repeatedly.
3. Designate one entry point to use for entering and exiting the space.
Ideally, you have a gate that you can leave open so that your dating partner can enter your backyard without going through the house and without touching any door handles or gate latches. If you do not have a gate leading to your backyard, determine their route from your front door to your backyard so that you can sanitize it before they arrive and after they leave.
4. Reduce surface contact and sanitize surfaces.
Consider your backyard situation and determine how best you can reduce surface contact. For example, if you have a trash can with a no-touch lid or a trash can with no lid, your date can throw things away without having to touch anything. Be sure to sanitize all surfaces your date might come in contact with both before they arrive and after they leave. Also, make sure you have hand sanitizer available for when touching surfaces cannot be avoided.
5. Do not share drinks, utensils, plates, or food.
One option for limiting contact is having your date bring their own picnic in a basket or cooler, along with their own drinks, napkin, and utensils. Then they can put their trash and leftovers back in their basket and cooler to take with them when they leave. If this does not sound incredibly romantic to you, you can also avoid sharing utensils and food by preparing the foods and drinks beforehand and having everything set out when your date arrives. For example, you could have two small coolers with beverages – one for you and one for them. This way, you both can have drinks throughout the date without touching the same surfaces.
6. Make sure your bathroom is ready.
If your date lasts long enough for multiple drinks, it is possible that your dating partner may need to use your bathroom while they are at your house. Make sure your bathroom is well stocked with hand soap and guest towels and that all surfaces are sanitized before they arrive and after they leave.
7. Set up the social distance before they arrive.
To avoid any confusion or awkwardness after your date arrives, set up the social distance beforehand. This could mean laying out two blankets, hanging two hammocks, or setting up chairs and side tables that are at least six feet apart.

Nine Romantic Picnic Ideas for a Backyard Date
Since you will be hosting your picnic date in your backyard, you have the convenience of having your indoor kitchen just a short walk away. This means that you have more options with the foods you serve, since you can serve foods that have only been out of the oven or refrigerator a few minutes.
With each of these romantic picnic ideas, make sure you plan ahead with enough time to include everything you need in your next grocery order for curbside pickup or delivery. This will help you avoid needing to make a trip to the grocery store before your date.
1. Movie Night Picnic
This one will have to take place after dark, since you will need to bring out your projector and screen to watch a movie in your backyard. For the picnic baskets, include popcorn, boxed candy, bottled sodas or water, and hotdogs for the main course. You might also want to have a couple of throw blankets on hand, in case it gets chilly.
2. Picnic Around the Fire Pit
For another night-time romantic picnic idea, schedule your next date night around the fire pit. This one is particularly fun, because you can set up the picnic baskets with everything each of you need to make hotdogs and smores while you hang out and get to know each other. Stock the baskets with hotdogs, buns, condiments, marshmallows, chocolate bars, graham crackers, and your favorite beverages. For this one, you will want to make sure to have plenty of napkins on hand, as well as skewers to use for roasting hotdogs and marshmallows over the fire. To keep the night festive after you finish your fire-roasted feast, set out a thermos of hot cocoa for each of you as well.

3. Sunrise Picnic
If you and your dating partner are early risers, start the day off by meeting up for a sunrise picnic. Picnics usually include lunch or dinner foods, so this is a fun way to mix it up by having the chance to serve a breakfast picnic. Fill each of your baskets with a thermos of coffee, whatever you each like in your coffee, juice, muffins or bagels and cream cheese, croissants or donuts, and an assortment of fruits.
4. Sunset Picnic
If you are like so many of us who are sleeping in these days, a sunset picnic might be a better idea. Invite your date over to watch the sunset as you hang out together on your respective blankets or in your socially distanced chairs. Watching the sunset is inherently romantic, so this one calls for baskets filled with wine and charcuterie essentials, such as cheese, cold meats, olives, dried fruit, nuts, grapes, and crackers or a baguette.
5. Destination-Themed Picnic
If the two of you have discussed the many places you would like to travel once traveling is back on the table, consider romantic picnic ideas based on the destinations you hope to visit. For example, if you are dreaming of your next trip to France, fill your baskets with French cheeses, French wine, baguettes, European-style butter, and preserves. If the two of you have talked about heading to Mexico the first chance you get, plan your future excursion while enjoying picnic baskets filled with salsa, guacamole, tortilla chips, ceviche, elote, and a shaker of margaritas.
6. Traditional Picnic
You cannot go wrong with a traditional picnic theme with a nostalgic feel. Lay down checkered blankets and set out picnic baskets with quintessential picnic foods and drinks, such as watermelon, deviled eggs, potato salad, fried chicken, lemonade, and iced tea.
7. Tailgating Picnic
If you are both sports fans and really miss tailgating, bring the party to your next picnic. Decorate with items showing your favorite sports teams, put a game on your patio television, and set up picnic baskets with chicken wings, sub sandwiches, deviled eggs, sliders, seven-layer dip and chips, or your other favorite tailgating foods. Beer is the most obvious choice for beverages, but non-alcoholic options include iced tea or sodas.

8. Poetry Picnic
Perhaps the most romantic of all romantic picnic ideas is a poetry picnic. Lounging on cushions on your respective blankets, take turns reading poetry to each other from a favorite book of poems you each bring along. Baguettes, cheese, fruit, and wine are solid choices for picnic baskets that match a poetry theme.
9. Fall-Themed Picnic
Bundle up in your coziest sweater, bring out the throw blankets, light the fire pit, and celebrate autumn – or just your love of it – with a fall-themed picnic. Set out thermoses with hot tea or cider with cinnamon sticks for stirring, and fill each of your baskets with fall favorites, such as chili, turkey and cranberry wraps, quinoa salad, and apple or pumpkin pie.