The Best Landscape Design Trends of 2022
There are some landscape design trends that never seem to fade away while others are only around for a few years.
For example, 1940s Victory Gardens were a huge trend during the war, but their popularity faded when the war ended and folks started going back to grocers for their produce. Backyard vegetable gardens are still popular, but now that they are no longer part of the war effort, home gardeners do not produce nearly the amount of food grown in Victory Gardens.
Then there are other trends that have been around for decades and have only now started to fall out of fashion, such as natural grass lawns. The extended heyday of natural grass lawns lasted from the 1950s to just the last decade when they began to be replaced with more attractive, water-saving options.
When you are designing your home's landscape, it is important to understand what features are currently trending, which will likely fade quickly, and which will have some solid staying power. This will help you decide which features you want to include to best meet your goals whether that is making sure you stay on trend, ensuring your home fits in with your neighborhood, or choosing trends that are more likely to have a broad appeal if you plan on selling in the future.
While you want to consider trends and how they might change, you also need to prioritize features that make your yard functional and that will help your family get the most enjoyment out of your outdoor spaces. Spending more time at home during the pandemic has made this even more important.
Your home is your oasis and where you will spend time and make memories with family and friends. Therefore, your lifestyle, family composition, and personal preferences are far more important than landscaping trends you may see in your neighbors' yards or read about online.
To help you see how the most recent trends in landscape design coincide with your priorities for your outdoor living areas, let's look at some of the top trends the National Association of Landscape Professionals (NALP) projects for 2022.
Swimming Pools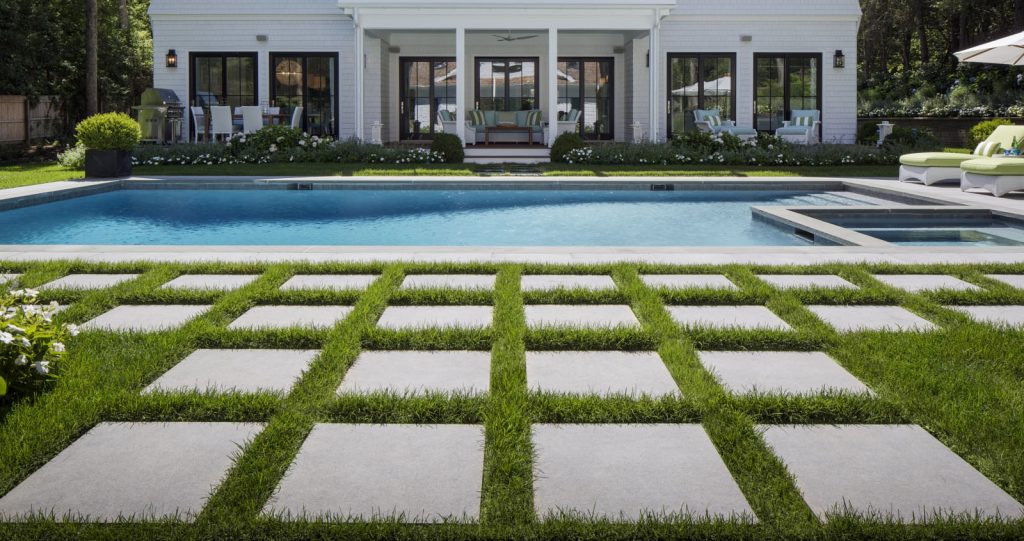 It is no surprise that swimming pools are at the top of the list of landscape trends for 2022. The pandemic has caused many people to spend most of the last two years at home. With popular vacation destinations out of the question, folks have been looking for ways to add resort-style amenities to their homes and to make the most out of their outdoor living spaces. Nothing makes staycations more appealing than an inviting pool right in your backyard.
Pavilions and Pergolas
Covering outdoor living areas provides shade, protection from the elements, and a cozier space for spending time with family and friends. They assist in creating outdoor rooms, rather than just outdoor spaces, which increases your home's functional space. This allows for better outdoor options for working from home, doing schoolwork, organizing family game nights, and entertaining guests.
Fire Features

Fire pits and patio fireplaces are not a new trend, but this is a trend that NALP expects to stay strong in the coming years. Fire features create a cozy space for entertaining or spending time with family, which makes our outdoor living areas even more welcoming for all that outdoor entertaining we are doing these days.
Native Plants
Homeowners are looking for low-maintenance plants that add color and texture to their yards. While we have been spending more time at home, folks are looking to spend less time caring for their yards and more time enjoying them. Native plants thrive with little maintenance and minimal water, which makes them a great choice for drought-prone Southern California.
Outdoor Kitchens

Again, this one is no surprise and is not a new trend, but their popularity continues to grow in such a way that it would be impossible to not include patio kitchens on this list. Homeowners want to make the most of their outdoor living spaces and want to spend more time outside. A well-designed outdoor kitchen allows you to prep and enjoy al fresco meals and significantly broadens your outdoor entertaining options.
Outdoor Lighting and Heaters
With folks spending more time at home and, therefore, wanting to spend more time in their outdoor living areas, landscape professionals are seeing more demand for features that extend the time we can spend in outdoor spaces. This includes patio heaters to make spaces more comfortable in colder months and outdoor lighting that allows us to enjoy our outdoor spaces later into the night.
Sitting Walls

This one is not as obvious as a swimming pool, but it does make a lot of sense. We are doing more of our entertaining outdoors these days, so more seating options are necessary. Paving stone sitting walls are great around fire pits or as perimeter seating on a paver patio. Installing this attractive option around the edge of your patio is an ideal way to increase seating without taking up space on the patio.
Fruit Trees and Vegetable Gardens
During the pandemic, many folks got back to basics with baking their own bread, making cheese and nut butters, and growing some of their own food. This has led to an increased interest in backyard vegetable gardening, as well as a bit of a shortage in fruit trees due to the high demand.
Artificial Turf

Landscaping professionals expect the grass seed shortage to continue, which means limited availability and significantly increased prices on the seeds that are available. This is expected to encourage even more growth in the already burgeoning popularity of synthetic grass. Aside from the seed shortage, manufactured lawns are a sustaining trend largely due to their low maintenance requirements and technological advances that provide turf that looks, feels, and functions like natural grass.
Labor Shortages and Supply Chain Issues
Fruit trees are not the only thing in short supply these days. Labor shortages and supply chain issues are causing increased prices for materials and longer wait times for deliveries. This means some jobs are taking longer than expected and some folks may need to be a bit flexible if they had their hearts set on certain plants or trees for their landscape design.