Cara Pomidoro Review + Experience
My name is Tim Thomas, one of the owners of INSTALL-IT-DIRECT, and I would like to share our experience + response to the statements made online by Cara Pomidoro. I would like to start off by explaining to our Yelp, Houzz, HomeAdvisor, and BBB readers that we try to write a response for every review that is less than 5 stars because we take so much pride in our workmanship + the quality of customer service that anything less than perfect is not satisfactory to us. For most reviews that are less than satisfactory, there is usually a circumstance where we as a company dropped the ball and did not perform to our usual standards, we therefore apologize. We explain what happened as well as explain what we did as a company to prevent the same issue from ever happening again, promising our readers that we will not make the same mistake twice.
Our response to this project, however, will be quite different as we wholeheartedly disagree with 100% of the statements provided by this customer. We will provide exact details as proof that we did absolutely nothing wrong here and actually went above and well beyond. I would also like to note that we have installed 100's of putting greens since our humble beginnings nearly 10 years ago. If you go back through our reviews you will notice that almost 95% of the reviews were written by customers who used the exact same crews as we used on this project, which by the way, are some of the absolute finest in all of SoCal, if not the country. 
---
Quick Summary:
The project started on 3/6/18 and was completed on 3/19/18 satisfying everything in accordance to our signed contract. Cara was out of town when we finished the job and signed the Certificate of Completion upon her return on 3/27/18 (document posted below). The Certificate of Completion states the following:
"Contractor has completed the work it agreed to my satisfaction & in accordance with the terms of the Home Improvement Contract Agreement. I have no service requests and no complaints regarding the work performed."

~ signed by Cara Pomidoro 3/27/18
From this point forward Cara decided to go to Yelp and write 3 reviews…all 1-star. She then proceeded to go to Houzz, HomeAdvisor and also write 1-star reviews there as well. After that, she went to the BBB and CSLB (Contractor's State License Board) and filed complaints there as well. She has taken it one step farther and keeps updating her Yelp Reviews so that they show up number 1 in our Yelp feed.
While all this is happening we are doing everything in our power to assist this client to resolve their ever-changing demands. The husband (Chris) will approve everything and say how amazing we are and how awesome the job looks and then the next day we will have a new 1-star review from Cara complaining about a new punch list item she wants to be addressed. As you will see below after scrolling through the timeline, we continue to be professional, responding immediately to their demands and attempting to schedule a day/time to resolve them where both homeowners are present so we can get approval from both of them (Cara & Chris).
IID went above & beyond in every possible detail on this project to try to please this customer and in 999 out of 1000 times our customers are more than thrilled & grateful, however, unfortunately in life you can't please everyone & we truly believe this is one of those customers that will never be happy no matter what is done. Her Yelp history proves our point with nearly all 1-2 stars for every single business. She doesn't have one positive thing to say about anyone.
Below is the timeline of events that occurred on this project…
---
Project Timeline:
3/6/18: the project commenced with the demolition & grading for the 1680 ft² putting green.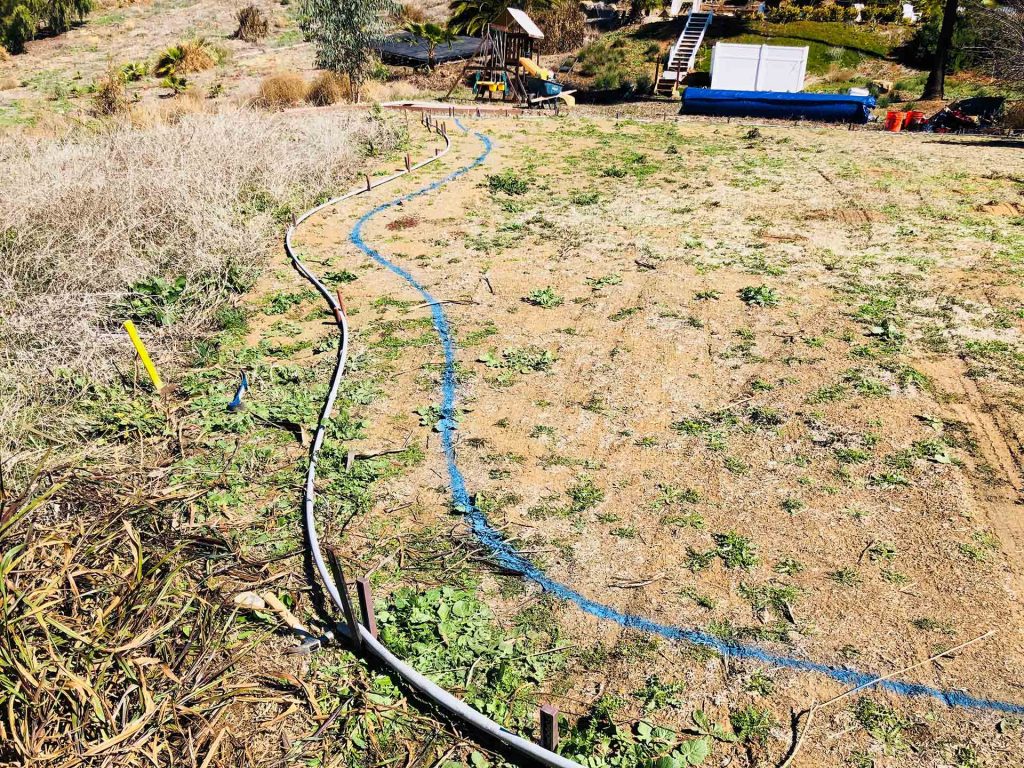 3/7/18: the paver mow strip was installed surrounding the perimeter.






3/8/18: the lighting system was installed which required a lot more work than expected. We took extra time to run all wires through conduit. Progress was halted as a large rainstorm saturated the entire area.



3/8/18: the base was graded and compacted to 95%.


3/10/18: We were unable to work due to the rains and the area being far too wet.
3/11/18: We came out on Sunday(which is usually our day off) and stayed all day and actually into the night to make up for lost time.
3/12/18-3/13/18: all the turf was laid out, cut, sanded and all of the cups/flags were inserted. We were nearly complete, however, we were delayed by another rainstorm which saturated the area again, causing more delays.
A putting green install is a very detailed project & you cannot work when it is wet due to the sand being saturated. You must wait until it is 100% dry. While waiting, we were forced to work on another project that was not affected by the rain as there was nothing we could do at the Pomidoro residence except wait for the area to dry out. Once the project was dry we returned immediately to complete the putting green.







3/14/18-3/18/18: We made several trips during this time period to assess the status of area in terms of whether it was dry enough to proceed. We weren't able to do a lot, but made small amounts of progress in regards to all the detail work which we could do while the main area was continuing to dry out.
3/19/18: We were able to finalize all the details and complete the putting green in its entirety.




The Pomidoro's were out of town when we completed the putting green so upon their return and inspection, the final certificate of completion was signed by Cara on 3/27, which states the following "Contractor has completed the work it agreed to my satisfaction & in accordance with the terms of the Home Improvement Contract Agreement. I have no service requests and no complaints regarding the work performed."
The entire project with all of the rain delays took a total of only 13 days from start (3/6) to finish (3/19), which is not a crazy amount of time by any means considering the weather conditions which were out of our control.
3/27/18: Completion Certificate Signed by Cara Pomidoro.

4/4/18: Cara decided to write a 1-star review on Yelp, Houzz, BBB, HomeAdvisor and file complaints with the BBB and CSLB.
Cara's Review:
I wish I could give Install It Direct a better review but there were too many things that went wrong and promises made that were not kept. Emily gave a reasonable bid on an oversized putting green (diagram attached). The project was supposed to take 3-4 days and would be completed before moving the crew onto the next job (this was a promise from Emily). They started on a Wednesday and it started raining late Friday. Emily had already collected a deposit and the 2 progress payments since she said they would finish by end of day Saturday. The rain created a delay, although Wilber and his crew continued to work in the rain on Sunday. Two weeks later the job was still not completed and rain was no longer the culprit. The company moved Wilber and his crew to the next scheduled project! It took 2 more weeks and lots of headaches to get them to finally finish. Does the putting green look nice from afar? Absolutely. Here are our major beefs:

1) There are 3 large seams that you can see that they have tried to fix with no success. We paid over $20,000 for this large putting green so we should not be seeing seams. (See pictures attached)

2)I had 6 bids and every one of them; including IID included gopher mesh as we have a very obvious gopher and ground squirrel problem. Emily stated after the fact when she showed up with 4 ultrasonic gopher deterrents that her bid did not include the mesh as it doesn't work anyway and HER preference was using the stakes instead (roughly $20/each. We already have a buckle under the green that feels like a gopher hole. They will come out to fix it but it could be the beginning of several repair visits.

3) The contact states that all design changes need to be approved by us before being implemented. The holes were not placed where they were supposed to go according to our contract and the design for the whole green was changed. It still looks nice but they had to add another hole after it was completed to match the original design and that is the only hole that does not light up and match the others.

4) The crew left our hose running during the day with a shut off spout at the end. The problem was that we had to attach 2 hoses to make it reach and water sprayed out of the connection all day long – for 4 weeks! At one point they forgot to turn the hose off when they left and 3 days later we noticed water shooting into the air (we live on 5 acres so the hose was far from our house). The area was completely flooded and after reporting it to Emily, her only response was that it couldn't have been her crew who left it on. Wilber admitted they must have forgotten about it. Our water bill is going to be through the roof!

5) Other little things included trying to get them to complete the finishes like repairing sprinklers that were disconnected, covering electrical lighting cords with dirt, filling soil along the pavers to hide the chunked cement, etc…. We didn't blame Wilber for this as he had been moved to another project 2 weeks prior, but in order for him to get paid Emily had to collect our final check.

So all in all, the putting green looks nice as long as you ignore the seams. Do we feel that we got our money's worth? No. We anticipate many visits down the road to fix gopher holes because they cut corners and didn't install the mesh barrier. Not sure what we can do about the seams other than paying $5000+ to have another company come out and re-do it.

My recommendation – for a project of this magnitude, go with a company who specializes only in putting green installations as they will know all the tricks and best practices.  As for the lack of integrity, that seems to be the nature of the beast when it comes to contractors. This has been our experience and very unfortunate.

(The customer service manager responded a few days later saying we were working on a resolution and that awesome photos would follow.  Their resolution was for us to hire a gopher service for our 5 acres to keep the activity down. This was not a long term resolution as far as we are concerned my update was posted on 4/17/18. We are working with them on reinstalling the base with gopher mesh but they are not communicating and they fired Wilber and his crew so who knows if the new crew knows anything about putting green installations).
IID's Response:
We just wanted to let you know that we are in communication with the client (Cara) and Wilber is scheduled to go out to the job site on Monday, April 9th to address/resolve Cara's concerns. Once that occurs we will provide you with a comprehensive update which time-stamps the entire project from start to finish. We just wanted to provide a brief update here so that you didn't think we were ignoring this matter. We take every issue very seriously and this is no exception. We will report back Monday evening or Tuesday morning at the latest, so stay tuned. We have a lot to share, along with some pretty cool drone footage that we believe you will enjoy of which we will upload to our gallery after our meeting with the client on Monday. On a side note, the owner of IID, the sales manager of IID, the designer of IID, the regional manager of the artificial grass manufacturer and the manager of the lighting company have all met on site to assess the project and we will report on their findings as well. Have a great weekend and we will provide you with a detailed update next week!
Here is our response to Cara's 1-5 numbered issues:
Seams:

all turf is manufactured in 15 foot rolls which means there will be seams every 15ft. There is no way around seams. Seams were discussed before the install & we have done everything possible to make the seams as unnoticeable as we can. This is also not a flat piece of land. Please see video and judge for yourself, seams are not noticeable.

Gopher Mesh

vs. Iluma cups (lighted holes). This was on the quote & we spoke about it quite a bit. The cost of the gopher mesh was $2,318.40 & the iluma cups were $2,200.00. Cara chose the iluma cups & not the gopher mesh. Nowhere on the contract does it say gopher mesh was included in this quote & the quote that we went over 2+ times also never had gopher mesh on it.

Hole placement.

Chris(husband) + designer/project manager + installer were all there when Cara was sick on 4/7. Per text from Cara at 8:16am, Chris her husband came down to the site & said "you are the installers, you put them where you think they should be" & we did. All were placed out of ease, & varying difficulty, also not to be in the way of the possible wedding photo shots. IID also purchased hole covers at no charge (not included in bid).

Hose left on

. The crew did acknowledge that they must have left it on by accident & when the bill came to let us know & we will cover any overages on the bill that differentiates from normal use.

She mentioned other little things

like repairing the sprinklers which were broken before (which we repaired at no cost) & also tested them in-front of Chris, & they were all working. The drip heads had been turned off by someone else & just needed to be turned on, which we did.
Below, you will find the Estimate Sheet Cara was provided throughout the project. You will clearly see that gopher mesh was NOT included, nor did she pay for gopher mesh, so therefore we did NOT install gopher mesh.

4/9/18: Five days later, Cara decided to write another 1-star review on all the platforms.
Cara's Review:
Wilber came out this morning and pulled up the green where the integrity was compromised after only a week of the project being completed. Guess what?? It's a gopher! No surprise there. This is after Emily assured me that there is no way a gopher can get through the foundation. They wouldn't be able to get through the galvanized wire gopher mesh that she was supposed to have installed as part of the project but decided mid project (without discussing with us) to go with the ultrasonic gopher stakes that in her words were so much cheaper and worked better anyway. That decision most likely bumped her commission up and the money was more important than doing the job right.

The guy from IID who responded wrote a lengthy article on how important it is to include the heavy duty gopher mesh on a job site where gophers are present, yet when I mentioned this article to Emily, she said that he doesn't get into the field much and therefore didn't know what he was talking about (my husband heard her say this as well). So for all of Ron's positive words about taking care of customers and getting a drone out to show everyone how awesome the putting green looks, none of that matters if gophers are destroying the foundation and seams are still showing.

BTW… Wilber was only at our home for about 20 minutes to assess the damage and left without doing anything as he said the company will have to approve pulling up the entire green and installing the galvanized steal gopher mesh that was supposed to be included in our original bid anyway. What a waste of everyone's time and money whereas if was done right the first time we wouldn't be in this mess. I just hope that they make it right because it can only go up from here.
IID's Response:
We went out to the job site on Monday morning and discovered that gophers had in fact undermined the putting green. We immediately reached out to 3 different local professional gopher control companies to seek their expert advice on the matter as this is not our domain of expertise. We have spoken to several of them and confirmed that installing gopher mesh would not have prevented this nor is it a viable solution to prevent the burrowing in the future. They explained that the gophers are digging tunnels underneath the ground and the gopher mesh only attempts to inhibit them from penetrating the surface of the putting green, however, when they dig their tunnels they are leaving subsequent air pockets, which is what is causing the undulations and will continue to cause undulations until they are removed. Air pockets can also occur with decaying root systems which are well below our putting green installation and something that is outside of our control. The gopher companies also mentioned that they have had cases where gophers have chewed through the gopher mesh. (Note: We have

written an article on gophers

as Cara references, however, we point out that the gopher mesh does not prevent the gophers from tunneling underneath our installation and therefore compromising the installation. This is outside of our control and something that no one can 100% guarantee.)

The gopher companies stated that the next step is for them to visit the affected area(s) in person to assess the appropriate solution for the client, however, their best guess over the phone was that they will most likely need to first treat the putting green area to remove the gophers from that specific area for approximately 30 days and then the area will need to be continuously treated on a monthly basis to keep the gophers at bay.

After learning this information, we stopped and left the job site on Monday as there was nothing that we could do to properly resolve the issue without the professional assistance of a gopher company. It would not be in the client's best interest for us to proceed with anything until the gophers have been removed from the area. Again, the gopher mesh is not the proper solution and would not have prevented this from happening, nor will it prevent them in the future. The proper solution is to seek the advice + assistance of gopher professionals (which we have) so that they can eradicate the area to the best of their ability and then keep them at bay moving forward. Once the gopher company gives us the green light that the gophers are no longer in the putting green area, we can then proceed with repairing the damage caused by the gophers.

We are doing everything we can to resolve this matter and we are very proud of our amazing team (Wilber and Emily) and believe we are going above and beyond the call of duty for Cara and Chris(husband). We will continue to keep everyone informed as to the progress and provide our comprehensive update upon completion. If anyone has any questions in regards to how we are handling this situation, please do not hesitate to reach out to us anytime. We are looking forward to getting this resolved as quickly as we can so that the client can enjoy their putting green.
4/10/18: Cara texted Emily the following:



4/11/18: We recommended that the Pomidoro's seek the expertise of gopher professionals. We were proactive and called around and scheduled an appointment with a reputable gopher company to assess the situation.
4/16/18: We met with gopher service at customer's property & the client declined the service even though this is the best solution for the long-term durability of their putting green. Again, gopher mesh does nothing to prevent tunneling under the surface of the putting green and only helps inhibit the gophers from penetrating the surface. As a result, the putting green will absolutely result in undulations later down the line since they have declined to keep the gophers at bay and away from the putting green. Meaning, the undulations that have already occurred would have occurred if we had gopher mesh installed. Again, the mesh does absolutely nothing to prevent the real problem — gopher tunneling.
5/10/18: We attempted to collect the agreed-upon payment before we commenced the gopher mesh install and when Lidia (Construction Manager), reached out to Chris to let him know that the foreman (Noe) + crew were waiting for a check to start, he sent us this response: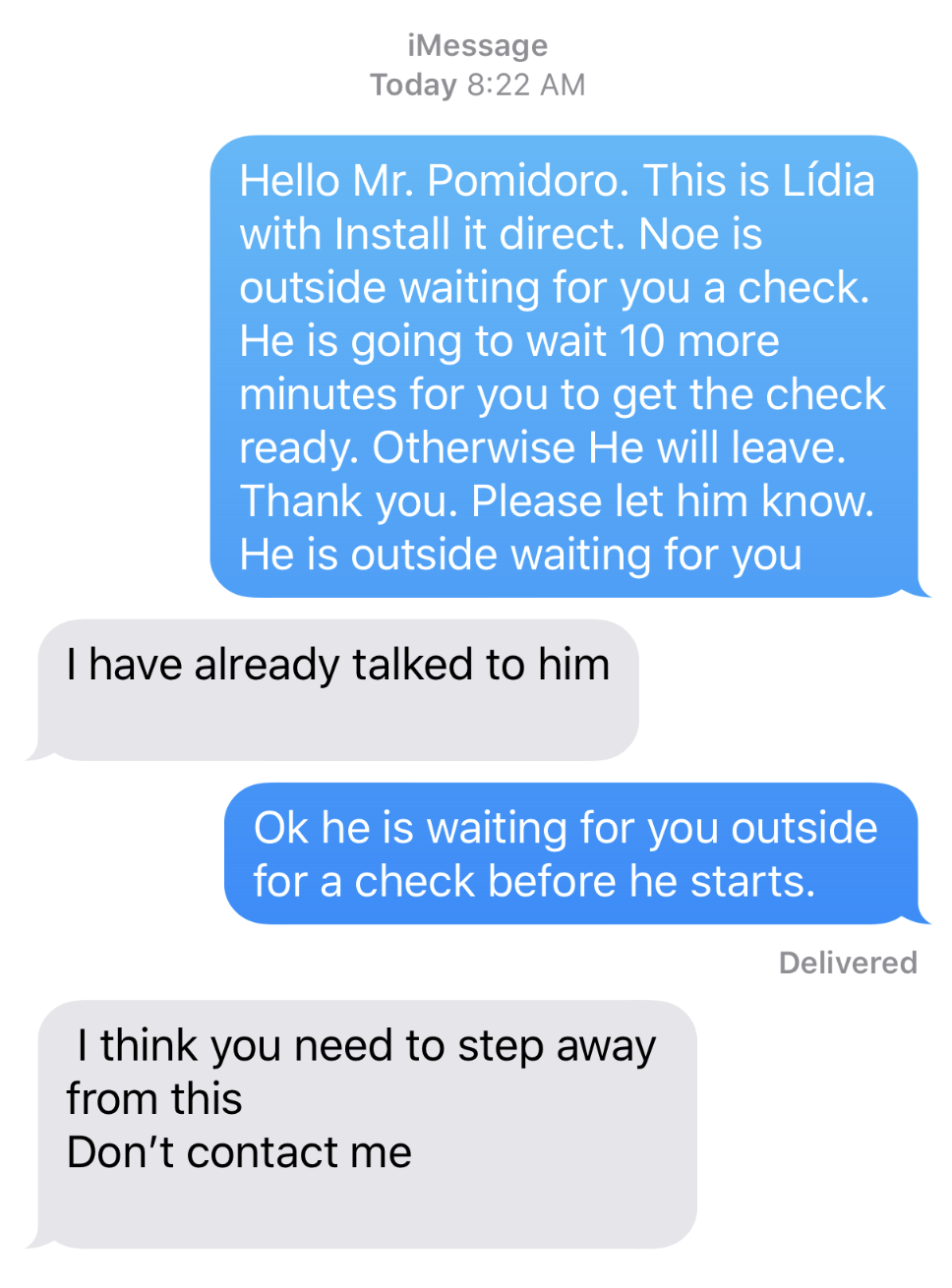 5/10/18: Chris finally came out and provided us a check, however, he decided to only give us 50% which wasn't what we agreed to. Regardless, we began the process of removing the entire putting green and installing the gopher mesh.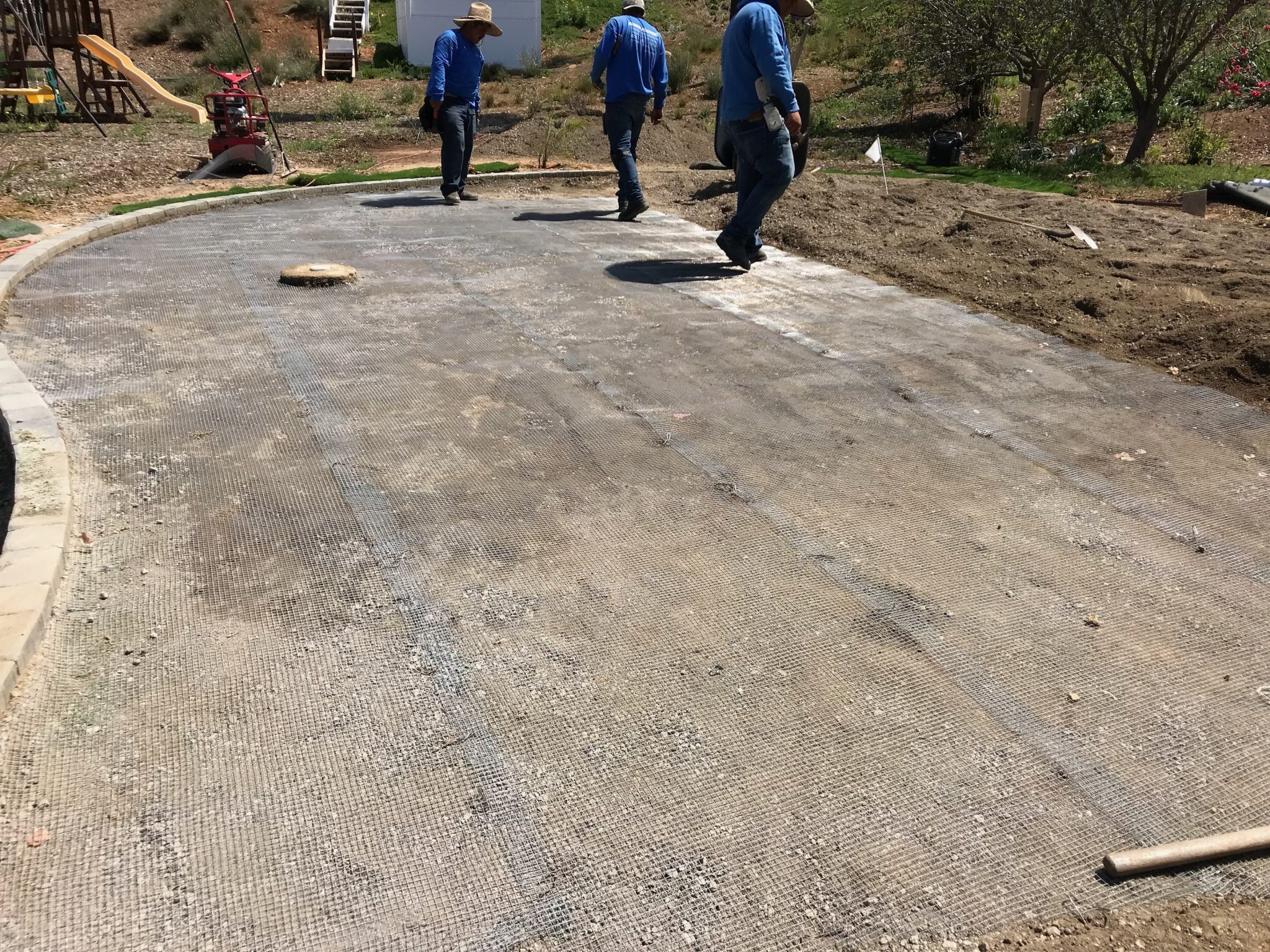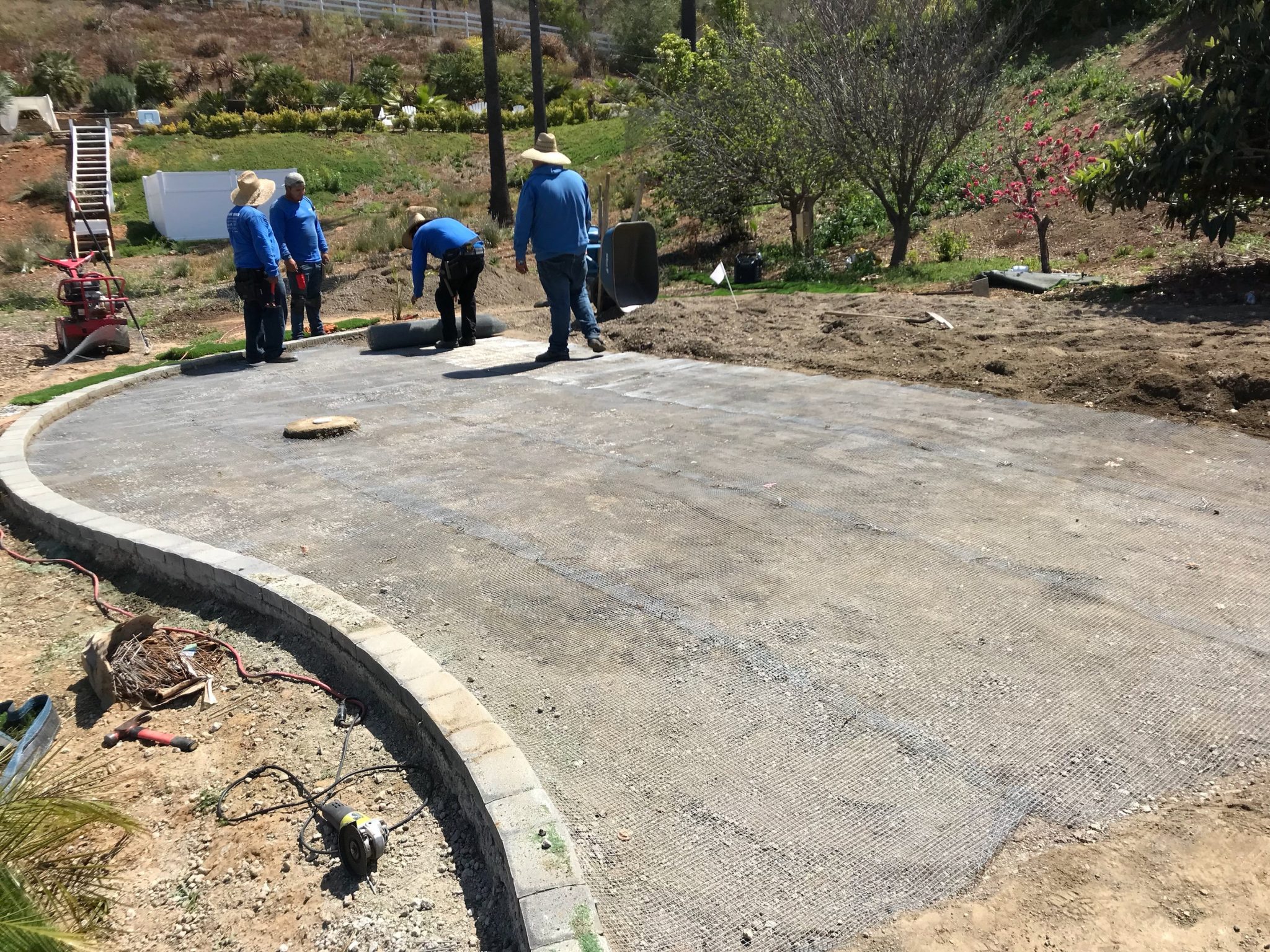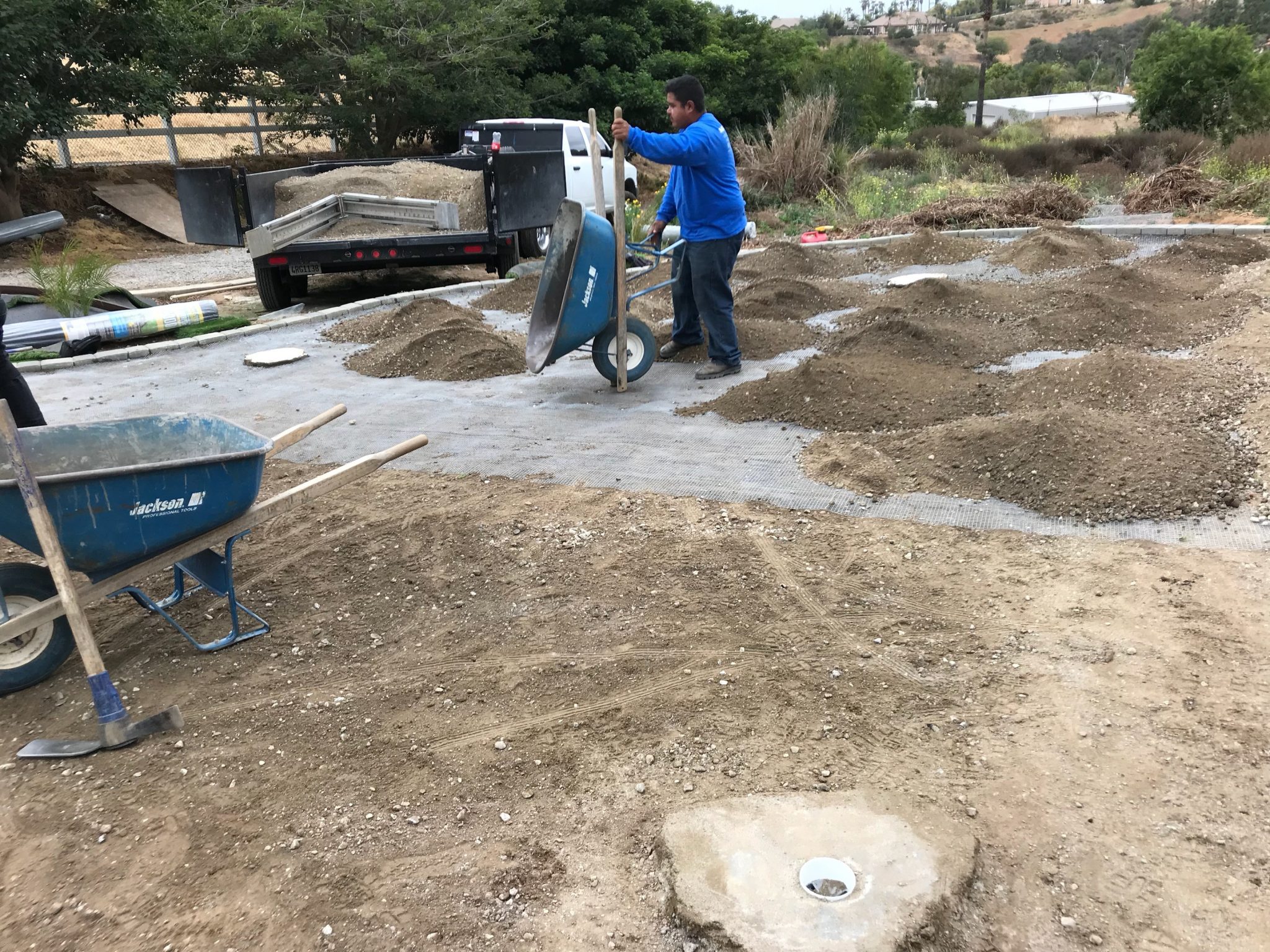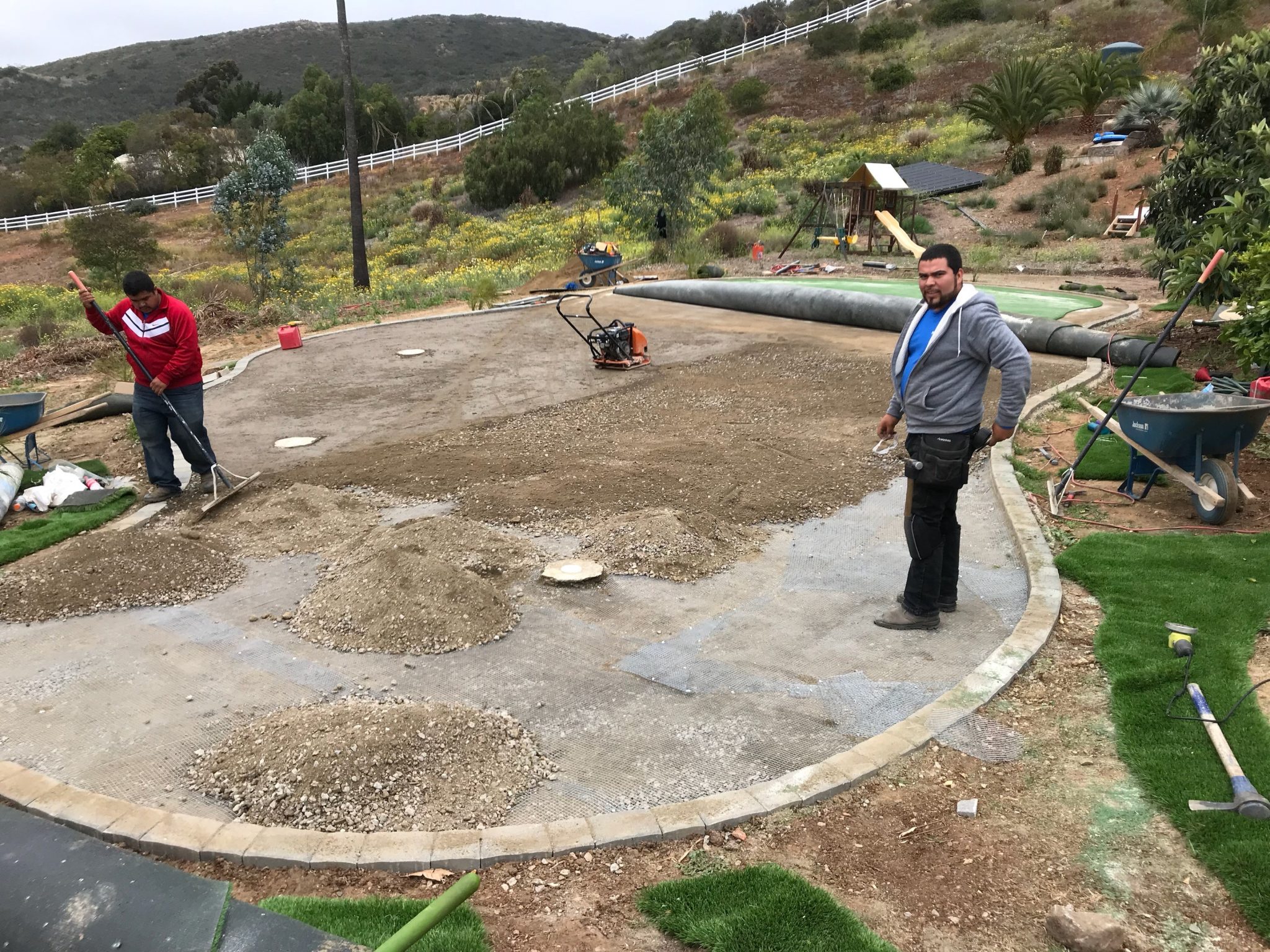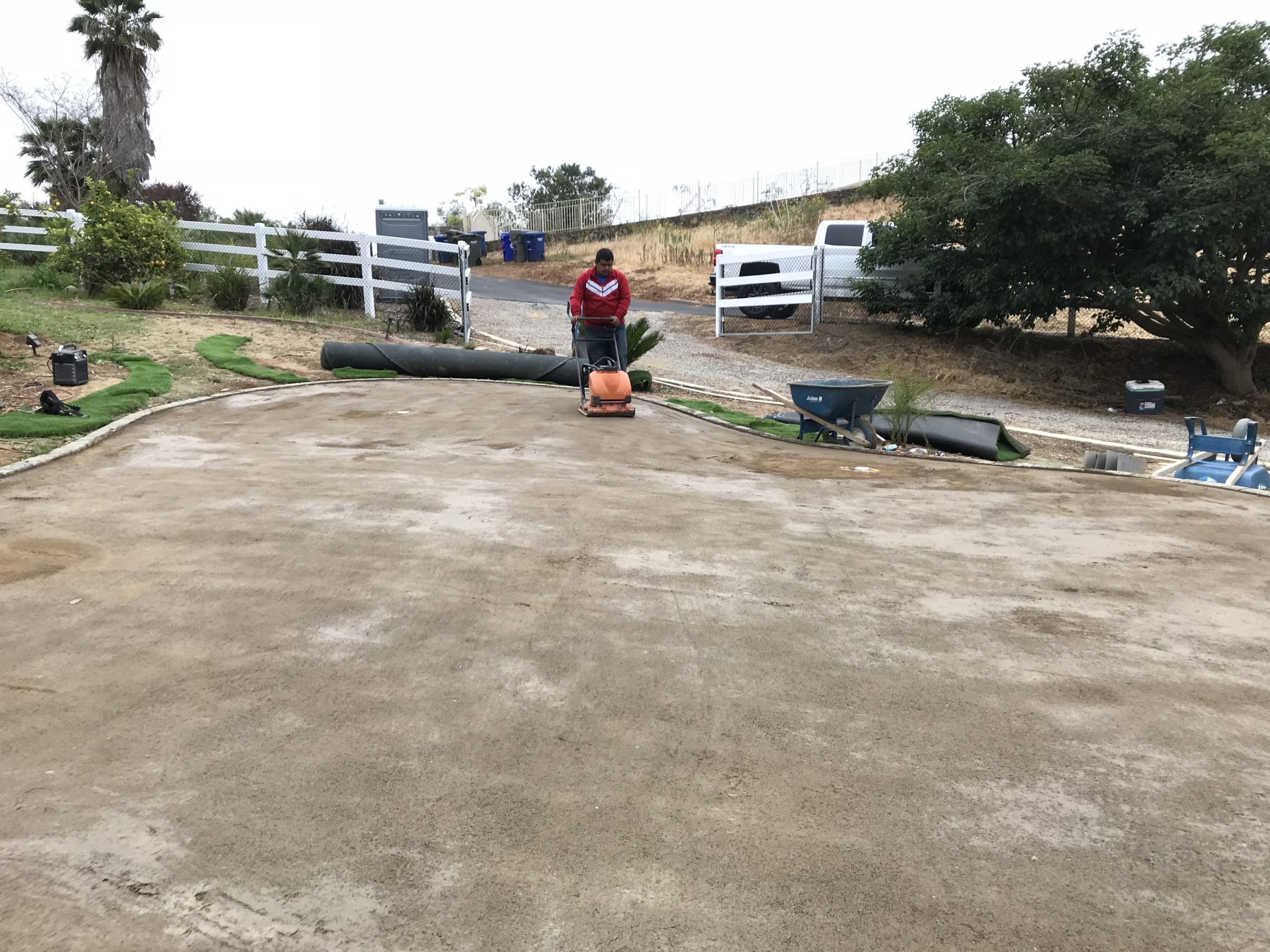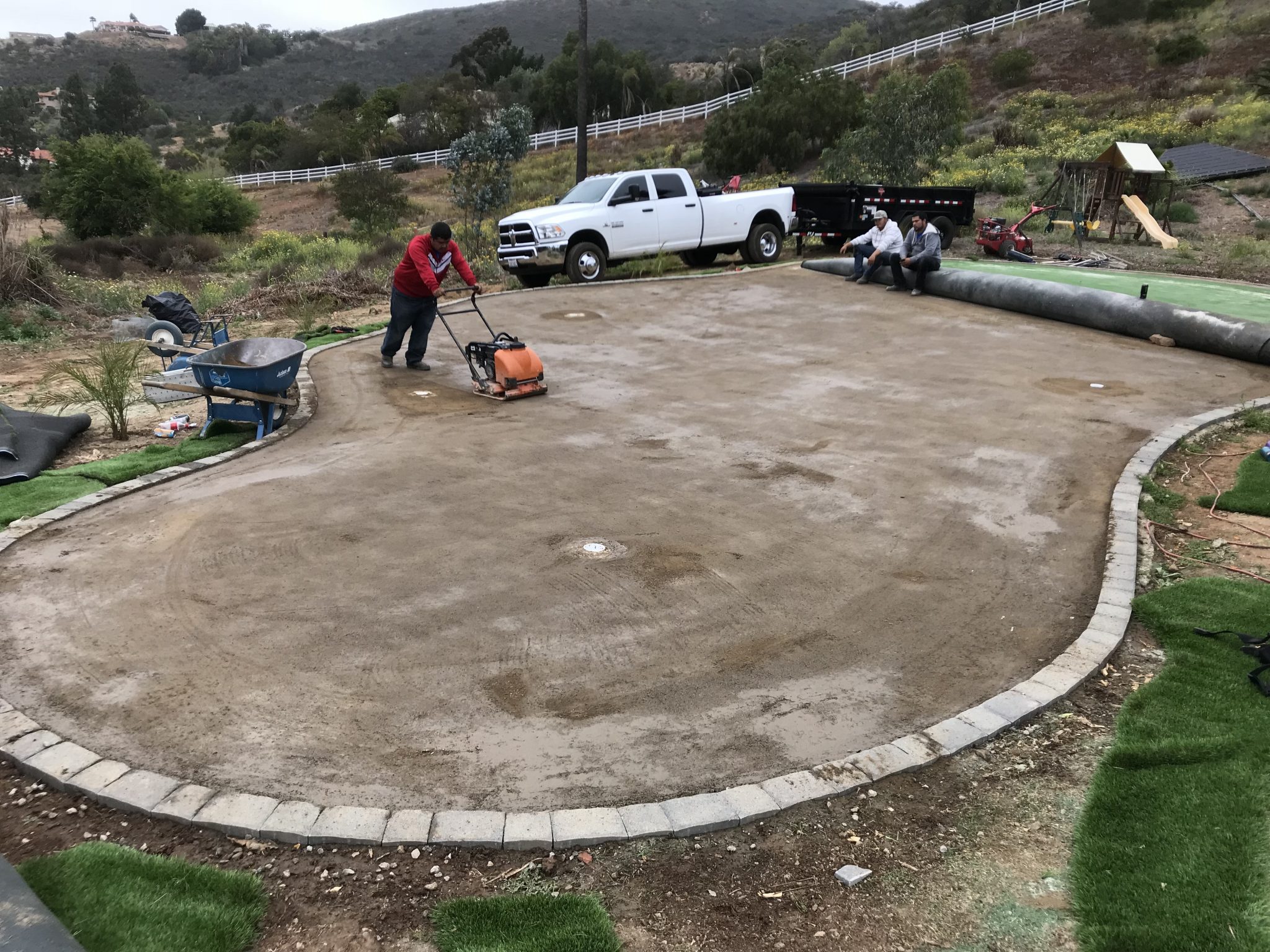 5/12/18-5/13/18 Rain delay — unable to work as the project was too wet.
5/14/18 We were able to resume work. 
5/15/18: We completed the entire reinstallation of the putting green, which included installing the gopher mesh. The customer was on site and was completely satisfied with the results. We attempted to collect the remaining 50% of the payment at that time without success.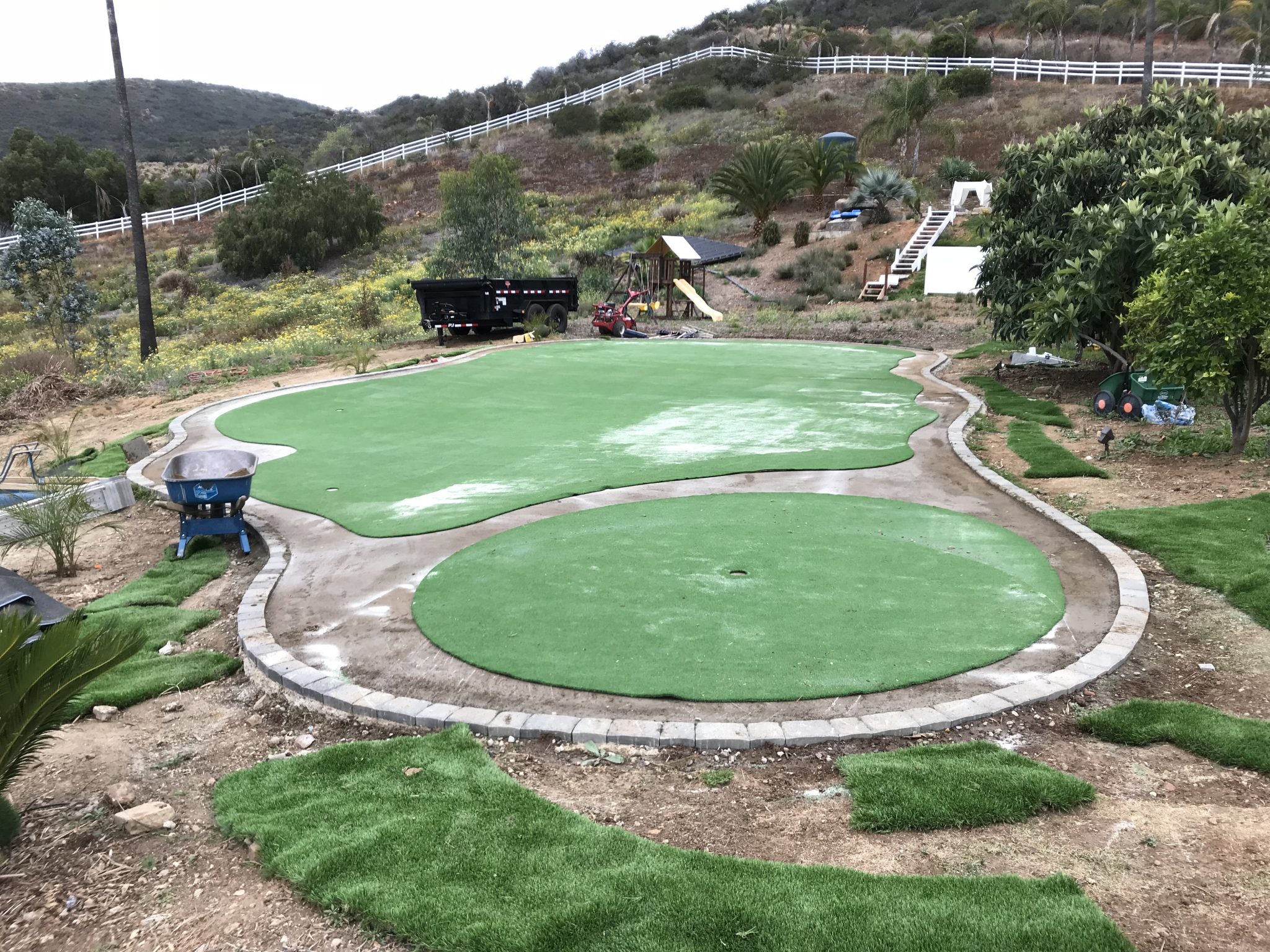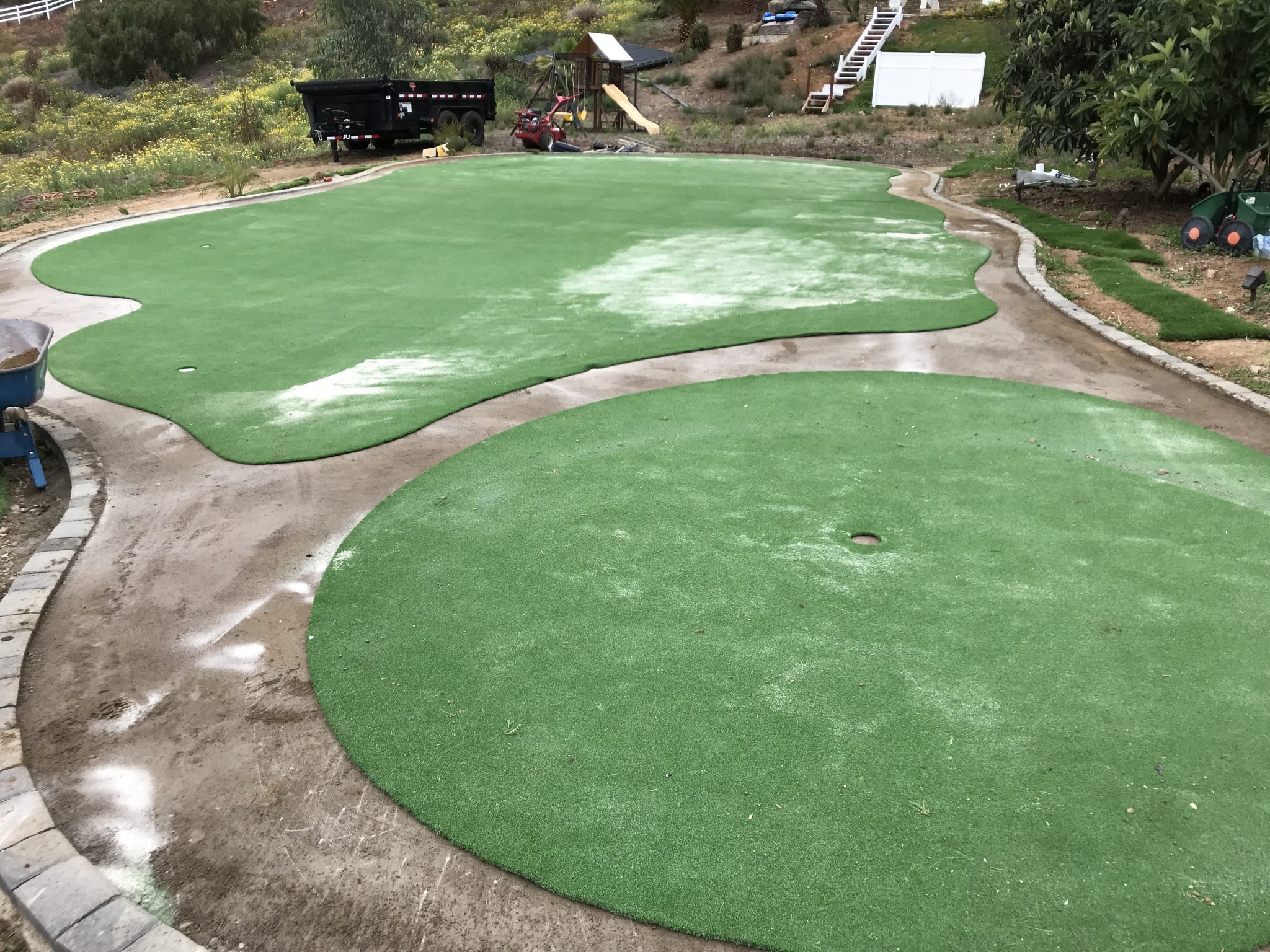 5/17/18: We attempted to collect payment with no response.
5/18/18: We attempted to collect payment with no response.
5/21/18: The customer has now changed their stance and reasoning for their delayed payment. They now have a small punch list of things they want to be fixed, even though everything was completed to their said satisfaction on 5/15/18. Now they are saying the lights are not working and that they don't like the seams. Again, on 5/15/18, everything was perfect and they were 100% happy. Fast forward 6 days and they are now upset and saying we are unprofessional and lack integrity. One minute they are extremely happy saying how amazing we are and how everything looks fantastic and then the next minute we are terrible and a horrible company. Keep in mind they still owe us 50% of the agreed-upon amount.
6/4/18: After numerous attempts to reschedule a visit to respond to the customer's seam issues, the crew visits the site on June 4th and repairs the seams. The customer is on site and approves everything but still does not pay the balance due to one light not working.
6/5/18: The crew arrives to fix the light problem. It is a burnt out transformer and lighted cup isn't working. The transformer is fixed and all lights are back working.
6/6/18 The customer sends text messages that now the lights are not working again, which is very strange as they were working when we were out there the previous day.
6/6/18  -6/19/18: Numerous attempts are made to coordinate a time for the customer and his wife-to-be home to approve the repair with the seams. It simply doesn't make sense for us to go out there when they are not present. We need both homeowners present so they can both approve the repair.
6/20/18: Cara decided to go to Yelp once again and write another 1-star review as opposed to communicating with us directly, which is beyond frustrating.   
Cara's Review:
Here we are 3 months after the "completion" of our synthetic putting green and our job has still not been corrected and fixed.  We have 2 lighted holes that don't work, flags missing and that don't match, large piles of debris that needs to be hauled off, but more importantly, seams that the company is not addressing. We know now in talking to the crew that the job was mis-measured from the get-go, which is why the design was altered without our authorization using more rough to try and hide some of the seams. Other seams are still apparent right down the middle of the green either due to poor workmanship, different batch orders, or perhaps both. Bottom line, you don't want to see seams on a putting green anymore than you do in carpet. And it is more critical to not have them on a putting green because they can affect the roll of the ball for the truly avid golfers. We have had a portable toilet by the green for months now that we and I'm sure our neighbors are tired of looking at. We just want everything fixed and the job done right. We keep asking the owner Tim that if he paid over $22k for something, wouldn't he expect to get what he paid for and within the time frame promised? It's just a poor way to run a business and I'm not sure how he can expect to get repeat business or even new business operating this way. Mistakes are going to happen but ignoring them is not going to make them go away and how Install It Direct has chosen to deal with this issue is a true depiction of their character as a company. I'm sticking with 1 star.
IID's Response:
Although IID was not responsible to install gopher mesh that was not charged for on the contract, we agreed to tear up the entire putting green at an enormous expense of 4K+ and install the gopher mesh for the customer because we actually value our customer's satisfaction above money. The project was completed on June 4th. Upon completion, there was an issue with the lights not working and we found the problem to be a bad transformer which was replaced. The customer notified us on June 6 that 2 lights were still not working and we found the problem to be a bad light bulb in one and the other cup did not contain a light as the customer actually only ordered and paid for 5 lighted cups.  The 6th cup was given to the customer at no charge during the project and did not contain a light as the customer was well aware. We also sent the turf crew back out to address concerns with a couple of the seams. I want to take a moment and mention specifically how many times we have reached out to the client during this entire process to try and arrange times to meet in person so that they could personally verify the work And as of this date I can only remember one time when the customer was actually home to meet with us every single other time we were on site there was no one there to check the work before we left we have reached out to them many many times with no response or often a response nearly a week later this has been really frustrating when you are trying to repair a project to a customer's satisfaction and not have the customer present. During our last visit we assumed everything was completed to their satisfaction but to our dismay nearly 3 or 4 days later we receive a text message that they are still not happy for some reason with the seams.  We have reached out many times to try and set a time convenient for them to meet them there so that they can personally approve the work. To this date this has not happened we have done everything in our power to try and resolve this situation. Ultimately it is very frustrating for a business owner to not be able to communicate with the customer as they are being extremely difficult. As I write this yelp response I am currently awaiting a reply from another message recently said to try and meet with a customer at their convenience however as of this moment, of course, there has been no response back and we are waiting…
6/21/18: Another text message sent to the customer confirming the light issue and asking for a day/time to coordinate the customer to be home to send a crew to repair the seam issue but no response.
6/23/18: Another message is sent to the customer, still no response.
6/24/18: The customer finally responds saying he will be home the following Monday, June  25th.
6/25/18: The crew arrives and attempts to replace the bulb, however, the lighted cup is a sealed unit and the bulb cannot be replaced without replacing the entire cup. An attempt is made to purchase a new unit however they are out of stock and will take a few weeks to arrive.
6/26/18: Another message is sent to the customer requesting a time where he and his wife can both be home to send a crew to repair the seam while the light is waiting to arrive.
6/29/18: Still no response from the customer
7/2/18: Customer finally responds back and asks to coordinate a time this week for turf crew to revisit the seam issue.
7/5/18: The foreman contacts the customer to set up a time to discuss and resolve the seam issue. No answer. Leaves message.
7/6/18: The foreman contacts the customer again. No answer. Leaves message.
7/7/18: Cara decided to go to Yelp for the 4th time and update her review so it would show up first and at the top of our feed. 
7/7/18: Chris finally responds and we have a meeting set for 7/10/18 @ 9 am to address the seam issue.
7/9/18: Cara submits another complaint to the BBB and we responded right away letting the BBB know that we already have a meeting set up for the following day 7/10/18 and that we are doing everything we can to resolve the complaint as quickly as possible.
7/10/18: The foreman's daughter went into labor early this morning and we reached out to the Pomidoro's immediately (7:54 am) to explain the circumstance which prevents us from being there at 9 am and have asked to reschedule. Chris said that was just fine and would get back to us to confirm a new day/time. We are waiting to hear back as to when will be a convenient time/day for them.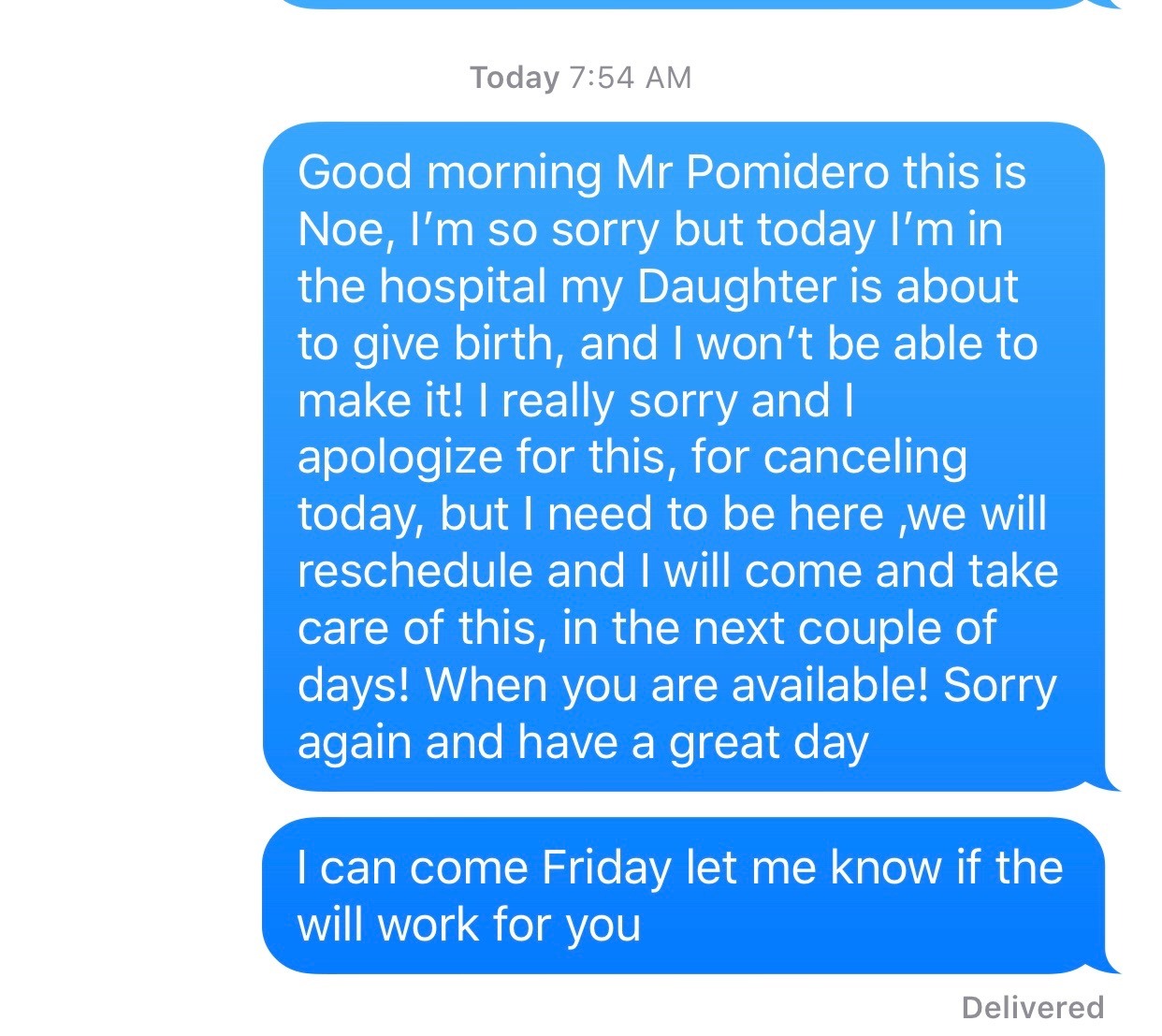 7/10/18: The BBB determined that IID had addressed the issues within the complaint, and therefore closed the case.
7/11/18: Chris responds back that July 16th @ 9 am would work for him. So we are all set to resolve the remaining issues at that time.

7/11/18: Cara decided to reach out to the BBB to reopen the case as she says we "no-showed" the scheduled repair time. Here is what she said:


7/11/18: We immediately reached out to Kayla with the BBB via phone and email to explain that we communicated in advance as to the circumstance which prevented us from being there on Tuesday and that we had already worked out a time with Cara's husband Chris. Kayla said she would review the case and let us know the outcome.
7/16/18: We showed up at 9 am to address the issues and were told by Chris to not do any work as they now don't like the design and want the putting green completely re-done. If they were unhappy with the design, why are they just bringing this NEW concern up now? When we redid the putting green for a second time to install the gopher mesh, that would have been a great time to let us know about their design concerns. Another example of how we have been trying and trying to resolve their issues and their punch-list continues to change each and every time. Tim (one of the owners of IID) will be meeting with Chris on Friday (7/20/18) at 1 pm.
7/20/18: Tim (one of the owners of IID) and Ronald Dombroski (Customer Service Manager of IID) met with Chris at his house at 1 pm to review the issues they have with the putting green. Cara (who has been very outspoken online in terms of all the negative reviews and complaints) was onsite but chose not to meet so everything was worked out with her husband Chris who was very eager to come to an agreeable solution so all parties can move on.
The agreed-upon solution was to remove a portion of the circle at the end of the putting green fringe and replace it with putting green surface so that the putting green is not sectioned into two pieces. Chris was informed that even though we were going to ship the exact same dye lot for the replacement piece of turf that there was 100% going to be a color variance due to the fact that his original green had been exposed to the sun for months. Chris has agreed that the seams are to his satisfaction and do not need to be reworked so that issue is finally put to rest. Chris is going to pay for a 6th iluma cup and we will install it. We will also re-connect a 17 lf piece of irrigation pipe.  Chris signed a zero dollar change order which itemizes every detail above so that there will be no more punch list items upon completion. Chris also paid the outstanding balance for the gopher mesh so we are settled up in that regard. Finally, Chris has agreed to remove his wife's(Cara) complaints with the BBB and CSLB. We have a tentative installation date of 7/31/18.
7/31/18: We showed up at 9 am and completed everything as discussed. The job is now 100% complete.









1/20/20: Chris Pomidoro called in to complain about a seam issue.
1/25/20: Noe visited the job site and determined that in order to address the seam issue properly he would need a very hot day so that the turf could expand to its optimal state. Stretching the turf in suboptimal conditions could potentially damage the turf. Chris understood this and was okay with the plan.
The conditions were not optimal for quite some time and Cara and Chris began to get extremely frustrated. We continued to explain that if we stretched the turf under suboptimal conditions that the turf would get damaged.
Cara and Chris then wanted us to replace their entire putting green at this point due to the seam issue. We got the manufacturer involved by submitting a claim and they reported that the turf was just fine and they would not replace it. This meant that the only solution was for us to repair the seam.
Emails and text messages went back and forth for months…
9/24/20: It was confirmed with Chris via text that one of our installers would visit on 9/29/20 to address the seam issue.
9/29/20: Our installer visited the job site to address the issue and was told not to do the work as Chris decided that he wanted a brand new putting green and refused to allow our team to fix the issue.
10/2/20: Cara decided to write her 5th one-star Yelp review. I think that just might be a record.
Cara's Review:
Working with this company has been a nightmare! Even if their work appears to be ok initially, they do not honor their warranty.  They installed a very large putting green for us 18 months ago. We had problems from the start because of poor measuring on their part which led to a design change that we didn't approve. Once completed, we had a very substandard putting green that we could not putt on without balls flying off and traveling down the road. But after only a year, the seams began splitting. We contacted them last January and they claimed they couldn't stretch the turf until we had 80+ degree temperatures, which was interesting since they installed it in the dead of winter. So we waited until July when it warmed up and they set up an appointment to have someone, Noe, come out and fix it, so we thought. Wrong. Noe more often then not did not show up for the 1/2 dozen appointments they set and when he did come out he said that there was nothing he could do because if they tried to stretch it, it was going to tear. He said we needed new turf and that the company owner Tim was in the business to make money and therefore would continue to evade us. We persisted and called and set up more appointments with Lydia, whom also tells you what you want to hear but doesn't follow through. Then they had the manufacturer of the turf come out. He also said it was not installed correctly, which caused it to separate and that he recommend replacing the turf with a professional installation. So one again we contacted Install It Direct, and they set another appointment. This time A different installer showed up 5 hours late (no respect for our time) and he was not even on the schedule to get to our house until the afternoon. He confirmed that the turf needed to be replaced with one large strip because otherwise it was going to continue to separate. I have to say that it looks like a 15 year old putting green now aside from the seems separating. We have a 15 year old warrant, it's been 18 months since installation and they are refusing to make the necessary fixes. They had the gall to say that my husband refused to allow their crew to fix it.  This is criminal and we will have to no doubt waste more of our time taking them to court just to get the $22k putting green we paid for. Unless you want nothing but headaches down the road or from the start in our case, do not hire this company. Their promises are lies and they do not care about their customers. There are better reputable landscape contractors out there. Do yourself a favor and steer clear of Install It Direct and hire a professional instead.
IID's Response:
There was never an issue with poor measuring, that has nothing to do with the seam issue. The fact of the matter is that turf comes in 15-foot rolls which means SEAMS are inevitable on all projects that span a width more than 15 feet, of which the Pomidoro's have.
Noe addressed the issues with the seams with the Pomidoro's on many occasions, it just wasn't what they wanted to hear. They ultimately just want us to buy them a new putting green. He continued to state that in order to stretch the turf he needed the right conditions temperature-wise.
We filed a claim on the Pomidoro's behalf to see if the manufacturer deemed the turf as damaged and would honor new turf. The manufacturer visited the job and stated that the turf was fine and that the seam just needed to be stretched.
Yes, our installer did show up late on 9/29/20, however, as soon as Chris let us know he was late, we sincerely apologized and let them know his new ETA. It was a miscommunication on time on our end.
According to our crew, the Pomidoro's did refuse to allow our crew to address the seam and instead demanded a brand new putting green at the expense of IID, stating that we mismeasured which again is not the case. Artificial Putting greens get stretched all the time. It is called natural expansion and contraction.
With all this said, we are more than willing to continue to assist the Pomidoro's to help them with their seam issue.
10/2/20: We reached out to Chris to work out a new time for Noe to revisit the Pomidoro's and address the seam. We are currently waiting to hear back…
10/3/20: We spoke with Chris and he said,
My wife is good at doing reviews on Yelp, I'll get her to get on there and change it if you guys fix my putting green!
And by fixing his putting green he stated that he wants it completely redone for free in exchange for having his wife change her review. This sounds like extortion, which is illegal.
---
To recap once again, I would like to say that we went above & beyond in every possible detail on this project to try to please this customer. In 999 out of 1000 times our customers are more than thrilled & grateful, however, unfortunately in life you can't please everyone & I truly believe this is one of those customers that will never be happy no matter what is done. Her Yelp history proves our point with nearly all 1-2 stars for every single business. She doesn't have one positive thing to say about anyone.
I would also like to mention that we document every single detail of all our projects from start to finish which includes pictures, videos, calls, texts, emails, notations, etc. which are all time-stamped so that if need be we can go back and reference anything at any time. What we have provided within this post is just a snippet of all the content we have documented. Anyone who takes a look at the file would be more than impressed with every aspect of the professional nature that we conducted ourselves on this project from the quality to over the top customer service. We are a 100% transparent company & we welcome anyone to come down to our office so you can judge for yourself.
Upon completion of the project, the job site was visited by the National Representative of the turf manufacturing company as well as the National Representative for the lighting company. Both were personally amazed as to the outcome of this project. Their exact words,
"This is one of the best putting greens I have ever seen!"

~ Neb Keeton (Unique Lighting) & John Martinez (Global Syn Turf)
We can put you in contact with them as they have personally looked at 1000's of putting greens over the years & can vouch for the quality & service that IID brings to the table each & every day for all our clients, which is second to none & this job was no exception!
Sincerely,
Tim Thomas | President